Nulo Puppy Food Review 2023: Recalls, Pros & Cons
Review Summary
Our Final Verdict
We give Nulo Puppy Food a rating of 4.5 out of 5 stars.


Dog food marketing has everybody astir, not knowing what to expect as the best nutrition for your beloved dog. We understand entirely, so we make it our mission to give you only accurate and appropriate information about dog food brands.
Nulo creates premium, high-quality dog food with several recipe lines, including multiple puppy foods. Here we'll break down a few recipes this company offers specifically for dogs under a year of age.
Hopefully, you learn a little bit more about the company and what they offer, and we'll know upon completing the article that this product is for you.

At a Glance: The Best Nulo Puppy Food Recipes:
Rating
Image
Product
Details

Our Favorite

Nulo Frontrunner Ancient Grains

Grain inclusive
High quality ingredients
DHA
Check Price

Nulo Lifestyle Limited+ Puppy & Adult Grain-Free

Easily digestible
Free of irritating ingredients
Grain-free
Check Price

Nulo Freestyle Grain-Free Canned Dog Food

Moisture-rich
Easy to digest
Grain-free
Check Price

Nulo Freestyle Large Breed Puppy

75% animal based protein
Large kibble size
DHA from salmon
Check Price

Nulo Freestyle Puppy Grain-Free Dry Food

80% animal-based proteins
Grain-free
Free from chicken and egg proteins
Check Price

Nulo Dog Food Reviewed
It's really good that you would like to know about a company before committing to buying this dog food. Once you get to know the foundation of where the formula came from, you can feel secure knowing that you are offering the best nutrition possible for your dog.
We will explain everything about Nulo recipes for puppies, the basis of the entire company, and what you can expect.
Who Makes Nulo Puppy Food and Where Is It Produced?
Nulo is based in California but has grown exponentially since its humble beginning. As many pet food companies do, this brand was born from an owner who wanted better for his own dog. With the help of veterinarians and listening to a nutritionist, Nulo was born.
Which Type of Dog Is Nulo Puppy Food Best Suited For?
Nulo puppy food will work for a variety of young dogs with hefty appetites and lots of growing to do. Nulo keeps your special pup in mind by offering a list of grain-free and grain-inclusive recipes.
Which Type of Dog Might Do Better with a Different Brand?
Some adults and seniors might do better with a different recipe in the Nulo lineup, but we think it's fantastic for every puppy. If you have a budget and Nulo doesn't meet the requirements, there are a few similar but less expensive puppy food options.
Discussion of the Primary Ingredients (Good and Bad)
We wanted to give you a full look into a Nulo recipe designed for puppies so you can see what they offer. Nulo Frontrunner Ancient Grains recipe is a grain-inclusive, everyday nutrition formula designed to provide a healthy life start.
Here's what we're working with:
Deboned chicken: is the first ingredient, providing a whole protein source. Chicken has lots of nutritional benefits.
Chicken meal: Is a concentrated protein source that provides tons of powerful health benefits, even more so than animal protein sources.
Oats: Are completely gluten-free and highly digestible greens.
Barley: Is another grain typically used in place of harsher grains like wheat, soy, and corn. Generally, it causes fewer allergic reactions than some others.
Brown rice: is a prevalent gluten-free grain used in various commercial dog food and is inexpensive and easy to digest.
Turkey meal: is an ultra-concentrated poultry protein source. It has a higher amount of protein than whole meat. It's also an excellent source of glucosamine.
Chicken fat: rich in omega-6 fatty acids, chicken fat improves palatability and is a great energy source for your growing puppy
Ground flaxseed; is a fiber-rich seed that helps your dog with digestion.
Deboned turkey: is yet another protein source on the list although it is pretty far down, so we love seeing this added poultry ingredient.
Natural flavor: Can be a little bit tricky because it can seem unclear. When a product lists natural flavors, there are rules about how many natural flavors the company can use with a series of synthetic ingredients. So, it's hard to uncover the actual nutritional benefits or downfalls
Millet: is another grain to help your dog with digestion, not upsetting the digestive tract.
Ground miscanthus grass: as another source of fiber. Many companies use it as an alternative to beet pulp, cellulose, or grain hulls in dog food.
Upfront, it seems like Nulo puts a lot of thought into their recipe ingredient lineup. This dog food contains many fiber sources to promote healthy digestion while ensuring they are getting top-notch animal protein to aid in development.
While this dog food is impeccable in quality, the recipe itself won't work for every juvenile canine. We must point out that some puppies will show sensitivity towards chicken and other common proteins.
However, if your puppy is new, you might not know these sensitivities yet. Always look for symptoms of allergic reactions so that you can report to your vet anything that you might notice.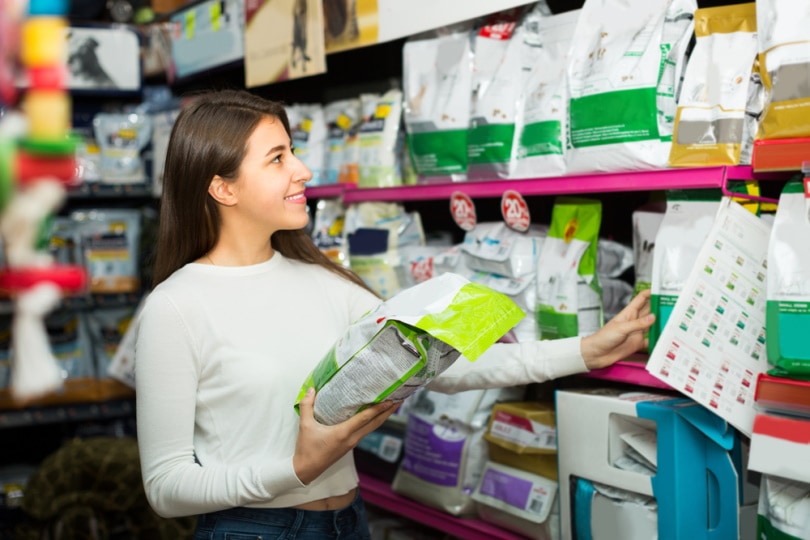 Variety in Nulo Puppy Food Recipes
We are incredibly pleased with the variety of puppy food offered by this company. Many companies only have a single puppy food recipe, but that's not the case here. You can choose from various flavors, dietary specifics, and wet or dry formulas.
In addition to these wonderful puppy recipes, there are also a series of supplements and enhancers on the website that you can try out.
The Reputation of Nulo as a Company
Nulo has an outstanding reputation among its customer base. Many people enjoy how Nulo recipes are set up, containing a low glycemic index with a protein-rich base.
So far, the brand has been highly received by consumers and critics alike. The brand keeps up with continuing to improve quality over time.
Price vs. Quality
Nulo is pretty high when it comes to pricing, but don't necessarily let that deter you. The quality of this food is absolutely top-notch, providing premium ingredients and well-thought-out combinations.
If you are looking for a sturdy diet that will move your puppy into its adult years with finesse and enrichment, this is a brand to consider.
However, we know that certain types of premium dog food will not fit everyone's budget. We understand that managing a family or a household and providing expensive nutrition for your dog is hard.
But we highly encourage you to find a brand that offers similar nutrition in your price range if you can't afford this. And from our experience, new low prices are pretty bright on track with what you see from similar brands and overall quality.

A Quick Look at Nulo Puppy Food
Premium ingredients
No recalls
Excellent recipe variety options
Specialized puppy nutrition
Recall History
Nulo has a squeaky-clean history, free of any recalls at the time of writing. We really want to say that this aspect is important. Excellent quality control ensures that your puppy is getting the best products possible.
Nulo is a new company, so that is something that could be taken into consideration. However, with their premium ingredients and driven ambition, they will likely continue to produce quality products that pass standardized tests.

Reviews of the 3 Best Nulo Puppy Food Recipes
Nulo Frontrunner Ancient Grains
| | |
| --- | --- |
| Main Ingredients | Deboned chicken, chicken meal, oats, barley, brown rice, turkey meal, turkey fat |
| Target Health | Everyday nutrition |
| Calories | 431 per cup |
| Protein | 27.0% |
| Fat | 16.0% |
| Fiber | 4.0% |
Nulo Frontrunner Ancient Grains is an excellent option for any healthy puppy's daily nutrition. It has just the right amount of ingredients to keep them full of energy and growing as needed.
This recipe has a lot of things we want to see for puppies, like DHA for brain development and taurine for heart health. It's also loaded with antioxidants and omega-3 fatty acids to remove free radicals in the body and boost immunity. It's also terrific for coat and skin maintenance.
This recipe contains real deboned chicken as the first ingredient, followed by chicken meal, so you know your dog is getting a healthy amount of protein in their diet. In addition, other grain sources provide levels of protein as well.
All grains used in this recipe are easy to digest instead of harsher common grains like corn, wheat, and soy, which can trigger allergies and sensitive dogs. Instead, they use easy-to-digest grains that work well with your puppy system. Nulo has a wider variety of grain-free dog food selections, but this tremendous inclusive formula is definitely worth your attention.
Grain inclusive
High-quality ingredients
DHA
---
Nulo Lifestyle Limited+ Puppy & Adult Grain-Free
| | |
| --- | --- |
| Main Ingredients | Deboned salmon, salmon meal, chickpeas |
| Target Health | Gluten-sensitive |
| Calories | 438 per cup |
| Protein | 30.0% |
| Fat | 18.0% |
| Fiber | 5.5% |
If you need a grain-free selection for your growing pup, we have to recommend it. It is a single protein formula that has everything your puppy needs to grow healthy and strong. Plus, unlike traditional puppy foods, you don't have to transition your dog into an adult child when they reach a year old.
Instead, this recipe supports the healthy maintenance for full-grown dogs aged 12 months and up. We love that it has a single protein source so your dog's digestive system can process it better. In this recipe alone, it has 30% crude protein along with specifically formulated probiotics for gut health.
This ensures that your pet can adjust their food with no problem, especially by avoiding potentially irritating ingredients like chicken, eggs, pea protein, corn, wheat, soy, and other artificial additives. It also eliminates potatoes and tapioca from the recipe that provides more nutrient-dense ingredients instead.
This recipe contains sweet potatoes, an easily digestible starch your pet will thrive on. Our favorite thing about this recipe is that you don't have to transition dog foods until senior years. We think you'll have pretty good luck here, permitting your pet requires a grain-free diet.  However, chickpeas are the third ingredient in this recipe and a large amount of legumes in dog food is not desired.
Easily digestible
Free of irritating ingredients
Grain-free
---
Nulo Freestyle Grain-Free Canned Dog Food
| | |
| --- | --- |
| Main Ingredients | Turkey, turkey broth, salmon broth, turkey liver, cod, sweet potatoes, pea, lentils, salmon oil |
| Target Health | Gluten sensitivities |
| Calories | 404 per can |
| Protein | 9.5% |
| Fat | 5.0% |
| Fiber | 1.0% |
If you want to find a great brand that makes top-notch wet canned food, we have to recommend this specific Nulo recipe—Nulo Freestyle Grain-Free Canned Dog Food. It is an ideal addition to standard dry kibble, but your puppy will gobble this up all on its own. However, we recommend using it supplementally for dogs who do not have gluten sensitivity.
This canned food is specifically designed for your puppy, containing adequate levels of DHA from salmon oil. It also has a low glycemic composition that excludes ingredients like corn, wheat, and soy. There are tons of fruits that are superfoods here as well, like blueberries and cranberries.
We really like all the protein sources we see in this recipe. It contains Turkey, Turkey liver, cod, and easy-to-digest starch like sweet potatoes.
Your puppy will surely have a development with this support.
We can't say enough about this dog food, but this recipe won't work across the board for all puppies.
Moisture-rich
Easy to digest
Grain-free
---
What Other Users Are Saying
From all of our research, it seems that Nulo gets a big thumbs up from dog food experts and customers alike. Nulo is an ever-expanding brand that continues to make excellent recipes for everyday health and complicated issues as well.
If you've wanted to try Nulo but you weren't exactly sure if other people approved, dog food advisor scores this brand Five stars out of five stars. That means it is a top-quality, highly recommended brand that upholds its promise to put your pet first, taking the nutritional aspects to another level.
Ultimately, one of our favorite things about Nulo is their specially tailored variety to match the puppy's needs. So, if you're having trouble finding a recipe that works well for your young dog, Nulo has several recipes to choose from if one doesn't work out for you.
We think it's a dog food company you can definitely stick with as your dog ages.

Conclusion
So now you understand that Nulo is a premium, top-quality brand with so much to offer. They offer both grain-inclusive and grain-free selections to suit the needs of most, if not all, dietary restrictions. Nulo uses exceptional ingredients from trusted sources, and we think that your furry friends can definitely benefit from this well-rounded, versatile brand.
---
Featured Image Credit: Nulo, Amazon