NutriSource Dog Food Review: Recalls, Pros & Cons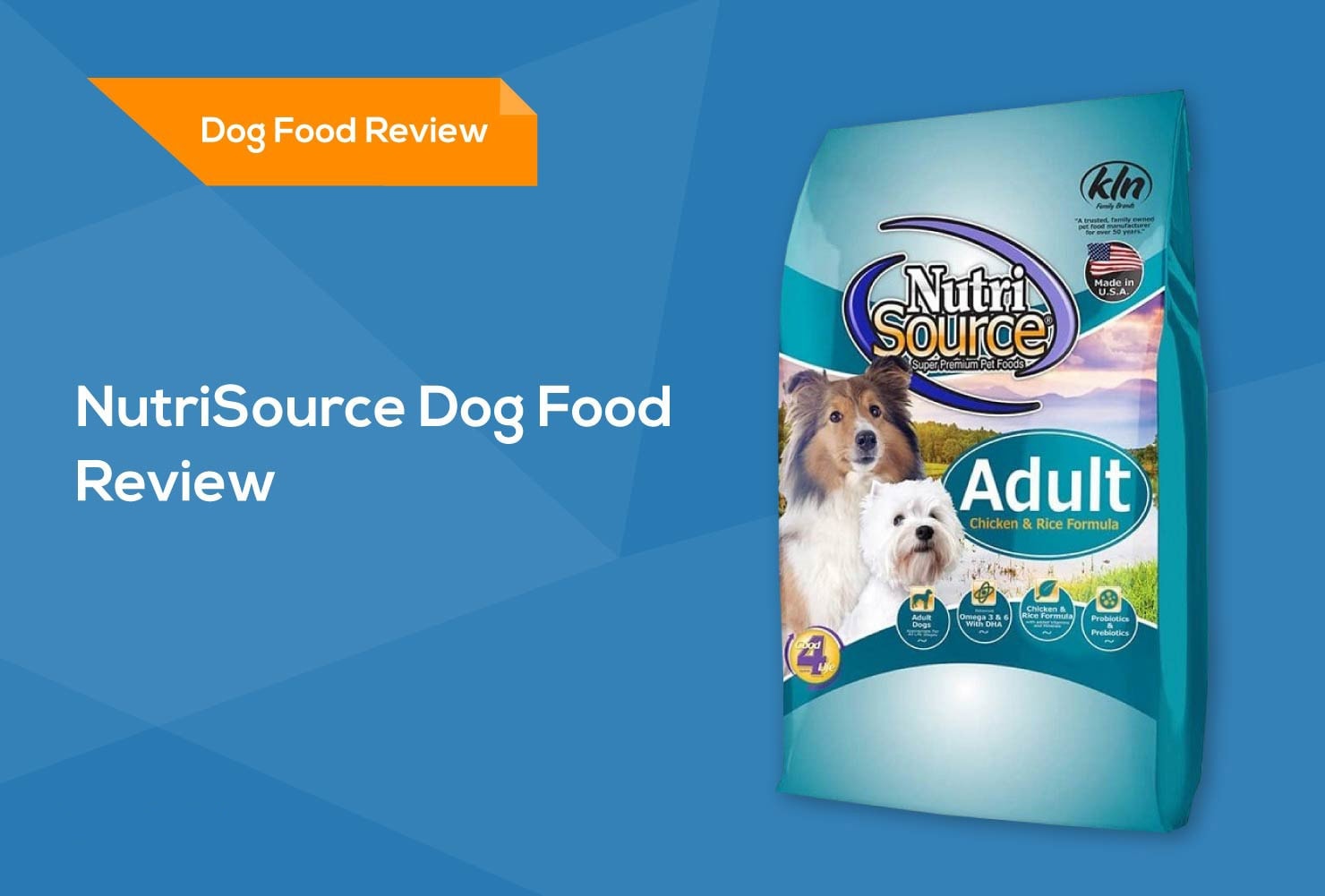 Our Final Verdict
We give NutriSource dog food a rating of 4.5 out of 5 stars.
NutriSource is a family-owned and operated company that produces wet and dry dog food, in addition to a line of treats that is formulated with all-natural ingredients. The brand offers a variety of formulas to suit different dietary needs, all of which contain many added nutritional benefits that support your dog's overall health.
Like any pet food brand, there are always going to be some drawbacks to consider. Without knowing what to look for, however, it can be difficult to determine what factors are important to avoid and which ones are benefits.
In the article below, we will share all the pros and cons of this dog food brand. Keep reading to find out what the ingredients mean as a whole, what the nutritional value signifies, and other important aspects of the company that will affect your final decision.

At a Glance: The Best NutriSource Dog Food Recipes:
Image
Product
Details

Our Favorite

Nutrisource Adult

Balanced omega 3 & 6 with DHA
Contains probiotics and prebiotics
Chicken is the number one ingredient
Check Price

Nutrisource SmMed Breed Puppy

Wheat Free
Formed into smaller
bite-size shapes
Beet pulp-dried
natural turkey and chicken flavor
Check Price

Tuffy'S Pet Food Nutrisource Weight Management

Buckwheat Free
Has balanced and wholesome ingredients
No additives
coloring
flavoring
fat sources
Check Price

Tuffy'S Pet Food Nutrisource

Chicken & Pea flavor
High quality protein
Supports optimal nutrition and easy digestion
Check Price

NutriSource Canned Dog Food

Chicken Lamb & Fish flavor
For all life stages
Check Price
NutriSource Dog Food Review
NutriSource dog food is a US-based company that produces both canned and dry dog meals, and a variety of treats that are made with an all-natural formula. Although this brand has a grain-free option, it is a grain-inclusive, limited meat dog food.
The overall concept behind this brand is its dedication to the community. You are more likely to find these products in smaller, privately owned pet stores then you would in larger conglomerates such as PetSmart. That being said, you should be prepared to pay a little bit more for this food than you otherwise would.
NutriSource formulates with additional vitamins, minerals, and supplements to promote your dog's overall well-being. Before we get into ingredients, however, let's first talk about where this pup food is made.
Who makes NutriSource and Where Is It Produced?
NutriSource is a USA-founded brand that is based out of Minnesota. It has been owned and operated by three generations of the K&L family since 1964. Originally Tuffy's pet food, they have now umbrellaed their company under K&L Family Brands, where they also produce other pet foods.
Different formulas of dog food are made in the USA under AAFCO guidelines. This family's core values include people, quality, spirit, moxie, tradition, and community. For that reason, they take much pride in sourcing their ingredients from local farms and businesses.
That being said, the NutriSource website is obscure regarding the sourcing. While they allude to the fact that the ingredients are sourced in the USA, there is no definite answer to this question. Regardless, their ingredients are chosen for their quality and beneficial nutritional value for your pet.
Formulas and Recipes to Choose From
There are many benefits to the NutriSource formulas. Both dry and wet food have many options to choose from which we will take a look at below.
Dry Formulas
Adult
Small to medium puppy
Large breed
Grain-free
Large Breed Puppy
Senior
Super performance
Wet Formulas
Puppy
Adult
Senior
Grain-free
Small to medium breed
Besides the different formulas, there are also many different recipes and flavors you can choose from depending on your pet's pallet. Let's take a look at these for both wet and dry food:
Chicken and rice
Quail
Lamb and rice
Turkey and rice
Cherokee
Sweet potato
Salmon and pea
Trout and sweet potato
Chicken and lamb
Ocean fish
The dry formula is available in 5, 15, or 30-pound bags while the 13-ounce canned food is available either in a single or 12-pack case.
Which Types of Dogs Might Do Better with a Different Brand?
Although NutriSource offers a grain-free formula, their basic products are based around a healthy rice and potato diet. That being said, if your pet suffers from any type of grain allergies or gluten sensitivities, they may be better off with something more appropriate for their dietary needs.
If that is the case, we recommend the Solid Gold Grain-Free formulas. This brand not only has all of the nutritional benefits that Nutrisource provides, but they also have several different grain-free recipes, and they are within the same price point.
Also, if your dog is high energy or a working pet, they may need a meal that will provide them with a higher protein level. As this brand is grain-based (which we will discuss more later), extremely active dogs will benefit more from foods that offer more concentrated lean proteins such as Blue Buffalo Wilderness high protein natural dog food.

Nutritional Value and Ingredients
Before we start digging deep into the meaning of the individual ingredients in these formulas, we wanted to touch base on their nutritional value, as well as the primary vitamins, minerals, and nutrients this brand offers. Although the primary ingredients are important, they do not paint the entire picture.
Nutritional Value Guidelines
Below, we have outlined the minimum percentages of the important nutritional values for the average NutriSource wet and dry dog foods. To give you a better idea of what is healthy and what is not, the AAFCO provides guidelines on the canine diet.
For example, they recommend that your dog consumes at least 18% protein per day from their meals. They also recommend a fiber content between 1 and 10%, plus a fat content of between 10 and 20%. When it comes to your dog's calorie intake, they should be provided with 30 calories per pound of body weight.
That being said, you want to take your pup's individual needs into account. Certain dogs may require more fiber or more fat depending on their lifestyle and health. Contacting your vet to get a better understanding of what your dog needs to live their best life is always recommended if you feel their food is not providing them with essential nutrients.
Nutritional Values
We have taken the average nutritional values from the five most popular wet and dry formulas to give you a basic understanding of the nutritional value in the NutriSource formula.
Dry
This formula contains 26% protein which is a decent amount for grain-based dog food. The fat and fiber content are 14% and 3.3% respectively which is also appropriate for most dogs. Finally, we have an average of 420 kcal calories per meal which is appropriate for an average size adult canine.
Wet
When it comes to their canned food, however, these values slip a little bit below the radar of good nutritional value. This is not uncommon for wet dog food. The average protein in these formulas is 9.8% which is on the shallow side. It has a fat content of 7.94% and a fiber content of 1%.
When it comes to fat, it is not as concerning as it would be in human food. Dogs convert fat into energy, but if your pup has any weight issues, this might be on the high side. The fiber content of 1% is a bit low and this could make it all harder to digest for some dogs. Finally, we have calories that stand at an average of 300 KCAL per meal which is a bit on the high side but nothing drastic.
All of this notwithstanding, the nutritional values are only half of the battle when looking for a healthy plus tasty meal for your pet. The ingredients and supplements we will go over below are the other half.
Vitamins, Minerals, and Supplements
In a typical dog food formula, you will find the vitamin, minerals, and other supplements to be lower on the ingredient's list as they are lighter in weight. Therefore, they take up less space in the formula. NutriSource has packed their canine cuisine with many different beneficial ingredients such as vitamins, B complex, C, D, E plus iron and potassium you keep your dog healthy.
That being said, there are some other supplements that the brand promotes as their guide for keeping your pet healthy.
Omega 3 and 6: These two ingredients are common in most dog foods as they provide benefits for your pet skin and fur. They keep dry skin moisturized and can improve indoor coat.
Probiotics: Probiotics are natural bacterial enzymes that live in your pet's digestive system. They are there to eat away at the harmful bacteria that can accumulate. They support a healthy digestive and immune system.
Taurine: This ingredient is an amino acid that is included to strengthen your dog's eyes, bones, and muscle tissue as well as many other benefits.
L-Carnitine: This is another amino acid that performs the same function as above.
DHA and EPA: Both of these fall under the omega category but are better suited to promote your pet's cardiovascular health.
Glucosamine: This is a supplement that supports your dog's joint health not only will it relieve swelling and pain, but it is also preventative especially in dogs that are predisposed to arthritis or hip dysplasia.
A Quick Look at NutriSource Dog Food
All-natural
Family-owned
Various recipes and formulas
Good nutritional content
AAFCO guided formulas
Made and manufactured in the USA
---
Ingredients Analysis
Calorie Breakdown:
Now that we have the nutritional benefits out of the way, we wanted to discuss Nutrisource ingredient levels. As you may know, the AAFCO provides guidelines on healthy ingredients within dog food. That being said, they have no authority to regulate these products, and they are only providing a basic rule of thumb, if you will.
On the other hand, the FDA regulates dog food by ensuring each ingredient in the formula has a specific purpose and is deemed safe. Keep in mind, however, that there is no pre-market approval for dog food nor does it need to be manufactured in a human-grade facility.
Protein vs. Grains
As we have noted, NutriSource uses an abundance of grains within their formula. They use a mixture of brown rice and white rice in their recipes. Although white rice has little nutritional value, it is typically the last concentrated ingredient.
One thing that you should consider about ingredient labels is that they are designed to feature the most concentrated item first and the least concentrated item last. Also, take note that the water within an ingredient (such as chicken) is also taken into account in the final weight.
For better context, we will be using the dry chicken and rice formula as an example. The first two ingredients are chicken and chicken meal. The third ingredient is brown rice followed by oatmeal. If you were to remove the moisture (water) from the chicken, you would find that the ingredient would drop many spaces on the list as chicken typically has a high concentration of water.
If you are looking at the ingredients list with an eye towards its protein level, you also want to take into account some of the ingredients lower on the list such as flaxseeds which are very high in protein. It is reasonable to assume that the majority of the protein in this formula is not coming from the meat but other ingredients. On the same train of thought, it would also make grains the more prominent Ingredient in the food.
When looking at dog food from this perspective, you can see how consumers can easily assume they are providing their pet with high levels of meat-based protein when they actually are not.
Canned Food
Although we have already outlined a few concerns we have with NutriSource's wet dog food formula, there are also a few individual ingredients that should be mentioned. Again, we ask that you keep in mind that the majority of canned dog foods are going to be less nutritious than their dry counterparts. In fact, NutriSource offers a lot of benefits in their wet meals including additional vitamins, minerals, and supplements.
That being said, take a look at these ingredients that you should be aware of:
Alfalfa Meal: The next ingredient is in the top half of the ingredient list making it a more concentrated item. Although it is not toxic, it can inhibit other vitamins and minerals from soaking into your dog's system.
Barley: Barley is good for giving your pup a quick boost of energy due to its carbohydrate levels. Though it does have some other benefits, the overall nutritional value is slim.
Salt: Salt is another common ingredient in wet dog food that can typically be found in the top half of the ingredient list. Unfortunately, sodium is not beneficial to your pup and is typically used as a natural preservative.
Brewer's Yeast: Yeast has long been a debated ingredient within dog formulas. Many argue that there are a lot of nutritional benefits to this item, yet it can cause stomach upset for pups that have allergies. Also, in some rare cases, it can cause serious to even fatal bloating issues.
Regardless of the questionable ingredients above, there are no artificial ingredients or other harmful items in this formula that can typically be found in other canned dog foods. Although this may be the less nutritious route in comparison to dry meals, it is still a step above your basic grocery store wet dog food.
---
What Other Users Are Saying
There is something to be said for the old adage that "good news travels fast." When it comes to online reviews, this couldn't be truer. To help you get the full scope of this product, we have added some customer reviews on the NutriSource formula.
LoyalCompanion.com
"Jake loved his kibble! Never turned his nose up at it!"
Amazon.com
"My corgi puppy loves this food. It's all we've fed him since we brought him home, and we will continue to feed it to him! It's got great ingredients and has all the necessary vitamins and minerals he needs as he continues to grow. I feel good about feeding this to him, and supporting the company"
Amazon.com
"Saxon just loves this food, it digests in his system. will he eat heartily and I feel very confident that he's getting the very best nutritional diet. I highly recommend this puppy food to anyone."
Of course, these are only a handful of the reviews you can find on Amazon. If you would like to take a closer look, check out the rest of the reviews here to get a better idea of what others are saying.

Conclusion
Overall, this is an all-natural dog food formula that is a great source of vitamins, minerals, and supplements. NutriSource offers recipes for most dietary needs, and the tasty flavors will be a favorite with your pet. Beyond that, there are only a few drawbacks. One of which is the food is more expensive. Secondly, it is not as easily found on store shelves, although it is available on Amazon.
We hope you have enjoyed the above reviews. Finding a well-balanced nutritious meal for your pet can be hard, especially with the numerous options available. Not only that, but deciphering dog food labels are tough, as well as, the nutritional values. If we have helped you find the right meal for your pup, it is a job well done in our book.