Pet Supplies Plus vs. PetSmart: Which Pet Store Is Better in 2023?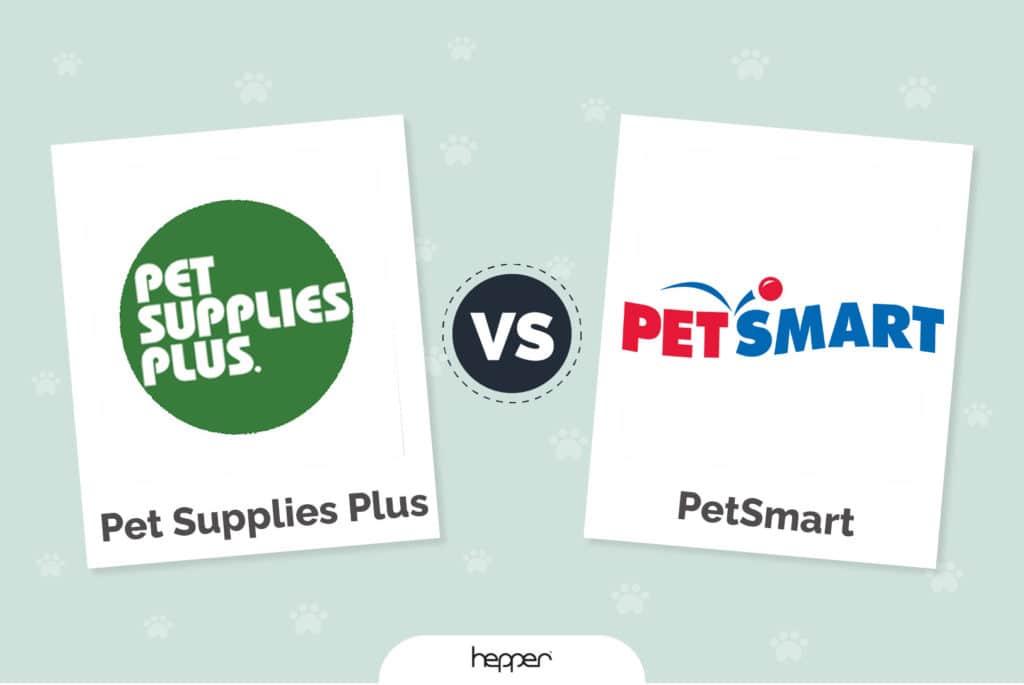 Today, we're comparing two companies that love pets: Pet Supplies Plus and PetSmart. These companies have been in the game for years, but PetSmart has grown to be almost three times the size of Pet Supplies Plus.
Does this mean PetSmart is better? In our research, we found that both companies are excellent. Pet Supplies Plus knows how to make a pet owner feel special, but PetSmart seems to have more available products and services.
It was hard to choose a winner. We'll have the answer at the end of the post. Until then, let's compare the two brands.
A Quick Comparison
| | | |
| --- | --- | --- |
| Brand name | Pet Supplies Plus | PetSmart |
| Established | 1988 | 1986 |
| Headquarters | Livonia, MI | Phoenix, AZ |
| Product lines | Anything pet-related | Anything pet-related |
| Parent company/ major Subsidiaries | Healthy Pet Partners, PSP Group, Pet Extreme, Franchise Group, PSP Midco | BC Partners, Argos Holdings |
Brief History of Pet Supplies Plus
Pet Supplies Plus is the underdog in our comparison today. In 1988, Jack Berry and Harry Shallop founded the company, which grew into the third largest specialty pet food retailer by 2005.
As of now, there are 560 stores scattered across 36 states. The company isn't as large as PetSmart, but they're making a good impression on the United States by hosting a respectable amount of name-brand pet products. You mostly find pet food, toys, and treats in a Pet Supplies Plus store. But they offer other products and services to keep up with their competitors.
Brief History of PetSmart
Many people know about PetSmart. This pet industry giant was started in 1986 by Jim and Janice Daugherty, only two years before Pet Supplies Plus, and has around 1,600 stores across the US. It's now the leading pet company in North America, with stores in Canada and Puerto Rico. PetSmart is uniquely American like Pet Supplies Plus but offers several more products and services.
Pet Supplies Plus Online Ordering
Pet Supplies Plus primarily functions as a brick-and-mortar store, but you can purchase products online and have them shipped to your house.
Pet Supplies Plus allows you to place recurring orders on auto shipment and even offers free same-day delivery on orders of $35 or more. First-time auto shipments receive a 35% discount with qualifying products. After that, all auto-shipments receive a 5% discount.
The downside is you have to live within 7 miles of a store for auto-shipment to be an option. This is because Pet Supplies Plus doesn't rely on a third party to deliver its goods.
PetSmart Online Ordering
Like Pet Supplies Plus, PetSmart is an in-person shopping experience, but they also provide online ordering and shipping.
You can choose to place an order on auto shipment if you purchase the item regularly. First-time auto shipments receive a 35% discount with a maximum savings of $20. All auto-shipments receive an automatic 5% discount after that.
Shipment is fast, and prices are about the same as in-store prices, although some items may cost more online. If you buy anything online that's $49 or more, you automatically earn free shipping.
Like Pet Supplies Plus, PetSmart offers free same-day delivery on specific items (you have to shop on their same-day delivery page). Because there are more PetSmart stores, you can have same-day delivery through DoorDash if you have a store nearby. They also accept PayPal if you don't want to use your debit or credit card.
Pet Supplies Plus Product Line
Even though Pet Supplies Plus is lesser known than PetSmart, they still have tons of variability in their product lines. True, they don't offer as much, but they make up for it in creativity and quality. Let's take a look.
Pet Bakery
The pet bakery is what sets Pet Supplies Plus apart from its competitors. You won't find a fresh pet bakery anywhere else. Each bakery offers different tasty treats, so you'll have to visit your local store to see what's cookin'. Generally, you can expect cookies, donuts, and frozen treats. You can even order specially made treats for your dog's birthday, gotcha-day, or any other celebration where you want to include your pet.
The pet bakery really makes the store shine. All baked goods are beautifully displayed near the front door, adding brightness to your day.
Merchandise
Pet Supplies Plus has several name-brand dog and cat foods like Purina, Hills, and Blue Buffalo. They also offer bird, fish, and reptile feed. However, they don't provide as many as PetSmart. It's best to check online if they have your dog's preferred brand before you venture into the store.
Pet Supplies Plus offers more holistic, lesser-known pet foods, so you might have better luck finding a local pet food here than at PetSmart. All foods range in price and quality, so you don't have to spend an arm and a leg on dog food if you don't want to. You can also find toys, litter, clothing, waste management items, and grooming products.
Grooming
Pet Supplies Plus offers full-service grooming, including skin and coat, paws and claws, teeth brushing, ear cleaning, and gland cleaning. You can book appointments online and can stay with your dog during the grooming process if you choose.
Pharmacy
Pet Supplies Plus doesn't offer full-hospital veterinary care like many major pet department stores, but it has a pharmacy offering prescription food, heartworm, and flea and tick prevention.
PetSmart Product Line
At PetSmart, you can find hundreds of pet food brands, grooming and training services, veterinary care, and more. It's probably why they grew faster than Pet Supplies Plus. Here's a breakdown of what they offer:
Merchandise
PetSmart has several aisles full of dog and cat food, including bird, fish, and reptile feed. If you're looking for more well-known food brands, PetSmart is the place to shop. That doesn't mean they don't include lesser-known brands, but it seems they're more likely to carry the big brand names.
You can also find different animal foods, like dry, wet, raw, and semi-raw.
PetSmart has a few private pet food labels, including Authority Dog Food, Simply Nourish Pet Food, and Great Choice Dog Food. You can only find these products at PetSmart stores or their website.
Grooming
PetSmart offers grooming services for dogs and cats at their local stores. You can select several different grooming services ranging from a basic scrub and brush to a full-blown spa day. Their grooming facilities will accept walk-ins for an affordable rate, assuming they have the space. You can purchase their grooming packages if you want to save more money as a returning customer.
Training
Unlike Pet Supplies Plus, PetSmart has several training courses for adult dogs and puppies. They have everything you would need for basic and advanced training. You can choose online classes or in-person classes. You can select a private session or a group session.
Veterinary Care
PetSmart has the upper hand with veterinary care. They operate their private hospital or work with Banfield or private veterinarians in-store. Not every location has a full-service hospital, but they usually offer a vaccination clinic at the least. You also find prescription food here.
Boarding, Doggy Day Camp, and Kitty Cottage
Another thing PetSmart offers is boarding and doggy day camp. These are great options if you have to work during the day or have to leave your dog for a few hours at home. Doggy day camp offers playtime, story time, lunch with treats, and more. Where does the fun stop?
On top of that, your dog and cat can board overnight with PetSmart's pet hotel with socialization, calming diffusers, meals, and connecting doors for pet siblings.
Pet Supplies Plus vs. PetSmart: Price
Overall, Pet Supplies Plus's prices are no different than PetSmart's—at least for name-brand dog food. You can find the same prices at both stores for big brands like Purina, Hills, Diamond Naturals, and other brands. But let's see what kind of budget buys and what premium products they carry.
Pet Supplies Plus
You can find great deals at Pet Supplies Plus that PetSmart doesn't offer. For example, they offer premium pet foods like Redford Naturals dog food and Nulo. They only carry the Nulo wet food option, though. Pet Supplies Plus also has its own private label called OptimPlus.
Pet Supplies Plus offers Victor dog food, Beneful, and IAMS for budget buys. You can find Beneful and IAMS at PetSmart, but we couldn't find Victor dog food. At least not online.
You can find other great deals for premium and budget buys, but these were the options that stood out to us.
PetSmart
PetSmart has some deals that Pet Supplies Plus doesn't offer. Their premium options include Canidae dog food, Nulo dry and wet food, and Whole Earth. PetSmart also sells a few private labels, their most popular being Authority dog food.
For budget buys, you can select Nature's Recipe, Nutro, Pedigree, and Eukanuba. We couldn't find these options at Pet Supplies Plus.
Pet Supplies Plus vs. PetSmart: Loyalty, Rewards, and Partnership Programs
It's nice to earn certain perks when you're a returning customer at a store. Here's what both stores offer their customers.
Pet Supplies Plus
Pet Supplies Plus updated its rewards program back in 2021. The rewards program allows customers to earn 5 points for every $1 spent in-store or online. You can earn more points by taking surveys, polls, and purchasing items during promotions.
For every 1,000 points earned, customers receive a $5 coupon to use on any product in-store or online.
Customers can keep track of their rewards points through their online dashboard and receive special surprises for their pet's birthday and adoption day.
Customers can keep track of their rewards points through their online dashboard and receive special surprises for their pet's birthday and adoption day.
PetSmart
With PetSmart, you earn 8 points for every $1 you spend in-store or online. These points can be redeemed anytime, decreasing the price of any merchandise. This also applies to services like grooming and doggy boarding.
At check out, PetSmart asks customers if they want to donate a portion to support animal shelters and rescues. You can earn points for these donations as well. You can also take advantage of the shipping discounts we mentioned earlier.
Other discounts include free surprises on your pet's birthday, free doggie day camp sessions if you purchase 10 or more sessions, and special offers sent via email. Customers can track their points and other rewards online via the customer dashboard.
Pet Supplies Plus vs. PetSmart: Customer Service
Customer service ratings are always a hit-and-miss because locations vary. Generally, both companies have great ratings for customer service with a few bad ones. Let's see what people are saying about these brands.
Pet Supplies Plus Brand
Customers love Pet Supplies Plus because of the small-business vibe in each store. Staff members learn your pet's name and remember it. They offer treats, host ice cream socials, and have safe, clean quarters for their pets in adoption. Everyone is welcoming. This is a store you want to visit in person just for the experience.
Some people have had bad experiences with products and animals. Upper management seems to respond to bad reviews professionally and quickly across social media. So, aside from the occasional mishaps, shopping at Pet Supplies Plus gives everyone a warm and fuzzy feeling.
PetSmart Brand
Customers don't get the special feeling of visiting a PetSmart that Pet Supplies Offers, but PetSmart's customer service is still good. They usually respond to inquiries quickly, and the staff is generally friendly and welcoming.
Because PetSmart is larger and has more departments, you'll find more negative reviews about various topics. It seems most of their issues stem from online orders and disagreements with staff in-store. Overall, you won't get the small-business vibe from a PetSmart, but you'll still receive friendly customer service.
Head-to-Head: Pet Supplies Plus Grooming vs. PetSmart Grooming
PetSmart and Pet Supplies Plus offer top-notch grooming services with some differences.
Not every Pet Supplies Plus store has a grooming department. But they make up for this by offering a self-service cleaning station. You just have to pay ahead to secure your spot. Pet Supplies Plus provides a clean facility and quality shampoo, conditioner, and hairdryers. You just have to bring a towel- and the dog, of course.
With PetSmart, we like that they have more options. You can select a basic grooming session, or you can purchase packages. They even accept cats. Sadly, they don't have a self-service station like Pet Supplies Plus.
Our Verdict:
Even though PetSmart has more options, we think Pet Supplies Plus has the upper hand with its self-service station and grooming department. The self-service station is clean, offers quality shampoo, and offers a blow dryer.
Not every owner has the time to do this, though. Sadly, they don't offer professional grooming in every store, but their customer service is so good that owners feel more relaxed with Pet Supplies Plus services.
Head-to-Head: Pet Supplies Plus Dog Cookies vs. PetSmart Dog Cookies
Both pet brands sell baked goods for dogs. In this comparison, we're specifically talking about cookies. Both stores offer regular cookies and cookies centered around a holiday theme. So, if you want to provide Halloween or Christmas treats to neighboring dogs, you can go to either store.
Our Verdict:
Pet Supplies Plus takes the edge with its on-site dog bakery. PetSmart offers cookies, but they're shipped and placed on the shelf like regular merchandise. Pet Supplies Plus displays their baked goods like a donut display from your local grocery store. Their cookies have better holiday and unique event designs, too.
Head-to-Head: OptimPlus vs. Authority Dog Food
Both stores offer their own private label of dog food. Pet Supplies Plus sells OptimPlus and PetSmart sells Authority dog food. Let's briefly compare the two.
First, let's look at Authority. This food is PetSmart's way of offering a more affordable dog food option high in protein and fat and made with natural ingredients.
Authority dog food is heavy on the carbs, but some of it is natural fiber. Each recipe includes omega-3 and omega-6 fatty acids and probiotics. Towards the bottom of the ingredient list, you'll find rosemary extract, a natural antioxidant and preservative. You'll also find glucosamine and chondroitin sulfate in a few of their recipes.
The most interesting characteristic about Authority is the textured pieces for teeth cleaning. You also won't find preservatives, artificial colors or flavors in this food.
OptimPlus is a high-protein and high-fat food option. The recipes include meat as the first ingredient, followed by other meat meals and rice. In these recipes, you can also find omega-3 and omega-6 fatty acids, probiotics, and rosemary extract. They have glucosamine, but we didn't notice any chondroitin.
We like that there are no fillers, preservatives, or artificial ingredients in OptimPlus recipes. The food pieces are textured, but it's not advertised to specifically clean your pet's teeth.
Our Verdict:
Both foods are similar, but Authority dog food is the better option. The food offers more nutrition, and it's cheaper.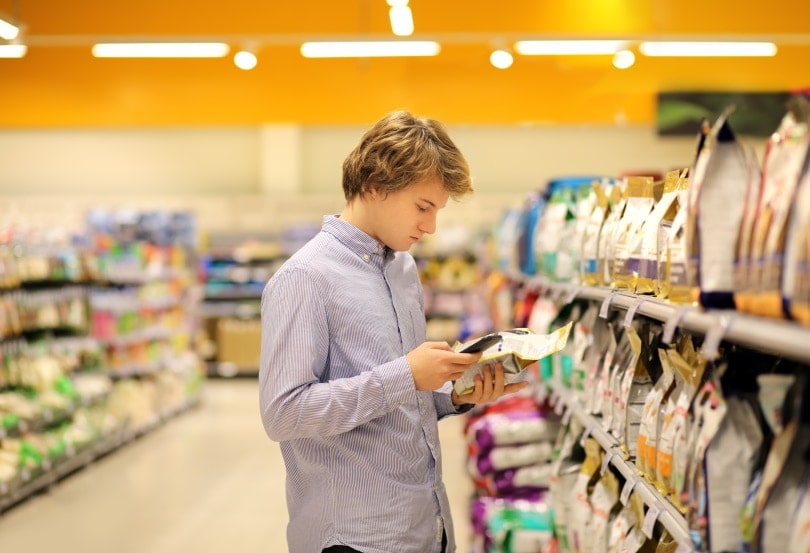 Overall Brand Reputation
Convenience
PetSmart has more locations across the US. They also have a better selection and offer numerous services, making their stores a one-stop-shop kind of deal. It's convenient for pet owners strapped for time, so PetSmart takes the lead in this category.
Price
PetSmart takes the edge in price. This was a tricky area to choose a winner. Both stores seem equal in price. However, Pet Supplies Plus offers slightly higher prices for holistic and natural food. PetSmart offers more loyalty rewards, making the overall cost cheaper.
Selection
PetSmart has the upper hand here. Both stores offer many food selections, but PetSmart provides more. Plus, they have more services.
Customer Service
Pet Supplies Plus is the winner for customer service. Customers love going to Pet Supplies Plus because it has a family-owned vibe and one-on-one interaction. The staff is friendly and remembers your pet's name. Instead of feeling like you're checking off a task on your chore list, Pet Supplies Plus feels like an experience.
Conclusion
Let's do a quick recap on the two brands. With Pet Supplies Plus, you get a welcoming, one-on-one experience. They have an adorable array of delicious baked goods, dozens of natural pet foods, and a self-service bathing station (and grooming services depending on the location).
Shopping at PetSmart is so easy because you can find everything in one location. PetSmart has more selection and offers more services like training, veterinary care, and grooming packages. They also have a better rewards program, so you can save more money in the long run.
Frankly, we feel that both stores are great. PetSmart is the better option if you need to save money and time. They have the upper hand with convenience. If you're willing to spend some extra money and time, we recommend visiting Pet Supplies Plus. You can check their bakery and food selections and see if the customer services live up to the hype. It will be worth it!
---
Featured Image Credit: