10 Shih Tzu Haircuts & Grooming Styles in 2023 (With Pictures)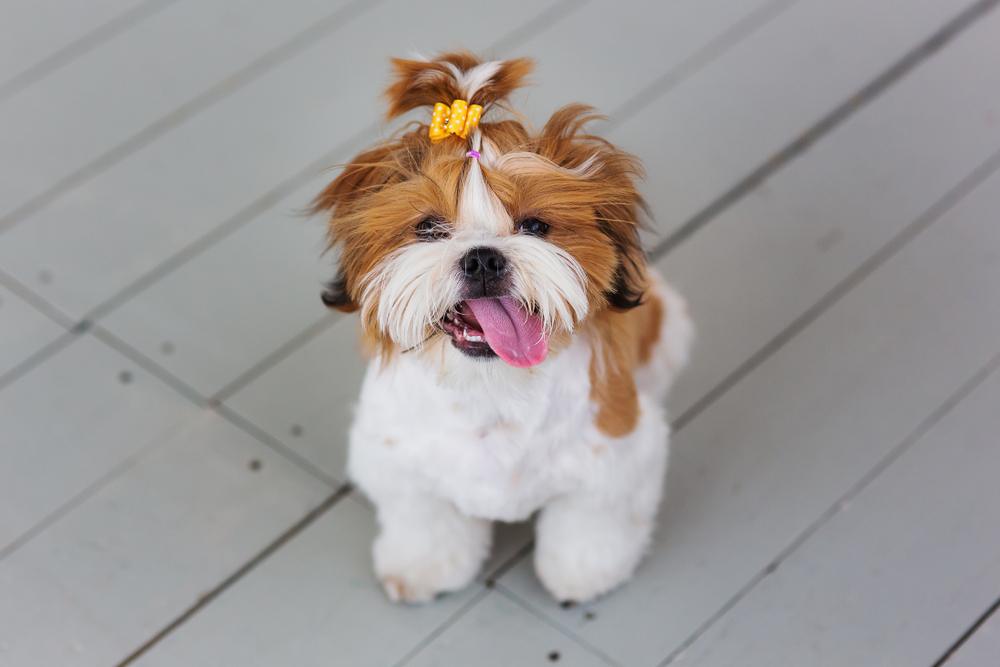 The Shih Tzu comes in at number 20 in the most popular breeds with the American Kennel Club (AKC).1 It's easy to see why, too. This pup is so adorable and affectionate. It's easy to see why so many people find her so endearing. Unlike a lot of dogs, this girl got her start as a companion animal instead of one with a job. Her purpose was to keep his owner happy.
However, grooming a Shih Tzu is more time-consuming than other breeds. Tangles and mats are issues with her long hair. That means daily combing to keep it looking its best. It also means that you can cut and style it in various ways to bring out the cuteness in this charmer. For a dog with such personality, it's a natural. The fact that her fur grows so long gives you many options, too.

The 10 Shih Tzu Haircuts
1.

The Puppy Cut
Many owners decide to get a puppy cut for their Shih Tzu to make grooming easier. Sure, that works for us, but it's so darn cute, too! It's a smart choice if your pup is outdoors a lot. He'll stay cleaner and mat-free if he's not dragging his fur through the muck. However, it's essential to keep up with his fur's growth and get him to the groomer regularly for one of the most popular Shih Tzu grooming styles around!
---
2.

Dainty Girl
This style is a riff on the puppy cut with a daintier look befitting your little girl. The trim on the ears makes her look like she has a bobby cut. It just begs for some pretty ribbons to doll her up and complete her look. We also liked the fuller look to her legs. It almost seems as if she's wearing a skirt, too!
---
3.

Rounded Face
This cut has some more polish to it, with a rounded face for your Shih Tzu. Think of it as a preppy look for your pooch. You'll probably need to trim it often to keep it looking this way. We can't help but gush over this girlie-girlie style.
---
4.

The Country Girl
This hair cut is so fun! We just love the braids and the bows, of course. If your pup wants to get in touch with country girl side, it is the look she needs! It's also a practical way to keep the long hair on her ears tangle-free.
---
5.

Glamour Girl
Your pup has to have a particular personality to carry off this look. It's probably a given with most pampered Shih Tzus, anyway. This is the coif for a special occasion. Your girl will be the hit of the party with this do!
---
6.

Baby Girl
If this cut doesn't have you cooing over this adorable Shih Tzu, nothing will. It's almost too cute for words. It's also an excellent way to keep the hair from her eyes to keep the tear stains under control. We love it because you can see her face so clearly.
---
7.

The Tomboy
This haircut makes us want to hug our Shih Tzu even more. We love its timeless look. Your adult dog will look like a puppy with this do. Of course, it also has its practical side for keeping her fur clean. The expressiveness of the trim on her ears is what makes us love this style so much.
---
8.

Fancy Girl
This haircut is probably what you think of with a Shih Tzu in the show ring. It has all the frills, with a longer coat complete with a jeweled barrette to keep the hair out of her eyes. It's fancy yet also elegant in a way that only this breed can carry off in style.
---
9.

Dorothy
The first thing we thought of when we saw this pup was Dorothy from "The Wizard of Oz." The pigtails are adorable! This style highlights the fun you can have with grooming your Shih Tzu. We tend to think just of the cut but not about the other things we can do. She is sure to turn some heads with this hairstyle.
---
10.

Chilling Out Do
Now, if our previous pics said glam, this one says, let's just chill out and relax. This haircut says sassy but in an understated way. It's an excellent choice if you want your pup to be herself. We like it because it's easy to maintain between grooming appointments. She'll always look her best without the fuss.

As you can see, there are so many ways you can groom your Shih Tzu that can define her personality. Whether you decide to keep it simple with a puppy cut or go all out with a glamour do, your pup is sure to carry it off in style. It's part of what makes this breed so popular. After all, she makes it easy to love her and want to pamper her. Making her look her best with a cute do adds to the fun.
See also: Helpful Tips on How to Clean Shih Tzu Ears (Dog Care Guide)
---
Featured Image Credit: Victoria Kovelina, Shutterstock