Supreme Source Dog Food Review 2023: Recalls, Pros & Cons
Review Summary
Our Final Verdict
We give Supreme Source dog food a rating of 4.4 out of 5 stars.
Good dog food often has a hefty price tag, but this is not the case with Supreme Source. All their recipes are packed with goodness, with a decent amount of protein, and meet all the FDA, AAFCO, and USDA standards. Although produced in America, Supreme Source searches the world, looking for ingredients they trust to use in their recipes. They have a few slightly unusual ingredients in their formulas, such as single-strain seaweed, which is excellent for digestive health.
Although this food doesn't suit every dog's needs, we think Supreme Source is an excellent grain and corn-free option to consider for your dog, especially if you're on a budget or have many mouths to feed!
Click to skip ahead:

At a Glance: The Best Supreme Source Dog Food Recipes:
Rating
Image
Product
Details

Supreme Source Grain-Free Salmon Meal

Fresh salmon ingredients
Also includes real fruits
100% grain-free
Check Price

Supreme Source Grain-Free Turkey Meal

Real turkey meal
100% complete nutrition
Made with premium ingredients
Check Price

Supreme Source Beef, Chicken Meal

Real pork is the very first ingredient
Features Well Boost
Proudly made in the USA
Check Price

Supreme Source Grain-Free Pork

Includes real fruits and vegetables
Superior health benefits for dogs
including immune support
Check Price

Supreme Source Grain-Free Lamb

Real Lamb meal
Formulated to deliver 100% complete nutritio
Including peas, chickpeas, sweet potatoes
Check Price
Supreme Source Dog Food Reviewed
Who makes Supreme Source, and where is it produced?
Supreme Source dog food is one of American Pet Nutrition's many pet food brands. This booming American company is family-owned and started back in 1972; however, Supreme Source is one of their newer brands. They're focused on food safety, the health of pets, and building a trusting relationship with their customers.
A few of American Pet Nutrition's other brands are Vita Bone, Beggar Dog, Atta Boy, Maintain Chunks, and Atta Cat. They make both dog and cat food and treats. They also are known to manufacture products for several other companies.
Supreme Source dog food is made in Ogden, Utah, and American Pet Nutrition is involved in every step of the process, from formulation, sourcing, and producing to packaging their dog food and treats. They're strict about the type and quality of ingredients they include in their recipes. However, there is little information on where they source their ingredients, but we do know that some are sourced outside of the US.
All their dog foods meet all the FDA, AAFCO, and USDA standards. They're also SQF Level Three Certified, which means that they're recognized as having a high level of food production quality and safety.
Which Type of Dog Is Supreme Source Best Suited for?
Supreme Source dog food is a brilliant option for pet owners on a budget as all their recipes are reasonably priced. The type of dogs that will thrive best on this brand are ones with sensitivities to grain, corn, and soy, as the recipes are free from those ingredients. Supreme Source is suitable for all dog breeds and is widely accessible for the convenience of pet owners.
Which Type of Dog Might Do Better with A Different Brand?
Supreme Source dog food will get many mouths watering, but even so, they're not the best brand for all dogs, especially those in need of a specialized diet, formulated for specific breed types and dogs with health problems. They're also not a top pick for dog owners looking for grain-inclusive recipes, as dogs on Supreme Source will lose out on the many health benefits that grain-inclusive recipes offer.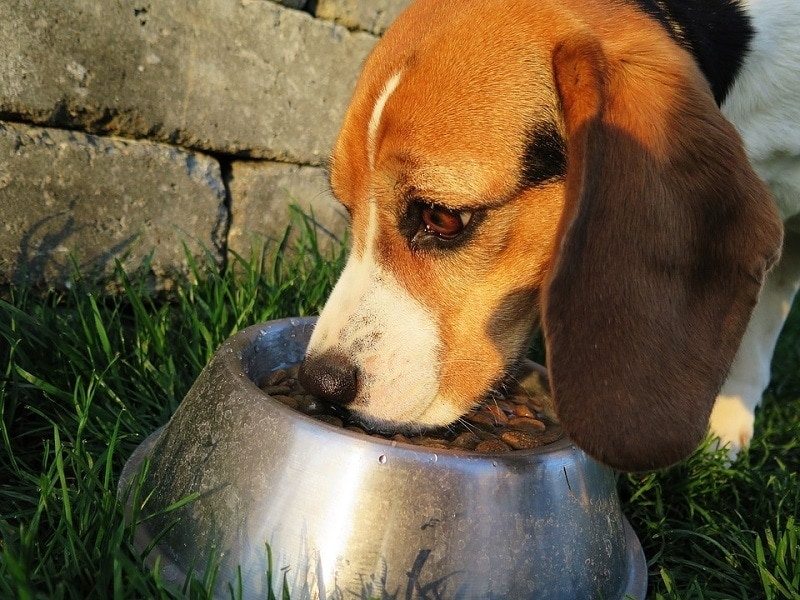 Although Supreme Source contains meat meals, they don't have any high-quality meat ingredients in their foods, such as real lamb, for example. Meat meals may not appeal to dog owners who prefer to feed their pups natural ingredients. Their formulas also have high quantities of legumes, which many owners are avoiding as the FDA further investigates the potential connection between legumes and heart disease in dogs.
Below are some alternatives for dogs that might do better with a different brand:
Discussion of the Primary Ingredients (Good and Bad)
Supreme Source has five dog food recipes, some with unusual ingredients. Let's discuss what they are, along with the good and the bad.
Protein
Supreme Source dog food doesn't contain fresh meat ingredients but instead uses meat meals. Meat meals contain much more protein than fresh meat because once it's gone through the rendering process, you're left with concentrated powder full of protein. Fresh meat has a lot more moisture, making it weigh more but giving your dog much less protein than in a meat meal. Supreme Source typically uses more than one meat meal in their recipes.
A few of the meat meals included in Supreme Source's recipes are salmon, chicken, turkey, lamb, pork, and beef meals.
However, Supreme Source uses many different types of legumes in their recipes. If all the legumes were added together and weighed up, they'd make up a high percentage of the formula and possibly be listed as the first ingredient. Legumes are high in protein and, therefore, have a massive contribution to the overall protein content of this brand's recipes. Although there is a moderate amount of animal protein in this recipe, there is a large amount of plant protein too.
Veggies
With dogs being omnivores, they require fruits and vegetables to stay healthy too. Supreme Source includes many types of fruits and vegetables in their recipes to ensure their recipes are nutritionally balanced. Some of the vegetables and fruit included are carrots, spinach, peas, blueberries, cranberries, and pomegranates. These ingredients contain antioxidants, vitamins, minerals, and fiber which help fight infection, boost your dog's immune system, improve vision, regulate blood sugar levels, promote good skin and coat health, and aid in good digestion.
Seaweed
An interesting and unique ingredient found in many of Supreme Source's recipes is seaweed. The brand claims that digestive health in pets is important to them and that single-strain seaweed is the answer to helping pets with digestive problems.
Although a relatively unusual ingredient, seaweed is packed with nutrients such as iron, magnesium, calcium, iodine, and omega-3 and is even a source of protein. Supreme Source claims that seaweed contains probiotics and is gentle on the digestive system, supports the immune system, and contributes to health and longevity. The seaweed that they use in their recipes are USDA certified organic and sustainably harvested.

A Quick Look at Supreme Source Dog Food
Affordable
Nutritionally balanced
High level of food safety
Their products are FDA, AAFCO, and USDA approved
Family-owned
Good reputation
No recalls
Small variety
There is little information on where the company sources their ingredients
Contains some controversial ingredients
Recall History
As far as we can find, Supreme Source has never had any of its dog foods recalled. This is an excellent indicator that they genuinely do care about food safety and evaluate the ingredients and processes involved in their products. Being a company pet owners can trust is the best way to gain loyal customers and their support.
Reviews of the 3 Best Supreme Source Dog Food Recipes
Supreme Source doesn't have two recipes with the same flavors, giving your dog a variety of tastiness to experience. We've reviewed three of their recipes that we think will provide your dog with the most nutrients and flavor.
1.

Supreme Source Grain-Free Salmon Meal & Sweet Potato Recipe Dry Dog Food
Supreme Source Grain-Free Salmon Meal & Sweet Potato Recipe Dry Dog Food offers a wide variety of superfoods in their recipe, from cranberries to blueberries. Dogs need a good blend of fruits and vegetables to receive all their vitamins, minerals, and antioxidants—and this recipe offers just that.
Although we think there are too many legumes in this formula, we're happy that the first ingredient is salmon meal, which is high in protein and contains omega fatty acids that contribute to skin and coat health and give your dog their shine. This recipe is suitable for all breeds and is a great option for dogs with chicken and grain sensitivities. Although it's formulated for all life stages, Supreme Source doesn't make puppy or senior recipes and doesn't specially cater to their nutritional needs.
Wide variety of fruits and vegetables
Salmon meal is high in protein and omegas
Good alternative for dogs with sensitivities
Suitable for all breeds
---
2.

Supreme Source Grain-Free Turkey Meal & Sweet Potato Recipe Dry Dog Food
For a tasty and affordable turkey recipe, consider this Supreme Source recipe. Turkey meal is the top ingredient, with peas, chickpeas, and sweet potato listed next. It has a crude protein content of 26% and a crude fat content of 11%.
This recipe, along with the other Supreme Source recipes, contains no corn or grain, which isn't necessary to leave out of your dog's diet unless your vet has recommended it according to their needs. However, it is high in fiber with a crude content of 8.5%! Customers have reported solid poops since starting on this food and many dogs, even picky ones, get very excited when they smell this recipe and lap it up enthusiastically.
Affordable
High in fiber
Tasty
Customers have reported their dogs having healthier poops since starting this recipe
Too many legumes
There are no grain-inclusive recipes
---
3.

Supreme Source Grain-Free Lamb & Potato Recipe Dry Dog Food
Last up we have the Supreme Source Grain-Free Lamb & Potato Recipe Dry Dog Food. This is one of the brand's tastiest recipes, with lamb and chicken meal listed as the top two ingredients. These two meat meals are high in protein and make up a large percentage of the crude protein content of 26%.
We're excited about the use of seaweed in this recipe which aids in immune support, good digestion, and longevity. Potato is another ingredient in this recipe that has plenty of health benefits as they're high in fiber, potassium, phosphorus, manganese, and antioxidants. There are no fillers in this dog food recipe which means less poop. However, the kibble is a bit too small for larger breeds, making it harder to pick up off the ground.
Affordable
Contains lamb and chicken meals within the primary ingredients
Seaweed is included in this recipe
No fillers
Kibble is too small for large breeds
What Other Users Are Saying
Reviews have the power to sway you further toward or against a product, so we know how important they are and how valuable the opinions of those who have previously experienced the product you want are. We've summarized a few reviews from some of the most popular dog food websites to help you out.
DogFoodAdvisor: Supreme Source dog food was given four stars on DogFoodAdvisor, which is their second-highest tier. They recommend this affordable dog food and describe it as an "above-average dog food."
Chewy: Supreme Source customers on Chewy have left plenty of positive reviews about how their dogs go crazy for this dog food. Many of them have noted how affordable the recipes are, how suitable it is for picky eaters, how they've seen an increase in their dog's energy levels since starting Supreme Source, and how perfectly sized the kibble is for certain breeds.
Amazon: Some of the most authentic reviews can be found by pet owners on Amazon. We always check what customers have to say about products, and you can too. Read what other dog owners are saying about Supreme Source by clicking here.
Conclusion
Supreme Source dog food is one of American Pet Nutrition's many brands. They focus on food safety and have never had a product recalled. They use meat meals in their recipes and source their ingredients from around the world. One of the unique ingredients found in many of their recipes is seaweed, which is nutrient-packed and helps with good digestion.
Although they have a small variety, Supreme Source is an incredibly affordable dog food brand that is nutritionally balanced, supported by many, and free of grain, corn, and soy. Although some of these ingredients have beneficial properties, these recipes suit dogs with sensitivities well.
See also: