Farmina Dog Food Review 2023: Recalls, Pros & Cons

Our Final Verdict
We give Farmina dog food a rating of 4.5 out of 5 stars.
Farmina is a family-run Italian pet food company that focuses on developing highly nutritious, all-natural pet foods based on scientific research. All three lines of its dog food—Farmina Vet Life, Natural & Delicious Grain-Free, and Natural & Delicious Low Ancestral Grain—contain no artificial preservatives and no genetically modified organisms (GMO free). Farmina promotes sustainable farming practices and conducts only cruelty-free research.
The high-quality ingredients, as well as the emphasis on scientific research, make Farmina a premium dog food company. We gave Farmina dog food 4.5 out of 5 stars. While Farmina excels in quality, it is expensive and has somewhat limited availability.
In this review, we'll explore the varied flavors and selections offered by Farmina. We'll look at the company's history, choice of ingredients, and value, as well as availability, compared to its competitors.

At a Glance: The Best Farmina Dog Food Recipes
Rating
Image
Product
Details

Our Favorite

Farmina Natural & Delicious Ancestral Grain Medium & Maxi

Top-quality ingredients
Dogs like the taste
Premium
complete
and nutritious
Check Price

Farmina Natural & Delicious Quinoa Functional Skin and Coat

Gluten free and grain free
92% total protein
Boneless venison is first ingredient
Check Price

Farmina Natural & Delicious Grain-Free Puppy Mini

Puppy-size kibble shape
High in top-quality protein
Grain free
Check Price

Farmina Natural & Delicious

100% BPA-free
No added water or broth
Made without any thickeners
Check Price

Farmina Natural & Delicious Prime Adult Medium & Maxi

Promotes healthy skin and coat
Limited carbohydrate
Low glycemic formula
Check Price
Farmina Dog Food Reviewed
Certainly, Farmina produces some of the highest quality dog food. However, its recipes with an emphasis on grain-free and low-grain ingredients may or may not be ideal for your dog. In this review, we'll do our best to give you clear answers to help you make the right decision for your dog's needs and your budget.
Who Makes Farmina and Where Is It Produced?
Farmina dog food has its roots in the Russo Mangimi company, an animal nutrition business located in Italy and founded in 1965 by Francesco Russo. In 1999, Francesco's son, Dr. Angelo Russo, decided that the family company should enter the pet food business and joined in collaboration with the English food research company, Farmina.
Today, the company has three factories located in Sao Paulo, Brazil; Indija, Serbia; and Naples, Italy. Farmina began its sales in the United States in 2013. Its dog foods are considered premium and super-premium with approval from the AAFCO and adherence to the stricter standards required by the European Union.
Which Types of Dogs Is Farmina Best Suited For?
With its emphasis on non-GMO, all-natural ingredients, Farmina is well-suited for all dog breeds and maturity levels from puppy to adult and senior. It's offered in dry dog food and canned wet food.
Farmina is particularly advantageous for dogs with specialized dietary needs. It has a line of Vet-Life dog food that's only available by prescription. For dogs who require a grain-free diet, Farmina's Natural and Delicious label offers a wide range of flavors in its four grain-free lines—N&D Quinoa Functional Canine, N&D Prime Canine, N&D Ocean Canine, and N&D Pumpkin Canine—and one low-grain line, N&D Ancient Grains.
Which Types of Dogs Might Do Better With a Different Brand?
As a smaller company, Farmina's manufacturing locations may be a far distance for shipping when you're purchasing it online, and it most likely will not be available at your nearby stores.
If you're looking for an all-natural dog food that's similar in quality to Farmina, we recommend two comparable dog food brands, Blue Buffalo and Taste of the Wild. For dry dog food, consider Blue Buffalo Life Protection Formula Natural Adult Dry Dog Food and Taste of the Wild High Protein Real Meat Recipe Premium Dry Dog Food With Roasted Bison and Roasted Venison. For wet dog food, you could purchase Blue Buffalo Wilderness High Protein Grain Free, Natural Adult Wet Dog Food and Taste of the Wild Grain Free Real Meat Recipe Premium Wet Canned Stew Dog Food.

What Are the Main Ingredients in Farmina Dog Food?
Since you're most likely to buy the Natural & Delicious lines of either grain-free or low-grain dog food, we'll take a closer look at the carefully selected and in some cases, unique ingredient choices in Farmina's Natural & Delicious selections.
High-Quality Ingredients
Farmina stands out for its emphasis on incorporating all-natural, high-quality ingredients. You won't find fillers, byproducts, GMOs, artificial preservatives, additives, or any type of unnatural ingredient.
Farmina sources its ingredients from around the globe to provide its customers with the best food choices. For example, its lamb comes from New Zealand, and many of its recipes feature wild-caught cod from the North Sea and Scandinavian herring.
Since it's based in Italy, Farmina chooses local foods as much as possible. It uses Italian chicken and eggs, regional ancestral grain harvests of spelt and oat, and boar collected from Tuscany's and Umbria's semi-wild herds.
No Artificial Preservatives
Farmina uses tocopherol-rich extracts, which is a natural preservative, for all of its products. During the packaging process, nitrogen is another way Farmina naturally preserves its dog food. The nitrogen displaces the oxygen in the food bags, which prevents the oxidation that leads to the food becoming rancid.
Ingredients Tailored for a Dog's Natural Diet
Designed with the belief that dogs are primarily carnivores, Farmina uses a variety of exceptional protein sources such as lamb, chicken, boar, cod, herring, and eggs. Chicken fat and fish oil provide essential fatty acids.
Farmina takes care to choose GMO-free carbohydrates and fiber-rich food choices. It also selects a range of fruits and vegetables that are high in antioxidants, nutrients, and fiber. You'll find berries, citrus, spinach, currents, and similar vitamin-rich foods in its ingredient lists. Also, Farmina incorporates glucosamine and chondroitin sulfate for healthier joints.
Unique Supplements Based on Science
You may be surprised to see the addition of turmeric, aloe vera, green tea, marigold, and rosemary in your dog's food. Rest assured that Farmina conducts extensive scientific research for every ingredient it adds to its dog food in order to ensure its benefits for your dog's health.
Farmina also uses chelated minerals. This ingredient, which is often found only in higher-quality dog food, works to help your dog more easily absorb protein. For improved digestion, Farmina incorporates both prebiotics and probiotics, such as inulin.
Potential Allergen
Farmina uses brewer's yeast and selenium yeast in its formulas as a beneficial source of minerals and nutrients. However, be aware that some dogs may have an allergic reaction to these ingredients.
Grain-Free Health Alert and Farmina's Response
Farmina is aware of and taking proactive steps in response to the alert and ongoing study conducted by the FDA on the link between grain-free dog food and the higher rate of dogs developing a life-threatening heart problem called dilated cardiomyopathy (DCM). Peas along with potatoes, lentils, and legumes may contribute to a taurine deficiency in dogs, which may be one of the underlying reasons DCM occurs.
In response, Farmina is relying on its science-backed findings to ensure that its grain-free formulas have added taurine and minimal added starches. The pea products used in its grain-free selections are processed in a manner that does not contribute to blocking the absorption of the added taurine.

A Quick Look at Farmina Dog Food
Premium/super premium dog food
Highest quality of ingredients
Scientifically researched formulas
Ingredients sourced locally and globally
All-natural ingredients
No preservatives, fillers, byproducts, and GMOs
Wide variety of flavors
Suitable for all sizes and maturity levels of dogs
No history of recalls
Expensive
Not widely available
May require far shipping
Contains potential allergen
---
Ingredients Analysis
Calorie Breakdown:
Farmina Natural & Delicious Ancestral Grain Chicken & Pomegranate Medium & Maxi Dog Food has 60% high-quality animal ingredients, 20% organic spelt and organic oats, and 20% vegetables, fruits, vitamins, and minerals.
Here is the guaranteed analysis directly from Farmina's website:
Crude Protein: 30.00%
Crude Fat: 18.00%
Crude Fiber: 2.90%
Moisture: 9.00%;
Ash: 6.80%
Docosahexaenoic Acid (DHA): 0.50%
Eicosapentaenoic Acid (EPA): 0.30%
Calcium: 0.90%
Phosphorus: 0.80%
Omega-6 Fatty Acids*: 3.30%
Omega-3 Fatty Acids*: 0.90%
Glucosamine hydrochloride*: 1000mg/kg
Chondroitin Sulfate*: 700mg/kg.
*Not recognized as an essential nutrient by the AAFCO Dog Food Nutrient Profiles.
Recall History
Farmina has had no recalls in the United States or Europe.

Reviews of the 3 Best Farmina Dog Food Recipes
1.

Farmina Natural & Delicious Ancestral Grain Chicken & Pomegranate Medium & Maxi Dog Food, 26.5 lb.
Part of its low-grain line of dog food, Farmina created this formula based on its own scientific research and in collaboration with the Chair of Animal Nutrition at the University of Naples Federico II. While it does cost more, you'll feed your dog a premium, complete, and nutritious meal.
The ancestral grains in this premium recipe are spelt and oats. The protein consists of top-quality boneless chicken, eggs, and herring. In addition to pomegranate, Farmina uses carrots, apples, spinach, and blueberries in this recipe.
Most dogs like the taste, and some dogs improved in their overall health. The only drawback beyond cost may be a lack of availability. With all that said, we think this is the best Farmina dog food we have reviewed.
Scientific research-based formula
Premium, complete, and nutritious
Top-quality ingredients
A variety of protein sources, grains, fruits, and vegetables
Dogs like the taste
May improve your dog's health
Expensive
Lack of availability
---
2.

Farmina Natural & Delicious Quinoa Functional Skin and Coat Venison Coconut and Turmeric Adult Dry Dog Food 5.5 Pounds
This adult dry dog food is part of Farmina's Natural and Delicious Quinoa Functional Canine line. Quinoa is an excellent food choice for dogs because it promotes intestinal health, improves digestion, and increases the absorption of nutrients.
This gluten-free and grain-free selection provides 92% of its protein from animal sources, with fresh boneless venison is its first ingredient. It also contains coconut, which has anti-inflammatory properties and supports a healthy immune system. This recipe features turmeric, which is added to reduce inflammation and may relieve the pain and stiffness in arthritic dogs.
Most dogs respond with improved health after eating this recipe. However, it's more expensive and not widely available. Some dog owners report that it has a strong odor.
Beneficial ingredients
Gluten-free and grain free
92% total protein from animal sources
Boneless venison is the first ingredient
Provides anti-inflammatory properties
Supports a healthy immune system
Expensive
Not widely available
May have a strong odor
---
3.

Farmina Natural & Delicious Grain-Free Pumpkin Lamb & Blueberry Puppy Mini 5.5 lb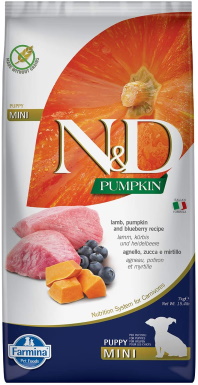 This puppy food has a puppy-size kibble shape and a balanced blend of essential amino acids, minerals, and natural antioxidants. Part of Farmina's Natural and Delicious Pumpkin Canine line, the pumpkin offers a source of fiber and helps aid digestion in puppies, as well as adult dogs.
Farmina designed this puppy food to boost your puppy's immune system. It has anti-carcinogenic, anti-inflammatory properties and protects your puppy's cardiovascular system, and improves digestion. With grass-fed lamb as its first ingredient, this puppy food provides plenty of nourishing protein. This grain-free selection offers your puppy a low glycemic index.
Most dog owners agree that their puppy's health benefits from this food. However, it is expensive and not widely available.
Contains beneficial ingredients
Puppy-size kibble shape
Balanced blend of nutrients
High in top-quality protein
Grain-free
Provides many health benefits
Expensive
Not widely available
---
What Other Users Are Saying

Conclusion
Farmina dog food provides your dog with exceptional ingredients blended into nutrient-rich, flavorful recipes. Backed by extensive scientific research, every formula is created to improve and maintain your dog's overall health.
We would have given Farmina a full five stars because it's in a premium class of dog foods. However, high quality comes at an elevated price that not every dog owner can afford. This Italian-based company is primarily available only through online retailers such as Amazon and Chewy. The longer shipping distance may cause delays and a lack of availability.
---
Featured Image Credit: Farmina Natural & Delicious Quinoa, Amazon