Top 11 Cat Behaviorists: Extraordinary Cat People (2023 Update)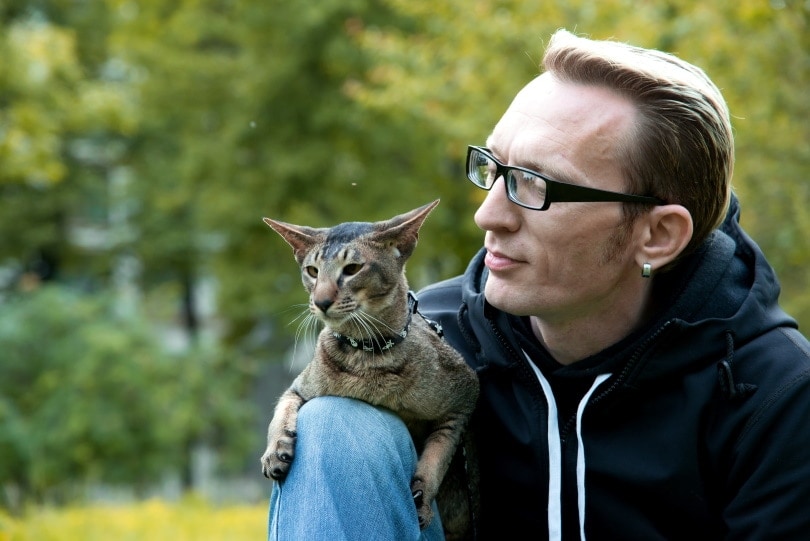 Cats are adorable and fun pets that typically have their own set of unique quirks. They can bring smiles to faces, but sometimes, they might start displaying behaviors that leave us feeling puzzled or even concerned. Oftentimes, cats confuse humans because they "speak" a different language. They're actually excellent communicators, but humans will often misread or completely miss their body language and cues. This is where a cat behaviorist can step in to help. If you're curious about how your cat communicates with you or are experiencing difficulties with unwanted behaviors, make sure to connect with a reputable cat behaviorist. Many cat behaviorists are passionate about keeping cats away from animal shelters, so they're more than willing to connect with cat owners to eliminate destructive behaviors. They offer consultation services to provide education and plans for owners with cats that display challenging behaviors, such as aggression, spraying, and scratching.
What Is a Cat Behaviorist?
A cat behaviorist is someone who studies cat behaviors. Some cat behaviorists have certifications with reputable organizations, such as the International Association of Animal Behavior Consultants (IAABC) and Canine and Feline Behaviour Association (CFBA).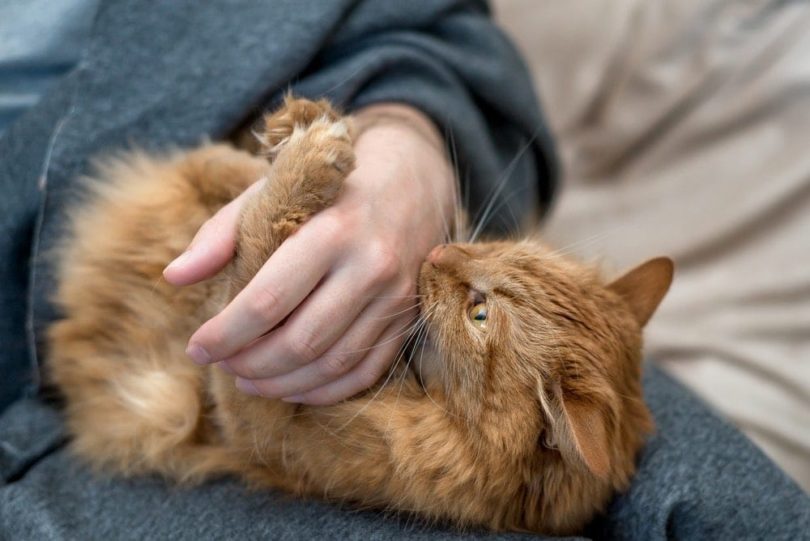 However, certifications alone don't guarantee that a cat behaviorist has effective practices and programs. Many famous cat behaviorists, such as Pam Johnson-Bennett and Jackson Galaxy, became experts through hands-on experience and personal research. A good cat behaviorist will assess a cat's history, temperament, and home environment to determine the root cause of cat behaviors.
Top 10 Cat Behaviorists
To bring light to the necessity of cat behaviorists and the great work that they do, we've developed a list of extraordinary cat behaviorists. You'll notice that each of them shares similar traits and passions that make them extraordinary cat people.
1.

Pam Johnson-Bennett
Location: Nashville, TN
Pam Johnson-Bennett is a household name in the cat world. Her journey of success as a cat behaviorist began in the 1970s when being a cat behaviorist wasn't a known profession. As she faced significant challenges with her own cats, she started doing her own research by attending veterinary conferences, volunteering at shelters, and closely observing her own cats' behaviors. Pam's dedication paid off as her cats' behaviors improved, and word about her began to spread. Fast forward to today, Pam is an accomplished cat behaviorist with eight best-selling books on cat behavior and training. Her most notable book is Think Like a Cat: How to Raise a Well-Adjusted Cat, which provides a groundbreaking perspective on cat behavior. Her insights in the book have been used worldwide since it was published in 2000. The book eventually received the moniker, "the cat bible." This book got updated and expanded in 2011, and it remains a top resource in the cat behavior category to this day. Pam has received much media attention, primarily through her Animal Planet UK series, Psycho Kitty. She's also a member of many reputable cat research and behavior consultant organizations. She served as the International Association of Animal Behavior Consultants (IAABC) Vice President for 8 years. She was also on the American Humane Association's Advisory Board on animal behavior and training. She's currently serving as a member of the Advisory Board of Daily Paws. Pam has also received several honors, including the Winn Feline Foundation Award and Cat Writers Association awards. Currently, Pam owns Cat Behavior Associates, LLC, a cat behavior company based in Nashville, Tennessee. You can request a consultation with Pam and her team through the company website. Her professional team can help address and resolve various kinds of challenging behaviors.
---
2.

Jackson Galaxy
Location: Los Angeles, CA
Jackson Galaxy is also another household name in the cat world. Similar to Pam, Jackson grew to become a successful cat behaviorist through self-education and experience. He started by volunteering in animal shelters in Boulder, Colorado where he quickly developed his interest in cat behavior. Jackson eventually moved to Los Angeles, California and became the host of his own show, My Cat from Hell. Over the years Jackson has helped many stressed-out cat owners, and he has written several books including Cat Daddy: What the World's Most Incorrigible Cat Taught Me About Life, Love, and Coming Clean, and a New York Times Best Seller, Catification: Designing a Happy and Stylish Home for Your Cat (and You!). Today, Jackson's name has expanded from TV to branded cat supplies, toys, and holistic health and well-being products. He also founded the Jackson Galaxy Project, which works to improve the lives of sheltered animals. Jackson also hosts an annual Cat Camp, which connects cat parents with expert speakers, workshops, cat adoptions, and other cat-related activities. Despite his international recognition, Jackson still enjoys working directly with cat owners. He offers consultations, and cat owners can get started on scheduling an appointment through his website.
---
3.

Mieshelle Nagelschneider
Location: Seattle, Washington, USA
Mieshelle Nagelschneider has an extensive background in animal behavior. She studied at Oxford University, University of Edinburgh – The Royal School of Veterinary Studies, and Harvard University. Her studies provided groundbreaking evidence backed by scientific research to help cat owners understand their cats' behaviors. Mieshelle is also an acclaimed feline behavior science author at the New York Times and has written several books in multiple languages, including The Cat Whisperer. She's also a writer and editor for National Geographic documentaries and co-hosts Animals Doing Things on Nat Geo Wild. Her reach crosses international borders, and she hosted the first cat behavior show in China, My Cat From Hell. Along with her onscreen presence, Mieshelle makes public appearances through speaking engagements and tours. She has traveled to over 30 different countries to work with veterinarians, cat shelters, and animal sanctuaries for wild cats. Cat owners can schedule a consultation with Mieshelle's clinic, The Cat Behavior Clinic. Mieshelle and her team of veterinarians work to provide scientifically-researched solutions to challenging cat behaviors. The clinic offers comprehensive consultations and opportunities to be part of research studies, such as addressing urination and defecation.
---
4.

Ingrid Johnson
Location: Marietta, GA
Ingrid Johnson is a Certified Cat Behavior Consultant (CCBC) with the IAABC and was a past Co-Chair of the IAABC's Cat Division. She started working with cats in 1999 and quickly rose to prominence with her extensive knowledge of cat behavior. She's a recurring lecturer for notable veterinary conferences, including the Atlantic Coast Veterinary Conference and American Association of Feline Practitioners (AAFP) conferences. She also instructs cat behavior classes and seminars for shelter employees and volunteers. Ingrid is especially passionate about food puzzles and co-published a paper in the Journal of Feline Medicine and Surgery. She strongly supports encouraging a cat's foraging instincts by using different kinds of enriching food puzzle toys. When a cat's foraging instincts become engaged, it can eliminate boredom, frustration, and stress. Ingrid also interviewed with CNN, Cat Fancy, and other publications. She also features on the Animal Planet show Cats 101 as an expert on environmental enrichment. She currently owns her own business, Fundamentally Feline, which offers educational material, behavior consultations, medication consultations, and litter box breaking services. The company can also make custom vertical spaces for cats so that they have plenty of areas to perch and observe while feeling a sense of safety.
---
5.

Anita Kelsey
Location: London, England
Anita Kelsey is a cat behaviorist based in London. She's a certified cat behaviorist with the Canine and Feline Behaviour Association (CFBA) and studied with renowned cat biologist, Roger Tabor. She has written for several magazines, including the CFBA's magazine, Your Cat Magazine, The Vet Times, and Style Tails. Anita is also the author of Claws: Confessions of a Professional Cat Groomer and Let's Talk About Cats. Both books received high praise and positive reviews from readers. Anita is also an expert cat groomer, and she specializes in using low-stress handling techniques that enable her to provide grooming services for extreme cases. When it comes to cat behaviors, Anita can address many different behaviors, including aggression, feline OCD, spraying, separation anxiety, and multi-cat household tensions. She also specializes in engaging cats to play and matching them with appropriate toys. For a consultation, Anita requires a veterinarian referral. Although she's in London, she has an international clientele and can provide consultations for cat owners all across the world.
---
6.

Jane Ehrlich
Location: Arizona, USA
Jane Ehrlich is a cat behaviorist based in Arizona with over 36 years of experience working with cats. She worked under Dr. Michael W. Fox and has 18 years of experience working with the Royal Society for the Prevention of Cruelty to Animals (RSPCA) in London as a clinical assistant and feline behavior advisor. She's also an instructor for the Humane Society's online courses. Jane received media attention and has features in Cat Expert UK, Chewy.com, and Daily Paws. She also wrote numerous articles for the IAABC. Cat owners can connect with Jane through her business, Cattitude Feline Behavior. Cattitude Feline Behavior offers classes, presentations, and short-term boarding and care for cats. Cat owners can also request a consultation with Jane. Her specializations include addressing clawing, aggression, separation anxiety, spraying, and litter box issues. She has a knack for finding the underlying problem for challenging behaviors and how to treat them.
---
7.

Marilyn Krieger
Location: Redwood City, CA
Marilyn Krieger, also known as the Cat Coach, is a certified cat behavior consultant with international recognition. She's an award-winning author who has written for several journals, including Catnip and IAABC's journal, Animal Behavior Consulting: Theory and Practice. Her best-selling book, Naughty No More: Change Unwanted Behaviors Through Positive Reinforcement, won several awards, including the Tidy Cats Feline Behavior award, the Cat Writers Association 2011 Communication Contest's Muse Medallion, and About.com Reader's Choice Award for Best Cat Behavior Book in 2012. Marilyn has also appeared in TV shows, including Animal Planet's Cats 101, and she also caught the attention of many news media outlets, including USA Today and MSNBC. She has her cat behaviorist certification with IAABC, where she was also a former member of the board of directors and former chair of the cat division. The Cat Coach offers many resources for cat owners, such as in-person and online seminars and classes. You can also schedule a private consultation with Marilyn. She is an expert with Bengals and Savannahs, but she has experience working with all kinds of cats.
---
8.

Dr. Mikel Maria Delgado
Location: San Francisco, CA
Dr. Mikel Maria Delgado is a Certified Applied Animal Behaviors (CAAB) with the Animal Behavior Society and a CCBC with the IAABC. She's also an Affiliate Member of the American Veterinary Society of Animal Behavior. Dr. Delgado has an extensive research background. She received her Ph.D. in Psychology at UC Berkeley and specialized in animal behavior and cognition. She was also a postdoctoral fellow at the School of Veterinary Medicine at UC Davis. She researched domestic cat behaviors and the steps of the development process for orphaned neonatal kittens. Because of her relevant research, many media outlets, such as Newsweek, National Geographic, and the New York Times interviewed her and featured her studies. Dr. Delgado also speaks as a leading expert in cat behavior at various events, including Animal Behavior Society's Public Day and Jackson Galaxy's Cat Camp. Dr. Delgado is also the co-founder of Feline Minds, which provides cat behavior consultations to cat owners in the Bay Area. Interested cat owners can request a consultation through the website's contact form.
---
9.

Lisa Stemcosky
Location: Washington, DC
Lisa Stemosky is a CCBC associated with the IAABC. She is currently the owner of PawLitically Correct, which provides training services for challenging cat behaviors. It offers in-home consultations for cat owners living within a 50-mile radius of Washington, DC and virtual consultations nationwide. Lisa is also the Cat Division Chair for IAABC and the Feline Behavior Manager at Human Rescue Alliance. She trains staff and volunteers to interact with cats in the shelter. She's passionate about improving the lives of shelter cats and has worked with the Jackson Galaxy Project's Cat Pawsitive Pro since 2017. As a mentor, she works with shelter staff and volunteers across the US to use effective behavior modification programs in their facilities. If you're interested in working with Lisa and her team at PawLitically Correct, you can request to schedule a consultation online.
---
10.

Dr. Marci Koski
Location: Southwest Washington and Portland Area, USA
Dr. Marci Koski has decades of experience in working with animals. She has advanced certificates in Feline Training and Behavior from the Animal Behavior Institute and obtained her Ph.D. in Fishery and Wildlife Biology from Colorado State University. In 2014, she started her own business, Feline Behavior Solutions. She and her team of specialists work with cats with challenging behaviors and provide both specific and comprehensive cat consultations. Their goal is to keep cats at home and reduce the number of cats in shelters. Dr. Marci also speaks at conferences and holds masterclasses on cat behaviors and body language. She works with the Humane Society for Southwest Washington and the Washington Department of Corrections to pair inmates with shelter cats that need socialization. Dr. Marci is also a board member of Furry Friends and a cat behavior consultant for Tuft + Paw.
---
11.

Rita Reimers
Location: Charlotte, NC
Not only is Rita a cat behaviorist and multi-cat expert but also a mom to… 19 rescues! Not bad, huh?
Rita Reimers has 30+ years of experience in the profession. She helps us better understand cats and find solutions to their behavioral issues that might lead to abandonment or surrender to shelters. A life-long cat lover, Rita also writes a column for Catster Magazine and volunteers in cat rescues.
She is a member of several associations, including IAABC, the Animal Behavior Society, and the Cat Writers Association.
Conclusion
Cat behaviorists have done valuable work in improving the relationships between cat owners and cats. They've prevented many cats from getting turned into shelters, and they also do ongoing work and training with shelter workers and volunteers to provide adequate care for cats. If you live with a cat with challenging behaviors, consider working with a reputable cat behaviorist. Many cats share common challenging behaviors, and a good cat behaviorist will be able to accurately determine the cause of these behaviors. Living harmoniously with cats can be hard work, but it's all worth the effort. Many cats develop strong bonds with their humans. It all starts with a general understanding of your cat's needs and learning to understand how they communicate, and a cat behaviorist will be more than willing to provide education, training, and resources to create a happy home for both you and your cat.
---
Featured Image Credit: Karpova, Shutterstock