9 Proven Ways to Calm a Dog in the Car
You probably get excited when you pass a car with a cute dog happily sticking its face out of a window. But what about those dogs that cower in the floorboard? Or the ones who shake with nerves, suffer uncontainable excitement, or yack up breakfast every time they get into a vehicle?
Thankfully, there are solutions to these problems. Your dog could benefit from one of these calming tips, or you can use a combination of tactics. It really depends on how your dog responds and what the core issue is. Let's take a peek at eight proven ways to calm a dog in the car.

How to Calm a Dog Down in a Car (9 Methods)
1.

Rely on Your Favorite Tunes
Your dog is probably uncomfortable in the car for a series of reasons, but it's nothing a little Beethoven can't fix. It's actually scientifically proven that the soft, melodic energy of certain music calms nerves in dogs.
The truth is, even your dog loves the sound of Bob Marley. A study by the Scottish SPCA showed that Reggae and soft rock relax dogs more than any other style, closely followed by classical.
If you have a CD player or auxiliary cord in your car, pop on some music to see if it improves your dog's mood. If your dog seems less jittery or more relaxed, this is a free solution to the problem. And you can enjoy the tunes, too.
---
2.

Essential Oils, Anyone?
Do you want an all-natural therapeutic approach? You could try out essential oils to create a calming effect. Essential oils come in spray or topical oils, but you always have to dilute the oils before they get close to your dog.
Always, always, always double and triple check to make sure you have the right essential oils. Certain ones can pose a risk of toxicity.
Try to spray the scents onto bedding or blankets rather than applying topically to your dog. Topical application may cause a bit of irritation. There are also chewables, if you prefer.
Some essential oil options for nervous pets are:
Chamomile (relaxes nerves, decreases stress)
Frankincense (soothes the stomach, calms the mind)
Lavender (aromatic, decreases stress)
Ginger (reduces nausea)
Different oils require different measurements of dilution. Or, you can leave it to the professionals and buy some essential oils specially-made for dogs instead!
Rule of Thumb: Typically, you add 20 drops per 4 ounces of water.
---
3.

Calming Caps for Dogs for Serious Cases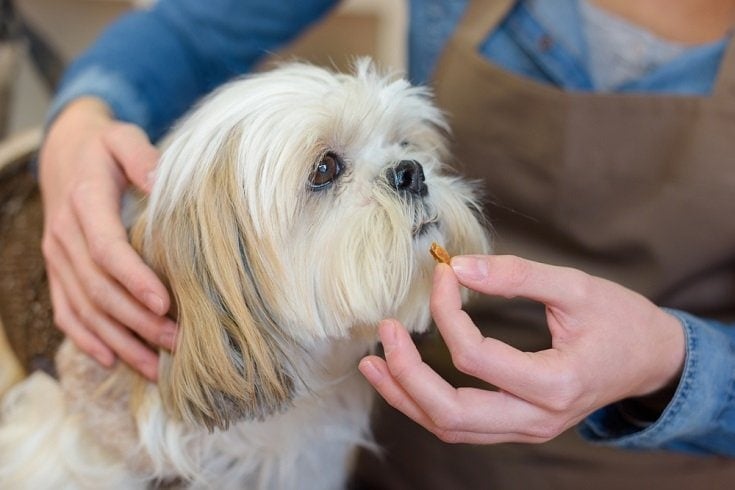 There are supplements you can buy explicitly designed for canines to ease anxiousness. These methods are not organic, but they can be helpful—especially in more extreme cases.
If your dog exhibits unrelenting anxiety, barking, howling, vomiting, or other symptoms of panic, it may be time to talk to your vet about safe treatment options.
Some of these options are:
Clomicalm Tablets help with anxiety issues relating to separation or situational nervous behavior.
Fluoxetine is a selective serotonin reuptake inhibitor (SSRI) to treat anxiety issues in dogs.
Melatonin for Dogs can help your dog relax. Melatonin is a natural chemical the body makes to sleep. This can allow your dog to take a time out or nap on the road.
The only downside to this method is that there can be a big risk of unwanted side effects. Some dogs may experience stomach upset, vomiting, or diarrhea—which is quite a risk for car trips.
If you do take this route, it's best to try this out at home, or in a stationary situation, before you test it in the car. That way, you know how well your dog will respond and whether you notice any unwanted effects.
Tip: Always make sure to double-check with your vet before trying any of these suggestions.
If your dog suffers from anxiety, you may want to try a dog-safe CBD oil. CBDfx's Pet Tincture is made with non-GMO, organic hemp and has a tasty natural bacon flavor. Plus, you can choose between four dosages to calm any size of dog!
---
4.

Let Them Explore the Car Without Leaving
Open the car doors while you're home one day. Let them sniff around. Let them climb up inside. Repeat this every chance you get before you try taking them on the ride.
After a few minutes, you can even climb inside and turn the car on. Hang out with them inside of the car. Give them lots of reassurance and praise—maybe even a treat or two.
This way, your dog has a really good chance to get well-acclimated with the car without doing something they don't want to do. If they seem comfortable enough, you can even take a ride around the block as a tester.
Soon enough, it will feel like their territory.
---
5.

CBD for Dogs (CBD Oil & Hemp Seed Oil)
CBD, or Cannabidiol, is an ever-growing, booming hit these days. There is no actual definitive scientific data that proves the effectiveness of CBD oil—but many dog owners swear by it.
While there is no conclusive data, CBD oil is said to ease stomach upset and anxiety. Studies are still in the process of finding out the exact effectiveness of CBD oil for anxiety. However, it shows promising results for pain issues.
Hemp seed oil treatment and treats are also becoming quite popular. Most choices are a combination of hemp seed and relaxing agents like melatonin and chamomile.
You can simply give your dog a "good boy" treat and let the formula work its magic.
---
6.

Create Canine Comfort
You could create a mini-sanctuary in your car. If you make it an ultra-comfy atmosphere, it can calm your dog faster. You can designate a spot specifically for your pooch, where they feel secure and at ease. There are doggy car seats, boosters, and beds for your traveling buddies.
Having a soft, cozy spot to lay down can give your dog a sense of assurance. It will motivate them to relax and try to take it easy. You can find lots of cool DIY projects on Pinterest.
Or, if you're not so crafty, you can buy a premade dog bucket, travel carrier, or car seat. Sometimes, even just having a few toys and their favorite blanket can do the trick.
See also: 10 Best Dog Car Barriers – Reviews & Top Picks
---
7.

Add a Passenger
Ask a friend to come along with you when you take a ride to see if it helps. Your friend can hold, pet, and soothe your dog while you're driving. Having another person keep your dog will take the pressure off of you. Sometimes, dogs bark like crazy or pace when they are nervous in the car.
Even if you secure them with a doggy seatbelt, your dog can whine, bark, or howl—which can be distracting. To prevent accidents and keep everyone safe, your passenger can spend the ride cuddling your canine.
This may not always be an option, of course. But when you have the extra resource, use the opportunity.
---
8.

Cover Your Dog's Eyes
If your dog is panicking or suffering from car sickness, it will help if they can't see. Taking away their sight, you are removing potential triggers that spike their anxiety.
There are blinds, or "calming caps", that you place over your dog's eyes to reduce negative feelings. It isn't a complete blackout effect. They can still see enough to navigate and walk as they need to. They just have a black mesh obstruction on the eye panels.
These calming caps are easy to put on, and most of them secure to the collar.  Typical caps won't prevent barking, breathing, eating, or drinking. And we wouldn't recommend getting any cap that did.
---
9.

Wear Your Dog Out
Don't underestimate the power of tuckering your dog out. If your dog has a ton of pent up energy before their trip, they're probably going to be much more restless and nervous.
Take them out to play. Let them chase another pet around. Let your dogs run with the kids. The more energy they burn, the easier it will be to take a ride.
Try to keep your dog's heart rate up for around 30 minutes. Once they get in their daily dose of exercise, you just did your duty for the day—plus, they'll remain calm riding shotgun. It's a win for everyone.

Conclusion: How to Calm a Dog Down in a Car
You can use one, or a few of these ideas. The best results will vary from dog to dog. However, once your special guy or gal gets used to the car, they may even enjoy it one day. The ultimate goal is to kick their car anxiety for good, so they can mentally and physically relax. The rest will naturally follow.
You may have to be extra patient in the beginning, but eventually, your hard work will pay off.
Related read: 
---
Featured Image by: Free-Photos, Pixabay