What Do I Feed My Cat That's on a Liquid Diet? 6 Great Options
Feeding a cat a liquid diet can be challenging, especially if your pet isn't feeling well or isn't used to a lot of handling. The method means you'll have to hold your pet, considering the circumstances when this option is necessary.
It's not just about what you offer your kitty but protecting yourself in the process. Remember that felines hide it when they are sick, so it's usually needed late in the game.
It's imperative to work with your vet when feeding your cat a liquid diet. After all, they're put on it for a reason. A sick feline must get a nutritious diet to support a speedy recovery.
6 Foods to Feed a Cat on a Liquid Diet
1.

Pureed Cat Food
One of the easiest ways to manage your pet's diet is simply to puree its regular food. Your cat will be less likely to reject something that is already familiar to it.
You don't have to worry about gastrointestinal distress caused by a dietary change. You can thin the pureed food with water or low-sodium chicken broth without any extra flavoring, like onions or garlic.
---
2.

Ultra Soft Mousse for Kittens
If you're dealing with a kitten, Royal Canin's Veterinary Diet Gastrointestinal Ultra Soft Mousse offers a nutritious choice that is already in good consistency with less prep. It's complete and balanced for young cats, so you can rest assured its nutrient needs are being met with this food. It also contains prebiotics and digestible proteins to help your pet handle it better.
---
3.

Liquid Supplement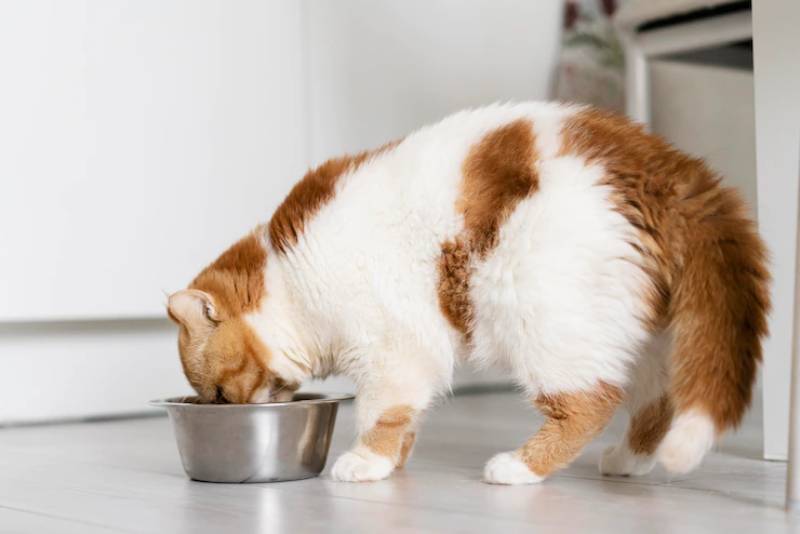 Sometimes, you must only supplement your cat's diet with additional liquids to ensure it stays hydrated. That's where a product like Cat-Sip comes into play. It is a lactose-free milk that can provide additional protein and other essential nutrients for your recovering feline.
You can also use it as a treat. It's not going to replace regular meals, but it will provide welcome nutritional support.
---
4.

Pureed Prescription Diet
Your vet may prescribe a prescription diet if your cat has a health issue. Common chronic illnesses treated this way include kidney disease, diabetes, and food allergies.
You can also puree these foods for an ailing cat in the same manner we described previously. Your veterinarian can explain how to feed your pet and how often to meet its nutritional needs.
---
5.

Ultra Soft Mousse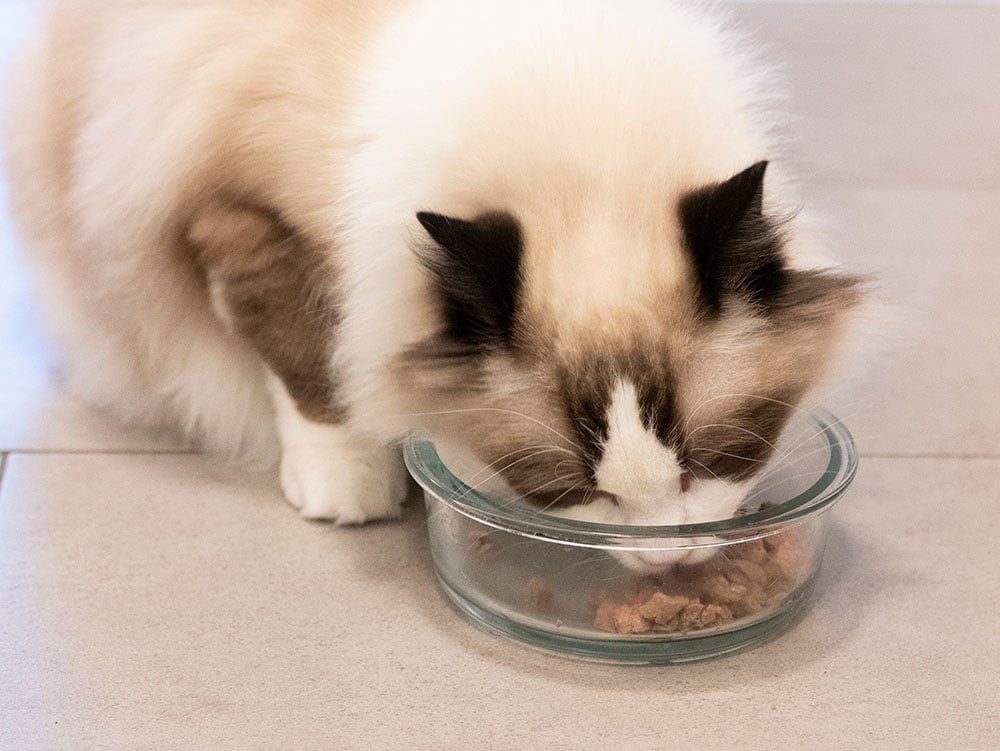 Royal Canin produces a diet formulated for convalescing pets. It will ensure that your pet is getting the nutrition it needs to support recovering from an illness, surgery, or injury.
The manufacturer makes it in an ultra-soft mousse that you can feed as is or puree. A liquid form is also available by prescription from your veterinarian.
---
6.

Homemade Liquid Diet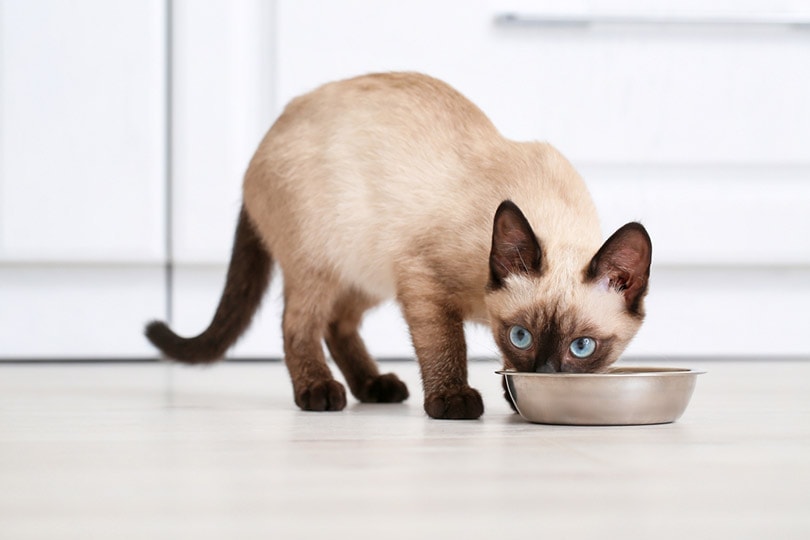 Your veterinarian may also suggest a homemade liquid diet for your pet while it heals. It should be low in fat and not contain any ingredients toxic to cats, such as onions, garlic, or dairy products.
This option is only suitable for a short-term solution. It may not contain all the nutrients in the correct proportion for optimal health.
Regardless of whether you feed your cat dry or wet food, you need a bowl that is sure to keep the mess contained—you can do just that with the Hepper Nom Nom Bowl.
Our product is designed with your cat's comfort in mind. The whisker-friendly bowls are low and wide to prevent whisker fatigue, and the wide catch tray ensures that all food stays exactly where it should—inside the bowl.
When to Feed Your Cat a Liquid Diet
Of course, feeding your cat a liquid diet isn't standard practice. Your veterinarian may recommend this dietary change following surgery, with dental problems, or as part of palliative care for a severely ill pet.
The advantage of going this route is that these options are typically highly palatable and easily digested. The last point is particularly beneficial for cats recovering from liver or kidney disease.
The key to feeding your cat a liquid diet is to go slowly, whether using a syringe or a feeding bottle. The last thing you want is to inject food too quickly into its mouth and risk it inhaling the liquid into its lungs. Your vet can show you the proper way to feed your pet if you need help.
Conclusion
Liquid diets are an excellent option for ensuring a sick or injured cat can get the nutrients it needs to heal quicker. The essential thing is that your pet is getting nourishment to help it heal when it's vital for recovery.
We hope you don't have to use these options. However, knowing you can help your kitty when it needs it the most can give you peace of mind knowing you can support its speedy recovery.
---
Featured Image Credit: Elizabett, Shutterstock