Where to Get Free Dog Food Samples & Other Freebies? 7 Options

There are few things in life as rewarding as owning a dog — in terms of emotional fulfillment, that is. If you're talking about financial rewards, dog ownership ranks pretty far down the list.
When you factor in the cost of dog food, toys, medical bills, and more, it makes owning a dog look like a terrible investment. However, what if you could cut a few of those costs, thanks to free samples from manufacturers?
Yes, it's possible to get complimentary samples of dog food and other freebies, but you have to know where to look. In the guide below, we'll show you exactly how to find these canine gold mines.

Free Dog Food Samples: It Used to Be Easier
A few years ago, getting a free sample used to be as easy as writing a manufacturer and asking for one. Most of the bigger dog food companies offered this service, making it easy to test drive as many kibbles as possible.
Now, it's much rarer to find a company that will give you a freebie just because you asked nicely. Instead, most manufacturers have turned to offering sample boxes.
These are tiny bags of food — often around a pound or so — that they sell for $5-10. That's just enough to give your dog a taste, which should be more than enough to know if they'd be willing to eat it if you bought a bigger bag.
Sample boxes are definitely preferable to bringing home a 25-pound bag of kibble that your dog won't touch.
If you'd like to try one of these sample boxes, you can find them on Amazon; here's an example.
You Should Know That It Depends On Why You're Asking
While many of the sources on this list will share their freebies with anyone who asks, many reserve their samples for rescues and other charitable organizations.
Now, please note that we are not telling you to lie about being with a rescue organization. However, if you are asking on behalf of a charity, don't be shy about letting the people on the other end of the phone know. They may ask you to plug their service in return for the samples or to pass them on to other prospects.

The 7 Ways to Get Free Dog Food Samples:
1.

Ask Your Vet
All kinds of pet companies regularly send sales reps to meet with veterinarians, hoping to convince the docs to hawk their products for them.
As a result, your vet probably has heaps of freebies lying around. Even better, they'll likely be happy to load you up with samples, because all that stuff just gets in the way after a while.
It's not just dog food, either. You may be able to get samples of treats, flea and tick medication, toothbrushes, shampoo, and who knows what else.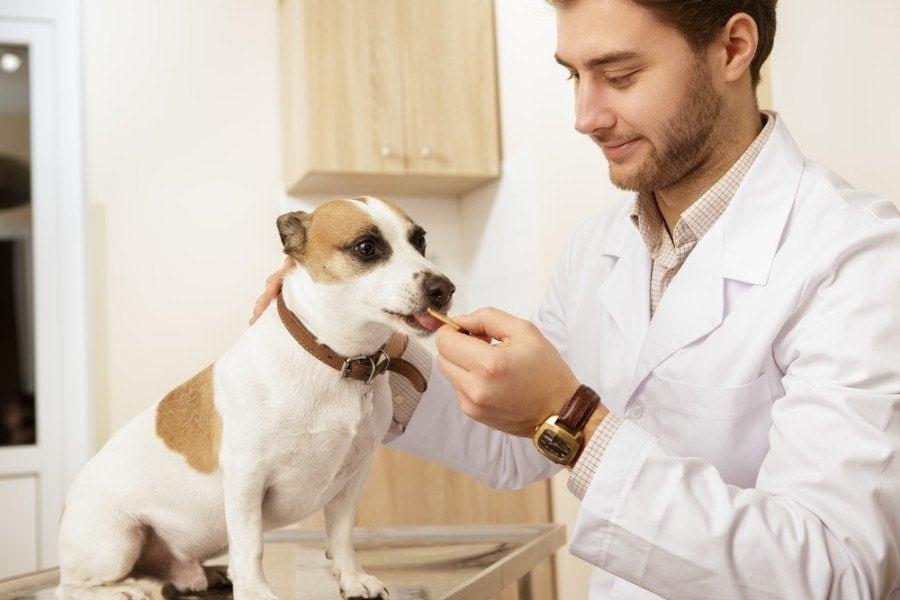 ---
2.

Check With Your Pet Store
Just like vets, pet stores are often visited by sales reps. Of course, they're less likely to give you a ton of samples because they still want to sell you the food, but it never hurts to ask.
The best times to check are when there's a new food being launched or a brand is trying to get a new product off the ground. The store is likely to have quite a few samples on hand, so don't be shy about asking.
Some pet stores may even be willing to mix up a sample bag for you, even if the manufacturer doesn't offer any freebies. This is especially true if they have their own store brand, but they may be willing to do it for any food you're interested in.
---
3.

Follow Manufacturers on Social Media
While most manufacturers have stopped offering free samples on their websites, they often do giveaways and other promotions on their social media pages.
Sometimes, these take the form of drawings and other contests, but other times, you can score free swag simply by "liking" or "sharing" their content. Again, they're most likely to do this when they have a new product to promote.
If they're not running a promotion, you may be able to convince them to ship you a sample if you post on their page.
---
4.

If You're Going to Contact a Manufacturer Directly, Make It a New One
Established brands have little reason to offer you a free sample. While they'd love you as a customer, they have millions of people buying from them already, so they're not going to bend over backward for you.
Newer companies might, though. If a dog food manufacturer is still struggling to find its footing in the market, they may be willing to send you free goodies in exchange for a nice review or for telling your friends.
It helps if you're a blogger or someone with a built-in audience already, but they may be willing to hook you up even if you only have a handful of Twitter followers. They'll probably ask for an honest review and a picture of your pup enjoying the food, though.
---
5.

Try Your Luck With Surveys and Giveaways
There are plenty of marketing companies out there that give away things for free in exchange for your valuable opinions. If you're willing to take the time to fill out a few surveys, you may just get a bag or two of food for your troubles.
Of course, many of these companies also try to harvest your personal information and spam you with all sorts of junk, so it's probably wise to set up a different email address just for this purpose before you get started.
This method can get frustrating, as not all of those market research companies are legit. If you're willing to put in the time, though, you may be able to score all sorts of stuff.
---
6.

Look Into Pet Testing Programs
This also falls under the umbrella of market research, but you shouldn't have to do nearly as much work.
Since dog food companies are constantly rolling out new recipes, they need taste testers to put them through their paces. If you volunteer, you may be able to get samples of upcoming products before they hit shelves.
While the idea of testing new products may sound dangerous, they should be as safe as any other food that you'd find at your pet store. That being said, they may include new and novel ingredients that your dog may not care for.
You'll also need to submit your feedback, of course. Depending on the manufacturer, this could mean spending a few minutes or up to an hour answering questions.
To find these, your best bet is to Google "product testing trials" and see what comes up. Look for one that's backed by reputable manufacturers.
---
7.

Check Your Paper for Coupons
You'll occasionally find coupons for free bags of food and other products in your local paper, so don't throw it out before reading it.
Sometimes these coupons are in the Sunday edition of the nearest major newspaper, and sometimes they're in the weekly circulars that get stuffed in your mailbox. Check both just to be safe.
You can also check pet food and grocery stores; they often have their own coupons on display near the entrance. Even if you don't find anything for free, you may be able to get a deep discount on something else.

Finding Free Pet Food Samples: Just Keep Looking
The above strategies should give you a good starting point in your quest to score free stuff for your dog, but it's impossible to compile an exhaustive list. That's why you should constantly be on the lookout for new avenues to find freebies.
That's especially true because there's a high turnover rate among many of these programs. You may find that just as soon as you find a good rewards program, it will shut down without warning. You should have backups on hand, just in case.
This may all sound like a great deal of work for free stuff, but it doesn't have to be. Instead of making it a full-time job, just take a few minutes every week to see what's out there.
After all, you can't put a price on what your dog is worth to you, but you can definitely put a price on how much they cost you each month.
---
Featured image credit: boyphare, Shutterstock