Abound vs Blue Buffalo Dog Food: Our 2023 In-Depth Comparison

Walking into a store and seeing the aisle packed full of various dog food brands can be overwhelming. You might go straight for a brand you see on television or something you've found to be tried and true in your own home, but how do you choose between two brands when you have them side by side?
Choosing the best food for your dog is not as simple as just buying the most expensive brand and spending the most money. We're taking an in-depth look at the well-known Blue Buffalo brand and another popular choice, Abound, so you don't have to. We've broken down the companies into a side-by-side comparison so you can make the best choice for you and your canine. Let's take a closer look and discover who won and why.

A Sneak Peek at the Winner: Blue Buffalo
While we think both Abound and Blue Buffalo are strong competitors, Blue Buffalo edges out its competition with their well-known reputation, expansive and nutritious dog food formulas, and overall availability for consumers. Although Abound is still a solid choice for dog food, their lack of availability in certain states and Amazon-only delivery gave Blue Buffalo the extra edge.
Rating
Image
Product
Details

Our Favorite

Blue Buffalo Life Protection Formula

Added LifeSource bits
Excellent for an everyday diet for the average dog
Real deboned chicken is the first ingredient
Check Price

Blue Buffalo Wilderness Chicken Recipe

Extremely high in protein
Helps dogs feel fuller for longer
No animal by-products or corn
Check Price
About Abound Dog Food
Abound doesn't believe in shortcuts, and the Kroger-owned brand makes that clear with its dedication to sourcing high-quality ingredients. As a Kroger-owned brand, Abound is sold almost exclusively at Kroger locations. However, you can still purchase Abound products through Amazon.
Abound History
Abound has no official website, but according to Kroger's representative, all of Abound's dog food provides natural ingredients to create healthy meals, treats, and snacks. Introduced in 2014, Abound was created by Kroger to remove as many common allergens from pet food as possible. With the exception of Amazon, getting your hand on Abound dog food is impossible outside of Kroger-owned stores like Dillons, Frys, or Ralphs. Even key websites like DogFoodAdvisor and Chewy lack essential information about the company. Despite our research, little is known about the company and its limited product line.
There are plenty of companies and dog food brands that provide better information in easier-to-access locations.
All products are manufactured in the US with local ingredients
High-quality ingredients and proteins in their formulas
Severe lack of transparency
Only available in certain stores
About Blue Buffalo
Blue Buffalo has an outstanding and well-known reputation in the dog food industry. Despite only being around since 2003, they've managed to create quite the name for themselves in a short time. Blue Buffalo has a broad product line, with many options for texture, flavor, and even specialized diets.
Blue Buffalo History
Blue Buffalo found its start in humble beginnings and a place of love. Jackie and Bill Bishop, the owners of Blue Buffalo, were inspired to create dog food made from only the finest natural ingredients when their dog, Blue, developed and began suffering serious medical complications. To help their beloved dog, they began researching and creating a more holistic approach to dog food.
Blue Buffalo has a long line of recipes catering to specific food allergens, diets, and various sensitivity levels. Since their creation in 2003, Blue Buffalo has fine-tuned their product diversity and adapted to the ever-changing needs of our beloved furry friends.
Information about Blue Buffalo's creation and history is readily available online with little research. They also offer a comprehensive look into their food formulas, ingredient lists, and overall methodology. Their high-quality recipes and adaptive approach to the dog food market make Blue Buffalo a hard-hitting competitor.
Recipes free from wheat, corn, or soy
Multiple specialized product lines to choose from for specific dog's needs
Longer history as a company
More expensive than some other brands
Some recipes use ingredients considered to be controversial

The 3 Most Popular Abound Dog Food Recipes
Let's take a closer look at the three most popular Abound dog food formulas.
1.

Abound Chicken and Brown Rice Recipe
The chicken and brown rice recipe from Abound is their standard, basic diet. This comes packed with all the ingredients your dog needs for daily nutrition. Packed with real chicken and brown rice, especially with chicken listed as the first ingredient, you can rest assured knowing your dog is getting their main protein from a healthy source.
This formula mixes brown rice and oatmeal for a healthy dose of fiber that's not too harsh on your canine's digestive system. The recipe is also packed with cranberries and other fruits, leaving a clean, nutritionally sound meal.
Clean ingredients
Packed full of antioxidants and necessary nutrients
Contains common allergens like chicken and peas
---
2.

Abound Superfood Blend
This superfood blend is a gut-friendly medley of salmon, egg, and pumpkin designed to soothe dogs with sensitive stomachs or other tummy issues. The Abound Superfood Blend offers easy-to-digest ingredients like salmon and pumpkin with added vitamins and minerals for an all-around balanced meal. The recipe does not include wheat, corn, or soy products and lists salmon as its first ingredient. The included egg adds additional protein, nourishes your dog's skin, and powers up your dog's immune system. This hefty formula does contain chicken and chicken fat, which can still trigger a sensitive dog's stomach. Overall, the Superfood Blend has great stomach soothing and nutritional qualities to offer even the pickiest eaters.
Recipe designed to soothe upset stomachs
Real salmon listed as the first ingredient
High in calories
Still contains potential chicken allergens
---
3.

Abound Puppy Chicken and Brown Rice
We must include the Chicken and Rice puppy formula when talking about Abound and its recipes. This formula resembles other top dog food brands' well-loved puppy chow and contains added DHA, extra vitamins, and additional minerals for that necessary health and growth our smallest furry friends need. However, as with a majority of Abound's products, information on the recipe is hard to come by.
Added vitamins and minerals for puppy growth
Easy to digest recipe with brown rice and chicken
Complete lack of company transparency
Lack of reviews from consumers
Not widely available

The 3 Most Popular Blue Buffalo Dog Food Recipes
After examining the mystery of Abound's dog food, let's dive into some of Blue Buffalo's most well-known and sought-after formulas.
1.

Life Protection Formula Adult Chicken and Brown Rice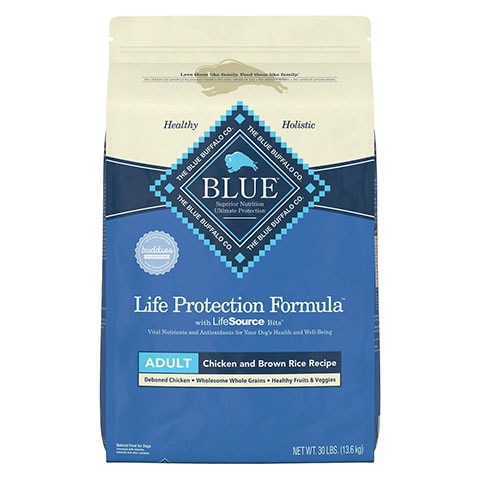 The Life Protection recipe is designed to help healthy adult dogs maintain their adult life. Including LifeSource Bits, the Adult Chicken and Brown Rice recipe lists deboned chicken and chicken meal as its first ingredients—ensuring your dog has access to a lean, nutritious protein source and other essential nutrients. This is the basic Blue Buffalo formula, boasting nothing specifically exceptional other than its lack of cheap fillers and animal by-products. While its general protein percentage may be a bit low, everything else about this recipe is top-notch and easily digestible nutrition.
Added LifeSource bits
Excellent for an everyday diet for the average dog
Real deboned chicken is the first ingredient
Almost below average protein percentage
Could be considered expensive with its lack of specialized diet
---
2.

Blue Buffalo Wilderness Chicken Recipe
This protein-packed punch recipe is designed to take our canine companions back to their primal hunting roots. Since it's packed with chicken, chicken meal, fish meal, chicken fat, and even dried egg, this Wilderness brand chicken recipe goes above and beyond with its high protein diet. The formula is perfect for building and maintaining lean muscle mass in dogs of all sizes, and it also is designed to help them feel fuller and have more energy longer. Wilderness Chicken also features plenty of healthy carbs like sweet potatoes mixed with the Blue Buffalo standard LifeSource bits. Blue Buffalo claims this recipe will satisfy any dog's inner wolf, and we are inclined to agree with them.
Extremely high in protein
Helps dogs feel fuller for longer
No animal by-products or corn
Includes plant proteins
Can trigger sensitive stomachs
---
3.

Blue Buffalo Baby Blue
With all the benefits and perks of Blue Buffalo's Life Protection Formula, the Baby Blue Puppy recipe is hard to beat. Like the Life Protection formula, this recipe provides solid everyday nutrition, but it's specially formulated for puppies. Boasting real deboned chicken as its first ingredient and adding calcium, DHA, and phosphorous make it a hard formula to beat when it comes to feeding a pup. Even better, it is a grain-inclusive mixture designed for everyday health.
Added DHA, calcium, and phosphorus
Grain-inclusive recipe with brown rice
Makes the transition to the Adult Life Protection formula easy
Can trigger potential allergens in pups during their first years of life
Recall History of Abound and Blue Buffalo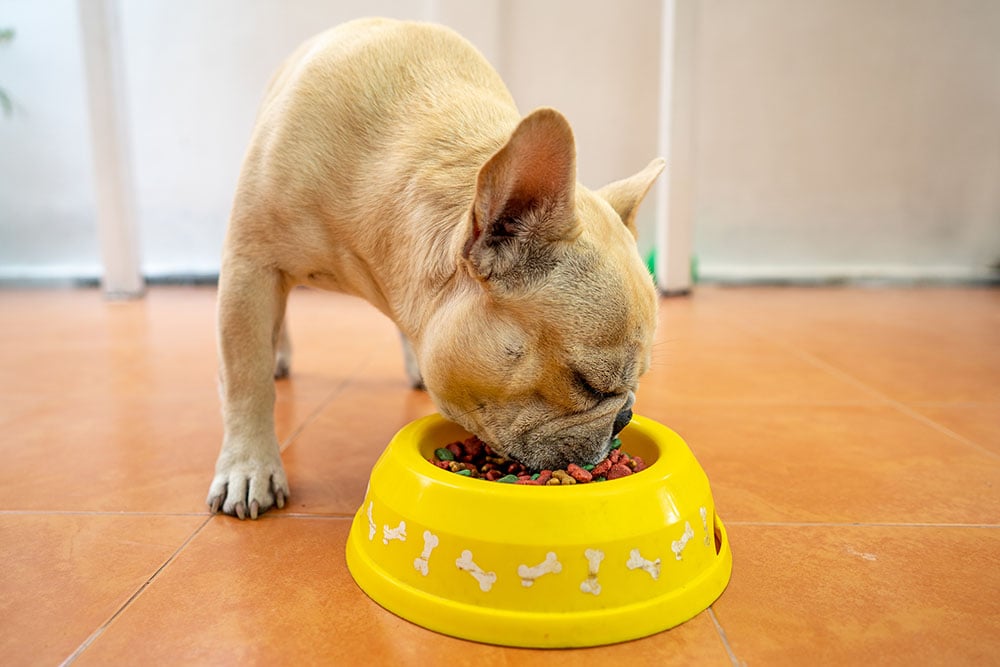 Neither brand has a clean record in terms of its recall history. Both brands have been recalled more than once, especially back to back in a short time. Abound has had two total recalls since its creation in 2014. Abound was first recalled in November 2018 and then again in the following December. According to the FDA, both recalls were due to the food's dangerously high vitamin D level. Blue Buffalo has had multiple recalls over its years in business, with its most recent recall back in 2019. Blue Buffalo was lumped together with over 16 other dog food brands in a recall of grain-free food.
When comparing Abound and Blue Buffalo, it's not so black and white in terms of which brand is better here. Both companies have been recalled voluntarily and via a forced FDA recall.
Abound Vs. Blue Buffalo Brand Comparison
With Blue Buffalo trouncing Abound in almost every category we considered for our final choice selection, we wanted to highlight a few key areas. As fellow pet parents and animal lovers who only want what is best for our canine companions, we think Blue Buffalo is hard to beat even despite its recall history. Let's take a dive into the categories we used to make our final call of Blue Buffalo taking the cake.
Taste – Blue Buffalo
Although some reports of dogs eating around the LifeSource Bits added in Blue Buffalo's formulas, the general consensus still chooses it as the fan favorite amongst our furry friends. Considering the overall flavor profile of each brand, Blue Buffalo appears to edge out Abound in this respect.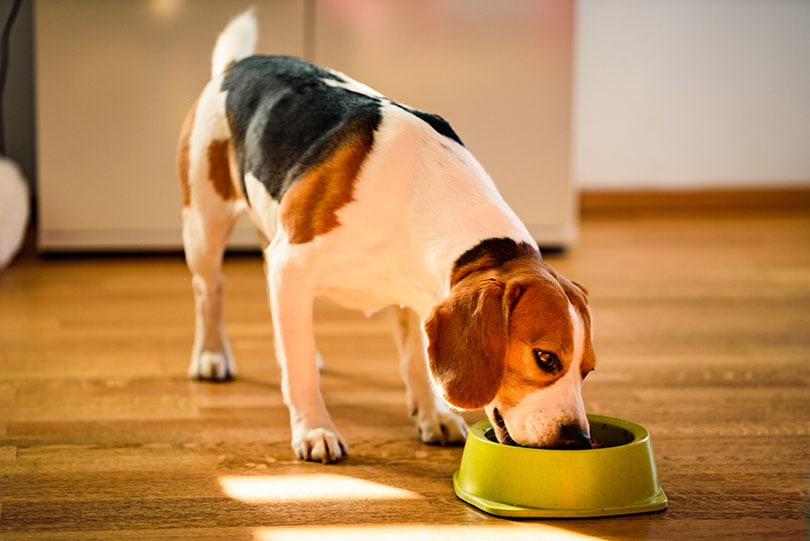 Nutritional Value – Blue Buffalo
Abound has an impressive nutritional profile in most recipes, at least according to the information we could find. It's hard to trust the front side branding and labels alone when judging a food's nutritional profile. Blue Buffalo is more transparent with its offerings and also includes the added LifeSource Bits for extra antioxidants. We have to give the hat to Blue Buffalo on this one due to the clear ingredient lists, excellent nutrition, and added goodies.
Price – Abound
While Blue Buffalo started as, and can still be considered, a premium dog food brand, it is more expensive when comparing the market prices. Blue Buffalo hasn't raised their prices, but they also haven't sacrificed nutritional quality for lower prices, either. However, Abound is more affordable than Blue Buffalo.
Product Selection – Blue Buffalo
Abound has some established formulas out on the market; the superfood blend and everyday nutrition for adult dog recipes have the potential to be household names. However, Blue Buffalo's product lines are far more extensive, established, and readily available.
Availability – Blue Buffalo
Even on Amazon, Abound only offers limited selections, not their full product line. In addition, they don't even have their own website you can directly order products. Blue Buffalo is available at practically every retailer, from Walmart to specialty pet stores. You can order through online retailers and the Blue Buffalo website, giving Blue Buffalo the clear win.
Overall – Blue Buffalo
After taking everything into consideration, it's not hard to see why Blue Buffalo edged out the competition. They have an excellent history and reputation amongst dog owners, even with product recalls. Blue Buffalo has something for everybody. Whether you are after everyday nutrition for your pup or adult dog, a specialized diet, or even a diet that can take your dog back to its wild roots, Blue Buffalo has it all, and you can get it anywhere. The company has spectacular transparency, and we can't recommend them enough at the end of the day.

Conclusion
While we don't think you can go wrong with either choice, you are in control and can choose which brand you prefer. Abound is doing fine in terms of their ingredients, but we wish they were more transparent with their customers and offered more availability outside of their Kroger-only purchase options. You can't go wrong with Blue Buffalo. Not only do they have products for almost anything you or your dog may need, but their long-standing reputation also precedes them for a reason.