Are Destin's Beaches Dog Friendly? What You Need To Know!
Destin, Florida, is one of the most desirable vacation locations in the Florida Panhandle. It has pristine beaches, a relaxed vibe, and plenty of places to kick back and enjoy a cold drink. The weather is beautiful all year, and the waters are often warm and calm. Destin's amazing environment attracts thousands of visitors each year, and many of those people often wonder whether they can bring their dogs along for the trip. Are Destin's beaches dog friendly? Can you bring your dog to the beach in and around Destin, Florida? The answer, unfortunately, is no. Destin area beaches are not dog-friendly.

County Rules
Destin is located within Okaloosa County. Okaloosa County has regulations barring dogs from all public beaches within the county. That means you cannot bring your dog to the beach in Destin, or any other beach located within Okaloosa County. There are no exceptions for well-behaved dogs, small dogs, or leashed dogs. Dogs are not permitted on beaches anywhere within the county.
The City of Destin has this rule posted prominently on its official Frequently Asked Questions (FAQ) page. The rule reads:
Dogs are NOT ALLOWED on the beaches in Destin/Okaloosa County.
There is no wiggle room here. That is the rule posted by the county and enforced at the city level.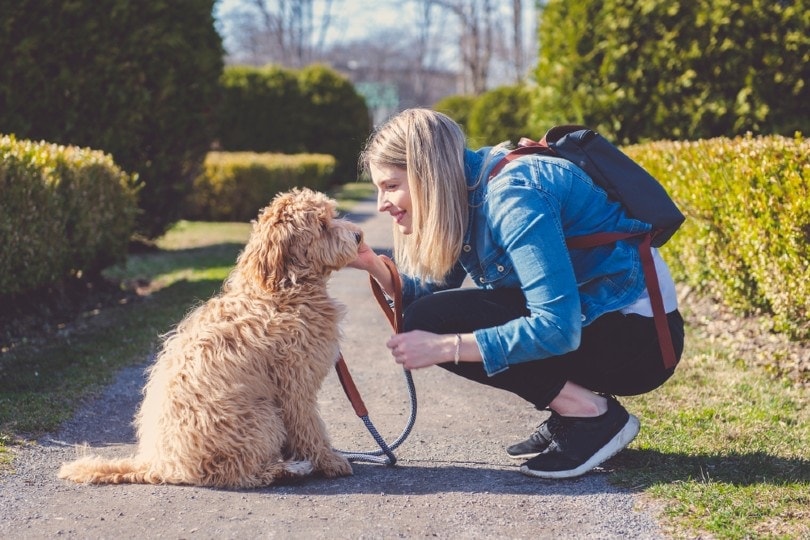 Why Aren't Dogs Allowed on Destin Beaches?
Okaloosa County cites health concerns as its reasoning behind banning dogs on its beaches. Not everyone picks up after their dogs. Dog poop left on public beaches can accidentally get into wounds and on the skin of nearby people. People don't often wear shoes or shirts at the beach, which can increase the risk of contamination. Dog poop also contains dangerous bacteria such as E. coli and parasites. These contaminants can be picked up by waves and carried into the water. If too much dog poop gets into the water close to shore, it can make the water unsafe to swim in, ruining the beach experience for everyone.
High numbers of dogs in public places can also be disruptive or dangerous. Dogs can get into fights or become anxious around large numbers of people, which can increase the risk of unsafe incidents.
This is some of the reasoning behind the dog ban in Okaloosa County. The rule might not be popular with everyone, but it is the law and has to be observed in the county.

Local Alternative
On the City of Destin's official website the city encourages dog owners to avoid the beaches and to visit a local dog park instead. Destin has one official dog park known as Nancy Weidenhamer Park. The locals simply refer to the park as the Destin Dog Park. This dog park is NOT on the beach, but it is close to the beach. You can take a nice long leisurely drive along the oceanfront with your dog before getting to the dog park. It is disappointing that the dog park is not a beach park, but it does have a lot of amenities and areas for dogs to play in a safe and sanctioned environment.
1.

Destin Dog Park / Nancy Weidenhamer Park
Plenty of free parking is available.
Close to the Gulf beaches.
Dog watering stations on site.
Benches for sitting and watching doggy play sessions.
Dogs must be leashed while entering and exiting the park but can be unleashed while in the park's enclosed areas.

Escape to Escambia
If you don't mind driving a little bit out of the way, you can drive over the county line from Okaloosa County to Escambia County. Escambia County is home to Pensacola, Florida, which is home to some of the best dog beaches in the Florida Panhandle. There are two official dog beach parks in Escambia County that allow your dogs to run on the sand and play in the surf.
The dog parks in Escambia County are roughly an hour from Destin, Florida. Pensacola Dog Beach is 37 miles from Destin, and Pensacola Dog Beach West is 45 miles from Destin. Those distances are not ideal, but they are doable in a single day. That allows people staying in Destin to be able to have a day trip where their dogs are allowed to come and enjoy the beach with them.
Dogs are not allowed on any other beaches in Escambia County other than these two specially designated locations.
1.

Pensacola Dog Park East
Beautiful dog beach along Florida's beautiful Gulf Coast.
45 minutes from Destin, Florida.
Free access, plenty of parking, stunning views.
---
2.

Pensacola Dog Park West
Official dog beach servicing western Escambia County.
One hour from Destin, Florida.
Beautiful beach that allows dogs in a region where dog beaches are uncommon.

Conclusion
Destin's area beaches are not dog-friendly. All of Okaloosa County prohibits dogs on the beaches for public health and safety. While Destin might not be dog friendly, nearby Pensacola has two well-maintained dog beaches for you to access. The dog beaches in neighboring Escambia County are an hour's drive from Destin but offer a day of fun for you and your canine companions. They offer the best chance to experience the beach with your pups from Destin.
---
Featured Image Credit: gerson_rodriguez, Pixabay