Is Santa Monica Beach Dog Friendly? 2023 Update
As one of the top tourist destinations in California, Santa Monica offers no shortage of fun activities and tasty dining experiences. You'll also find miles of gorgeous beaches waiting for you to come and spend a day on the sand. Unfortunately, dog lovers will have to leave their pups at home because Santa Monica beach is not dog friendly.
In this article, we'll tell you exactly where dogs are and are not allowed in the Santa Monica beach area. We'll also tell you where to find some nearby beaches that welcome dogs, including an off-leash option! Finally, you'll learn tips for keeping your dog safe as you enjoy a day at the beach.

Santa Monica Beach Says No to Dogs
According to the Santa Monica municipal code, dogs are not permitted on the sand of any beach in the city limits. Owners can receive a citation for violating this rule, although the police may first opt to educate them regarding the regulations. Because Santa Monica draws so many tourists, a lack of knowledge is often why people bring their dogs to the beach.
Unfortunately, many people know the rules and still choose to break them. Santa Monica officials have noted an increase in violations over the past year. In addition to being against the rules, dogs on the beach can also disturb protected nesting sites for sea birds.
Where Are Dogs Allowed Near the Beach?
Your dog may have to stay off the sand, but you can still enjoy the ocean sights and sounds with your pup in other ways.
Several Santa Monica beaches feature nearby parks and green spaces where dogs are allowed. There's also a paved, mixed-use path that runs for miles along Santa Monica and nearby beaches. Leashed dogs are allowed to use this path.
The city's most famous attraction, the Santa Monica Pier, can also be enjoyed by your dog. Leashed dogs are allowed on the boardwalk and pier, but they must stay out of businesses and the amusement park.
Dog-friendly Beaches Near Santa Monica
If you're up for a car ride (never easy in L.A. traffic), you'll find a few options near Santa Monica where your dog can enjoy some beach time.
Rosie's Dog Beach, located south of Santa Monica in Long Beach, is a designated off-leash area. It's the only official dog beach in Los Angeles County. You'll find restrooms and picnic spots as well.
Huntington Dog Beach is another off-leash spot located about 40 miles south of Santa Monica. Parking is available for a fee, and you'll find water, restrooms, and trash cans. Technically, dogs aren't allowed on city beaches here either, but Huntington Beach has chosen to turn a blind eye to this particular stretch of coast as long as all canines are on their best behavior.
You'll find Leo Carillo State Beach, famous for its stunning rock formations and caves, north of Santa Monica in Malibu. Leashed dogs are allowed on the north portion of this beach, along with the day-use areas and campground. Parking is available for a fee, along with restrooms and showers.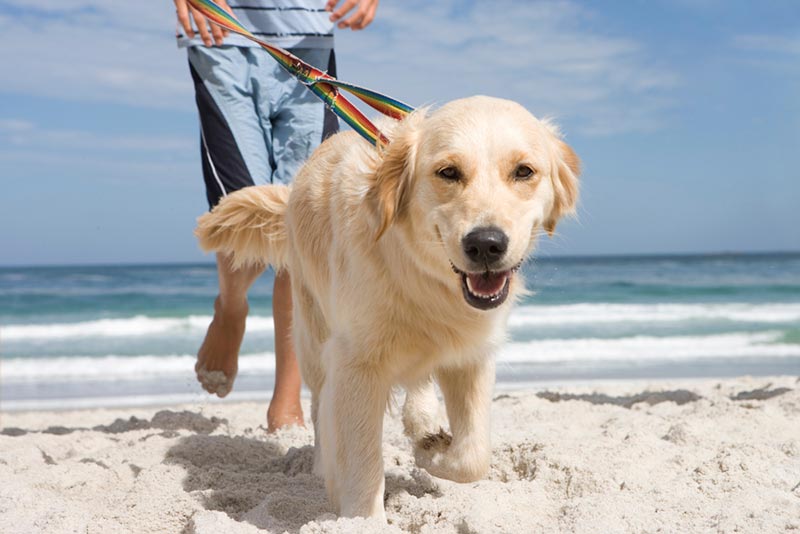 Keeping Your Dog Safe at the Beach
To ensure you and your dog enjoy your day at the beach, here are some safety tips to keep in mind.
Be aware of the temperature. Dogs can become overheated quicker than many people realize, especially if they are a short-nosed breed like a French Bulldog. Heat stroke is a life-threatening medical emergency that you really want to avoid. Also, don't let your dog walk on hot sand, which can burn its paws.
Make sure you bring plenty of water for your dog. Not every beach will have access to water, and you don't want your pup drinking out of the ocean. If there's no shade near the beach, consider bringing an umbrella or canopy.
Not every dog, even those who usually like water, will enjoy the sight of waves rushing at them. Give your dog time to get used to the ocean the first time you take them to the beach. Monitor them carefully if they swim in the water, as many California beaches are subject to dangerous currents.
Don't let your dog eat sand or drink salt water. Use dog-safe sunscreen on your pup's ears, nose, and other areas without fur. Rinse the salt water and sand off your dog once your beach day is complete to avoid any irritation or accidental ingestion.

Conclusion
When enjoying a day on the beach with your dog, remember to be respectful and responsible. Clean up after your pup, and don't let your dog bother other beachgoers or their dogs without permission. Never let your dog chase or harass any birds or animals along the coast, as many are protected species. Dogs are often banned from beaches like Santa Monica because too many owners aren't responsible.
Related Read:
---