How Much Does It Cost to Own a Cat in Australia? 2023 Price Guide
When you were young, you probably heard your mother say that pets are a big responsibility. But when you get older, you realize just how true that really is. Not only are kitties a task to care for in the home, but they also require a lot of financial commitment, too. After the initial expenses, you can expect to spent $30–$200+ AUD per month.
So, if you live in Australia and want to know exactly how much it costs to own a cat, we have you covered. Let's discuss everything from bring-home costs, recurring monthly expenses and other potential costs you can expect.
Bringing Home a New Cat: One-Time Costs
You have quite a few options when bringing home your new furry pal. One-time costs include everything it takes to bring home your kitty comfortably. That includes the price of the cat and all the supplies they will need. So, you're in charge of how much you spend in total.
Free
Unfortunately, the homeless cat population is a real problem in Australia. So many cats find themselves on the streets without loving homes, adding to the already staggering feral population.
So, if some cat owners find themselves with a litter of kittens, they will often give them away to good homes for free. Also, you might meet a kitty on your doorstep that shows up one day searching for room and board—and you're just the person who can give it to them.
While these cats are free, yes, they still require upfront costs. So, while you aren't paying a dime to let them inside, creating a list of much-needed supplies is crucial to get this new journey started.
Adoption
$50–$300
Adoption is one of the best, and one of our favorite, methods of getting a cat. There are tons of adorable felines looking for forever homes, pouring into rescues at alarming rates. You can give a kitty a second chance—and costs cover so much more here.
If you adopt, the cat has already been spayed or neutered, possibly microchipped, and is completely vaccinated. So, when you bring them home, you don't have to worry about any immediate costs associated with vet care.
Breeder
$300–$2,500+
In Australia, many cat registered breeds are perfected and maintained by reputable breeders in various areas. If you have had your heart set or eye on a particular breed, it's worth checking out how close the nearest breeder is to you.
Breeder rates can vary drastically due to several factors, including quality, breed type, color/pattern rarity, etc. So, you might look up a purebred like an Egyptian Mau versus a Sphynx and find costs can be thousands of dollars in difference between them.
So, always make sure to buy within your budget and consider all additional purchases for supplies in your kitten's grand total.
Initial Setup and Supplies
$30–$250+
You can cut corners with supply costs, but don't skip out on necessary items. There are quite a few things you'll need upfront, but most will stretch you quite some time. So you don't have to worry about a ton of recurring costs.
First, you will want to ensure you get the absolute essentials—like food, bowls, litter box, litter, and other musts. Once you have the basics, you can move on to other financial areas of cat health and home care.
List of Cat Care Supplies and Costs
Here's a general price range of some potential initial supply costs and veterinary care costs when bringing a cat home for the first time. Note that not all of the vet care costs will apply, depending on how you acquired your cat.
*All Costs in AUD
| | |
| --- | --- |
| ID Tag and Collar | $15-$30 |
| Spay/Neuter | $100-$300 |
| X-Ray Cost | $250-$300 |
| Ultrasound Cost | $250–$500 |
| Microchip | $45-$55 |
| Teeth Cleaning | $150-$300 |
| Cat Bed | $30-$70 |
| Nail Clipper | $7-$15 |
| Brush | $8-$60 |
| Litter Box | $25-$100 |
| Litter Scoop | $10-$30 |
| Toys | $30-$60 |
| Carrier | $40-$90 |
| Food and Water Bowls | $15-$45 |
How Much Does a Cat Cost Per Month?
$30–$200+ AUD per month
There will be a few recurring costs every month that you can't avoid—like food and litter. Also, if you opt for pet insurance, that is a monthly expense. Some cats will have higher monthly costs due to the state of their health and how much money you feel comfortable spending.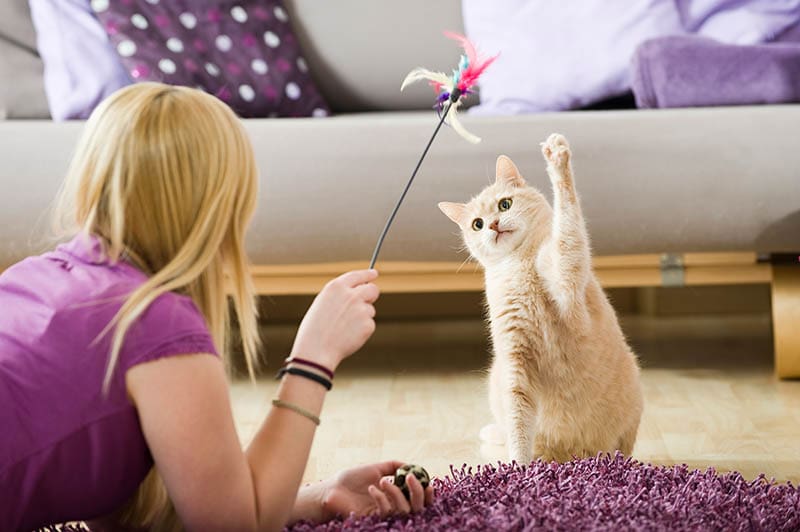 Health Care
$0–$250 AUD per month
Health care for our cat depends on your chosen vet and their rates. Most of the time, if you have a happy, healthy kitty, they will need to see their vet once a year for general care. But some need to go more frequently for certain health conditions.
In the first year, you will see your vet more than all the rest (permitting no health issues exist.) So, you might run into a few months of factoring in vet costs for things like microchipping, parasite prevention, and spay or neuter surgery.
Some cats will need special accommodations like prescription diets, medications, and treatments that can bump up monthly vet costs quickly.
Food
$30–$150 AUD per month
Today, it seems like the market for pet food is outlandish. We turned corners from feeding cats traditional kibble and wet food to fresher diets that match a cat's dietary needs. So, while only you can decide what to feed your cat, the options are vast.
You can buy a brand you can find in virtually any pet or department store to make it convenient and cheap. But you can also go the new route of opting for fresh, human-grade subscription-based cat food options that are delivered right to your door.
On the one hand, you'll be paying more for the service, but your cat's health can flourish as a consequence. Don't be afraid to shop around for different cat food prices, ingredients, and quality to see which brand will work best for your cat's overall health—and your budget!
Grooming
$0–$75 AUD per month
Luckily, our cats are quite skilled at self-grooming. Most short-haired cats only require brushing for debris reduction and coat appearance. So, buying a sufficient brush and keeping up with routine bathing and brushing will do.
Some long-haired cats require daily brushing—purebreds like Maine Coons and Persians might do best with professional help due to their long and full coats. Plus, it's nice to pamper your cat from time to time.
If you want to cut this out completely, you can learn to groom even the most challenging coats at home.
Medications and Vet Visits
$0–$250+ AUD per month
Most of the time, cats get by with very little help from their vet. These independent beauties thrive nicely in the home and typically have few health concerns—but that doesn't count for every cat.
Some cats—due to allergies, supplements, specialized diets, prescriptions, or monitoring—require frequent vet visits. So, it's something to anticipate, but you may end up not spending any money in this area at all most months depending on your cat.
Pet Insurance
$25–$100 AUD per month
Pet insurance is booming these days, offering tons of policies from various companies specifically designed for domestic pets. Many agree that having this layer of protection helps ease their mind, lighten their wallet, and provide perks every pet owner could utilize.
In Australia, you have several choices for pet insurance, so it's best to shop around before committing. Some policies are accident only, not covering routine or preventative care costs. Others are for general visits and wellness checkups.
If pet insurance interests you, we recommend getting quotes right away. Typically, the earlier you enroll your pet, the more savings you can lock in. It's a fabulous new way to afford our beloved, and sometimes very expensive, felines.
Environment Maintenance
$0–$55 AUD per month
And here's the section you might want to pay close attention to. It's already likely that you're anticipating costs of the cat and medical coverage right up front. But how about environmental maintenance supplies?
Here are a few areas of repeated buys—all of which are optional.
| | |
| --- | --- |
| Litter box liners: | $5/month |
| Deodorizing spray or granules: | $10/month |
| Cardboard Scratcher: | $10-$40/month |
Entertainment
$10–$150 AUD per month
You can get a ton of entertainment for your cat to try out. Some cats need much more activity than others, and some will have specific preferences. You can feel it out and buy for your cat accordingly.
Some ideas include:
Toys
Cat grass
Cat scratching posts
Cat trees
Hammocks
Exercise wheels
Cat cages
Subscription boxes are a terrific recurring toy/snack pack you can order for your cats. It's also a good way to gauge how much your cat uses in a month's time. So, if you find it's too much or little, you can adjust your shopping habits accordingly.
Total Monthly Cost of Owning a Cat
$190–$1,000+ AUD per month
So, as you can see from these numbers, cats can be relatively low-cost or pretty pricey. It all depends on your individual buying habits. The bottom line is, even if you can manage to squeeze it in your budget, you should only get a cat if you're ready all the way around (including mentally).
Some costs can be unpredictable—such as those for emergencies and unforeseeable circumstances. So, it's sometimes hard to determine if anyone is financially ready for all aspects of owning a cat—but the same can be said for having children.
You should spend nowhere near the high end of this estimate, but we wanted to make sure all possibilities are included. If you want to get tips on how to save money on cat care—keep reading! We have plenty of ways you can keep your dollars.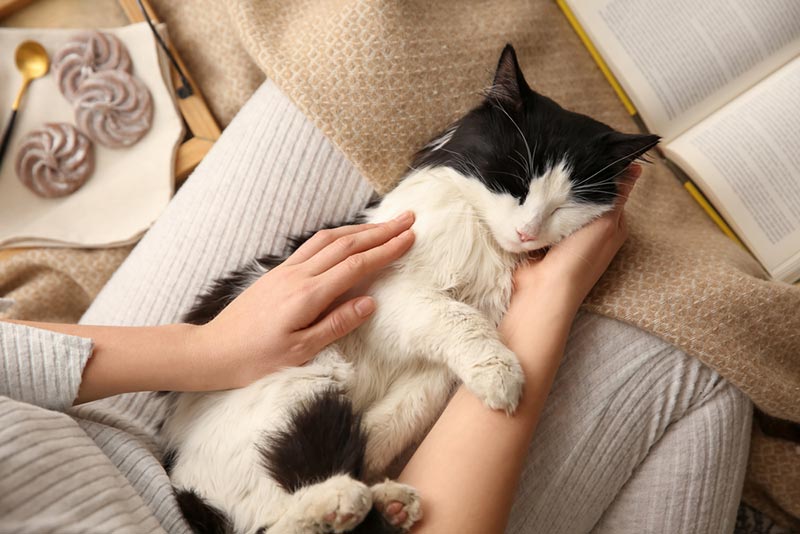 Additional Costs to Factor In
There are some other areas to factor in cost that do not apply to every cat, but still costs to plan for—just in case.
Travel Arrangements
How do you plan to care for your cat when you're going out of town? Many folks may have friends or family on standby, ready to help out. But that's not always feasible for everyone. So, you may have to look at kennels or care systems designed just for your felines.
Emergencies
Accidents happen. So, it's best to be prepared with a little savings set aside. Emergency surgeries or treatments can be incredibly pricey—especially after hours. Many insurance companies cover emergencies.
Household Damage
You are well aware right now that your cats can be destructive. From ripping up curtains to carpets, to plants, these critters can really do some damage—and you're the one who will be paying for it.
Training
Sometimes, our kitties can give us a run for our money. While cat training hasn't been much of a hot topic in the past, it definitely is today. If your cat is developing poor behavior that can be corrected, hiring a professional trainer might be on your list of to-dos.
If so, finding a person around you can be tough—and sometimes pretty costly. Luckily, you can cut corners by watching YouTube videos and other educational online resources for tips and tricks.
Registration Fees
In most areas of Australia, you must register your animals per local laws. Always check with your place of residence and pay for any fees necessary.
Owning a Cat on a Budget
If you're a pretty savings-savvy person, you can apply all the ways you learn to spend less on your cat supplies. Luckily, cats are pretty low-maintenance if you want to cut some corners from time to time in terms of cost.
Saving Money on Cat Care
Here are a few ways you can aim to save.
Discounted Vet Care
Paying for vet care can be incredibly pricey, so it's always nice to take discounted options when you have the chance.
Local Feed Stores
If you check out local feed stores, they sometimes have vaccines and preventative parasite care options available.
Auto-ship Options
You might need an array of products on a timed basis, like food, toys, poop bags—you name it. Sometimes, you can save a few bucks on sites like Chewy for auto-ship options. If you have it shipped to you automatically, they will knock off a percentage of your order every time.
DIYs
Why buy when you can DIY? The Internet is crawling with ideas on all-things-cat. You can make beds, hammocks, collars—heck, with vet guidance and permission, you can even make their food yourself.
Conclusion
Having a cat in Australia is a definite possibility, permitting you have the proper lifestyle and budget to manage it. So, if you're interested in getting a kitty, you can try to work out the financial details to be sure you're ready.
Remember, there are plenty of ways to save on cat costs. If you are trying to save as much as possible, check out available discounts and DIY options when you can.
---