450 Bengal Cat Names: Our Top Picks for Your Tiger Cat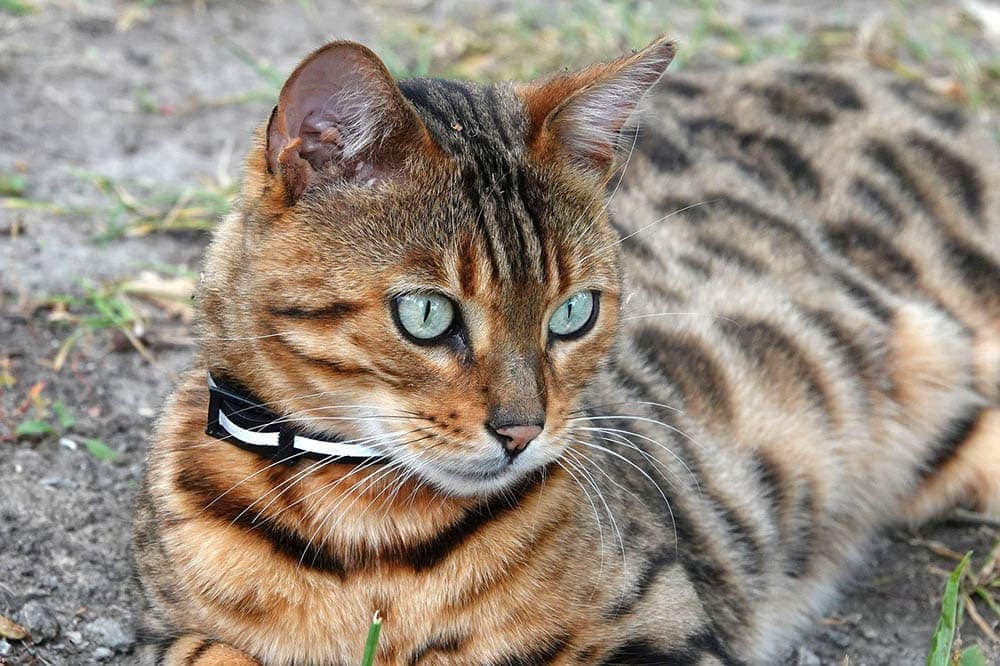 Bengal cats are just like any other domestic cat in terms of needs and want. However, the Bengal cat has a unique coat that makes it look more like its wild cousin, the Bengal tiger, than most other breeds of domestic cat in existence. Therefore, these cats deserve a special name that highlights their cool markings and vibrant personalities. Here is a list of 450 Bengal cat names separated by female, male, and unisex for you to consider.
Female Bengal Cat Names
Female Bengal cats are beautiful and dainty, so their names should reflect these characteristics. While almost any female name will work, some stand out from the crowd due to sound or meaning. Check out our pick for the top 150 female Bengal cat names here: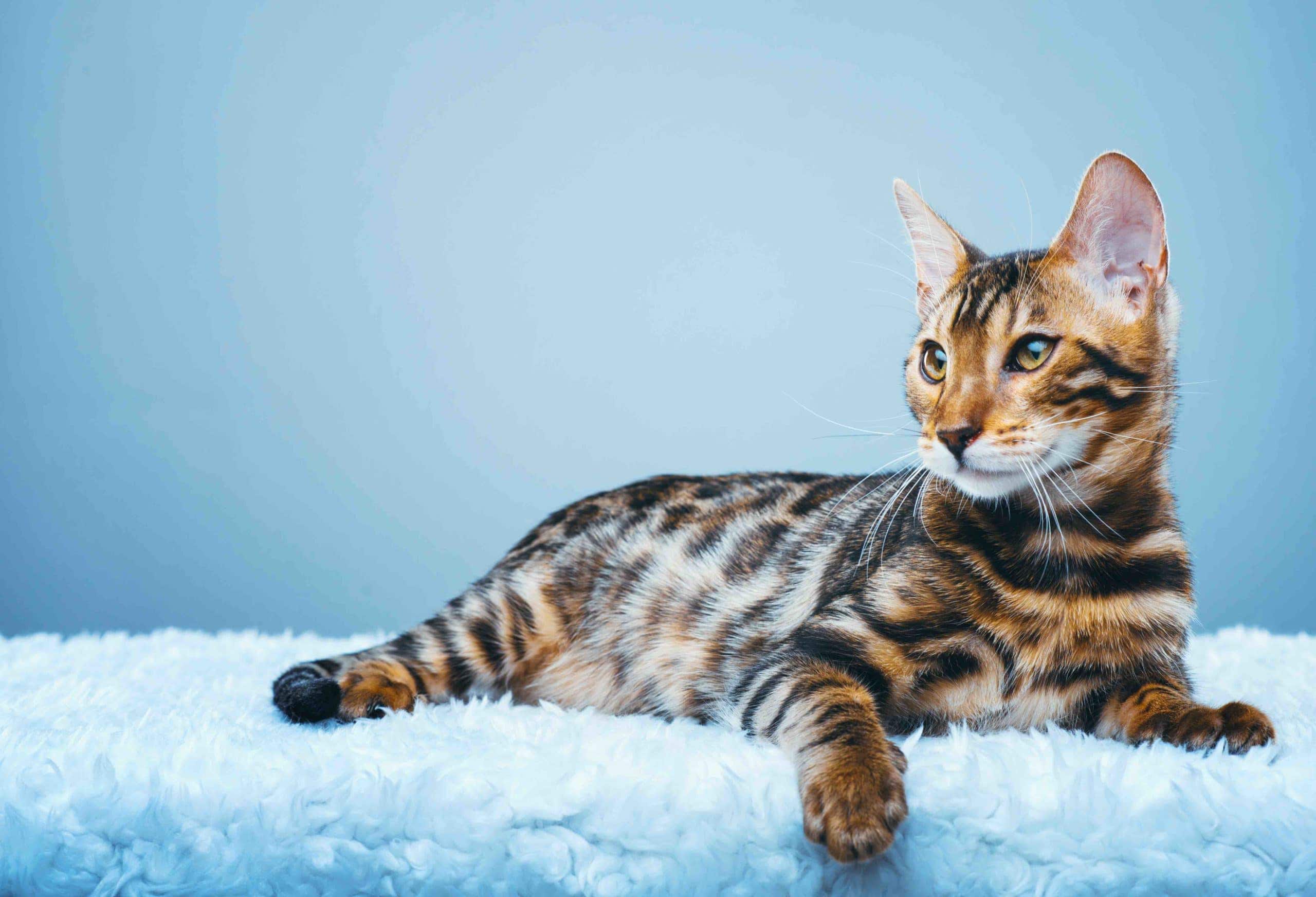 Annika
Goddess
Alexa
Dream
Inky
Blossom
Topaz
Envy
Sheba
Mia
Pearl
Nala
Misty
Alexa
Cassidy
Dakota
Ayla
Astra
Beth
Hallie
Farrah
Kimmy\Gala
Kyra
Estee
Deva
Jocelyn
Maggie
Lindy
Naava
Mallory
Liu
Megan
Purdy
Serena
Shiva
Suzy
Rachel
Paige
Regan
Sahara
Odette
Ursula
Tansy
Tyra
Ursula
Talullah
Jasmine
Annika
Sheba
Daisy
Annala
Nala
Beth
Mia
Lioness
Amber
Pepper
Sunset
Ginger
Bagheera
Pearl
Rajah
Lady
Misty
Tinsel
Opal
Topaz
Periwinkle
Blossom
Tina
Tawny
Tiger Lily
Honey
Erma
Alicia
Peaches
Isi
Layla
Ginger
Mitzy
Misty
Leilani
Kandiss
Kayleigh
Guinevere
Audra
Savannah
Daisy
Davina
Lianna
Annabelle
Nakoma
Naomie
Victoria
Sunday
Sadie
Kiva
Glorious
Sarfa
Sharma
Nakoma
Muffin
Davina
Madelene
Annabella
Dot
Nala
Prade
Ning
Dottie
FlaMing
Alani
Geisha
Angel
Anise
Beauty
Belinda
Ariana
Anastasia
Bubbles
Bella
Ginger
Hallie
Holly
Floss
Flora
Hana
Havanna
Fuchsia
Flora
Dotty
Eve
Dixie
Callie
Cheery
Cinnamon
Srah
Rosemary
Pumpkin
Snow
September
Taffy
Myra
Myrla
October
Peaches
Iris
Kaylee
Lolly
Ingrid
Male Bengal Cat Names
A male Bengal cat needs a strong name that highlights its perky personality and natural hunting instincts. Luckily, there is no shortage of options to choose from! We have narrowed the options down to 150 names that are worth consideration. Check them out: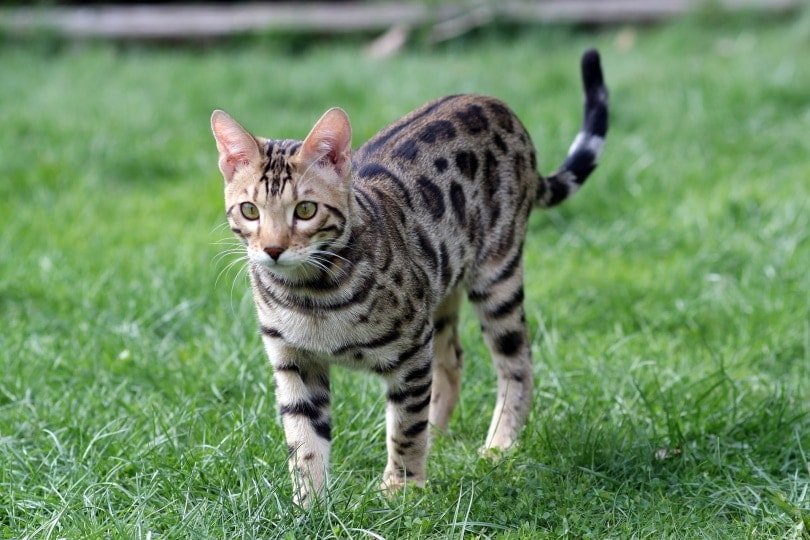 Lion
Hunter
Leo
Leopard
Shadow
Smokey
Bengie
Garfield
Rasputin
Rocco
Lazarus
Axel
Earl
Blaze
Saber
Prewitt
Norm
Orion
Mackerel
Artemis
Mack
Zorro
Maverick
Loco
Shade
Smokey
Tiger
Hunter
Leo
Jamille
Shwartz
Ulysses
Badey
Ulysses
Bradey
Victorio
Fontaine
King
King Tut
Quin
Ivan
Brad
Poseidon
Casanova
Sylvester
Lancelot
Einstein
Milo
Sheridan
Noah
Caesar
Ajax
Bojangles
Churchill
Cousteau
Alfie
Galahad
Alexander
Hemmingway
Admiral
Marco
Polo
Marco Polo
Napoleon
Rajah
Chester
Simba
Chester
Blaze
Tao
Banshee
Berry
Chip
Clover
Jessie
Linny
Lou
Jessy
Bentley
Bolton
Charlie
Bling
Tex
Ziggy
Zorro
Taz
Tigger
Trigger
Theo
Twister
Thunder
Beetle
Blackbeard
Binks
Boom
Charcoal
Bullet
Boots
Bram
Coal
Craco
Elvis
Frankenstein
Gath
Goliath
Guinness
Jack
Black
Jaden
Jet
Lucifer
Metal
Merlin
Mystery
Ninja
Midnight
Milton
Mortician
Shadow
Panther
WarlockWizard
Omen
Miner
Ozzy
Phantom
Poe
Gus
Gizmo
Toby
Buddy
Jasper
Rocky
Sam
Louie
Goose
Murphy
Cosmo
Chester
Frankie
Benny
Prince
Mac
Clyde
Hobbes
Raven
Fred
Otis
Archie
Casper
Romeo
Unisex Bengal Cat Names
Sometimes, it just does not feel right to give a cat an overly male or female name. Luckily, there are many unisex names to choose from that are appropriate for both guy and gal felines. Here is a list of 150 unisex names to choose from that would be perfect for a Bengal cat: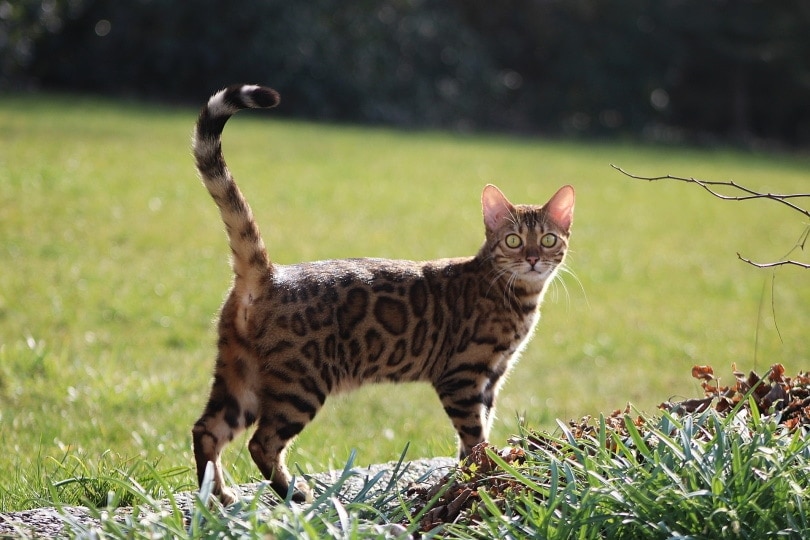 Smudge
Paws
Stripes
Foggy
Tinsel
Dusty
Chase
Barley
Delhi
Delta
Cherokee
Barely
Galaxy
Hopscotch
Erin
Joli
Kyler
Karma
Lynx
Nepal
Roni
Sunday
Phoenix
Shiloh
Nirvana
Tibet
Astras
Lynx
Yuki
Tippi
Butterscotch
Spot
Onyx
Speckles
Marble
Asian
Sterling
Orion
Soren
Salem
Grey
Silver Bell
Pepper
Monarch
Disco
Anchovy
Disco
Twilight
Bluebell
Envy
Smudge
Mouse
Blue
Vergys
Paws
Pinot
Nickels
Safron
Tawny
Patches
Spot
Sunset
Jungle Cat
Isi
Adan
Mattea
Tao
Binky
Bubbles
Cheesie
Chili
Cleo
Sweetie
Pumpkin
Snowy
Smudge
Nutmeg
Pebbles
Fliss
Bubbles
Blitz
Cashew
Colby
Bean
Basil
Twister
Wonton
Boo
Cinder
Coffee
Brownie
Charming
Lucky
Jade
Inky
Hocus
Marble
Jet
Sky
Fire
Licorice
Lucky
Mitten
Mystic
Pepsi
Mysteria
Oreo
Mocha
AC/DC
Avalanche
Bacardi
Boomer
Biscuit
Alaska
Jazz
Zigzag
Kahlua
Kilimanjaro
Moonpie
Muscar
Lunar
Logo
Rebel
Ra
Salty
Q-Tip
Shady
Radar
Pepper
Pickle
Mozart
Neptune
Patches
Pinwheel
Mocha
Mirage
Porsche
Snowdrop
Snowbell
Snowflake
Swiss
Tattoo
Yeti
Vodka
Vanilla
YinYang
Yukon
Zip
Venice
Zion
---
How to Name Your New Bengal Cat
When it comes time to name your new Bengal cat, it should be about what sounds and feels right. What names seem right when you say them out loud? The ones you think are the easiest to say and coolest to hear should go on your shortlist. Once you have a shortlist to work with, try each name on the list out on your new cat to see which seems the most appropriate. Your cat might react more to one than the others. Ask your family to weigh in on the names you have narrowed down. Take your time, and don't rush the process. Your kitty can go a few days without having an official name.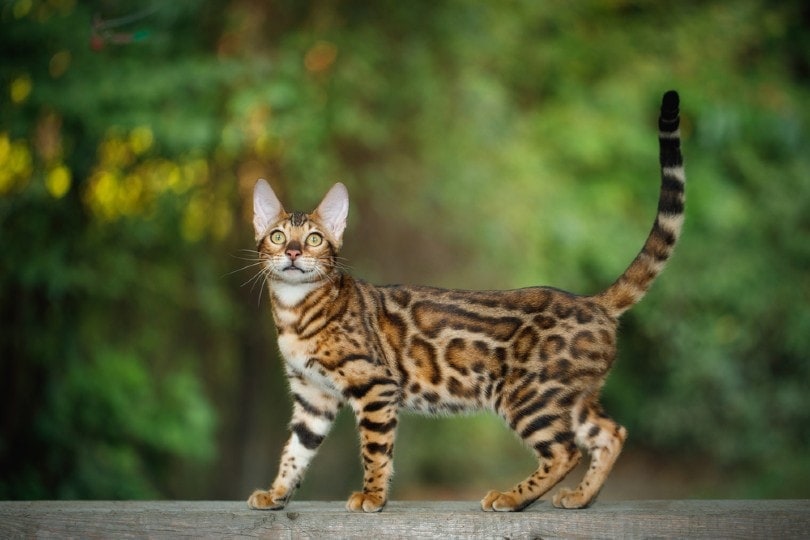 In Conclusion
There are tons of fantastic names to consider naming your new Bengal cat. The trick is to narrow them all down to a few that you like the most. From there, just try them all out and decide which you like the best. Which of the names listed here do you like the most? Which do you like the least? Let us know your thoughts in the comments section below.
Check out these other awesome name articles:
---
Featured Image Credit: Jumpstory