7 Best Chihuahua Muzzles in 2023 – Reviews & Top Picks


It's in everybody's best interest to get a truly high-quality muzzle for your chihuahua. However, unless you've had the opportunity to actually sample a muzzle (and how often do chances like that come about?) you won't really know how it holds up until the heat of the moment.
We've taken it upon ourselves to test a number of different muzzles. Consequently, the products on our list have been vetted on the strength of their durability, as well as the overall experience the unit provides your dog.
Want the best product you can get your hands on? Then read on for some chihuahua muzzle reviews!
---
A Quick Glance at the Winners in 2023:
Rating
Image
Product
Details

Best Overall

JYHY Short Snout

Durable
Adjustable
Breathable mesh
Check Price

Best Value

Dogs My Love Adjustable

Affordable
Adjustable
Comfortable
Check Price

Premium Choice

Alfie Paxton Adjustable

Extremely durable
Breathable
Adjustable
Check Price

GoodBoy Gentle

Comfortable
Limited range of motion
Made out of a soft fabric
Check Price

Barkless Leather

Comfortable
Lightweight
Affordable
Check Price
The 7 Best Muzzles for Chihuahuas:
1.

JYHY Short Snout Dog Muzzle – Best Overall
The JYHY may look a little bit like something Hannibal Lecter would wear but it performs quite well. The unit features a generous breathable mesh that ensures your pooch is getting plenty of air. It also features a durable, adjustable strap, and large eye holes that make it easy for your pooch to see.
There isn't much to complain about here. It is a fairly expensive product as far as muzzles go, but the performance does make up for that somewhat. Because it is durable and adjustable, you shouldn't have any problem using it for a long period—possibly even on multiple different dogs.
Durable
Adjustable
Large eye holes
Breathable mesh
---
2.

Dogs My Love Dog Muzzle – Best Value
Next, we have the Dogs My Love dog Muzzle. This product is adjustable in up to six different sizes and features a comfortable fabric that shouldn't irritate your dog's skin. It is also very affordable. Indeed, because of the reasonable price tag, we have identified this unit as the best Chihuahua muzzle for the money.
However, even though it is adjustable, it isn't really suited for dogs of most sizes. The material is weak, and big dogs (even big chihuahuas) will tear right through it.
It will be suitable for a manageable pup, but if your dog is on the crazy side, this won't be the product for you.
Affordable
Adjustable
Comfortable
Not even close to being durable
---
3.

Alfie Pet Adjustable Plastic Muzzle – Premium Choice
The Alfie is an adjustable muzzle that will be a durable solution for rambunctious pups. The tough plastic material is sure to last a long time no matter what your dog throws at it.
The "cage-style" design gives your dog a ton of breathing space, which will be great for pups that need to wear the muzzle for extended periods.
Unfortunately, though, these features have contributed to a relatively high price tag. If you want a really great product, you have to be willing to pay for it, right?
Extremely durable
Breathable design concept
Adjustable
---
4.

GoodBoy Gentle Muzzle Guard
The GoodBoy is a gentle muzzle guard that still gives your pooch some range of motion with its jaws. This device works to stop them from biting or chewing vigorously. However, they will still be able to eat and drink with ease.
The materials are made out of a soft fabric that will be comfortable even for long periods. If you are trying to curb an irritating but not dangerous pattern of behavior, this muzzle may be an enticing option for your dog.
However, it simply won't do for dogs of a more ferocious variety. A pup that really wants to bite while wearing this muzzle will find a way to do so.
Comfortable
Gives your dog limited range of motion
Won't work for ferocious dogs
---
5.

Barkless Leather Dog Muzzle
The Barkless is an affordable leather muzzle that is designed to be comfortable on your dog. The straps are soft but effective in restricting your pup's ability to bark and bite. It is also lightweight, and it allows for a big enough range of motion for your dog to comfortably eat and drink.
However, it is another product that won't suit the needs of a more ferocious dog. For one thing, the leather of the straps is sure to succumb to extreme pressure. They also won't be able to hold up to a dog that is truly determined to bite.
Comfortable
Lightweight
Affordable
Not very durable
Won't stop determined dog
---
6.

Weebo Pets Breathable Nylon Muzzle
Second to last, the Weebo. This is a breathable nylon muzzle that is extremely lightweight. Consequently, it also tends to run on the fragile side. The nylon straps may hold up just fine to the gentler yapping of a docile dog, but docile dogs don't tend to need muzzles in the first place, do they?
Still, if you need something to protect against yapping or the occasional tendency to nip, you may get some use out of this. However, if you really need to stop a dog from biting this won't be the product that you lean towards.
Not very durable
Won't stop determined dog
---
7.

Four Paws Quick Fit Dog Muzzle
Finally, the Four Paws. This is not a very durable or long-term muzzle but it may do the trick in a tight spot. It features nylon straps and a Velcro fastening agent that helps you to secure the mask quickly. It's a great feature for ease of use, but it isn't so great at stopping a dog that is dead set on biting.
The straps are very fragile and the entire unit is likely to break down in a heated moment. The bottom line is that if you do find your pup in a tight situation it may get bad pretty fast. You may get some use out of it for a smaller chihuahua but outside of that, it's a muzzle to steer clear of.
Not durable at all
Fastening mechanism may break down quickly
---
Buyer's Guide – Choosing the Best Chihuahua Muzzle
And now, let's take a look at some important buying considerations. If you can't choose between the seven products on our list, you may stand to benefit from a few handy buying considerations.
Eye Holes
One of the most important things when it comes to selecting the right muzzle is to buy something that has generous eye holes. The reason for this is, of course, obvious. If there aren't good eye holes, your dog will have a hard time seeing, which can lead to some pretty substantial safety problems.
The good news is that this is also a consideration that is very easy to evaluate. Give the unit you are considering a quick visual inspection to make sure it will provide your dog with a large enough field of vision.
Price
Muzzles don't need to cost a lot of money. Indeed, the nicest muzzle on the market will still probably be financially accessible to you if you really want to swing it.
Because even the maximum price you can expect to pay for a muzzle is fairly modest, you are in a position to pick up a high-quality product. That being the case you may find it worth your while to buy from the top shelf to ensure that you get a product that will last.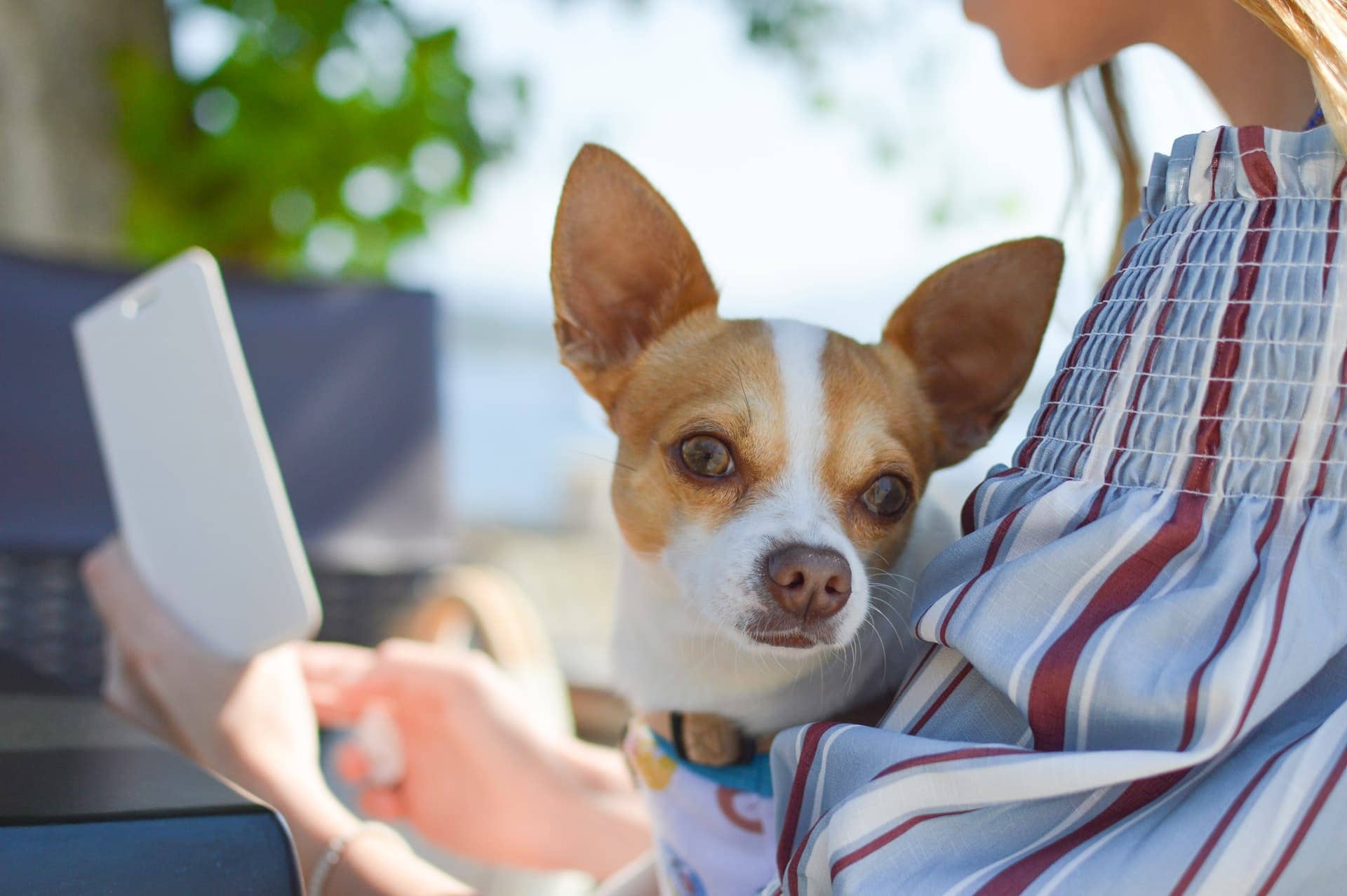 Adjustability
Even though we are specifically looking for muzzles that are right for Chihuahuas, that doesn't mean that it is a one size fits all scenario. Every dog will have slightly different needs, which puts a big premium on getting something that is adjustable.
Bottom line? The more the muzzle you are considering can be adjusted, the more use you may ultimately get out of it.
Breathable
Even though every muzzle is going to be breathable to an extent some are different than others. Mesh fabric is ideal for helping your dog to breathe as naturally as possible while they are wearing their muzzle.
It is also important to remember that muzzles will be uncomfortable for your dog. Since they don't have sweat glands it can be hard to keep your dog cool even when they don't have something thick and heavy wrapped around their face.
The more breathable the fabric, the more comfortable your dog will be.
Read all about different breeds of small dogs here.

Conclusion
If one of our chihuahua muzzle reviews spoke to you, move on with buying decisions in confidence. However, if you still are not positive which product is right for your needs that is understandable.
The buyer who is torn may feel better remembering the high levels of quality provided by our top choice, the JYHY Short Snout Dog Muzzle.
Conversely, you may be trying to stick to a tighter budget. If that is your situation you'll probably be inclined to give the Dogs My Love Adjustable Dog Muzzle a good home.