8 Best Muzzles  for Boxers in 2023 – Reviews & Comparisons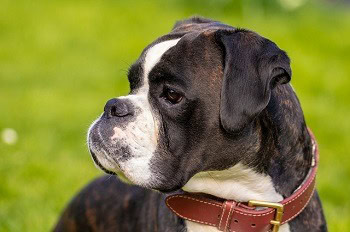 While your boxer's sweet flat face and short snout may melt your heart, they also contribute to this breed's breathing issues. If you must muzzle your boxer, you'll need to take special precautions for their safety and comfort.
Before you place a muzzle on your beloved boxer, you should know if you're providing them with the proper equipment. Fortunately, there are several safe, well-made muzzles designed specifically for boxers and similar flat-faced breeds. Basket muzzles offer a closed or wire structured end that acts as barrier while allowing for plenty of air circulation for your boxer to breathe.
We've compiled the top eight best muzzles for boxers and added detailed reviews and quick-reference pros and cons lists to help you find the best muzzle for boxers.
A Quick Comparison of our Favorite Picks in 2023:
Rating
Image
Product
Details

Best Overall

Didog Soft Genuine Leather

High-quality leather
Basket design
Strap designed to prevent falling off
Check Price

Best Value

Baskerville Ultra

Cage design provides ample air flow
Six size choices
Can be heated and molded for better fit
Check Price

Premium Choice

Dogs My Love Metal Wire

High-quality
Durable
Adjustable straps
Check Price

CollarDirect Secure Leather

Genuine leather
Soft and comfortable fit
Two adjustable straps that hold well
Check Price

Canine Friendly Short Snout

Unique full-face mesh design
Plenty of ventilation
Made with durable nylon
Check Price
The 8 Best Muzzles for Boxers
1.

Didog Leather Boxer Dog Muzzle – Best Overall
We chose the Didog genuine leather dog muzzle as the best muzzle for boxers as an overall product on our list. The high-quality leather construction provides a soft and comfortable fit for your boxer. The basket design loosely covers your boxer's mouth while allowing their nose to be exposed to fresh air. There's also multiple openings for additional ventilation.
This dog muzzle comes with a sturdy strap design that connects over your boxer's head and around their neck to keep the dog muzzle from falling off. However, we found that the fit is not adjustable, which may impact overall comfort and staying in place.
Dodog offers 30 days' free replacement and refund if you're not satisfied. We aren't able to confirm if the company honors this commitment, however.
But, all in all, we think this is the overall best muzzle for Boxers you can find.
High-quality leather
Soft and comfortable fit
Basket design
Offers plenty of ventilation
Strap designed to prevent falling off
30-day refund or replacement
---
2.

Baskerville Ultra Dog Muzzle – Best Value
For the best muzzle for Boxers for the money, we recommend the Baskerville Ultra muzzle. At a lower price point, this cage-shaped dog muzzle is strong and secure. The cage design provides plentiful air flow, as well as the ability to allow your boxer to eat and drink while wearing it.
This muzzle comes in six sizes, as well as having the unique feature of you being able to heat and mold it for a better fit.
Be sure to fully research the size chart and molding instructions, as there is a level of difficulty with achieving the best fit. If not well adjusted, this dog muzzle can chafe your dog where it contacts their skin. Also, without a proper fit, your boxer can easily remove it and use it as a chew toy.
Best value
Cage design provides ample air flow
Six size choices
Can be heated and molded for better fit
May cause skin irritation or chafing
May fall off
---
3.

Dogs My Love Basket Muzzle – Premium Choice
We selected Dogs My Love metal wire basket dog muzzle as our premium choice for its high-quality, light yet durable construction that's both comfortable and safe for your boxer. This well-made muzzle is made of chromed wire and genuine leather.
The cage design of this muzzle protects your boxer while allowing them to pant easily or even bark due to the sufficient air flow. You won't need to remove this muzzle if your boxer needs a drink of water.
The leather straps are adjustable and built to resist stretching out of shape. We found that this product fits well on most boxers with only a few minor adjustments.
High-quality, light yet durable construction
Well-made with chromed wire and genuine leather
Allows for more than enough air flow
Dogs can drink while wearing muzzle
Adjustable straps
Well-fitted for boxer's flat face
More expensive than similar products
---
4.

CollarDirect Basket Dog Muzzle for Boxers
Made primarily of genuine leather, the CollarDirect basket dog muzzle is built to be soft and comfortable for your boxer. It has a weaved strap design that allows for protection and a reasonable amount of air flow.
This muzzle comes in two colors, brown or black, and features multiple metal rivets that hold the weaved leather in place. While your boxer may find a way to drink while wearing this muzzle, doing so may pose a challenge. Also, water or even just your dog's saliva may eventually rust the metal rivets.
This moderately higher priced muzzle comes with two adjustable straps. We learned that most owners were able to find an appropriate fit that stays in place on their boxer without it falling off.
Genuine leather
Soft and comfortable fit
Color choice of brown or black
Two adjustable straps that hold well
Metal rivets may rust
Difficult to drink water while wearing
Moderately higher priced
---
5.

Canine Friendly Short Snout Boxer Dog Muzzles
The unique design of the Canine Friendly short snout dog muzzle fits over nearly the entirety of your dog's face, resembling a mesh-covered mask. Made with durable nylon, this muzzle slips over your dog's head and offers them plenty of ventilation through its breathable mesh.
This muzzle features a cut-out portion near your boxer's mouth for panting and drinking. It also has soft bumpers to help protect their eyes from rubbing and irritation.
You can adjust the fit with a slider and secure it in place with a buckle. We found that the biggest complaint among boxer owners was that their dog could easily and quickly remove this muzzle. Without a neck strap, your boxer can swipe this muzzle off their face with little effort. Also, some dog owners ran into difficulty determining the proper size.
Unique full-face mesh design
Plenty of ventilation
Made with durable nylon
Cut-out allows for drinking and panting
Bumpers to prevent eye irritation
Adjustable fit
Boxers can quickly remove it
Finding proper size may be difficult
---
6.

CollarDirect Leather Dog Muzzle
Made with handcrafted genuine leather, the CollarDirect leather muzzle has a classic basket design. The main portion of the muzzle slides onto your boxer's short snout, while a second section traverses the front, providing both protection and ample access to air flow.
The two adjustable straps fit around your boxer's neck for a proper fit. Multiple metal studs secure both the snout portion and the straps for a solidly constructed product.
Though designed for pit bulls, this product may work well on your boxer depending on the size and shape of their snout. You may need to make several adjustments for a proper fit.
Handcrafted genuine leather
Classic basket design
Ample access to air flow
Two adjustable straps
Designed specifically for pit bulls
May need to adjust for proper fit
---
7.

Dogs My Love Leather Basket Muzzle
Designed for both bulldogs and boxers, the Dogs My Love leather dog basket muzzle has a shortened snout cover for a better, more comfortable fit. This well-fitted muzzle is constructed with high-quality genuine leather and secured by durable metal rivets.
The weaved leather straps allow for plenty of ventilation for your boxer. However, you will need to remove the muzzle if your dog needs a drink or becomes overheated and needs to excessively pant.
This lightweight yet strong muzzle comes with a single adjustable strap. We found that if the strap isn't properly secured, however, the muzzle can slip out of place or fall off.
Designed for boxers and similar short-snout breeds
Comfortable fit
High-quality genuine leather and durable metal rivets
Plenty of ventilation
Adjustable strap
Must remove muzzle for drinking and panting
May fall off or slip out of place
---
8.

REAL PET Short Snout Dog Muzzle
Much like the previous full-face mesh muzzle on this list, the Real Pet short snout dog muzzle has the added feature of two eye holes, as well as a small mouth opening. Your boxer will not have their vision impeded and will be able to drink and have proper access to fresh air.
Constructed with lightweight, durable nylon material, this muzzle is designed primarily for boxers and other short-snout, flat-faced breeds. With a widened chin portion and an adjustable strap, this muzzle is built to stay in place despite your boxer's best efforts. Also, the easy-to-use quick release buckle adds convenience.
Since this mask covers your dog's entire face, your boxer may need time to adjust to wearing it. Also, watch for skin irritation where the muzzle may rub.
Designed for short-snout breeds
Eye and mouth openings
Able to drink while wearing
Good ventilation
Lightweight, durable nylon
Adjustable strap and quick release buckle
Mask design
Dog may not like wearing it
May cause skin irritation

Summary: Choosing the Best Muzzle for Your Boxer
We selected the Didog WDMU-D1-M Genuine Leather Dog Muzzle as the best overall muzzle for boxers. It earned our top pick for its high-quality leather construction and that it provides your boxer a soft and comfortable fit, as well as plenty of much-needed ventilation. Also, this muzzle employs straps that are designed to prevent the muzzle from falling off or being pulled off by your dog.
For the best value, we suggest the Baskerville 61520A Ultra Muzzle. This cage-designed muzzle provides ample air flow and comes in six different size choices. Also, the entire muzzle can be heated and molded for a better fit.
For our premium choice, we selected the Dogs My Love Metal Wire Basket Dog Muzzle. Its high-quality, light yet durable construction is properly designed to allow for a boxer's flat facial features. This muzzle is well-made, with a chromed wire snout area that provides ample air flow and enough of an opening for your dog to drink. The genuine leather straps are adjustable for a snug yet comfortable fit.
We hope that after reading through our list of helpful reviews, you've found a comfortable and well-fitted muzzle that accommodates your boxer's distinctive features. With the right muzzle, your boxer can be protected from dog fights, eating unintended objects, and biting during stressful situations, such as trips to the vet. The right muzzle will give your boxer the extra ventilation that they need.
---
Featured image credit: Myriams-Fotos, Pixabay