12 Best Designer Dog Collar Brands in 2023: High-End Options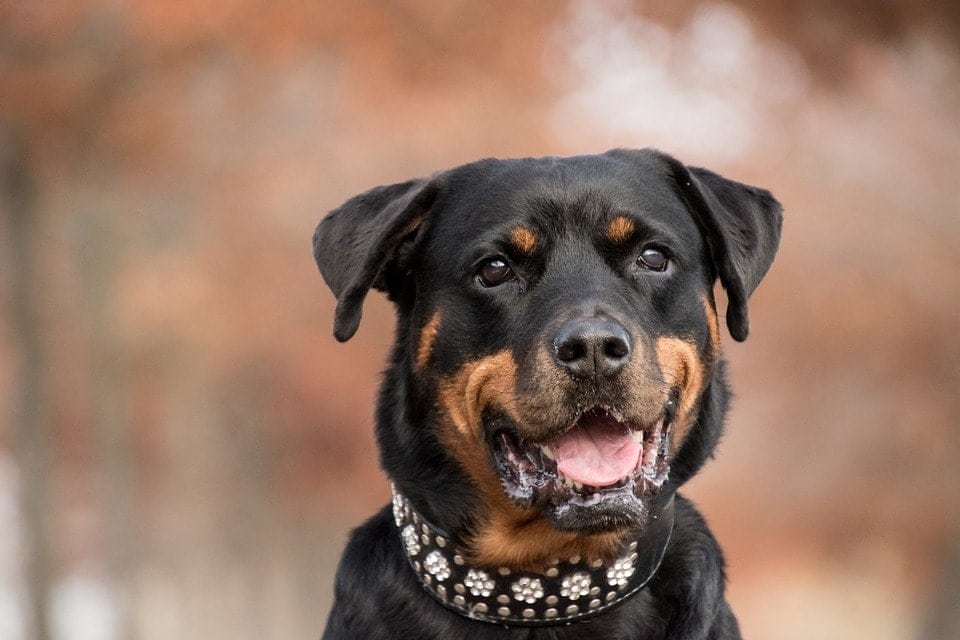 A good dog collar should be comfortable, durable, and fitted well, but this certainly does not mean it can't look good too! Your dog needs a collar and ID tag, anyway, so why not choose a designer brand with a bit of flair?
There are a ton of designer dog collars available these days, with many well-known fashion icon brands dipping into the canine world too, including names like Gucci and Ralph Lauren. If you want to make your pooch stand out on their daily walk with a designer collar, take a look at this list of our favorite designer dog collar brands!

The 12 Best Designer Brand Dog Collars:
1.

Ralph Lauren
Known for its luxury clothing, accessories, and fragrances, the Ralph Lauren Corporation also has a range of rugged leather dog collars that look great and will last a lifetime. Ralph Lauren was founded in 1967 and has since become one of the most popular designer brands on the planet.
The designer brand's dog collars feature the same handwoven details and are finished with the same gold hardware used in some of its finest handbags. The collars have a single prong roller buckle, leather keeper, metal D-ring, and a metal plaque in the center to engrave your pooch's name. The collars come in four different sizes to outfit any pooch with a designer collar that will surely turn heads! Despite the brand name and heritage, this durable and great-looking collar is surprisingly affordable, making it our top pick for a designer dog collar brand overall.
---
2.

Ermenegildo Zegna
The Ermenegildo Zegna brand began in Northern Italy in 1910, with the aim to make, in the founder's own words, "the most beautiful fabrics in the world." The brand now has over 500 shops worldwide making some of the most iconic menswear in the world.
The company's Pelle Tessuta Leather Dog Collar keeps with the brand's luxury aesthetic and provides your pooch with a designer look that is a hat-tip to iconic Italian design. The collar is made from chevron Pelle Tessuta woven leather of beautifully contrasting colors, with an adjustable metal buckle and metal pendant to engrave all your dog's details. This collar is expensive but is sure to last a lifetime, and it looks great too.
---
3.

Smathers & Branson
Smathers & Branson was formed in early 2004, with the aim to make fine needlepoint belts that were timeless, attractive, and affordable. The company has since expanded to include other accessories with the same unique needlepoint designs, as well as custom products for schools and universities — and beautiful needlepoint dog collars.
The company's "Summer Madras" needlepoint luxury brand dog collar is a beautifully designed, colorful designer product that gives your dog a truly unique look that cannot be found anywhere else. The collar comes in three different sizes to fit almost any dog breed and is 1 inch wide with a 2.25-inch metal buckle.
---
4.

Boo Oh
This Seattle-based company specializes in handmade dog collars and leashes, with a minimalist design aesthetic and the finest materials. The company was founded by Jay Sae Jung Oh when she welcomed a French Bulldog into her life but couldn't find accessories that reflected her personal style and needs, so she decided to design them herself.
The company's flagship "Lumi" collar comes in two different color combinations: Anodized Gold and Obsidian Black or Anodized Silver and Nude Tan. It is 100% handmade from premium Italian Buttaro vegetable-dyed leather. It comes in three different sizes to fit almost any pooch and has a beautiful minimalist, classic dog collar design.
---
5.

Dog & Co
Dog & Co is a specialty dog brand that offers a wide selection of quality pet products created by select independent designers, as well as its own line of unique modern pet products. The company was founded in 2014 in New York, with both brick-and-mortar and online shops.
The company has a wide range of unique and eye-catching designer dog collars available, but our favorite is the "Hippo Circus Beaded Collar" from the Kenyan Collection. The collar has hand-sewn beads in beautiful design and color combinations on quality leather that is both durable and comfortable. The collars also feature durable metal buckles and come in three different sizes.
---
6.

For the Furry
For the Furry was founded by a fashion-focused, Los Angeles-based dog mom in 2018, with the aim of providing thoughtfully designed collars, apparel, and accessories for our four-legged friends. The founder was inspired by the lack of luxury modern pet products on the market and set out to create her own.
The company has a wide variety of unique dog collars that can cater to your pooch's unique character, but our favorite is the "Le Collier." This collar is made from full-grain Italian leather, with a soft sponge lining and gunmetal hardware. It comes in three different sizes to fit almost any dog breed.
---
7.

Muttropolis
Muttropolis was built from the ground up in 2002 by founders who were obsessed with finding the highest-quality pet products possible and putting them all under one roof. It has a brick-and-mortar store in Southern California and an online store full of designer, hand-picked pet products.
The store has a wide variety of leather and fabric collars to choose from, each with a unique design aesthetic to match your dog's personality. Our personal favorite is the leather collar packed with mixed stones. This collar is made from chocolate leather, covered with beautiful cabochon stones and crystals imported from Europe, and 100% handmade in the U.S.A. Each collar is unique, offering a one-of-a-kind designer collar to suit any dog breed.
---
8.

Pets So Good
This New York City startup is a specially curated online shop full of sleek, functional, designer gear aimed specifically at pets, including collars, beds, and accessories. The shop offers a wide array of unique dog collars and harnesses that are simple and functional yet have a sophisticated design aesthetic.
Our personal favorite is the dark tan rope collar from Found My Animal. This collar is handcrafted in New York from locally sourced leather and up-cycled marine-grade rope, and since it is handmade, each collar is unique, just like your pooch! Attached to each collar is a stamped FOUND tag to celebrate adoption awareness, and you can engrave the other side with all your dog's details.
---
9.

Very Important Puppies (VIP)
VIP clothing and accessories for dogs provides designer pet products aimed for style, function, and play and are made from fabrics that are as durable and comfortable as those tailored for humans. Each collection is made in New York City, but the brand also collaborates with international designers to bring new and interesting perspectives to the company's lineup, including limited-edition lines.
The company has several different collars and leash combinations available, and our favorite is the Heron Preston Black Tape Collar. It has nickel-metal hardware, is 1 inch wide, and comes in three different sizes to cater to almost any pooch.
---
10.

Kiel James Patrick
Kiel James Patrick makes products inspired by the sea, and each of the company's products has its own story, season, and rich heritage. The company has a wide variety of apparel, jewelry, and pet accessories, all inspired by the same timeless, classic aesthetic.
The company also makes pet accessories and collars inspired by ocean themes, and the white Knotty Dog Collar is the ideal accessory for the pet owner who loves the sea. It is made from tanned top-grain leather with tarnish-resistant brass hardware and a unique white braided rope design that is an ode to the sea.
---
11.

Wild One
Wild One is a one-stop online store packed with dog accessories, toys, and treats, all aimed to make any dog owner's life easier with its simple yet elegant designs. From dog beds to stylish carriers, Wild One's website is full of unique and eye-catching designer dog gear.
The Wild One Collar is simple, easy to use, and a breeze to clean, and its unique minimalist aesthetic looks great too. It is made with a strong poly-flex strap that is dirt and odor resistant, with a zinc-alloy buckle and coated-carbon-steel D-ring. The collar comes in five different sizes and a variety of different colors.
---
12.

Moncler Genius
Moncler was founded at Monestier-de-Clermont, Grenoble, in France in 1952, and the brand has grown and evolved its iconic style to combine designer gear with an outdoor aesthetic. The company has now expanded into provided designer clothing and accessories for children and pets too.
The Poldo Collare dog collar is made in Italy, constructed from durable polyester with a metal buckle that clips on and off easily, and comes in three different sizes. It has an eye-catching three-stripe design that is sure to turn heads in the dog park!
---
Featured Image Credit: Pixabay