10 Best Dog Anxiety Vests in 2023 – Reviews & Top Picks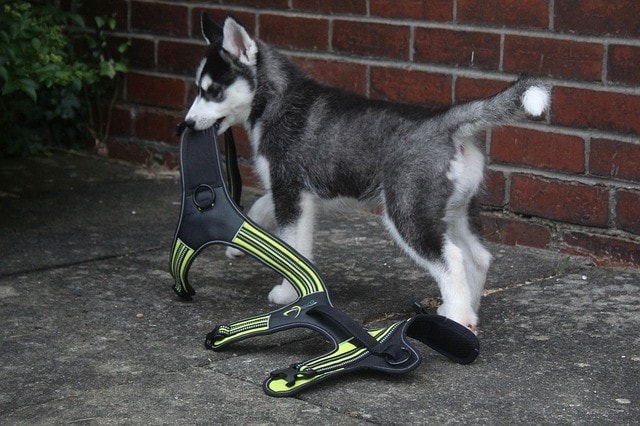 Whether it's thunderstorms, fireworks, or just the thought of being alone, some dogs suffer from tremendous anxiety attacks and having a thunder shirt helps a lot. There's nothing more heartbreaking than watching your beloved pooch shake, tremble, and hide, all the while knowing that there's nothing you can do to help.
That doesn't have to be the case, however. A good anxiety dog vest can help your dog stay calm and composed, no matter what's going on outside. The idea is that by putting constant, gentle pressure on your dog's chest, you'll create a calming effect, much like swaddling a baby.
In the reviews below, we'll go over the 10 best dog anxiety vests.
A Quick Comparison of Our Favorites – 2023
Rating
Image
Product
Details

Best Overall

Surgi~Snuggly Original EC

Breathable
Comes in multiple colors
Good for dogs recovering from surgery
Check Price

Best Value

WINBATE Adjustable

Good for walks
Reflective piping
Makes a good windbreaker
Check Price

Premium Choice

Thundershirt SPTGS-T01

Extremely comfortable
Suitable for all-day use
Durable
Check Price

American Kennel Club

Snug and reassuring
Easy to pack for travel
Machine washable
Check Price

Mellow Shirt

Extremely easy to put on
Good for use in warmer climates
Great for storing in car
Check Price
The 10 Best Anxiety Dog Vests
1.

Surgi Snuggly Original EC Dog Vest — Best Overall
The Surgi~Snuggly Original wasn't specifically designed to be an anti-anxiety dog vest, but it's fantastic at calming down nervous pooches.
The vest was created to be an E-collar alternative, as you can put it over a dog's body when they're recovering from surgery to discourage licking, and it's great at that too.
The fabric is extremely breathable and stretchy, so it will cling to your dog without causing them to overheat.
It comes in a wide variety of sizes, so you can find one that fits your dog exactly. There are multiple colors to choose from too.
Just be careful if your dog is a chewer, as the fabric is thin. If you let your pup gnaw on it, the vest could be shredded in just a few minutes.
That's not often a problem, though, so we felt there was little reason to punish the Surgi~Snuggly Original too harshly. It's still a shoo-in for the top spot on this list.
Fabric is breathable
Many size options
Comes in multiple colors
Good for dogs recovering from surgery
Not ideal for heavy chewers
---
2.

WINBATE Adjustable Dog Anxiety Jacket — Best Value
If you're trying to keep your dog calm while on walks, the WINBATE Adjustable is a good choice, as it has a sturdy D-ring on the back where you can attach a leash. There's also a nylon handle that you can grab if things get out of hand.
The reflective piping down the side and on the top ensures that your dog will stay visible after the sun goes down, so you can take them out at any time of day.
Putting it on is quite simple, as you'll find Velcro straps on the neck and chest. This also makes it easy to customize the pressure, ensuring your dog stays snug without getting strangled.
The polyester fabric makes a great windbreaker, ensuring that your dog won't freeze once the mercury drops. However, this may make the jacket a bit warm during the summer months. It also tends to run small, so larger breeds may need something bigger.
All in all, though, the WINBATE Adjustable has many things going for it, including a budget-friendly price. It's not quite enough to claim the top spot, but it does earn our title of "Best Dog Anxiety Vest for the Money."
Good for walks
Reflective piping on sides and top
Makes a good windbreaker
Easy to put on and adjust
May be too warm for summer use
Tends to run small
---
3.

Thundershirt Sport Dog Anxiety Vest — Premium Choice
Made by the most well-known manufacturer in dog calming wraps, the Thundershirt Sport should do an excellent job of calming your pooch — but you'll pay extra for that brand name.
This thunder jacket is one of the most comfortable vests on this list, and it's suitable for all-day use. That comes in handy during day-long thunderstorms or on the 4th of July, when the terrifying noises just won't stop coming.
It can also be extremely helpful with separation anxiety, as you can put it on your dog before you leave for work in order to keep them calm all day, reducing the risk that you'll come home to a house full of destroyed furniture.
The thunder jacket is well-made and durable, so while it's expensive, it should last you for years, making it well worth the price.
Our biggest issue is that it's cut in such a way that it might interfere with male dogs as they go to the bathroom. It won't stop them from peeing, but it might soak up some of the stream, which isn't fun to deal with.
If you can afford it (and you don't mind washing it), the Thundershirt Sport is one of the absolute best anxiety vests on the market. We do feel that there are lower-priced versions that are equally good, which is why this model slots in at number-three on this list.
Extremely comfortable
Suitable for all-day use
Well-made and durable
Good for calming separation anxiety
Fairly expensive
May interfere with male dogs as they pee
---
4.

American Kennel Club Anti Anxiety Dog Vest
It will likely take trial-and-error to figure out this offering from the American Kennel Club, but once you get it securely fastened, you should see immediate help for your pup's anxiety.
It works much like a baby's swaddle, which means it offers plenty of constant, secure pressure, but it's not easy to put on. Still, the fabric is gentle and stretchy, and you can easily fold it up and pack it for use while traveling.
It also stays in place while your dog is moving. It shouldn't move around or bunch up, so it stays comfortable even if your dog tries to wriggle under the bed. We like that it's machine washable too.
One of the issues with a vest like this is the limited amount of fabric that makes you choose between applying more pressure or covering more of your dog's torso, so it's not ideal for longer-bodied animals. Also, it tends to stretch out over time, so don't expect it to last forever.
The American Kennel Club makes a quality anxiety vest, but the fact that it's daunting to put on caused us to knock it down a few spots.
Snug and reassuring
Easy to pack for travel
Stays in place while dog is moving
Machine washable
Difficult to put on
Not ideal for dogs with lon
---
5.

Mellow Shirt M-S Dog Anxiety Vest
The Mellow Shirt is one of the most user-friendly anxiety jackets we've found, and you can put it on your dog in seconds, even if they're squirming the entire time.
The fabric is lightweight and breathable, and your dog should be able to wear it year-round without fear of overheating. It's a great option for dogs living in warm climates.
It's similar to the Thunder shirt for dogs above, except it doesn't have a second flap around the belly. This allows you to put it on faster but limits how much pressure you can apply. As a result, the Mellow Shirt is better-suited for dogs who aren't suffering from extreme anxiety.
The thin fabric isn't the most durable, and it's an absolute magnet for dog hair. However, its thinness also makes it easy to store in your glove compartment if your dog gets nervous on car rides.
The Mellow Shirt is an adequate stand-in for a Thundershirt, but it can't quite live up to that other brand's performance.
Extremely easy to put on
Good for use in warmer climates
Great for storing in car
Can only apply a limited amount of pressure
Not ideal for extremely anxious dogs
Acts as a magnet for dog hair
---
6. ZIFEIPET Anxiety Dog Vest Relief Jacket

If your dog carries around a great deal of tension, then the ZIFEIPET Relief Jacket can help soothe some of those cares away.
There are little massage nodes running down the back designed to relax your dog as they move. We don't know if this does anything to reduce anxiety, but dogs certainly seem to like how it feels.
It's easy to put on, as all you have to do is attach it via Velcro along your dog's stomach and chest. The material has plenty of give to it, so it should provide gentle pressure without strangling your pooch.
It's difficult to customize the fit, however, and it sits awkwardly no matter how much you adjust it. If your dog moves around a great deal while wearing it, it's likely to end up totally askew.
The sizing isn't that helpful, either, as it lumps all dogs into four different groups. Don't expect a great fit right out of the box — and if you have a really big dog, this thing likely won't fit at all.
The Velcro is strong, which may seem like a good thing — until you see how much fur it takes off your dog. Having your hair constantly ripped out can't be good for your anxiety.
The ZIFEIPET Relief Jacket definitely has a few things going for it, but ultimately, its flaws outweigh its benefits.
Massage nodes running down back
Easy to put on
Provides gentle pressure
Difficult to customize fit
Sizing isn't helpful
Won't fit very big dogs
Velcro rips out fur
---
7.

Xdog Weight & Fitness Dog Anxiety Vest
The Xdog Weight & Fitness Vest is perfect for the overachieving pooch who's constantly looking for new ways to excel. Unfortunately, if that dog suffers from anxiety, this vest won't be able to help very much.
It's intended to be used with weight bags in order to challenge dogs and increase their physical fitness. It's excellent in that regard, but since it fits so close to the dog's body and provides gentle weight, many people use it to treat anxiety as well.
It's hard to recommend it for that purpose alone. For one thing, it's expensive, and you could get a dedicated anxiety jacket for a fraction of the price.
Also, you have to supply the weights yourself, which is frustrating regardless of why you're buying it. Be careful how much weight you add, because the stitching is fairly weak.
On the plus side, the thing looks incredible, and your dog will feel like a million bucks while wearing it. We don't know if that's enough to justify the price, but it's a nice perk nonetheless.
The Xdog Weight & Fitness Vest is an excellent piece of gear that has its place in the active dog owner's arsenal; however, if all you want is an anxiety vest, you're better off looking somewhere else.
Can add weight to improve dog's fitness
Looks awesome
Not great for combating anxiety
Ridiculously expensive
Have to provide own weights
Stitching is weak
---
8.

BINGPET Plaid Dog Calming Vest
If you want your pet to look stylish even while they're stressed, the BINGPET Plaid can help. However, the vests run small and the Velcro isn't strong enough to keep them in place, so they'll likely fall off long before they're able to do any good. Escape artists will be able to wriggle out of it in seconds.
The fabric is extremely lightweight, so it can't offer much in the way of pressure, which largely defeats the purpose. At least it will stay cool during a heat wave.
It's machine washable, but the cover tends to peel off after a few trips through the machine. Since the plaid exterior is the best thing this has going for it, that's a real shame.
The BINGPET Plaid is an attractive coat that will make your pup the envy of all the dogs in the neighborhood, but that jealousy will probably vanish when they see how ineffective it is during a thunderstorm.
Attractive plaid exterior
Good for warmer climates
Velcro isn't strong enough to hold it in place
Easy for dogs to wriggle out of
Peels after being washed
Doesn't provide much pressure
---
9.

Fragralley Dog Anxiety Coat
If you live in an area that experiences a great deal of rain and snow, the Fragralley Dog Coat is a great way to keep your dog dry and warm on walks. If the thunder picks up, though, don't expect the thunder shirt for dogs to do much for your pet's anxiety.
The coat is made of water- and wind-proof nylon, so the elements won't be able to penetrate it. There's even a little detachable hood that you can use to keep their head dry.
Of course, precious few dogs will let you put a hood over their heads, so that feature's largely for show. As for the coat, it's quite snug, even for an anxiety vest, and larger dogs may find it uncomfortable.
It's not much better for smaller mutts, though. It tends to swallow them whole and makes it difficult for them to walk around.
This is probably obvious from looking at it, but it's not something that can be worn year-round. Putting it on during the summer would cook your dog, and that's not good for anxiety levels.
If you need something to keep your dog dry and warm, the Fragralley Dog Coat is perfect for the job. As an anxiety jacket, though, it's not great.
Keeps dogs dry and warm
Has detachable hood
Does little to calm anxiety
Uncomfortably snug
Many dogs won't tolerate hood
Too hot for summertime use
---
10.

Hffheer Anti-Anxiety Shirt
The Hffheer Anti-Anxiety shirt is as bare-bones as one of these devices can get. It's not much to look at, as it only comes in dark gray, which is a color perfectly designed for showing off all the dog fur it'll trap.
The sizing is basic, as it's only available in small, medium, and large. That may suit most dogs, but if you have a toy pup or a giant breed, you're going to be out of luck. Even if your dog is conventionally-sized, it can be difficult to know which version to get, so you may have to send back your first order and try again.
It's cut in such a way that it's difficult to place much pressure on the chest, which is where most of the tension needs to be. Instead, it often puts strain on the stomach, which can impair breathing.
The best thing we can say about the Hffheer Anti-Anxiety Shirt is that it has luminous strips down the side and back to keep your pet visible at night. That may do something to alleviate your anxiety, but it won't do much for your dog.
Luminous strips down sides and back
Only available in one color
Doesn't distribute pressure correctly
Can impair breathing
Difficult to find correct size
Traps hair

Buyer's Guide: Anxiety Dog Vest
Many dog owners have no idea that dog anxiety vests even exist, much less how to pick out a good one. If you're in the market for something to keep your dog's stress under control, the guide below should walk you through the questions you need to ask about anxiety vests.
How Do They Work?
Anxiety vests wrap snugly around your dog's chest, providing constant, gentle pressure. There is research that suggests this pressure releases calming endorphins, which helps counteract the stress response. Some are even weighted to add additional pressure.
Basically, it's like giving your dog a steady hug. Who wouldn't respond well to that?
What Should I Look For in an Anxiety Dog Vest?
The answer to that question will depend in large part on what triggers your mutt's stress response. If your dog is triggered by events that happen outside the home, then you'll want a vest that's weather-appropriate for your climate. This may require buying multiple options and switching them out as the seasons change.
For an indoor vest, the material is much less important; all that matters is that it's comfortable. Cotton wraps are usually ideal, as they can be made to provide ample amounts of pressure while still allowing your dog to breathe.
The style is another important consideration, but this is more about your personal preference than your dog's. Some vests are stiff and fasten with buckles, much like a life jacket. This makes them easy to put on but may make it difficult to provide pressure where it's needed most. Others are more wrap-like and secured with Velcro; they can be a pain to figure out but are often the best at providing compression.
What Signs Should I Look For That My Dog Has Anxiety?
Anxiety signals can vary from dog to dog, and not every dog will demonstrate every possible behavior. Typically, though, there are a few things to look for:
Whimpering
Shaking or trembling
Cowering
Trying to hide/restlessness
Wetting themselves
Uncharacteristic aggression
Tucking the tail
Excessive barking
Drooling
Panting
Destructive behavior
Repetitive or compulsive behaviors
Some of these behaviors are also signs of a more serious issue, so it's always best to consult your vet before trying to solve your dog's anxiety problem on your own.
What Situations Typically Trigger Canine Anxiety?
Again, it will depend on the dog, as some can handle seemingly stressful situations with ease only to come completely undone in a seemingly innocuous situation.
However, common triggers include:
Thunder
Fireworks/gunshots/loud noises in general
Travel
Being left alone
Encountering new people or animals
New places and situations
Some dogs also become more anxious as they age. You should consult your vet if this is the case, as age-related anxiety may be a sign of cognitive dysfunction syndrome.
Is There Anything Else I Can Do to Calm My Dog?
That will depend on the specific trigger. Some anxieties, like those that happen around new people or places, can be managed through gradual exposure and socialization. Others aren't so easy to resolve, especially those centered around relatively random occurrences like thunder or fireworks where even thunder shirts for dogs can only do so much.
If you believe that your dog's specific anxiety can be overcome, then you can start gradually exposing them to it. It's best if they have their anxiety vest on ahead of time to keep their emotions in check.
Slowly expose them to the person or situation that triggers them, being sure to praise and reward them frequently. Ramp up the exposure in tiny increments, being careful to never overwhelm them. This is a strategy that will take a long time and a great deal of effort to implement, so don't expect miracles overnight.
Another thing to consider is asking your vet about putting your dog on an anti-anxiety medication. It's not the right answer in every situation, but for dogs with severe issues, it may be a necessary component of a comprehensive treatment plan.

Conclusion: Thunder Shirts For Dogs
The Surgi~Snuggly Original was our favorite vest, as the material is lightweight and breathable while still offering optimal pressure. As a bonus, it can replace an E-collar for dogs recovering from surgery.
For a less-expensive model, consider the WINBATE Adjustable. It boasts reflective piping down the sides and back, making it great for walks, and it offers plenty of protection from the elements.
Finding an anxiety vest that will actually help calm your dog down can be a frustrating process, but we hope that our reviews have taken some of the stress out of it.
See also: 5 Helpful DIY Dog Thundershirt Plans You Can Make Today (With Pictures)
---
Featured image credit: lornadandy, Pixabay