9 Best Dog Foods for Huskies in 2023 – Reviews & Top Picks

There's nothing quite like owning a husky. These dogs have tons of personality, boundless energy, and they're smart as whips.
All of that enthusiasm and intelligence requires proper nutrition, though, and many dog foods just don't offer the kind of support that huskies need. Given all the foods on the market today, finding one that will actually work for your little sled dog can be a daunting task, to say the least.
That's why we put together a list of some of our favorite foods for huskies. In the reviews below, you'll learn which foods have the kind of nutrition that can keep your pup going full-speed all day long, and which ones will only slow her down.

A Quick Comparison of Our Favorites in 2023
Rating
Image
Product
Details

Best Overall

The Farmer's Dog Beef Recipe (Fresh Dog Food Subscription)

Human grade
High protein
No fillers or additives
Click To Save 50%

+ Get Free Shipping!

Best Value

Pedigree High Protein Adult

Meat and bone meal
Has beef and lamb meal
Healthy amounts of glucosamine and chondroitin
Check Price

Royal Canin Large Breed Joint

Protein is first ingredient
Lots of fish and vegetable oil
Good amount of glucosamine
Check Price

Best For Puppies

Blue Buffalo Wilderness Puppy

Very high in protein
Uses superfoods
No cheap fillers or animal by-products inside
Check Price

Blue Buffalo Wilderness High Protein

High protein levels
Uses lots of lean meat
Grain-free formula
Check Price
The 9 Best Dog Foods for Huskies
1.

The Farmer's Dog Beef Recipe (Fresh Dog Food Subscription) – Best Overall
The Farmer's Dog offers premium dog food made from fresh ingredients, which is exactly why we recommend them for most Huskies. Huskies are notoriously picky and tend to play with their food more than eat it. However, because this is a fresh recipe, your dog will likely find this food pretty tasty.
Plus, with real meat as the first ingredient, this food helps supply your Husky with the energy they are known for. Healthy fats from animal sources help keep your dog's coat healthy and may even help prevent shedding in some cases.
We loved that there are absolutely no preservatives in this dog food. Artificial ingredients can have varying effects on dogs, so it is often best to avoid them when possible.
Of course, this food is based on a subscription. However, this means that you won't have to worry about running out of food or getting portion sizes wrong. After you fill out a profile, this company takes care of all of that for you.
The Farmer's Dog is a great food for just about any breed, but overall it's the best dog food for huskies. It has all they need to stay on the go, which is why it's a clear choice for the #1 spot in this category.
No preservatives
Delivered straight to your door
Real meat
Personalized
---
2.

Pedigree High Protein Adult Dry Dog Food – Best Value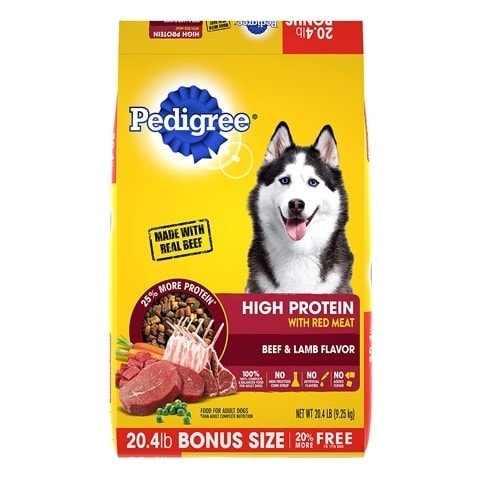 Pedigree High Protein isn't quite as good as the Wilderness option above, but it makes up for that by being quite a bit cheaper, which is why it's our pick for the best dog food for huskies for the money.
The biggest reason why it's so inexpensive, however, is that it uses corn as its first ingredient. This is much cheaper than using a lean protein; unfortunately, it's also worse for your dog. Most huskies are active enough to work off a high-carb diet, but if yours likes to spend most of her time on the couch, this food will likely cause her weight to balloon.
After that, though, the next ingredient is meat and bone meal. This doesn't sound very appetizing, but dogs love it and it's full of essential vitamins and minerals. There's beef and lamb meal in here too, which gives your dog a healthy dose of protein.
Most of the other protein comes from animal by-products, which obviously isn't ideal, but it does help to keep the overall protein levels at a respectable 27%. They also add a dash of glucosamine and chondroitin, which should help keep your husky's joints in fine working order.
We can't say Pedigree High Protein would be our first choice, but that's not what it's intended to do. It's intended to give your dog all the nutrients she needs without bankrupting you in the process, and we can't argue that it's not successful in that regard.
Good value for the price
Meat and bone meal is full of essential nutrients
Has beef and lamb meal, too
Healthy amounts of glucosamine and chondroitin
Corn is first ingredient
Uses lots of animal by-products
---
3.

Royal Canin Dry Dog Food
You'll find just about everything your dog could want in a bag of Royal Canin, but unfortunately, all those quality ingredients are matched by some she could do without as well.
Chicken by-product meal is the first ingredient. We like that they lead off with protein, but there's little excuse for not using a high-quality protein, especially given this kibble's exorbitant price. Still, your pooch should get plenty of glucosamine from it.
Rice makes up two of the three next ingredients, which should ensure that this food is gentle on her tummy. She'll need it, too, as ingredients like wheat and corn gluten meal have been known to cause digestive issues in some dogs.
There's fish and vegetable oil for omega fatty acids, psyllium seed husk and beet pulp for fiber, and biotin for strong skin and nails. The overall nutrient levels are generally within average ranges; again, there's nothing to necessarily criticize there, but you'd expect more from a food in this price range.
Your dog will get everything she needs from Royal Canin, but considering what you'll have to shell out for a bag, you'd be forgiven for expecting a whole lot more.
Protein is first ingredient
Rice makes it gentle on stomachs
Lots of fish and vegetable oil to provide omega fatty acids
Good amount of glucosamine
Expensive for what you get
Doesn't use high-quality protein
Filled with potential irritants
---
4.

Blue Buffalo Wilderness Puppy Dry Dog Food – For Puppies
Puppies need lots of protein to fuel their constant bursts of energy, and husky puppies are especially needy in this regard. Blue Buffalo Wilderness Puppy gives them all the protein they need, plus some.
The overall protein levels are a whopping 36%, and that comes from sources like deboned chicken, chicken meal, and fish meal. Some of that also comes from peas, which don't have the same amino acids that animal sources do, but that can be forgiven.
The manufacturers added flaxseed and fish oil to boost the antioxidant levels, and in lieu of grains, this kibble uses complex carbs like the aforementioned peas and tapioca. We also appreciate the inclusion of superfoods like blueberries, cranberries, and kelp.
There are a few questionable foods in here, too, like eggs and potatoes. Both can be hard for some dogs to process, so don't be surprised if your pet starts being able to clear the room.
It's critically important to start your dog out with a healthy diet while she's still a pup, and there's no food better for accomplishing that goal than Blue Buffalo Wilderness Puppy.
Very high in protein
Uses superfoods like cranberries and blueberries
Flaxseed and fish oil for antioxidants
No cheap fillers or animal by-products inside
Relies heavily on plant proteins
May cause gas
Not suitable for all ages
---
5.

Blue Buffalo Wilderness High Protein Dry Dog Food
Huskies need plenty of protein to keep them active, and at 34%, Blue Buffalo Wilderness High Protein certainly supplies that, which is why we included it in our top five best dog food for Huskies.
The protein mostly comes from quality animal sources as well, like chicken, fish meal, and chicken meal. They use plant proteins, too, which we could do without, but that's a small price to pay for all that lean meat.
This is a grain-free formula too, so it shouldn't have much in the way of potential triggers for sensitive mutts. Eggs and potatoes are about the only questionable ingredients, but they should just give your dog gas, if they cause a reaction at all.
There's a good amount of fiber, largely from chicory root and pea fiber, and a ton of omega fatty acids due to the use of flaxseed and the fish meal. We also like the inclusion of foods like cranberries, blueberries, and kelp, all of which are packed with important vitamins and minerals.
High protein levels
Uses lots of lean meat
Includes superfoods like cranberries and kelp
Plenty of omega fatty acids
Grain-free formula
May cause gas
Uses a fair amount of plant protein
---
6.

Purina Pro Plan SPORT Dry Dog Food
Purina Pro Plan SPORT is designed for active dogs, and huskies undoubtedly fit that bill. This food is packed with both fat and protein, ensuring your dog has plenty of long-lasting energy to keep her going throughout the day.
Most of that protein comes from salmon, although there's also fish meal in here. Unfortunately, some of it comes from less reputable sources like animal by-products and animal fat, which means it uses low-grade meat.
That's obviously not ideal, but neither is it cause for throwing the baby out with the bathwater. This food also has fish oil to give your dog a jolt of omega fatty acids, as well as vitamin E to keep her skin and coat healthy.
We have one other major issue with this kibble: it's full of corn. Corn isn't bad for your dog, per se, but it is full of empty calories, with little nutritional value. Some dogs also have difficulty processing it, so be sure to monitor your pup.
Purina Pro Plan SPORT is far from a perfect food, and we wish they'd replace some of the questionable ingredients with something better. On the whole, though, its nutritional profile ensures it will give active huskies all the energy they need.
Very high in protein and fat
Uses salmon as first ingredient
Packed with omega fatty acids
Vitamin E for skin and coat health
Uses low-grade meat
Filled with cheap corn
May be hard on some dogs' stomachs
---
7.

Purina ONE SmartBlend Adult Dry Dog Food
Purina ONE SmartBlend is another high-protein option, this one clocking in at 30%.
Most of that comes from salmon, although there is some chicken meal, tuna, and beef fat inside, too. That should give your dog the entire range of amino acids she needs from her meat sources.
Your husky had better have an iron stomach to eat this stuff, though, because it's filled with just about every potential allergen you can think of. Corn, soy, wheat, artificial colors — they're all in here. If your mutt's tummy is the least bit sensitive, give this bag a miss.
The good news is there's a bunch of fish oil in it, so that should help boost your dog's antioxidant levels. There's a ton of salt inside too, though, which isn't good, especially for overweight pups.
Purine ONE SmartBlend starts off with a high-quality protein, but then it's stuffed to the gills with cheap fillers in order to keep the price down. They were successful in that regard, but at the expense of your dog's diet.
High protein levels
Lots of fish oil inside
Good variety of meat sources
Has just about every potential allergen imaginable
Filled with salt
Not suitable for sensitive stomachs
---
8.

Iams Proactive Health Adult Dry Dog Food
Iams Proactive Health starts off strong, with lamb as the first ingredient. After that you'll find chicken by-product meal, which isn't what we'd like to see, but it could be a lot worse.
From that point on, though, it's almost completely cheap fillers (with the exception of chicken fat, which is tucked in there somewhere down the line). There's very little in the way of usable food for your husky in this kibble, as it's mostly comprised of empty calories.
Fortunately, most of the really useless food is a good way down the ingredients list, with better carbs like rice and barley up front. This should limit the damage to your dog's gut, but delicate dispositions should avoid this kibble all the same.
It's extremely inexpensive, though, so at least they don't try to gouge you for all the non-nutrients they provide. If giving your dog the best food possible is your priority, though, you should probably buy something other than Iams Proactive Health.
Lamb is first ingredient
Very inexpensive
Almost completely made of cheap fillers
Lots of empty calories
Not suitable for delicate digestive systems
Not much nutrition inside
---
9.

Hill's Science Diet Dry Dog Food
Despite having chicken meal as the primary ingredient, there's very little protein to speak of inside Hill's Science Diet, as the overall levels are a paltry 17%.
That's a shame, especially considering that this is a fairly pricey food. Instead of adding more meat, the manufacturers opted to stuff it with wheat, soybean meal, and corn gluten meal, all of which contribute virtually nothing in the way of nutrition.
All of the really healthy foods are congregated at the bottom of the ingredients list, in fact. You'll find carrots, apples, broccoli, cranberries, and green peas down there, but it's questionable how much of any of those actually made it into the kibble.
The fat and fiber levels are low, too, so this food won't be very filling, nor will it help your dog go to the bathroom. It's hard to say what nutrients they were aiming for, as there's hardly anything in here.
Other kibbles that are jam-packed with empty fillers like this can at least claim to be affordable; Hill's Science Diet is anything but, and as a result, we can't recommend it for your husky.
Chicken meal is primary ingredient
Very low levels of protein, fat, and fiber
Packed with cheap fillers
Trace amounts of healthy foods
Not especially filling
Little nutritional value
Related Read: Best Dog Foods of the Year

Conclusion
The Farmer's Dog is the best dog food for huskies that we found, as it's incredibly high in protein, which should give your wolf pup all the energy she needs. Also, the fact that it's human-grade makes it easier on her stomach while also limiting the number of empty calories she ingests.
Our pick for the best value dog food for Huskies was Pedigree High Protein, as it's full of important amino acids and other nutrients your dog needs. We also like how much glucosamine and chondroitin it has, which is essential for keeping your dog's joints healthy and functional at a great price!
Huskies are fantastic dogs, but their high energy levels mean they have specific nutritional requirements. Hopefully, the reviews above have made it easier for you to find the perfect dog food for a Husky, so that she can stay healthy, happy, and active for years to come.
See also: 10 Best Dog Foods for Huskies to Gain Weight – Reviews & Top Picks
---
Featured Image Credit: UJ production, Shutterstock