9 Best Dog Foods for Shelties in 2022 – Reviews, Top Picks & Guide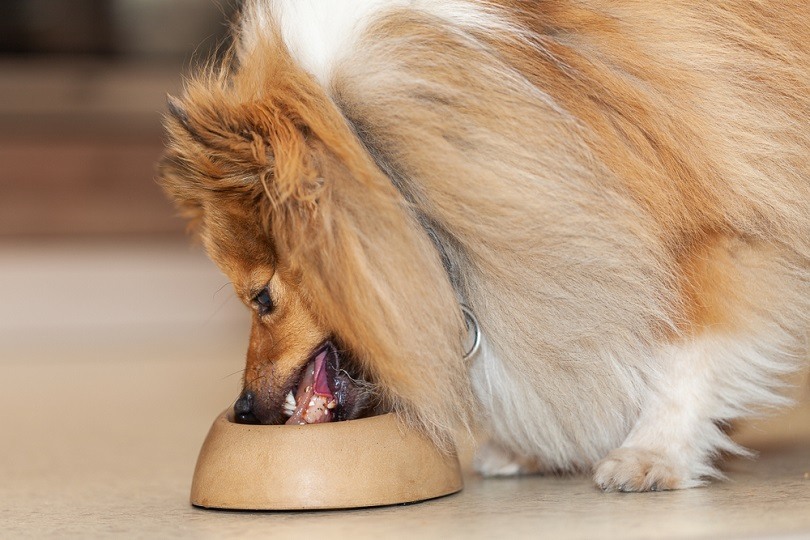 The Shetland Sheepdog, also known as the Sheltie, is a small to medium-sized pooch who hails from the most northern point of wee bonnie Scotland.
He was bred down from the Collie to be a smaller version who would eat less. This is also why Shetland ponies are so small, mainly because food sources were scarce on the island of Shetland. But, today, with all the nutritional options available, doggy food is abundant.
But where exactly do you start? What nutrition does the Sheltie need? Fear not, Sheltie lovers, because here we will cover everything you need to know about the Sheltie and his nutritional needs.
But not all Shelties are the same, which is why we have found eight of the best Sheltie options. All complete with in-depth reviews so that you can pick the best food for Shelties.
We've also included a buyer's guide so that you know what to look for. If you own a Sheltie, or you are about to, this Sheltie feeding guide is a must-read.
So, let's go Sheltie food shopping.
---
A Quick Comparison of the Winners in 2022
Rating
Image
Product
Details

Best Overall

Ollie Subscription Dog Food

26% protein in most recipes
Packed with fresh, healthy ingredients
Subscription service

Best Value

American Journey Grain-Free Dry Dog Food

Great value
High protein content
High in omega fats

Best for Puppies

Wellness CORE Grain-Free Puppy Dry Dog Food

Plenty of puppy growing power
Rich in DHA and ARA
Superfoods for strong immunity

Blue Buffalo Life Protection Formula Dry Dog Food

Chicken and chicken meal are the first ingredients
Higher fiber content
Promotes strong bones and teeth

Merrick Grain-Free Healthy Weight Recipe Dry Dog Food

High protein content
Fewer fats and calories
Full of vitamins and minerals
The 9 Best Dog Foods for Shelties
1.

Ollie Mixed Meal Dog Food – Best Overall
Ollie is a subscription food service that offers fresh food, baked food, or a mixed meal. The mixed meal includes a fresh food recipe as well as a baked kibble. By combining the two different meal types, you can offer the mouth-watering, palatable appeal of fresh food while keeping costs down and convenience up.
The protein and other nutritional values do vary according to the recipes, but, as an example, the baked chicken recipe consists of 26% protein, 16% fat, and 4% fiber. Its main ingredients are chicken, chickpeas, and eggs. The food also contains carrots for their vitamin A and fiber, oats for vitamin B and omega 6, chickpeas for protein and vitamins, and sweet potatoes for carbohydrates and fiber.
When you sign up for your Ollie subscription, you provide details of your Sheltie and the company will not only help you create the right meal combination but will send food pre-portioned, ensuring that you get portion control spot on.
Fresh meal recipes include beef, chicken, turkey, and lamb. The baked meal line is more limited with just a selection of beef or chicken, but the fresh ingredients and sympathetic preparation make Ollie's Mixed Meals the best overall dog food for Shelties.
26% protein in most recipes
Combination of fresh and baked food offers best of both worlds
Packed with fresh, healthy ingredients including meat and vegetables
Subscription service delivered to your door
Expensive
Limited baked recipes
---
2.

American Journey Grain-Free Dry Dog Food – Best Value
American Journey is a new food brand, but they are proving to be very popular because of their value for money. This is our pick for best dog food for shelties (Shetland sheepdog) for the money for that reason. The large bag size, great quality ingredients, and abundance of omega fats make this a fantastic option for the price.
The omega fat content is high, thanks to chicken meal, turkey meal, fish meal, flaxseed, and salmon oil. Meaning that his skin and coat will be nourished from the inside out. The only reason this option didn't make our top choice is that some Shelties can find this formula too rich. But for most, they will find the 32% protein content and intense meat flavor a bonus.
It lists probiotic ingredients, promoting friendly bacteria in his gastrointestinal tract, making his digestion simpler. Yucca schidigera extract helps to reduce flatulence, which will be beneficial for you and the whole family too. The glucosamine and chondroitin content is one of the highest on this list, making this an excellent option for hardworking Sheltie joints.
Great value
High protein content
High in omega fats for coat health
Fortified with probiotics
Can be too rich for some Shelties
---
3.

Wellness CORE Grain-Free Puppy Dry Dog Food – Best for Puppies
Here we have our favorite option for Sheltie puppies. Although Shelties are small-sized dogs, they have plenty of growing to do and need puppy fuel. This option is excellent for his developmental stage because it has a high protein, fat, and calorie count.
It is also high in DHA and ARA, thanks to meat meals and salmon oil, which is essential for his brain and eye health. His developing immunity is boosted with various fruits and veggies, such as bananas, spinach, and broccoli, as well as extra added supplements.
Each kibble piece is coated in probiotic ingredients, which aid regular digestion, and it is high in prebiotic fiber too to avoid loose stools in pups. The only criticism we have of this product again is that it can be too rich for sensitive Sheltie pups. But the high ratings from other puppy owners suggest this isn't a problem for most.
Provides plenty of puppy growing power
Rich in DHA and ARA
Lists superfoods for strong immunity
Kibble is coated with probiotics
Can be too rich for some Sheltie puppies
Higher budget point
---
4.

Blue Buffalo Life Protection Formula Dry Dog Food
Blue Buffalo is a well-known brand, and this is one of their most popular product lines. Life Protection offers an overall well-balanced diet, meaning it is not too rich or diet specific. This makes it a great all-around option for most Shelties. Deboned chicken and chicken meal are the first two ingredients, providing 24% protein content.
This formula includes Blue Buffalo's exclusive LifeSource Bits, which are packed full of seven superfoods to ensure his overall wellness. Reviews suggest that some dogs eat around the LifeSource Bits, but most do really well on this kibble.
Prebiotic fibers such as peas and dried chicory root provide a high fiber content, which helps keep his doggy digestive system regular. Peas are split into various ingredients, which is sometimes a misleading tactic used to boost the protein content, so this is our only real criticism. Alfalfa and dried kelp provide calcium to keep his bones and teeth healthy, along with many other minerals and vitamins.
Chicken and chicken meal are the first ingredients
Higher fiber content for digestive support
Calcium for strong bones and teeth
Some dogs eat around LifeSource Bits
Splits pea ingredients which boost the protein content
---
5.

Merrick Grain-Free Healthy Weight Recipe Dry Dog Food
Merrick has created this kibble with a healthy weight option in mind. It offers all the nutritional goodness he needs from a premium kibble, just with less fat and energy. This makes this option ideal for porky Shelties who need to lose some weight or those who aren't working the fields and require much less energy.
The protein content uses lean meat, with lean deboned beef and chicken meal, contributing to a 34% protein content. Turkey meal and salmon meal are also listed, which provides more taste, healthy fats, and strong levels of glucosamine and chondroitin for his joints.
It is a grain-free option, which uses sweet potatoes and peas for his energy needs. And a long list of fruits, veggies, and other vitamin and mineral supplements will help keep him fighting fit. The only problem that very few customers have had is that their fussy dogs turned their noses up. Thankfully, the majority of dog's customers seem to love it.
High protein content using lean meat
Fewer fats and calories for maintaining weight
Full of vitamins and minerals
Fiber content could be higher for better weight loss
Some super fussy dogs turn their noses up
---
6.

Natural Balance L.I.D. Grain-Free Dry Dog Food
This is another great pick for the Sheltie because it ticks all of his nutritional boxes. It is a limited ingredient option, meaning it has everything he needs and nothing that he doesn't. Shelties are known for their sensitive stomachs and skin, and easy-to-digest options often alleviate symptoms.
Lamb is the first ingredient, meaning his tiny but muscular body gets all the energy and amino acids they need to stay healthy and sustained. It is also easy to digest meat protein and full of meaty taste. At 22% protein, it's not overly heavy on the protein. Which is ideal for most Shelties, but it still exceeds AAFCO recommendations.
Lamb meal and sunflower oil provide omega fatty acids to soothe his sensitive skin and keep his coat looking fab. Lamb meal also provides glucosamine for these hardworking joints. This kibble is fortified with vitamin and mineral supplements, which boost his immune system.
It is a grain inclusive option that uses brown rice, which is gentle on his digestive tract. This also provides slow-release energy for his energetic day. The only criticism we have is that it doesn't list any probiotic ingredients to promote friendly gut bacteria.
Limited ingredient formula
Uses soothing lamb protein
Gentle brown rice
Fortified with vitamins and minerals
---
7.

Wellness Simple Limited Ingredient Diet Grain-Free Dry Dog Food
We have another Wellness recipe in our top picks for the Sheltie, but this time we have chosen their limited ingredient option. It is simple for his digestive system to breakdown, and every ingredient has a purpose. This recipe doesn't include grains, gluten, or wheat.
Salmon and salmon meal are the first two ingredients, which provide lots of amino acids, flavor, and omega fats to keep his long coat gleaming. Some reviewers commented that this kibble smelt strongly of fish, but this probably won't be an issue for Fido.
With a long list of fermented probiotic ingredients, you can be sure that his sensitive stomach is well supported in his gastrointestinal tract. Prebiotic fiber such as chicory root is also included for that extra digestive support boost.
Limited ingredient formula
Single protein source
High in omega fats
Smells strongly of fish
High in potato ingredients
---
8.

CANIDAE Grain-Free PURE Dry Dog Food
This is a premium recipe from Canidae, making it great for those that can stretch their budget a little. This is the only reason why this product is towards the end of our picks. But if you can, this is a fantastic option. It offers an alternative meat source, bison, which, in addition to lamb meal, provides plenty of amino acids for your Sheltie's hardworking body.
It is another limited ingredient formula that is simple for his tummy to break down. The protein content is 25%, which is just enough to provide him with all the power he needs, but not too much so that his stomach struggles. The omega fatty acids from the meat meals and canola oil keep his locks lush and shiny.
After cooking, each kibble piece is also coated in Canidae's HealthPlus blend of probiotics, antioxidants, and omegas. This kibble is high in calories making a fantastic for all the energetic Shelties out there.
Limited ingredient formula
High in glucosamine and chondroitin
Bison offers alternative protein
No fish oils, which is excellent for skin and coats
Higher price
---
9.

Nulo Freestyle Grain-Free Senior Dry Dog Food
Nulo is another premium brand that focuses on high protein content, and this is their senior recipe. After many years either working on a ranch or bouncing around all day long, he needs nutrition to care for him in his golden years. With lean proteins and l-carnitine to keep his metabolism boosted, he has the right balance of energy.
Calcium and phosphorus provide the nutrients for healthy bones, and glucosamine keeps his aging joints supple. What we aren't keen on in this recipe is that although it is a senior recipe, the glucosamine is not as high as other kibbles. And although it still offers a decent content, for a premium senior kibble, we feel it could be higher.
Carrots, blueberries, and apples provide vitamins and minerals, as do other vitamin and mineral supplements. It is also fortified in a patented k9 strain of probiotics, which is vital for his slowing gut health.
Egg and chicken free formula option
High in fish and turkey protein
Higher price
Lower in glucosamine compared to other recipes
---
Sheltie Feeding Guide:
When it comes to buying the best food for your Sheltie, you should always feed him the best kibble that you can afford. Nutrition is an easy way to keep him healthy, and what you put into his bowl can reduce vet visits and bills. So, it's essential to get it right.
In addition to this, here are the most important factors that you need to consider.
Nutrients for Life Stages
Your Sheltie will grow through various life stages, and each stage requires different nutrients and has different focuses. How much do Shelties weigh? This is important to consider when choosing the best food for Shelties.
Puppies
Although a Sheltie puppy doesn't have as much growing to do compared to, say, a Great Dane, he still needs to lot of puppy fuel to grow to his full size. Puppies need higher protein content compared to adults. According to the Association of American Feed Control Officials (AAFCO), puppies need 22%, and adults need 18%.
They also need higher energy and fats as well. Docosahexaenoic acid (DHA) and arachidonic acid (ARA) are naturally found in their mothers' milk. To support his continued healthy brain and eye development, his kibble should also contain these. Ingredients such as meat meals, fish oils, plant oils, flaxseed, and eggs are excellent sources.
Adults
At around the age of 12 months, he will become an adult. And by now, you will probably know what his specific diety needs are, such as particular intolerances or whether he is a sensitive pup. Whatever his dietary needs are, be sure to follow them. If he is a working Sheltie, you will need to feed him a kibble that provides much more calories per cup, and fats and protein for sustained energy.
Many Shelties have sensitive stomachs and suffer from skin conditions such as dermatomyositis (Sheltie skin syndrome). Although nutrition might not cure it, it can alleviate it. Look for kibbles that offer prebiotic fiber, probiotic ingredients, and plenty of omega fats to soothe his skin and coat. Overall, adulthood is all about a well-balanced diet.
Seniors
When he reaches the age of seven or eight years old (every Sheltie is different), he will need to be transitioned to a senior kibble. These kibbles will have less energy, fats, and protein. Mainly because he doesn't need as much power, and his aging stomach will struggle to digest it as well as he once did.
Glucosamine and chondroitin are vital nutrients at this stage, as they will help keep his joints supple. Meat meals and fish oils are excellent sources of these much-needed senior nutrients.
Look for the AAFCO Seal of Approval
AAFCO set guidelines about the nutritional expectations of pet foods, so it's essential to look for their approval on the packaging. If it has, you can be sure that it is nutritionally complete, and if it doesn't, steer clear of it. All of our recommendations above are AAFCO approved. And you might be surprised to know just how many store budget kibbles are not.
Conclusion
So now you know everything you need to about the nutritional needs of the Sheltie (Shetland Sheepdog). From the essential nutrients, he needs in each of his three different life stages and what stamps to look for on the packaging. Hopefully, you now have the knowledge and confidence to make the right decision.
We have also provided you with eight of the best kibbles for all Shelties, from the sensitive to the meat craving pups. And the energetic workaholics to those needing to watch their weight. The products come with reviews so that it's simple to choose the best option for your Sheltie's needs.
The winning product is the Ollie Subscription Dog Food and the best value for the money is American Journey Grain-Free Dry Dog Food. But by picking any of these kibbles, you can be sure that both you and your Sheltie will be happy and healthy.
---
Featured Image Credit: Filmbildfabrik, Shutterstock