8 Best Halloween Costumes for Dogs (Small & Large) in 2023 – Reviews & Top Picks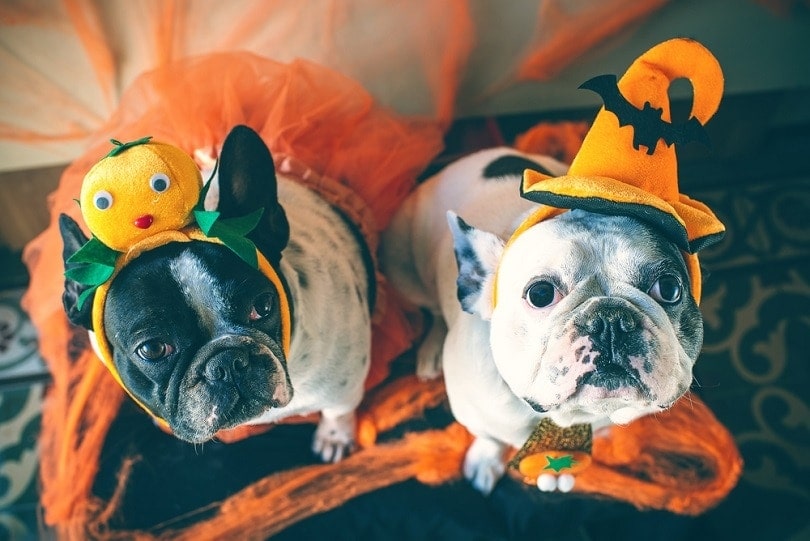 Halloween is one of the most fun holidays of the year, as it gives you an excuse to have a party, eat a ton of candy, and most importantly, dress your dog up in an adorable costume.
However, finding a suitable dog Halloween costume (for either small or large dogs) can be a bit of a nightmare. Many of your options are low-quality, while others are far more trouble than they're worth.
In the reviews below, we'll reveal some of our favorite picks. The costumes below are easy to use, well-made, and incredibly adorable. Your dog will be the talk of your party — and you may not feel like taking it off the day after. Here are the best Halloween costumes for large dogs and smaller dogs.

A Quick Comparison of Our Favorites in 2023
Rating
Image
Product
Details

Best Overall

Frisco Headless Rider Dog Costume

Easy to put on
Stays in place
Available in six sizes
Check Price

Best Value

Frisco Front Walking Killer Clown Dog Costume

Unique style
Good value for the price
Isn't hard for dog to walk in
Check Price

Premium Choice

California Costumes Pet Spider Pup Dog Costume

Elaborate
Sizing is spot-on
Fits just about any breed
Check Price

Rubie's Costume Robin Dog Costume

Easy to move in
Good for warmer climates
Simple and straightforward
Check Price

RYPET Dog Bat Costume

Easy to adjust
Can be put on in seconds
Wings are rigid and stay up well
Check Price
The 8 Best Dog Halloween Costumes (Small & Large Dogs)
1.

Frisco Headless Rider Dog Costume — Best Overall
The Frisco Headless Rider is adorable without being overbearing, so it's one costume that your dog may actually be willing to keep on for longer than a few seconds.
It rests on your dog's back, making it look like your pup is carrying around a spooky rider. It attaches easily using Velcro, so it's easy to customize the fit and ensure that it will stay in place without being uncomfortable.
You can find it in six sizes, so anything from a Chihuahua to an English Mastiff can wear it out to trick-or-treat. The sizing is accurate too.
While it stays in place well, you'll have a devil of a time keeping the rider upright. Expect to fix it often if you leave it on for an extended period, but it should stay in place long enough to allow you to snap a couple of pictures.
It's not the most elaborate of costumes, but the Frisco Headless Rider is easy to put on and looks adorable. What more could you ask for?
Easy to put on
Most dogs tolerate it well
Available in six sizes
Stays in place
Comfortable to wear
---
2.

Frisco Front Walking Killer Clown Dog Costume — Best Value
If you want your dog to freak people out, the Frisco Killer Clown is the way to go. It's a front-walking model, so it will actually look like a creepy clown is coming after you with your pup's head on a platter.
That may not be what you're looking for if you want your dog to look adorable, but it's certain to make a splash at your Halloween party. Despite how elaborate it looks, it's pretty easy to put on, as it's a single piece with Velcro fasteners.
It won't interfere with your dog's gait either, so as long as they don't mind having a clown on their neck, it should stay put. The clown does tend to bob around while the dog walks, so that may cause your pup to turn it into a chew toy if you're not careful.
Best of all, though, this is an extremely affordable costume — in fact, it's our pick for best dog Halloween costume for the money.
Your dog won't be super cute in this costume, but they're bound to be the talk of the neighborhood.
One-piece style isn't difficult to put on
Good value for the price
Isn't hard for dog to walk in
Unique style
Not an adorable costume
Dog may want to gnaw on clown
---
3.

California Costumes Pet Spider Dog Costume — Premium Choice
The California Costumes Spider Pup is another costume that might elicit more shrieks than oohs and ahhs, but it's a truly impressive option that's sure to make your pooch stand out. It's the type of costume that will win contests.
Of course, any costume that looks this good is bound to be pricey, and this is one of the most expensive on this list. If your primary concern is how your dog looks, though, it will be money well spent.
Don't expect it to last for too many Halloweens, though, as it's made of pretty flimsy material.
This is an elaborate costume, so it may take a little bit of effort to stuff your dog inside it. However, most pups don't seem to mind it once it's on, even though the legs have quite a bit of bounce to them.
It will fit just about any breed, and the sizing is spot-on. Your dog will be able to move freely in this thing.
If you want to be the most talked-about dog owner at your party, the California Costumes Spider Pup is sure to make that a reality.
Elaborate
Most dogs don't mind it once it's on
Fits just about any breed
Sizing is spot-on
On the pricey side
Not that durable
---
4.

Rubie's Costume Robin Dog Costume
Your dog is your most trusty sidekick, so what better way to reward that than by putting them in the Rubie's Costume Robin?
This is a simple yet adorable costume, as it's just a sweater with a cape and matching mask. Most dogs won't tolerate the mask for long, so you'd better snap your pictures as quickly as possible.
It's comfortable and easy to move around in, so your dog will feel at ease running around the house and fighting off evildoers. It's also lightweight, so dogs in warmer climates won't overheat.
The costume runs small, so order a size up. If you have a giant dog, you may need to find something else entirely.
The Rubie's Costume Robin is a straightforward option, but it will make your dog look incredibly cute all the same.
Simple and straightforward
Easy to move in
Good for warmer climates
Most dogs won't tolerate the mask
Tends to run small
---
5.

RYPET Dog Bat Costume
The RYPET Bat is the equivalent of the costume that you put together 30 minutes before the party started. However, when you put it on your dog, it's pretty cute.
You can put it on in seconds, and it's unobtrusive (except for when your dog walks through doors). The wings stay up well, as they're pretty rigid, so you don't have to worry about the thing going limp.
It attaches with Velcro, so it's easy to adjust to fit your pooch. However, it tends to slide as your dog moves around, and you'll have to adjust it periodically. It may pop off if you have a barrel-chested dog as well.
The wings are covered in thin felt, so they'll rip easily if your dog gets rambunctious. You can repair them, but it's probably not worth it for a costume this inexpensive.
Ultimately, the RYPET Bat is a no-frills option that won't wow anyone but won't require much effort from you either.
Can be put on in seconds
Wings are rigid and stay up well
Easy to adjust
Not that impressive
Slides around as dog moves
Made of thin fabric
---
6.

California Costumes Pet Ups Pal Dog Costume
The California Costumes UPS is one outfit that always delivers! Your dog can finally transform into their most hated adversary: the mailman.
It comes complete with a hat, a package, and fake arms to hold that package. The visor has a chin strap to keep it in place, so it will stay on as long as your dog will tolerate it.
It only goes around the dog's chest and front legs, and it should be suitable for dogs of any size. Even heavier pups will be able to wear this option.
The box is some assembly required, so you'd better have crafting skills. The Velcro holding it is weak, and your dog will have something to rip up if it comes loose.
The material is flimsy and tears easily. Don't expect this to survive more than a single Halloween.
The California Costumes UPS is good for a few laughs, but it has other flaws that make it less useful than some of the options above.
Good for laughs
Suitable for heavier pups
Visor has chin strap to hold it in place
Have to assemble box yourself
Made of flimsy material
Velcro holding box in place is weak
Dog will tear up box if it comes loose
---
7.

Camlinbo Spider Halloween Costume
The Camlinbo Spider is simply black fabric with eight fuzzy legs attached, all of which connect around your dog's chest using Velcro.
The legs are made of tasteless material, so it's unlikely that your pooch will try to munch on them. Even if they do, though, the fabric is non-toxic, so you have little to worry about.
The costume is fairly expensive for what it is, as you could probably whip up something comparable in less than an hour if you felt like it. The legs are flimsy, and they'll get bent out of shape if your pooch puts any pressure on them.
The Velcro isn't that strong either, so you'll have to constantly reattach it.
Overall, it's just not that impressive of a costume. If you're going to spend a decent chunk of change on a costume, you'll probably want it to be more noteworthy than this.
The Camlinbo Spider is a no-frills alternative to other bug costumes, but we feel that the other options are better choices.
Dog isn't likely to chew on it
Material is non-toxic
Fairly expensive for what you get
Not that impressive
Velcro isn't strong
Legs are flimsy
---
8.

iChoue Animal Pet Costumes
The iChoue Animal is basically a themed hoodie, but it can work as a costume in a pinch.
It has a zipper right up the middle, so it's easy to put on. All you have to do is stuff your pup's front legs in and close it up. You'll have to be careful not to catch your dog's fur or skin inside, though, and even if you keep your dog safe, the zipper will probably break sooner rather than later.
There are several different styles to choose from, including a duck, panda, dinosaur, and more. However, there's not much to them, as far as costumes go; these are just jackets with a little bit of decoration.
That means your pup can wear it on more than just Halloween, and it's thick enough to keep your dog warm on walks. You don't want it to get wet, though, as it will cling to your pup and make them even colder.
Ultimately, the iChoue Animal kind of occupies a no-man's-land, as it's not durable enough to be used as an everyday piece of clothing, but it's not elaborate enough to qualify as a costume. You can definitely get some value out of it, but you're better off buying something that's completely dedicated to one goal or the other.
Can keep dog warm on walks
Easy to put on
Not terribly durable
Kind of plain for a costume
Won't offer much protection if it gets wet
Zipper is flimsy
Fur and skin can get caught in zipper
---
Buyer's Guide: Selecting the Best Dog Halloween Costume
Most people have no idea what to look for in a dog Halloween costume, but if you want everyone at the party to rave about how cute your pup is, it's a good idea to do a little research beforehand.
In this brief guide, we'll walk you through what to look for in a puppy costume, so your Halloween will be as fun and stress-free as possible.
What Should I Look for in a Dog Halloween Costume?
The only thing that most owners consider when shopping for a costume is how adorable their pup will look. We're not trying to tell you that you shouldn't consider that factor, but there are other things that are equally important to think about.
The most important of these is safety. Your dog needs to be able to move freely and see where they're going, as you don't want them stumbling over anything or walking into dangerous situations. Skip any costume that's incredibly tight, interferes with the motion of your dog's legs, or covers their eyes.
Also, don't buy anything that will obstruct your dog's ability to breathe or drink. Some masks have straps that keep the mouth closed or fabric that can slide down their noses to cover their nostrils. We'd recommend not putting anything on their face at all, but we understand that will disqualify some truly adorable options.
Think about what will happen if your dog takes it off. Many costumes have dangling fabric or other accessories that can pose a choking hazard if your dog chews them up. Avoid buttons, plastic, or wads of cloth.
Visibility is also important, especially if you plan to take your dog out in the neighborhood. You want passing cars to be able to see your pooch. So, you can still buy an all-black costume, but you may want to attach reflective piping to it if you do.
How Do I Know If My Dog's Costume Fits Properly?
Proper fit is one of the most important things to keep in mind when choosing a costume for your dog. You want something that will be loose enough that it won't obstruct your dog's movement but tight enough that there isn't any dragging fabric that can get snagged on something.
Most costumes involve fabric that attaches with Velcro or some similar mechanism. You want to be able to Velcro it without having to strain, and you want the Velcro to stay taut once it's closed.
You should be able to fit two fingers between the costume and your dog's body without much issue. If you can work in more than that, you need to tighten it up, but if you can't get those two digits in there, it's too tight and may restrict circulation.
Be sure to watch how your dog moves in it as well. Watch them walk, sit, and lay down, and check to make sure it's not bunching up or pooling anywhere.
While fit is essential to keep in mind, it's also fairly simple to sort out. Use your judgment and common sense, and don't take any risks if you're not sure whether an option fits properly or not.
Can Any Dog Wear a Costume?
Any dog can wear a costume, but that doesn't mean that every dog should.
Some dogs don't like wearing clothes, and if having a costume on is going to cause your dog anxiety, you should skip it. Any adorable photos you get aren't worth putting your dog through a stressful situation.
Also, some pooches get angry or scared when they have something on them or their movement is restricted. You don't want your dog losing their temper and lashing out because you stuffed them into a spider costume.
Keep in mind that a costume will encourage people to come up and pet your dog as well. If your pup doesn't like strangers, you're inviting a bad situation by putting them in an irresistible costume.
Don't force your dog to attend a party if they're not people-puppies either. It may feel like you're wasting a cute costume, but you don't want to make Halloween as stressful for your dog as the 4th of July.
How Do I Convince My Dog to Wear Their Costume?
If wearing a costume won't cause behavioral issues for your dog, but you're still having trouble convincing them to keep it on, there are a few things that you can do to boost your chances of having them wear what you bought them.
You should start acclimating them to the costume well before Halloween. Bring the costume out and let them sniff and investigate it, but don't try to put it on them yet. Instead, let them explore while you reward them with treats or praise.
Once they're happy to see the costume come out, you can start trying to put it on them. Put your dog in a sit-stay and put the costume on, then reward them lavishly once it's on. Don't leave it on for longer than a minute or two, and take it off the second that they start showing discomfort.
From there, gradually increase the amount of time that you leave it on, and don't skimp on the positive reinforcement.
Eventually, your dog will forget that they have it on, and they'll happily wear it for as long as you want them to.
Conclusion
The Frisco Headless Rider is our favorite canine costume, as it's incredibly cute while being equally low-maintenance. It also seems to be comfortable, and most dogs are willing to keep it on.
If you want something that's equally noteworthy but less expensive, consider the Frisco Killer Clown. It's not necessarily "cute," but it is something that will get people talking.
Dressing your dog up in a Halloween costume is a ton of fun, but finding the perfect option can be difficult. We hope that these reviews have made it easier for you to pick out something that your dog will actually wear long enough for you to snap a few pictures — and hopefully, these costumes will also encourage your neighbors to be less stingy with their candy.
See also:
---
Featured image credit: KikoStock, Shutterstock