7 Best Dog Boat Ramps in 2023 – Reviews & Top Picks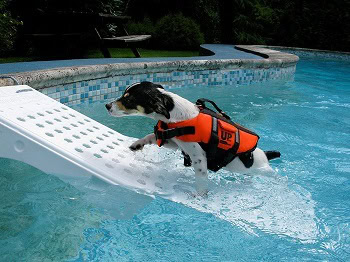 When you are out on a toasty summer day, enjoying the hot sun on the water, you may want some company. After all, do you go anywhere without your best friend?
If you want your pooch to be able to safely board your ship with comfort and ease, a ramp may do the trick.
We have selected the seven best dog ramps for boats we could find. Hopefully, these reviews can help you slim down the never-ending world of choices you can find on the web.
After looking through these, you can order what you need instead of sifting through product after product.
---
A Quick Look at our Favorites in 2023
Rating
Image
Product
Details

Best Overall

PetSTEP

Non-slip rubber walking surface
Durable plastic
Supports up to 500 pounds
Check Price

Best Value

Skamper Ramp

Affordable
Good for pools or boats
Good for small to medium dogs
Check Price

Premium Choice

Paws Aboard

Universal fit
Ridged steps
Durable
Check Price

Great Day

Made of aircraft aluminum
Works for small to large breeds
Attaches to any boat ladder
Check Price

Momarsh

Multipurpose
Hardy
Check Price
The 7 Best Dog Boat Ramps
1.

PetSTEP Folding Dog Boat Ramp – Best Overall
This PetSTEP 222K Folding Pet Ramp is the top selection we could find based on all the criteria we feel makes a great ramp. It has a non-slip rubber walking surface to keep your pup on the track. You won't have to worry about slips or falls. It can even support up to 500 pounds!
It's very convenient to use. It has a fold-in-half feature for easy storability. When folded, you also have two handles for simple portability. It is made of hard plastic along with the ridged non-slip rubber walking section. While it is strong, it could buckle if you have canines romping around or using it for something other than its intended purpose.
This ramp is ideal for dogs of all life stages. You can use it for puppies all the way up to seniors. And you don't have to stop at a boat ramp. It can be used for vehicles, vet tables and even to climb onto the sofa. It isn't an unreasonable asking price and it has all the features your pet needs to get from A to B. Overall, this is the best dog boat ramp we have reviewed this year.
Non-slip rubber walking surface
Durable plastic
Dogs of all life stages
Multi-purpose
Supports up to 500 pounds
May break with excessive force
---
2.

Skamper Ramp Escape Dog Ramp – Best Value
If you want a ramp for your pooch but don't want to dish out too much, let's introduce you to the best value on the list. The Skamper Ramp SKR3 Escape Ramp is the best dog ramp for boats for the money. This selection comes in two separate sizes to fit your needs and is half the price of the number one choice. While its main design is geared for pool use, it can be used aboard a boat as well.
While there are two sizes, it would suit small to medium-sized dogs best. The surface is rather slippery, as it is made from non-texturized plastic. However, if you tie the given rope between the holes, it is supposed to give your pet the extra oomph they need. The extension piece is a bit flimsy and not good for heavier weight.
Because it is slightly flimsy, it would be best for more mannerly dogs who aren't excessively hyper. Ultimately, if they were out for a swim, it is a safe and simple way to get them back on board.
Affordable
Good for small to medium dogs
Good for pools or boats
Not suitable for larger dogs
Flimsy extension
Non-textured plastic
---
3.

Paws Aboard Dog Ramp for Boats – Premium Choice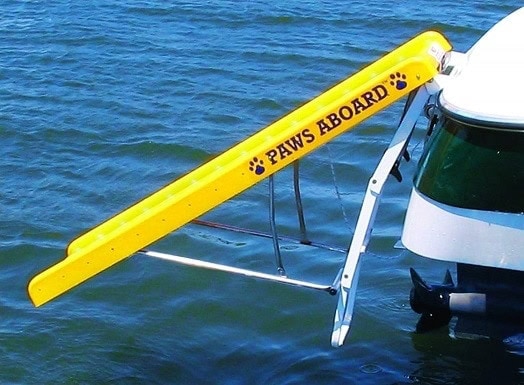 If you don't mind investing a little more in your purchase, the Paws Aboard 872100 Doggy Boat Ramp is our premium choice. While it is more expensive than other selections on our list, it is designed specifically with your boat in mind.
The setup is wonderful for dogs with health conditions that may slow them up or reduce their agility. It has steps for traction. It folds down with two handles so you can take it with you where you wish. Even when you reduce the size, it's still quite bulky, so make sure you have adequate storage when it isn't in use.
While the advertisement claims they are universal with boat sizing, do be careful. It may not fit as many selections as you would think. Also, it is a bit more time consuming to install and take down than they imply. Otherwise, it's extremely hard-wearing so it would last you years, making it worth the extra cash if it meets your other specifications.
Universal fit
Folds down for storability and portability
Ridged steps for easy entrance and exit
Durable material
Expensive
May not work with all boats
Bulky
---
4.

Great Day LP500 Dog Platform for Boats
The Great Day LP500 Pet Platform is another awesome addition to the list. It conveniently attaches to any boat ladder, making it compatible with most boats. The design is intended for the dog to exit and enter the boat at their leisure without any help from you.
It is made of solid aircraft aluminum but is very lightweight, weighing only 7 pounds. It folds completely flat for ideal storage when you aren't using it. It has gripping material on the ridges of the platform to make sure they aren't slipping around.
There is a 200-pound limit for this selection, so it can work for almost any breed of dog. One challenge with this is that when it is attached to your boat ladder, it can obstruct the way so humans can't use it.
Attaches to any boat ladder
Made of aircraft aluminum
Works for small to large breeds
Could obstruct boat ladder
---
5.

Momarsh Dog Boat Ramp Stand
The Momarsh Ramp Stand is another one of the pricy additions to our list, but it's multi-use. If you have a hunting dog, this could be worth the investment. It is designed to fit with both boat and tree, making it versatile depending on what you need.
If you own a hunting dog that tracks waterfowl and small land game alike, this is a sturdy, simplistic boat ramp. It has gunnel clamps to engage in a perfect fit on tree and boat alike. It is made of water-friendly material, so there is no molding. It dries quickly.
The issue with this particular model is that the idea is possibly better than actual function. While multi-purpose, it may work for only a limited boat style.
Not for all boats
Quick-drying
Expensive
Made for hunters
---
6.

Drifter Marine Dog Boat Ladder Ramp
This Drifter Marine Dog Boat Boarding Ladder Ramp offers a lightweight, convenient way for your dog to transition from water to boat. It has rubber guards on the hooks and ends to attach without scratching your boats paint with gunnels up to 6 inches.
This doesn't work on all boats. It's mostly geared toward small fishing boats. It would not work for pontoon boats or any size where the sides exceed where the clamps meet. The heavy-duty mesh design aids in easy changeover, giving proper traction so they can get their footing.
It collapses for a compact design when it isn't in use. It's extremely convenient to put on and remove. It may not work for dogs of large size. If it were a more compatible ramp for boats, it would be higher on the list.
Non-scratch hooks
Lightweight
Easy to put on and take off
Not for all boats
Gunnels do not exceed 6 inches
May not be best for larger dogs
---
7.

Avery 90019 Gear Dog Ramps
The Avery 90019 Gear Dog Ramp for boats is the last addition on our list. The instructions are a little muddled and hard to understand, but the setup is pretty simple, so it isn't the worst situation.
The steps have gripping on them so your pet can make an easy entrance and exit. The hooks easily slip over the boat side for an easy fit. While that's a positive, there is no give here. It doesn't extend, so if your gunnels exceed the allotted measurement, there is no way to spread further.
It does fold down for compact storage, so it isn't taking up a lot of space when you aren't using it. The fabric is quick-drying as well, so there is no molding or prolonged dampness.
Unclear instructions
May not fit all boats
No extensions to fit
---
Buyer's Guide – Choosing the Best Dog Boat Ramp
When it comes to buying a dependable boat ramp to get your pet safely from land to boat, you want to make sure it has what it takes. The last thing you need is for an upset to happen, causing your pet to fall into the water or injure themselves. So, what should be the areas you research before finalizing your decision? Let's look.
Materials
You will want to be sure to review any materials used for the ramp. This will help you decide whether it is going to hold up with the use that you intend. You are going to want the composition to last in water, which means no rusting and no breakdown.
Typically, they will be made of non-rusting metals such as stainless steel, aluminum, or plastic. Lots of selections also have a strong rubber or textured base for traction so they can get in and out of the water with ease. Having a lightweight one will help as well.
Adjustability
Adjustability is an important factor to know if the ramp will be compatible with your boat. Some of them will latch onto the boat ladder, while others will be their own attachment. Some will be temporarily fitted to the side to provide easy transitions.
You want to make sure to reach through the measurements carefully. It will need to attach tightly and not obstruct any of the boat's functionalities in the meantime.
Storage
After you are done with a long day of boating, the ability to conveniently store the boat ramp away will be crucial. You won't want a large, bulky boat ramp with no place to put it. Many options fold to a much more compact size.
Some of them will slide down, others will fold in half. It will just depend on the overall design. But you will want to be sure you have the space for it.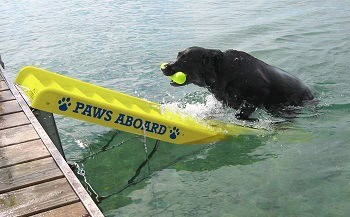 Portability
Having a boat ramp that you can take on the go is going to add to the ease of the process. As simply as your dog jumps up into your vehicle, you will want a ramp that can be thrown into the back.
If you have a large ramp that's heavy, it will make it quite hard to do that. You may end up thinking it's more of a pain to take your dog and all the additives when it doesn't have to be.
Safety
If you have a dog that is less physically capable than others, you will naturally want this to be a safe transition for them. After all, you are purchasing the boat ramp so the dog can have a convenient way to get from the water to the boat.
If you have a slippery boat ramp, your dog may struggle. They could slip, injure joints, or strain their muscles. A dog who had any type of physical limitations or is advanced in age who has slowed up with age may be very hurt if they struggle.
Function
Last but not least, you are going to want a boat ramp that lives up to its intended purpose. The entire idea behind a dog ramp is to assist them in getting from A to B. If the setup is difficult to navigate or isn't suitable for their size, it won't be worth your investment.
That means, it needs to properly attach for stability, and it needs to be level. If it attaches oddly to the boat or doesn't give them enough leverage, it's not going to be worth the investment for you or your dog.
---
Conclusion
The PetSTEP 222K Folding Pet Ramp is absolutely the best boat ramp we could find with all of these things taken into account. It is compact, sturdy, and safe. It is also extremely multipurpose, providing an easy way for your dog to get up and dog without great strain on the body. It's one of the more price-friendly additions to the list as well, and you get quality.
Our best value, the Skamper Ramp SKR3 Escape is affordable and ideal for both boat and pool use. It is made for small to medium breeds and provides an easy entrance and exit at half the cost.
The Paws Aboard 872100 Doggy Boat Ramp is a very costly addition to the list but it is designed with every boat in mind. It is made from extremely durable materials and has ridged steps for optimal traction. If you don't care about spending the extra cash, it could very well be your top pick.
After reading these reviews, there is no reason your furry friend can't be soaking up the sun with you on your next outing.
See also: 3 DIY Dog Water Ramp Plans You Can Make Today (With Pictures)