10 Best Dog Training (Shock) Collars in 2023 – Reviews & Top Picks

Shock collars, also known as e-collars, are a controversial form of training collar. They are used to correct a dog's behavior. Common applications include barking prevention, field recall, and other behavior modification and training.
Most shock collars include a mild setting that lets off an audible beep or that vibrates against the dog's neck, but they may also give off a burst of static shock. You must choose a good-quality model that works as intended to avoid injury. It is also important you use the collar properly and as part of an overall training regimen, otherwise, it could do more behavioral harm than good.
There are many models, including those with a wide range of settings. To help you find the best dog training collar for your dog and your training regimen, we have compiled a list of reviews of 10 of the best on the market today.
---
A Quick Comparison of Our Favorites from 2023
Rating
Image
Product
Details

Best Overall

PetSpy M686 Premium Dog Training Collar

1
000 ft range
4 training modes
8 setting levels
Check Price

Best Value

PetSafe Big Dog Training Collar

Cheap
Low battery warning lights
QuickFit buckle is easy to use
Check Price

Premium Choice

Educator E-Collar Dog Collar

Waterproof
1
750-yard range
Charges in 2 hours
Check Price

PetSpy P620 Waterproof Collar

Range of 650 yards
Can charge transmitter and receiver at same time
Check Price

DogCare Shock Dog Training Collar

Security keypad lock
3 modes and 99 settings
Control up to 9 dogs from 1 remote
Check Price
The 10 Best Dog Training Shock Collars
1.

PetSpy M686 Premium Dog Training Collar– Best Overall
The PetSpy M686 Premium Dog Training Collar is inexpensive, has a range of approximately 1,000 feet, and is adjustable, so it will fit any dog weighing up to 140 pounds. It has 4 training modes: vibration, sound, continuous, and convulsive shock. And it has 8 levels of vibration and shock.
The collar is made from durable yet comfortable material and is brightly colored, so it's easy to find if your dog manages to break free. It is also waterproof, so even Spaniels and other dogs that love a refreshing swim can be given one. The range, which is longer than most, enables off-leash and especially recall training, while the beep setting works as an alternative to clicker training and can be highly effective as part of positive reinforcement.
The controls are simple to use, allowing for the quick changing of correction level and use of any setting. It has been designed for blind operation and is effective for novice users as well as experienced trainers.
1,000 ft range
4 training modes
8 setting levels
Brightly colored
Waterproof
Not for dogs under 10 lbs
Only useful for up to 2 dogs
---
2.

PetSafe Big Dog Training Collar– Best Value
The PetSafe Big Dog Training Collar is cheap, very easy to use, and as well as a static shock setting, it can also deliver an audible beep to get your dog's attention.
It can only be used to train one dog at a time, it has a more restricted range of 300 feet, and its options are more limited than our top pick. However, the range should be more than enough in the majority of instances, the beep and static shock combination will be enough for most dogs and training regimens, and its price means that the PetSafe Big Dog Training Collar is is one of the best dog training (shock) collars for the money.
It is only suitable for dogs over 6 months old that weigh more than 40 pounds, so you will have to look for an alternative if your dog is smaller than this.
QuickFit buckle is easy to use
Low battery warning lights
Auto-shutoff prevents over-stimulation
Cheap
Only suitable for dogs over 40 lbs
Limited to use with 1 dog
---
3.

Educator By E-Collar Remote Dog Training Collar – Premium Choice
The Educator By E-Collar Remote Dog Training Collar is an expensive training collar, but it has 100 stimulus levels plus 60 boost levels, offers 3 types of training alerts, and has a staggering range of 1,750 yards as well as a battery life of up to 72 hours.
The receiver and remote are waterproof, and the device is suitable for any dog aged over 6 months and that weighs more than 5 pounds. The collar comes with 2 sets of contact points, which means that you can get the collar to work with your dog regardless of their size or the length of their coat. Collars with short points will not always work well with long-haired dogs. The collar has some extra features including a nightlight that makes it easier to find your dog in low light, and the whole thing takes just 2 hours to fully recharge, making it super convenient.
The only real drawback with this unit, other than the lofty price, is that it is only expandable for up to two dogs.
Lots of variable settings
Waterproof
Charges in 2 hours
1,750-yard range
Expensive
Only expandable for 2 dogs
---
4.

PetSpy P620 Waterproof Dog Training Collar
The PetSpy P620 Waterproof Dog Training Collar is a lightweight shock collar that offers noise, vibration, and shock modes. It has a 650-yard range and both the transmitter and receiver are waterproof.
The collar is not the most comfortable, using rubber bands, and the points are not effective on dogs with really long and thick fur. The system can be expanded for use with two dogs, but no more. While it does have 16 levels of adjustment, it is quite an expensive collar compared to the top two models on our list.
Despite the extra cost, it doesn't offer any additional features or the same level of precise adjustment.
Range of 650 yards
Can charge transmitter and receiver at same time
Expensive
Quite basic for the price
---
5.

DogCare Shock Dog Training Collar
The DogCare Shock Dog Training Collar is inexpensive, offers a lot of control over the level of correction that you offer your dog, and can have control over as many as 9 channels, which means that it can be used to train up to nine dogs at once. Most other transmitters will only work with 2 channels at the most.
The remote offers 3 types of training mode: beep, vibration, and shock. It has an adjustable shock rating from 0-99 so that you can customize it according to the size of your dog. It will fit dogs that weigh up to 100 pounds and is suitable for dogs above 15 pounds in weight.
The DogCare Shock Dog Training Collar comes with a lockable keypad to prevent accidental shocking but its range is a little limited at just 330 yards.
Control up to 9 dogs from 1 remote
3 modes and 99 settings
Security keypad lock
Not suitable for small breeds
330-yard signal range could be longer
Difficult to adjust
---
6.

Hot Spot Pets Shock Dog Training Collar
The Hot Spot Pets Shock Dog Training Collar is a waterproof collar, suitable for dogs from 15 pounds up. The batteries in the receiver and the remote can be charged simultaneously and it only takes 2 hours to charge fully.
The remote has a range of 600 yards, is waterproof, has 3 stimulation modes, and 16 levels of stimulation. It is around average in terms of price, and in addition to having distinct buttons that allow blind operation of the modes, the collar also has an LCD screen that shows the battery level, mode, and current level settings for the device.
A single controller will work for two dogs, using two separate collars. There have been some quality control issues with buyers complaining that their device stopped working soon after purchase. Additionally, the collar does not seem to be effective with Huskies and other thick-coated breeds.
Modestly priced
Charges in 2 hours
LCD screen
600-yard range
Only controls 2 channels
Some quality control issues
Not suitable for thick-coated dogs
---
7.

SportDOG YardTrainer Training Dog Collar
The SportDOG YardTrainer Training Dog Collar is expensive compared to most devices on this list. Despite its cost, it has a short range of 300 yards, only 2 modes: static shock and noise, and it only offers 8 levels of stimulation. All of these specifications are beaten by other, cheaper models.
However, what the SportDOG Yard Trainer Training Doc Collar can do is work on dogs weighing 8 pounds, which is much lighter than most models. It is also waterproof, so it can be used in any weather and any condition. It also comes with 2 sets of points, one of which is suitable for dogs with longer coats.
The battery does take a long time to charge, and the system will only work with single dogs, so if you are looking for a single remote to work with multiple dogs at once, you will need to look elsewhere.
Works for small dogs of 8 lbs
Waterproof
2 sets of points — works on all coat lengths
Takes a long time to charge
Only has 2 modes
Minimal stimulation settings
Won't work for multiple dogs
---
8.

Petrainer 998DRB Remote Dog Training Collar
The Petrainer 998DRB Remote Dog Training Collar is a really cheap shock collar with vibration, static, and noise alert settings. The modes have 100 intensity levels and the collar has a short range of 330 yards and works for dogs over 10 pounds. It can be adjusted from 14 inches to 24 inches in length.
The collar is water-resistant, and the remote has a backlit LCD screen to show mode, intensity, and battery level settings. The prongs are too short for the collar to work well on dogs with long hair and thick coats. While the manufacturer claims it will fit 10-pound dogs, it would be a very loose fit for a dog of this size.
There have also been some quality control issues with units failing after a few uses, and others not working at all. The batteries also start to degrade quite quickly, which means that they won't hold their charge after a few months of ownership.
Cheap
Can buy a pack with 2 collars
The collar is too big for 10-lbs dog
Quality issues
330-yard range
Batteries die quickly
---
9.

iPets PET619S Waterproof Dog Training Collar
The iPets PET619S Waterproof Dog Training Collar is an adjustable shock collar that has 3 different settings: shock, vibrate, and beep. It has an intensity dial to allow for quick and easy intensity changes, but it doesn't allow you to use different variable settings for different modes. Most owners would be willing to use the vibrate setting at a higher level than the shock setting, but the dial is essentially fixed between the two modes. The controller will work with two collars, but this isn't a cheap set, the controller does not include an LCD screen and the unit only has a 330-yard range, which is a lot lower than most of its competitors. Although the charger includes a splitter cable, the batteries quickly start to lose their charge, which is especially disappointing because this isn't the cheapest shock collar on the market.
The controller works with 2 separate collars
The adjustment dial is easy to operate
No separate variable intensity level for different modes
No LCD screen
Not that cheap
Batteries don't last long
330-yard range
---
10.

Educator By E-Collar Waterproof Dog Training Collar
The Educator By E-Collar Waterproof Dog Training Collar is an expensive shock training collar. It comes as a pack with 1 or 2 collars, which can be controlled individually using the remote and the set can be extended to work with up to four dogs.
It has 3 modes: vibration, noise, and static. It has a range of ½ a mile, or 880 yards. There are 100 stimulation levels and a boost level between 1 and 60 that allows for extra stimulation. The maximum stimulation setting prevents accidental over-stimulation. The receiver is very lightweight at 2.4 ounces and is considered suitable for any dog over 5 pounds.
Although this set has some good features, it is very expensive, and it is overly complicated. Also, while the collar does have a nightlight, it is quite tricky to spot on dogs with medium to long fur, and you can't adjust the vibration levels.
Works with up to 4 dogs
880-yard range
Lots of settings
Too complicated
Too expensive
Nightlight is difficult to see
No vibration adjustment

Buyer's Guide: Selecting the Best Dog Training Collar
The shock collar is a controversial training aid because it is required to deliver some form of electrical stimulation to dogs to discourage a behavior. However, many of these devices include additional settings such as noise and vibration alerts, which can also be used in an effective training regimen.
When To Use Shock Collars
A shock collar relies on negative reinforcement, rather than positive. Effectively, it is used to dissuade a dog from performing an undesirable action by punishing it for performing that action.
They are controversial and should only be used when you have reached the limits of positive reinforcement training techniques and professional trainers have not been able to help.
In particular, you should consider them for the following scenarios:
Excessive barking – Whether your dog barks at the neighbors or they suffer leash anxiety and bark at other dogs, it can make walk time a nightmarish situation for you and your dog, not to mention the subject of your dog's ire.
Containment – If your dog has a strong sense of wanderlust and uses any opportunity to make a bid for freedom, a shock collar can help contain them within the confines of your garden or other locale.
Canine safety – Hunters and trainers may use this type of training aid to discourage a dog from approaching snakes, other harmful animals, or for doing anything that might lead to injury, illness, or danger.
Aggression – Whether your dog is aggressive towards other dogs or, worse still, towards people, a shock collar may help control this aggression. But, with this type of training, your dog will associate strangers and other dogs with the unpleasant experience of being shocked, so it could have the opposite effect and increase their agitation levels.
Shock Collar Features
When shopping for a shock collar, consider the following factors to help ensure that you get the right collar for you and your dog.
Remote Shock Collar Range
Shock collars work via remote control. You adjust the correction mode and the intensity and then administer the noise, vibration, or shock, by pressing the button on the remote control. Every remote and collar will have a working range. If the distance between the controller and collar is greater than this range, it won't work.
If you use a training collar in the yard, then you shouldn't need an excessive range, but if you are looking to curb wanderlust and prevent your dog from running off, you can find collars with a range of several hundred yards, even up to a mile in distance.
Multichannel Controllers
A controller will control at least one collar. When you press the button, it will trigger any collar that matches the frequency set on your controller. If you have two or more dogs, you don't want to arbitrarily shock both dogs when only one is misbehaving.
Controllers with multiple channels let you select a collar and then control that collar individually. Most sets allow for two collars, but some allow you to control as many as nine dogs.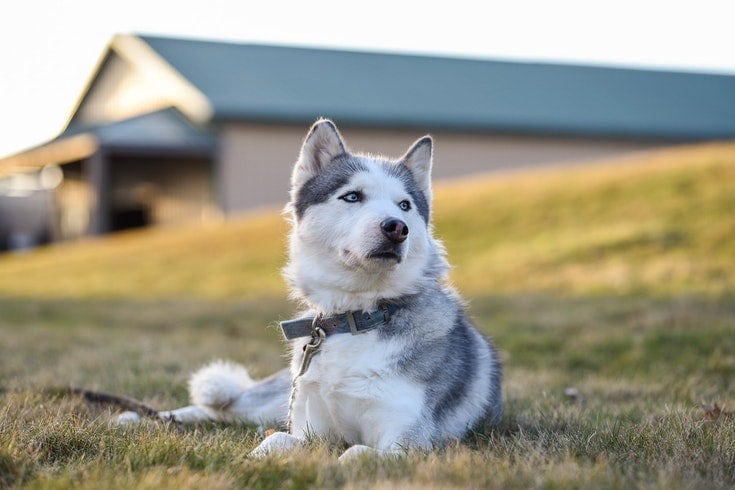 Shock Collar Modes
A shock collar has metal contacts that sit against your dog's skin. When you press the button, a shock is passed through and into your dog. This is known as the shock setting.
Most controllers include other modes, such as noise and vibration:
The noise setting can be used for positive training, taking the place of a clicker and allowing you to administer a beep or click when your dog performs a desirable action.
Vibration is used to get your dog's attention without administering an electric shock. Ideally, the vibration setting will be enough for your dog.
Variable Settings
Some dogs need more of a shock if you want to get their attention. This can be achieved by turning up the variable settings that are found on most collars. Some offer 9 or 10 variable settings, while others provide as many as 100 variable settings with 50 to 60 boost settings, which are used when your dog doesn't respond to the normal levels.
Just because a collar only has 10 settings does not mean that it delivers a less powerful or more powerful shock than one with 100 settings, but it does not offer the same level of variable freedom.
Also bear in mind that changing a variable setting might only change it for the shock collar, while the vibration might be fixed, so if you want to be able to alter both modes, ensure that this is included in the model you opt for. Some models, typically those with variable dials rather than buttons, do not allow different settings between modes, so if you have it set at a moderate level 5, then this is the setting for vibration and shock modes.
LCD Screen
LCD screens are beneficial because they can display the mode you are currently on, the level of variable setting, and your battery level. However, screens do use more battery power, which means that devices with LCD screens will require more frequent charging. Ensure that the LCD screen is backlit, if you opt for this feature, otherwise you won't be able to see the screen properly at night.
Dog Training Collars with Nightlights
If you do walk your dog at night, or in dark conditions, it can prove difficult to find them, as the light disappears. A nightlight can help. Some collars have a nightlight fitted to the collar that either shines permanently or shines when you want it to, allowing you to more easily find your furry friend.
Waterproof Dog Training Collars
Some dogs hate water and refuse to walk in the rain, while others love nothing more than jumping in large puddles for a paddle. If your dog is one that enjoys the water, rather than avoids it, ensure that you choose a waterproof collar. A waterproof controller can also be beneficial when it rains because it will prevent the controller from shorting, no matter the weather.

Conclusion: Best Dog Training Collar
A shock collar must be used properly and humanely if you want to enjoy positive results.
When used incorrectly, this type of training collar can do more harm than good and may instill negative behavior from your dog. A poor quality shock collar can also leave a physical impression, causing injury to your dog and, in particular, their neck.
Choose one with the number of channels according to how many dogs you have, that has the modes and variable settings you require, and one that offers the kind of range that you require.
We found the PetSpy M686 Premium Dog Training Collar to offer the best combination of affordability, modes, and variable settings, with an incredible range. The PetSafe Big Dog Training Collar is not only suitable for large breeds but is also very competitively priced despite being easy to fit and offering decent settings — although there are no multi-channel settings.
If you're looking for a more moderately-priced collar, we recommend the PetSafe Big Dog Training Collar. Hopefully, our reviews will help you choose the best dog training (shock) collar for your training requirements.
---
Featured Image Credit: PaigeWhite, Shutterstock