10 Best Dog Water & Food Bowl Mats of 2022 – Reviews & Top Picks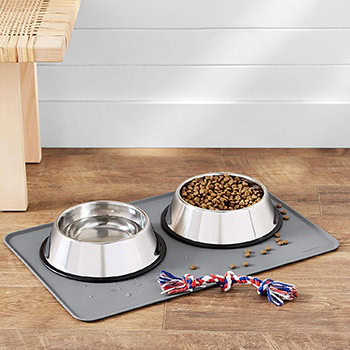 There aren't many dogs who can get a drink and not make a mess all over the floor. Some dogs are definitely messier than others and get their kibble all over the floor too. If you've ever watched your dog drink, you've probably noticed that it isn't their fault that they make a mess. It is related to the design of their mouth: They have to ladle the water with their tongue, and there's just no way that all the water makes it into their mouth.
Though we can't change the way a dog drinks or eats, we can at least protect our floors. This review list goes over 10 of the best water and food bowl mats, with descriptions and pros and cons of each, so you can decide which mat is ideal for you and your particular situation. The buyer's guide at the end of the article showcases features to consider when making your final decision.
---
A Quick Comparison of Our Favorites
Rating
Image
Product
Details

Best Overall

AmazonBasics Waterproof Pet Food Mat

Ideal for small bowls
Non-slip
Anti-spill edges

Best Value

Hoki Found Waterproof Pet Food Mat

Non-toxic
Raised outer lip
Non-skid and non-slip

Premium Choice

PetFusion Waterproof Pet Food Mat

High-grade silicone
Anti-microbial
Non-toxic

Reopet Silicone Dog Bowl Mat

Non-slip bottom
Non-toxic silicone
Flexible

Loving Pets Bella Spill-Proof Pet Mat

Non-slip
Bone-shape design
Durable
The 10 Best Dog Bowl Mats
This silicone mat has a rubber-like feel but is flexible enough to fold for easy washing and storage. It is rectangular and measures 24 x 16 inches, which offers plenty of room for your dogs' dishes while protecting the floor from any messes. It does well at staying in place when you have a dog that is an exuberant eater, and it has anti-spill edges to contain water and food spills.
It is ideal for small dogs because it is not a huge mat, and it is offered at an affordable price and is backed by the AmazonBasics one-year limited warranty. On the downside, since it is soft and flexible, it won't hold up to a dog that is destructive.
Affordable
Ideal for small bowls
Non-slip
Anti-spill edges
Easy to clean
Flexible and foldable
One-year limited warranty
Won't hold up to destructive dogs
---
The Hoki is the best water and food bowl mat for the money because it has many great features for an affordable price. It is made from FDA-approved silicone that is non-toxic and non-allergenic, so you can feel reassured that you are keeping your pet safe.
It has a slightly raised outer lip that prevents food and water from going over the edges. It can hold your dog dishes in place with its non-skid bottom so the mat doesn't slide around when your dog is eating or drinking. The size of the mat is 18.7 x 11.8 inches.
There's no need to worry about cleaning it, because it is dishwasher safe and you can also rinse it in the sink or wipe it down between washes. It is flexible enough to roll up so you can store it easily or take it with you while traveling.
One negative aspect is that it attracts dog hair. The Hoki doesn't reach the first spot on our list because it isn't as high quality as the AmazonBasics, though it is still a great mat for the price.
Affordable
Non-toxic
Raised outer lip
Non-skid and non-slip
Dishwasher safe
Flexible
---
The PetFusion food mat is made from a high-grade silicone that is anti-microbial, non-toxic, and non-allergenic. The extra-large size is perfect for your large breed dog because it measures 34 x 23 x 1.5 inches and has raised edges to prevent spills from getting on the floor. The anti-slip bottom and top prevent the mat from sliding on the floor, as well as keep the bowls in place when your dog is eating or drinking.
When the mat gets dirty, you can either wipe it down, hand wash it, or put it in the dishwasher. This mat is on the pricier end, which is why it sits in the number-three spot, but it comes with a 12-month warranty that covers any manufacturing defects.
High-grade silicone
Anti-microbial
Non-toxic
Anti-slip bottom and top
Raised edges
Easy to clean
12-month warranty
---
4.

Reopet Silicone Dog Bowl Mat
This affordable mat is made from FDA-approved non-toxic silicone. It has a smooth finish on the top side, with raised borders to prevent messes from escaping, and a non-slip bottom, so it will stay in place at all times.
The mat is ideal for smaller dog bowls because it measures 18.5 x 11.5 inches but is flexible enough to roll up for easy storage or on-the-go travel. Cleaning is easy — simply put it in the dishwasher or hand wash it in the sink. You can also wipe off smaller messes with a wet rag.
The company offers a satisfaction guarantee and will refund your money if you aren't happy with your purchase. It is also offered in six different colors if you don't want a neutral hue.
Affordable
Non-slip bottom
Non-toxic silicone
Flexible
Easy to clean
Satisfaction guarantee
Six color offerings
---
5.

Loving Pets Bella Spill-Proof Pet Mat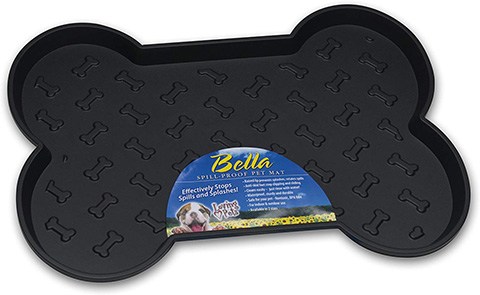 For a fun-shaped dog-bone mat, the Loving Pets is a spill-proof option that has edges that are high enough to prevent any messes from seeping or migrating onto the floor. The large mat can hold two bowls with bases 8 inches in width. Overall measurements are 21.25 x 17.5 x 1.75 inches.
It has anti-skid traction on the top and the bottom, and it's ideal for indoors or outdoors. To clean, you can hand wash it or wipe it down — unfortunately, you can't place it in the dishwasher. It is a durable mat and the material is not flexible, so it will stand up to some abuse from your dogs.
High edges
Non-slip
Durable
Bone-shape design
Ideal for medium-sized bowls
---
6.

Bone Dry Recycled Rubber Water-Proof Mat
This food mat is ideal for smaller pet bowls because it is 17.5 x 10 inches in size. We like that it is made from 100% natural and recycled rubber and comes in a cute design, with "Hungry" and "Thirsty" written on the bottom edges. The dog print grips on the top of the mat keep the bowls from slipping, while the raised edges prevent spilled food and water from getting onto the floor. The bottom is also non-slip.
This mat works well in kennel crates or outside. It can be hand-washed with a mild soap or hosed off outside to keep it clean. Since it is durable and sturdy, it won't be destroyed easily if your dog decides to scratch or chew it, but it is not flexible enough to roll for storage or travel. This mat is an affordable option for those who want one that will last for many years.
Durable
Affordable
Made from recycled rubber
Anti-slip
Ideal for small dogs
Not dishwasher safe
Not ideal for travel
---
7.

DogBuddy Dog Food Mat
The DogBuddy mat offers a 0.6-inch outer lip that prevents food and water from soiling your floors. The large size is 24 x 16, which is the perfect size for medium-sized bowls. It is free from BPA, PVC, and phthalate, making it a safe product to use around your dog. Since the material is silicone, it is flexible, and you can roll it up for storage or travel.
On the downside, it is not as sturdy as other products on our list nor is it skid-proof. The top provides more traction than the bottom of the mat, and the edges bend very easily. On the upside, it is easy to clean because it can go into the dishwasher or be hand washed in the sink.
Ideal for medium-sized bowls
Free of toxins
Flexible for storage or travel
Dishwasher safe
Sturdiness/durability
Bottom slides easily
---
8.

Leashboss Splash Mat
This extra-large mat is big enough to use with large bowls because it measures 25 x 17 inches in size. It has 0.6-inch edges that will keep messes contained on the mat. It is made from food-grade silicone and is non-toxic, so it is safe for use around your dog.
The mat is flexible to allow you to roll it up for travel, storage, or to help prevent spills when picking it up off of the floor. It's dishwasher safe on the top rack, or you can wipe it down or hand wash as needed. The Leashboss comes with a five-year manufacturer's warranty that protects against defects.
On the downside, some buyers have had issues with water seeping underneath the mat, but since it has a great warranty, this could be solved by replacing the item.
Large size
High edges
Flexible
Easy to clean
Five-year warranty
---
9.

UPSKY Dog Food Mat
This affordable bone-shaped mat is made from FDA-grade silicone and measures 25 x 16 inches, which is a nice size for medium bowls. With the bone design, though, you do lose some of the space that could otherwise be used for larger bowls.
It is made to be anti-slip on both the top and the bottom, and the edges are raised to prevent spills from migrating onto your floors — though the edges are not that high. The silicone is flexible, but it is thin and flimsy, so it isn't as durable as other mats we have reviewed.
It is easy to clean, but it attracts dirt and hair, requiring it to be cleaned more often.
Non-toxic
Affordable
Anti-slip
Easy to clean
Thin and flimsy
Not as durable
Attracts dirt and hair
Low edges
---
10.

AquaShield Pet Feeder Mat
The last review on our list is of the AquaShield mat. It has both good and negative qualities. Being made from commercial-grade rubber, it is quite durable and will hold up to destructive dogs. Unfortunately, it is not flexible and would not be ideal for traveling, nor is it easy to store. The mat has a strong rubber odor that doesn't dissipate even after it has been cleaned.
It is non-slip on both sides and is big enough for large bowls, measuring 18 x 27 inches. It does absorb water messes, but the edges aren't raised high enough, and the top of the mat attracts dog hair, making it difficult to clean.
This mat is made in the U.S.A. and would be more ideal for dogs who don't shed much and who aren't messy eaters and drinkers.
Durable
Non-slip
Great for large bowls
Absorbs water
Strong rubber odor
Not flexible
No raised edges
Attracts dog hair
Difficult to clean

Buyer's Guide
If you have a messy dog, you know the benefits of a food mat. When choosing which mat to purchase, there are a few things to keep in mind.
Material
If you have a destructive dog, you may want to opt for a more durable material, such as rubber. Silicone is nice because it is flexible, but it can be ruined easier. A mat listed as food-grade material is also a benefit because your dog licks or chews it, so you can prevent ingestions of toxins. It's also important to have a mat that is waterproof, so no water leaks onto the floor underneath the mat, which can be a breeding ground for bacteria and fungus.
Design
Most mats are rectangular in design, but you may see ones shaped like bones or other styles. These are cute, but keep in mind that while the dimensions may be the same size as a rectangular mat, they won't hold larger bowls because you lose some real estate due to the design. Mats are typically offered in a variety of colors if you like to color coordinate your accessories. Ones with edges will keep messes contained, with some having higher edges than others. If you have a larger dog who spills water when drinking and has larger kibble, then higher edges will be beneficial.
It's important for the mat to be non-slip so the bowls and the mat don't move around when your dog is eating.
Ease of Use
A mat that is flexible will roll up easier, which allows you to travel with it or store it in smaller spaces. Silicone is usually dishwasher safe, which is a huge benefit for some dog owners. Although, it isn't too hard to handwash most mats, depending on their size and weight.
Size
Make sure to get a mat that will fit the size of your bowls, with room along the edges for spills. If your bowls sit right at the edges of the mat, then it isn't providing enough protection for the surrounding floor. You also don't want a mat that is too large because if your dog has to step on the mat to eat and drink, then their paws will get dirty from spills and they will tread the mess all over the house.

Conclusion
There are many benefits to having a water and food mat for your dog, such as protecting your floors and containing messes. We know how difficult it can be to find the ideal mat, so we created our reviews list to help you out.
Our top choice is the AmazonBasics silicone mat, which is soft and flexible and does a great job of keeping your floors clean and the dog bowls in place. The best value is Hoki, which has many great features, such as anti-slip and raised edges, at an affordable price. For a premium, high-quality version, the PetFusion mat is made from a high-grade silicone that is durable and easy to clean.
We hope that our reviews list helps you find the right mat for your home, one that will reduce clean-up time and prevent damage to your floors.
Related Reads: