9 Best Foods for Boston Terrier Puppies – 2023 Reviews & Top Picks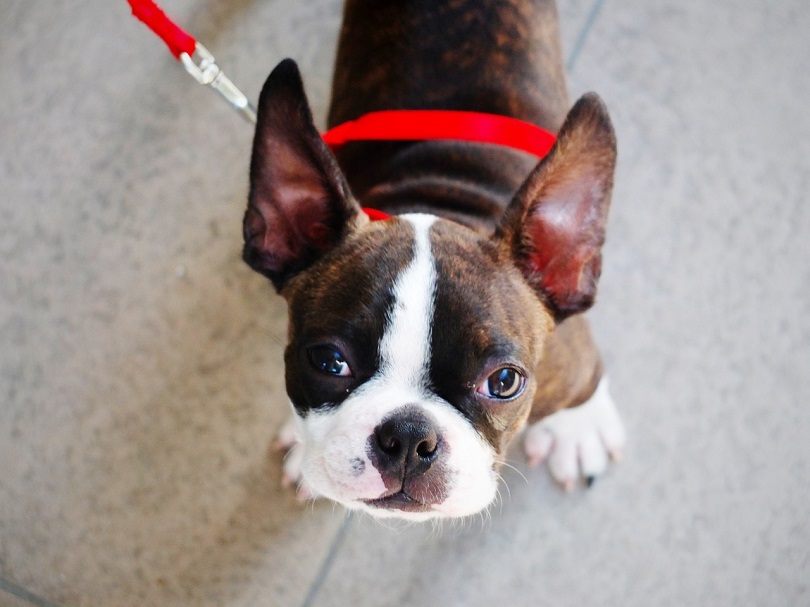 Most dog foods do not have specific breeds listed that they were made to feed. However, each dog breed and individual dog has dietary needs specific to their health, overall build, daily energy output, and age. Boston Terriers are no different, having special requirements for you to consider when finding the best food for your pup.
These dogs were originally a hybrid breed, crossed between English bulldogs and an English White Terrier, which no longer exists. Boston Terriers were bred with distinctive cosmetic traits, some of which directly affect their diet requirements and ability to eat.
Arguably, one of the most critical times to make sure you are properly feeding your dog is when they are a puppy. This life stage involves a great deal of foundational growth. Without the right nutrients, they may suffer later in life. We are here to help, though, providing you with reviews of the best options for a Boston Terrier puppy's diet.

A Quick Comparison of Our Favorites in 2023
Rating
Image
Product
Details

Best Overall

Ollie Fresh Chicken Dog Food

Food is always fresh
No wheat or soy
Protein comes from whole animal sources
Click to Save 50%

Best Value

Taste of the Wild High Prairie

Real chicken is the first ingredient
ARA and DHA in every bite
Budget-friendly
Check Price

Royal Canin Yorkshire Terrier

Gentle to digest
Highly palatable
Optimal kibble size and shape
Check Price

Blue Buffalo Life Protection Formula

LifeSource Bits
Puppy-sized kibble
Includes DHA and ARA
Check Price

Purina Pro Plan Focus

Includes DHA from fish oil
Manufactured in the U.S.A.
Doesn't contain artificial colors, flavors, or preservatives
Check Price
The 9 Best Foods for Boston Terrier Puppies
1.

Ollie Fresh Chicken Dog Food — Best Overall
When hunting down food for your puppy, you want to ensure you give them the best overall nutrition. Ollie utilizes human-grade foods developed by veterinary nutritionists to ensure your pup gets a tasty meal that provides well-rounded nutrition. Ollie produces four recipes: chicken, beef, lamb, and turkey. We chose the fresh chicken recipe as our best overall choice for Boston terrier puppies. It includes high-quality, meat-based proteins mixed with a hearty helping of vegetables like kale, carrots, and butternut squash.
With chicken as the primary protein, you can be sure your dog gets the nutrition they need to thrive and grow. In addition to deboned chicken, the Fresh Chicken Recipe also includes chicken liver. Chicken liver is one of the most nutrient-dense organ meats and is rich in vitamin A and Iron.
Ollie has a hefty price tag that may not suit everyone, and some pet parents prefer to purchase pet food from retailers rather than subscription-based services.
Food is always fresh
Diet and nutrition customized to your puppy's individual needs
No wheat or soy
Protein comes from whole animal sources
---
2.

American Journey Puppy Dry Dog Food — Best Value
American Journey sells balanced formulas for their dry dog food so any dog of any age will be ready to keep up their natural exploring instincts. This puppy dry dog food is made with the nutritional demands from growing puppies kept in mind. American Journey knows that excellent muscle development is essential for dogs and so uses real chicken as the first ingredient in its recipe. Antioxidants have a solid place in this recipe as well, to support a puppy's immune system as they are exposed to more of the outside world. American Journey includes DHA and ARA into the mix to help support brain and vision development. Other healthy ingredients include blueberries, mineral-rich kelp, and cranberries. Since this recipe is full of so many good things, there isn't any room for harmful grains or poultry by-product meals. It provides all these good things while also being the best food for Boston Terrier puppies for the money.
Real chicken is the first ingredient
Balance of calcium and phosphorus
ARA and DHA in every bite
No grains or artificial preservatives or flavors
Budget-friendly
Some pups can't digest peas
---
3.

Royal Canin Yorkshire Terrier Puppy Food
This dry dog food is made specifically for Yorkshire Terrier puppies from 8 weeks to 10 months old, right when they need the nutrients the most. This mix may not seem like a good fit for Boston Terriers, but they have many of the same needs. The most substantial difference between this food and that of other puppy food is the palatability. Yorkie puppies, along with Boston Terriers, are known for being extremely picky eaters. Even if a food is highly nutritious, an essential factor is getting them to eat it. Royal Canin understands the anatomy of young puppies, many of which don't have fully developed digestive tracts until later. The food is gentle to digest and supports muscle development and growth of a healthy digestive system. A Boston Terrier can have problems eating due to its facial structure. The kibble size and shape of this Royal Canin food helps the puppies eat the food as easily as possible.
Optimal kibble size and shape
Supports the digestive system
Gentle to digest
Highly palatable
More expensive
Specific formula
---
4.

Blue Buffalo Life Protection Puppy Food
Blue Buffalo has always been a leader in the realm of highly nutritious dog food. It holds itself to a high standard of creating a healthy diet to support dogs' overall well-being. The first ingredient of this recipe is chicken, followed by whole grains, then vegetables and fruits. Blue Buffalo always includes its branded LifeSource Bits, pieces of kibble that contain precise blends of nutrients for the health support of a puppy. This food focuses explicitly on ingredients shown to support your pet's growth and overall development throughout puppyhood. These ingredients include calcium and phosphorus for healthy bone and teeth development. The kibble is also a select size for the digestibility of a puppy, especially useful for the smaller mouths of Boston Terriers.
LifeSource Bits
Puppy-sized kibble
The first ingredient is real chicken
Includes DHA and ARA
No corn, wheat, soy, or poultry by-product meals
Some report hair loss or dry coats
---
5.

Purina Pro Plan Focus Puppy Dry Dog Food
Purina Pro Plan focuses on puppies and their growing needs. It has generated this formula to work well for dogs up to a year old, prioritizing all the ingredients essential to a puppy's development, both physical and mental. The recipe starts with chicken to satisfy the musculature growth in a puppy. They have added fish oil, which is full of DHA, to aid in cognitive development. Omega-6 fatty acids do their part in assisting the growth of healthy skin and shiny fur coats. Purina knows that although a puppy is always ready to play, they may not be prepared to digest adult dog food. Therefore, it has added prebiotic fiber to maintain a balance in their intestines.
Includes DHA from fish oil
Omega-6 for healthier skin
Manufactured in the U.S.A.
Doesn't contain artificial colors, flavors, or preservatives
Contains poultry by-product meal
Contains corn gluten meal
Contains corn
---
6.

Taste of the Wild Prairie Puppy Dry Dog Food
Taste of the Wild is a leading brand in dog food. It has puppy food, senior dog food, and formulas blended for specific dietary needs. It created their recipe for puppies with real buffalo as the first ingredient, followed up by other protein-rich ingredients, including various meats and vegetables. The purpose is to support your puppy's critical muscular growth, giving them what they need for the quick spurts of growth they experience. The recipe is grain-free to make it easier for the puppy to break down and digest. There are also vitamins and nutrients that they need, combining the protein with real fruits and vegetables. The company included chicory root to aid in digestion and provide prebiotic support. It is family-owned, makes its products in the U.S.A., and sources its ingredients from sustainable producers.
The first ingredient is bison
Omega-3 and -6 fatty acids
Sustainably sourced ingredients
Made in the U.S.A.
Affordable option
Should only be bought from reputable sellers
---
7.

VICTOR Select Nutra Pro Dry Dog Food
Although this dog food from VICTOR isn't explicitly made for puppies, it can support dogs in any demanding life stage. This includes highly active sporting dogs or any other dog who has a high level of physical demands from day to day. VICTOR creates its recipe with a high ratio of protein to carbs. This ratio is what qualifies this food as a good option for puppies, as well as lactating female dogs. VICTOR makes its food with gluten-free grains to aid dog's indigestion. Incredibly, it is composed of 92% protein, coming from premium-quality chicken meal. Even with all this protein, it still includes essential vitamins and fatty and amino acids, as well as minerals that a dog needs to keep up its immune system. It is also fortified with many ingredients to support the pup's metabolism and digestion, including prebiotics, selenium yeast, and probiotics.
High protein content
Engineered for active dogs
Focus on aiding digestion
Company has experienced multiple recalls
Watch out for diarrhea
---
8.

Iams ProActive Health Smart Puppy Food
Iams designed this food specifically for puppies aged between one to 12 months old to take care of their growth needs during a vulnerable time in their lives. This food can also be given to pregnant and nursing dogs to build their immune systems and provide them with plenty of needed nutrients. Iams includes DHA in natural fish oils to promote optimal brain growth, which should help the puppies be more trainable as they grow older. There are seven essential nutrients that when combined, nourish the heart, promote strong bones and teeth, and strengthen the dog's immune system. Prebiotics settle inside the digestive tract to encourage healthy digestion. Iams has thought of everything, down to the crunchy texture of the food, which helps clean the dog's teeth and keep them tartar-free.
Formulated especially for puppies one to 12 months
Crunchy texture for dental health
Natural ingredients
Includes corn
Includes chicken by-product meal
---
9.

Nutro Wholesome Essentials Puppy Dry Food
Nutro makes their puppy food for the precious dogs that want a natural start in life. Farm-raised chicken takes place as the first ingredient on the list, used for its high-quality production. All the ingredients used in this formula are non-GMO, and there are no poultry by-product meal, corn, soy protein, or wheat, all of which are difficult for a dog's system to digest. The recipe isn't just tasty with all the natural food, it is also balanced for a puppy's needs. Omega-3 fatty acids, like DHA, help support the puppy's physical and mental growth. There's plenty of calcium to support the puppy's structural build as they dash into new surroundings.
Made in the U.S.A.
All non-GMO ingredients
No chicken by-product meal
No corn, wheat, or soy protein
The company has had recalls
Controversial beet pulp ingredient
No probiotics
Formula changes

Buyer's Guide: Selecting the Best Food for Boston Terrier Puppies
Boston Terriers are an interesting breed of dog, partly because of their personalities, partly for their suit-like coat pattern, and partly for their unique physical structure. When you take everything into account, these dogs may have more specific care and diet requirements than other smaller breeds. These traits don't make them any less of a desirable dog for many, though. It merely means you need to be prepared when it comes to providing the best life for your Boston Terrier puppy.
Boston Terrier Diet Requirements
Boston Terriers like to be active and require a higher energy output than other dogs of a similar size. Most dogs who share the Terrier's stature only need about 30 calories per pound of body weight each day. These pups, however, commonly need closer to 40 calories per pound of body weight to keep up their appropriate amount of activity. For Boston Terriers, most of these calories should come from fat content, but also keep an eye out for moderate to high protein levels.
Boston Terrier Dietary Considerations
A Boston Terrier has several health problems that come along with their curious breeding. This breed is brachycephalic, meaning that they are flat-faced with short noses. This trait is shared among Pugs, Bulldogs, and several other breeds as well.
They were purposefully bred to have this trait. Unfortunately, dogs like this can suffer from problems due to their mouths being smaller but having just as many teeth as other dogs. It is sometimes harder for them to bend and get food out of a bowl because of the shape of their mouths.
Finding food that perhaps has a smaller kibble or is easier to chew and digest gives the Boston Terrier an easier time when eating.
Adult vs. Puppy Boston Terriers
It is essential to remember that dogs' diets should be changed as they move from age group to the next. Make sure to not only look for food marketed to be suitable for this breed but also ones made for puppies.

Conclusion
In the end, there is often nothing more important to a dog owner than properly and keeping them healthy for as long as possible. From the beginning of their life to the end, they should get what they need. Our best overall option, Ollie Fresh Chicken Dog Food, certainly does the trick. However, if you need to put you and your Terrier on a budget, shoot for American Journey Puppy Dry Dog Food to keep doing right by them.
We know that there are hundreds of different options out there for every age group and breed imaginable. We hope that we have cut through the haze of options to help you find the perfect fit for you, your budget, and your dog's tastes.
---