9 Best Foods for Bullmastiffs in 2023 – Reviews & Top Picks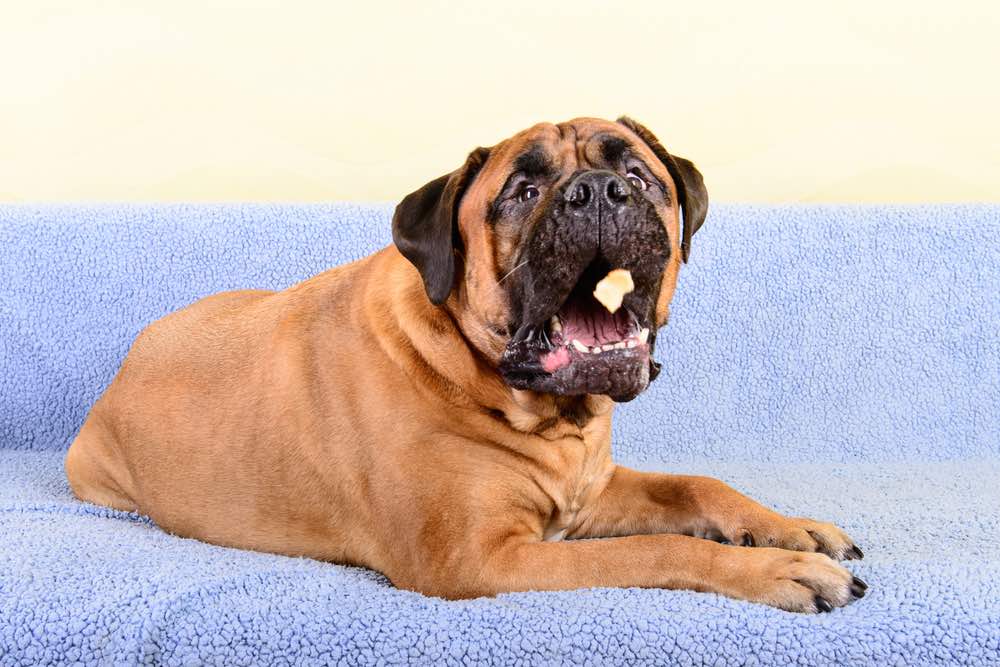 There are all kinds of dog breeds and varieties within those breeds. Although most dogs fall into a medium-sized category, some dogs fall into the extremes of the spectrum, both extremely small and some considered giants.
All these dogs have specific requirements according to their size and age to receive optimal nutrition. Giant breeds have specific dietary requirements, and Bullmastiffs are considered a giant dog breed. They need plenty of protein and a healthy balance of carbohydrates to keep them going. Muscle and joint development are also a high priority in a healthy diet.
If your pup is being especially finicky or needs a change, here are the top foods to try. Whether you prefer a grain-free or more typical diet, these options cover the bases.

A Quick Comparison of Our Favorites in 2023
Rating
Image
Product
Details

Best Overall

Hill's Science Diet Adult Dry Dog Food

Contains ingredients to support joints and mobility
No artificial preservatives or colorings
First ingredient is chicken
Check Price

Budget Buy

Iams ProActive Health Dry Dog Food

Promotes a healthy digestive system
Budget-friendly large breed food choice
First ingredient farm-raised chicken
Check Price

Premium Choice

Nom Nom Fresh Dog Food Turkey Fare recipe

Uses 5 main ingredients that are good for your pet
Turkey is the primary source of protein
Prepackaged and ready to serve
Click here to have 50%

+ Get free shipping

Hill's Science Diet Puppy Large Breed Dry Dog Food

Controlled level of calcium
Focused formula for puppies up to 1 year
Nutrients for healthy muscles and joints
Check Price

Nutro Wholesome Essentials Dry Dog Food

Clean recipes without any GMO ingredients
Rice keeps the recipe grain-free
Lamb is the number-one ingredient
Check Price
The 9 Best Foods for Bullmastiffs
1.

Hill's Science Diet Adult Dry Dog Food — Best Overall
Finding a quality large breed dog food is essential to a big dog's continued health. It focuses on providing them a more specialized diet that satisfies all their additional needs. Protein is especially crucial for them.
Hill's Science understands this and features real chicken as the first ingredient. That means it is the ingredient in the largest quantity within the food mix.
The following topmost ingredients include cracked pearled barley, whole-grain wheat, whole-grain corn, and whole-grain sorghum. It is formulated to include natural sources of chondroitin and glucosamine.
These make up the building blocks for healthy cartilage and joint formation. Large dog breeds like the Bullmastiff tend to struggle more with joint, muscle, and mobility issues as they age. Having a healthy diet is one of the best methods of prevention.
The rest of the included items include additional essential vitamins, nutrients, and minerals to contain everything needed for a complete diet. The food also focuses on providing the antioxidant benefits from vitamins C and E for a better immune system.
Hill's Science produces all their food at its U.S. facilities. No additional colors, flavors, or preservatives are used. Some people do not prefer the smell that the food has.
Contains ingredients to support joints and mobility
First ingredient is chicken
No artificial preservatives or colorings
---
2.

Iams ProActive Health Dry Dog Food — Budget Buy
Buying premium dog food for a large or giant breed dog doesn't always have to be a blow to your budget. This food formulated by Iams has been rated the best food for Bullmastiffs for the money. It provides them with everything they need without a higher price tag to go along with it.
Farm-raised chicken is the first ingredient in this food. Chicken is one of the most common protein sources in dog food because it is cheaper and just as healthy as fish or beef products. The next ingredients are ground whole-grain barley, ground whole-grain corn, and ground whole-grain sorghum.
The formula works to provide a powerful pack of protein. It also protects your pooch's joints and muscle development. Healthy digestion is promoted with this food. The prebiotics and fibers play a large role in this. Some people suggest Iams for dogs with flatulence and other digestive issues.
Since it includes important sources of vitamins and minerals, it does well to promote a healthy immune system. If you would like to use this dog food for a mix of dog sizes, though, the large kibble size makes it difficult. Consider this as your dog gets older too.
Promotes a healthy digestive system
First ingredient farm-raised chicken
Budget-friendly large breed food choice
Large pieces of kibble make it only suitable for large breeds
---
3.

Nom Nom Turkey Fare Fresh Dog Food Subscription – Premium Choice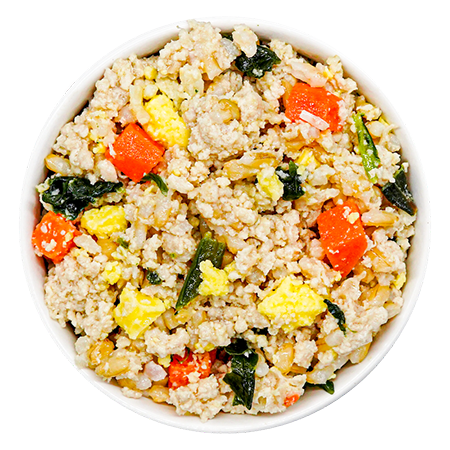 Our #3 premium choice for best dog food for a Bull Mastiff is Nom Nom's Turkey Fare. This recipe will not only make your pet happy, but you'll be happy too. The smell and consistency is the first thing you notice when adding this food to your dog's bowl. Trust us, they'll notice it too. What's great about this recipe, however, is the ingredients found inside. Nom Nom sticks to 5 basic ingredients: turkey, brown rice, eggs, carrots, and spinach. The primary source and main ingredient is, of course, the turkey.
You'll also find that there are 210 calories in one cup of this food making it a healthy option for dogs who may be putting on a few extra pounds. You'll love the prepackaged and ready-to-serve option. The guaranteed analysis of this food is Crude Protein 10%, Crude Fat 5%, Crude Fiber 1%, and Moisture 72%.
The only issue we found with Nom Nom's Turkey Fare is that some dogs may have allergies to this protein. If that's the case, it may be best to choose one of Nom Nom's other options to replace it.
Uses 5 main ingredients that are good for your pet
Turkey is the primary source of protein
Prepackaged and ready to serve
It may not be suitable for dogs with allergies or sensitivities to turkey
---
4.

Hill's Science Diet Puppy Large Breed Dry Dog Food
Dog food isn't anywhere close to a one-size-fits-all solution. You need to find the right formula for the size of the dog breed and the age they are. Both puppies and senior dogs need special considerations in the development of their food.
Hill's Science not only provides high-quality food for adult, large-breed dogs but also for their puppy counterparts. It gives them smaller pieces of kibble and a more concentrated source of specific vitamins and nutrients to keep them growing healthy. It is a perfect fit for dogs who will grow to weigh 55 pounds or more.
The first ingredient is a chicken meal for a reliable source of protein. The following ingredients include whole-grain wheat and whole-grain oats to support healthier skin and coats. The calcium level in the food is carefully balanced to control and promote bone growth.
Just like the adult, large-breed food option, this formula is high in glucosamine and chondroitin. Starting proper muscle and joint development from a young age is an excellent way to ensure their continued health. Antioxidants from vitamins E and C support their immune system, so you will have a healthy puppy on your hands.
What's more, Hill's Science brand is veterinarian-recommended for large breed dogs. It has a distinct smell compared to other brands, though.
Controlled level of calcium
Nutrients for healthy muscles and joints
Focused formula for puppies up to 1 year
Distinct, somewhat negative, smell
---
5.

Nutro Wholesome Essentials Dry Dog Food
Nutro is a brand known for being clean, somewhat sustainable, with healthy formulas. This large breed adult dog food supports the growth and health of all large and giant breed dogs. The premium product does, unfortunately, come with a premium price tag.
Nutro mixes it up a bit by featuring lamb as their primary source of protein instead of chicken. Since chicken contains essential amounts of glucosamine and chondroitin sulfate, chicken meal is also included as the second ingredient. The next ingredients are brewers rice and whole brown rice.
The formula is grain-free due to the addition of the rice. Some vets highly recommend grain-free diets, but some dogs don't receive all the necessary nutrition from recipes without any grain.
This food promotes healthy skin and coat growth with additives that include omega fatty acids. All the ingredients are non-GMO.
Nutro's mix adds plenty of natural fibers into their formula for healthy digestive systems. They include essential antioxidants to boost your pup's immunity as well. All their products are made in the U.S.A.
Clean recipes without any GMO ingredients
Lamb is the number-one ingredient
Rice keeps the recipe grain-free
High price tag for a premium product
---
6.

Eukanuba Large Breed Adult Dry Dog Food
Eukanuba recognizes that large dog breeds like the Bullmastiff need more food to get by. They require specific nutrients and support that other breeds might not. Eukanuba has included essential ingredients in its food, like animal proteins, with chicken being the number-one ingredient.
The following ingredients might detract from some dog owners' appreciation for the formula, including corn, chicken by-product meal, and wheat. Their recipe does include beneficial compounds such as dried plain beet pulp and eggs.
Glucosamine and chondroitin sulfate are in the list of essential ingredients for large breed dogs. The ingredients in this food include these, along with DHA and vitamin E. There are optimal fat and carbohydrate levels to complete a healthy diet.
Unlike some others, Eukanuba supplements its food with 3D DentaDefense to reduce the buildup of tartar on a dog's teeth and around their gums. The mix of fibers with prebiotics aids digestion for happier pup throughout the day.
Eukanuba Large Breed Adult Dry Food is meant for dogs 15 months or older who weigh 55 pounds or more.
Healthy source of glucosamine and chondroitin sulfate
3D DentaDefense additives protective teeth and gums
Chicken is the number-one ingredient
Contains chicken by-product
---
7.

Diamond Naturals Large Breed Adult Dry Dog Food
Diamond Naturals supplement their large breed adult dog food with superfoods and probiotics. These help support a healthy digestive system and the continued development of your furry friend.
The first ingredient in this dry dog food is cage-free chicken, and the second is chicken meal. The formula falls into the grain-free category because it is supplemented with white rice, whole-grain brown rice, and rice bran. Other ingredients include real fruits and vegetables, including peas, blueberries, kale, and coconut.
All these ingredients mean that your pup gets plenty of omega-3 and -6 fatty acids for a healthy coat and skin. They also receive antioxidants with a mix of provided vitamins. Some of these more natural ingredients don't settle well in some dogs' stomachs.
No artificial flavors or colors are used in the production of this food. It has guaranteed levels of glucosamine and chondroitin as well. It helps your pet's joint health develop and maintain itself properly.
The company is family-owned and produced in the U.S.A. It uses only the most scientifically advanced food safety protocols. They keep their premium product to a more budget-friendly price than some other grain-free options on the market.
Produced in the U.S.A. by a family-owned company
No synthetics or filler ingredients
Chicken is the primary ingredient
Some natural ingredients more difficult to digest
---
8.

Blue Buffalo Wilderness Grain-Free Dry Dog Food
Blue Buffalo is a premium brand that is well-known for its clean formula and high-quality ingredients. The food that it develops for large breed dogs is inspired through the diet of wolves, the ancestors of our large-breed dogs. These true omnivores have extraordinary endurance and lasting health. Blue Buffalo wants to equip your pup in the same way, especially if they are a working breed that needs that extra push of energy during the day.
This food is rich in protein, and its first ingredient is quality deboned chicken. Blue Buffalo also supplements it with L-Carnitine to promote the growth that goes into lean muscle development. The carbohydrate content helps them meet energy requirements.
There can certainly be too much of a good thing, however. Balancing the number of vitamins and nutrients is essential for a healthy formula. The balance of omega-3 and -6 is optimal and promotes shiny, strong coats and healthy skin. The formula also includes chelated minerals and antioxidants for a healthy immune system. You most definitely pay a premium price to go along with the quality of this food.
Contains L-Carnitine for lean muscle development
Based on the diet of the wolf
Source of omega-3s and -6s
High price compared to similar products
---
9.

Purina Pro Plan Focus Dry Dog Food
Purina Pro Plan Dry Dog Food is made not just to provide all the necessary nutrition for a large breed dog but to also give them something that tastes great. The food is meant for giant dog breeds of 100 pounds or more.
It is formulated with glucosamine to support the joints that tend to get overworked in giant breeds. Chicken is the primary ingredient in this dog food blend. Brewer's rice, corn gluten meal, and oatmeal follow this up. Unfortunately, the ingredients list also includes poultry by-product meal, which isn't the healthiest form of glucosamine.
To promote a healthy digestive system, Purina includes prebiotic fibers. Natural sources of antioxidants support a thriving immune system that keeps your dog on their feet for many years. The inclusion of omega-6 fatty acids promotes great skin and coats.
Purina's Pro Plan dog food is manufactured in the U.S.A. and doesn't contain any artificial flavors or preservatives.
Contains glucosamine for healthy joints
Produced in the U.S.A.
Contains poultry by-products
Doesn't contain chondroitin
Fit only for giant breed dogs (100+ pounds)
---
Buyer's Guide: Choosing the Best Dog Food for Bullmastiffs
We all wish that picking out food for our furry friends was as easy as ticking a couple of boxes for their size and age. However, it is more than that — it's practically individualized for each and every pup. You can only hope that they will like it and keep eating it.
Instead of setting your eyes on one specific food or brand, use our buyer's guide to develop a list of potentials. Figure out which options meet all their needs, then determine their preferences.
Age
Even if you find a formula that markets itself as appropriate for a large or giant breed dog, you also need to verify the appropriate age.
These large or giant breed dogs are often quite fluffy, but they are largely muscular. They need plenty of resources to keep their extra-sized functionalities running smoothly.
As dogs age, they also need a different set of vitamins and nutrients. They require fewer fats and carbohydrates because their body won't be able to use them as efficiently. Feeding an aging dog the same food that they have always eaten practically guarantees them to struggle with weight issues. These are especially troublesome for older dogs because it puts extra strain on their joints.
Grain vs. Grain-free
There are not only options for size and age, but also the type of diet you prefer giving your pup. A food whose carbohydrates are grains is one option, and the other is grain-free. Some people feel more comfortable feeding them a raw diet, although this often involves preparing most of it.
From common dog mixes, there are plenty of grain and grain-free options. Figure out which would be healthier for your pup, as both have pros and cons.
While grain-free was presumed to be healthier for a while, there have been recent studies citing grains like wheat to be a better source of certain vital nutrients. Others believe that the substitutes for the commonly included grain benefit dogs more.
Nutrition
Here is a list of nutritional information to be aware of while shopping for the best option for large breed dogs.
Protein Content
As a general rule, all dogs need 1 gram of protein per pound of their ideal weight. Notice that the word "ideal," since if a dog is over or underweight, the protein content doesn't change.
Typically an adult dog requires 18% protein in their total diet, and their puppy counterparts need about 22%. Large breed puppies have more bulking up to do, so they require around 30% protein.
There are also different qualities of protein that are easier for them to process effectively. Better protein sources are a part of what paying for a premium food buys you.
Carbohydrates
Carbohydrates are practically a swear word when it comes to a human's diet. However, just like they are for us, they are essential for dogs. Carbs break down into energy to keep them ready for whatever their daily life throws at them.
Grains or their alternatives are often major sources of carbohydrates in a dog's diet. A blend of them is important to keep your pup's energy high.
Fat Content
Fat content varies from breed to breed. Large breed dogs need a bit more fat than other breeds might. They should receive about 8% of fat in their overall diet. Remember, just like for us, some fats are better or worse for dogs.
Caloric Intake
Calories convert directly into energy. They are a part of almost every piece of food. Bigger animals tend to have slower metabolisms. Giant dog breeds are incapable of processing their food as quickly as others. Too many calories can add too much weight to their overall frames.
For most dogs, you should be able to stick to about 20 calories per pound of ideal weight each day. Adjust according to what your vet might recommend or at your own discretion.
Calcium to Phosphorus Content
The amount of calcium to phosphorus should be considered as a ratio. It should be a ratio of 1.1:1 to 2:1 for a hormonal balance.
Mobility Support
A large breed dog like a Bullmastiff often struggles with joint issues, especially if they are overweight. They already have more pressure building up on these sensitive areas. Without the right care, they can lose mobility as they age.
Two vital compounds that address this issue are glucosamine and chondroitin sulfate. These work almost as lubrication and keep your dog strong. With enough of these in their diet, yoru dog can stay mobile and avoid typical joint issues as they age.
Illnesses
Sometimes, it doesn't just amount to their breed and their age. You might need to focus on the individual pup more than these general specifications. Do they have any specific illnesses or allergies? Some dogs won't digest grain-free food well if they have a sensitivity to any of the replacements.
Price
Price is important for food because you have to buy it more frequently. While it is true that you get what you pay for, it is also true that the brand name has a great deal to do with pricing.
Some premium brands hike their prices because they genuinely use higher quality ingredients. If you are committed to giving your dog the best, though, some research is necessary. Figure out if it is worth your money by knowing how a brand sources its food.
Some brands can keep premium ingredients while still keeping the price down. Feeding your dog well doesn't necessarily mean breaking the bank.

Conclusion
Feeding our dogs is one of the most significant parts of keeping them healthy and happy for as long as possible. Meeting all their dietary needs keeps their immune system and bodies strong. Bullmastiffs are no different.
If you consider only the best for your pup, then put Hill's Science Diet Adult Dry Dog Food on your list, whether they are on a diet or not. Are you trying to feed them well, but it doesn't seem to fit into your budget? Check out Iams ProActive Health Dry Dog Food. Our premium pick, Nom Nom Dog Food Turkey Fare recipe is another excellent choice for its high quality and whole ingredient list, and convenient delivery service.
The term "human's best friend" is well-deserved. This time, you can be the dog's best friend and feed them well.
---