It happens every year: Winter comes, and the next thing, you're surrounded by doughnuts and bowls of pasta.
Chances are that as a dog owner, you also let your pet nibble these meals along with you.
But this means that one or both of you will have to go on a low-carb diet.
You decide to have your dog test it out first, to get their feedback and see if it's for you.
Therefore, in these reviews, we'll help you navigate the increasingly large market of low-carb dog foods.
---
A Quick Look at the Winners of 2022:
Rating
Image
Product
Details

Best Overall

Nulo Adult

Grain-free clean food
BC30 probiotic for good gut health
Omegas 3 and 6 for skin
fur and brain
Check Latest Price

Best Value

Ketona Chicken

85% less carbs than leading competitors
46% more protein
Dogs love it
Check Latest Price

Premium Choice

Visionary Pet Foods Keto Low Carb Dry Dog Food

43% protein
Primary ingredient is chicken
Fortified with B vitamins
Check Latest Price

Best for Puppies

Solid Gold

Simple recipe is loaded with protein
Prebiotics and probiotics promote good gut health
Check Latest Price

Wellness Core

No filler
Grain free
Check Latest Price
The 6 Best Low-Carb Dog Foods:
1.

Nulo Adult Grain Free Dog Food – Best Overall
Nulo understands that the best recipes are simple recipes. This product clearly reflects that, as it has all natural ingredients with no fillers or preservatives. Nulo also knows that many dogs have specific protein allergies, so it left out eggs and chicken and used only easily digestible meats. While some companies will try to sell you on what isn't in their food, Nulo knows that the trick is what is in the dog food. Let's take a look.
This recipe is loaded with all sorts of good stuff to keep your dog at the top of their game. This is a grain-free, clean ingredient product that is meant to keep your dog healthy, happy, and full of energy. The energy comes from all the protein. Made with a BC30 probiotic, this is a wonderful dinner for your dog's digestive health.
Omegas 3 and 6 top off the list of healthy ingredients, ensuring that your dog will have healthy skin and a healthy fluff of fur for life. The fatty acids also help promote good brain function. It may seem hard to believe that all those healthy things could be in something so delicious, but whether it is due to the lamb, salmon, or turkey, dogs absolutely love it.
Most buyers we've heard from have stuck with Nulo since switching to it, saying that their search for the right dog food is over. Some dogs have a bad reaction to this pet food, but they are few and far between.
Pros
Grain-free clean pet food
BC30 probiotic for good gut health
Omegas 3 and 6 for skin, fur and brain
---
2.

Ketona Chicken Dry Dog Food – Best Value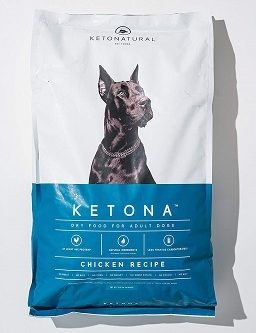 If you are looking for low carbs, then this just might be the end of your search. Ketona boasts a dog food that has 85% less carbohydrates than other grain-free brands.
This is another instance where we could talk about what is and what isn't in the pet food. This product is made with less than 5% starch and .5% sugar. All the protein used in the Ketona recipe was raised by ranchers in the United States, so you don't have to worry about odd antibiotics.
What is in the food, then? To start, there's 46% more protein than in leading brands. This food is packed with so much protein, you can expect lean, energetic muscles in your pup. This is a raw diet food and, as the company name implies, a Keto diet product.
There have been few reports of dogs having adverse reactions to this food, so if you are thinking of switching your dog over to it, you should contact your vet first. For the most part, though, buyers absolutely love it, and their dogs do too! You can see why we think that this is the best low-carb dog food for the money.
Pros
85% less carbs than leading competitors
46% more protein
Dogs love it
Cons
Some dogs have a bad reaction to it
---
3.

Visionary Pet Foods Keto Low Carb Dry Dog Food – Premium Choice
The Visionary Pet Foods Keto Low Carb Dry Dog Food is packed with 43% protein and free from grain and gluten. It is suitable for keto and high protein diets and is used for dogs with very sensitive digestion. Its primary ingredients are listed as chicken meal, chicken, and chicken fat. It is fortified with B vitamins that are chelated so they bind to protein for improved absorption.
It is a pricey alternative to other foods, but it also has a higher fiber content at approximately 7%, which means that it will leave your dog feeling fuller after feeding them less of it. If you're looking for high quality and low-carb food, then this is a premium choice that gives a lot of protein, is high in fiber, and has proven popular with most dogs.
Pros
43% protein
Primary ingredient is chicken
Fortified with B vitamins
---
4.

Solid Gold Protein Dry Dog Food – Best For Puppies
This is a food meant for dogs with high energy levels. It doesn't matter their age or size — if they have tons of energy, this is a good dog food for them.
Solid Gold has made a gluten-free recipe that is loaded with protein, which is meant to stimulate lean muscle growth. This natural holistic grain-free recipe gives your dog a simple dish that is high in protein (41% crude protein, in fact). The meat used is high quality and responsibly sourced. The egg adds amino acids, which are wonderful for your dog's metabolism.
Prebiotics and probiotics combine for a one-two punch of good gut health, as they both promote good digestion and a high metabolism.
Most users report that their dog absolutely loves this food. Even picky eaters seem to slurp it up. Unfortunately, it might not be the best food for dogs with sensitive stomachs.
Pros
Simple recipe is loaded with protein
Prebiotics and probiotics promote good gut health
Cons
Bad for dogs with sensitive stomachs
---
5.

Wellness Core Grain Free Dry Dog Food
This is a grain-free food meant to sustain a healthy weight for your dog. There are no fillers in this food, so you won't have to worry about any corn, wheat, or soy. It does, however, have chicken, turkey, and salmon oil.
This is another dog food that requires preparation, which means that you will have to buy other products from Wellness Core. The prep is simple enough. You start with dry food, add a topper, and then throw wet dog food on top. Your dog's tail will be wagging with excitement once dinner time nears!
This seems to be a dog food best suited toward weight loss, though some dogs actually gain weight when this is put into their diet.
There have been reports of dog food being delivered moldy, so you might want to open up the bag and check before feeding this to your dog.
Cons
Not a standalone product
Moldy delivery
---
6.

Nulo Small Breed Grain Free Dog Food
Nulo starts our list and it also ends it. This one is low on our list because it is size specific, though it is the same quality dog food that you can expect from Nulo.
As with our top pick, this is a grain-free offering, a low-carb food that has 84% animal-based protein as part of the recipe. The smaller kibbles are made specifically for little cuties. They are easier to chew and promote good digestion. L-carnitine encourages a steady weight for your dog, while lactic acids help regulate metabolism. On top of that, this is made with a BC30 probiotic to make sure that your dog is in tip-top shape.
Buyers who give this to their dogs report that they generally love it, though some complain that the kibble pieces are still too big.
Pros
Grain free
BC30 probiotics and L-carnitine
Cons
Kibble might be too big for smaller dogs
---
Buyers Guide – Finding the Best Low Carb Dog Food
So, you've talked to your vet, and now your dog needs to be on a low-carb diet. Such diets can be useful in a pup maintaining their weight, and certain studies have shown that dogs who have a proper weight can live up to two years longer than dogs who don't.
What are things to look for when shopping for a low-carb meal for your dog? Let's take a peek.
High-Quality Meat
Since a low-carb diet is normally protein heavy, you'll want to make sure that you are only getting the best for your fuzzy friend. Doing research, you can learn what farms the meat comes from and how they are raised. Certain proteins are better for dogs than others, but that is specific from dog to dog.
While fruits and veggies are wonderful, you want to seek out food that is loaded with meat. You also want to avoid fillers like corn, wheat, or soy.
Omegas
There is a list of health benefits that your dog can get from a low-carb diet and includes all the wonderful vitamins and minerals that can come with it. Omega 3 and 6 fatty acids are great for skin and fur, while L-carnitine and BC30 probiotics can be crucial for gut health.
Why Go Low Carb?
The main reason is to watch the weight of your dog. A little secret of the dog food industry is that most dogs don't actually need a lot of carbs, but they are easy to get and cheap to use, so many manufacturers like to load up their food with them. We call this filler.
A low-carb diet, therefore, has plenty of benefits. Lean muscle growth can be one, as can good skin, fur, and brain health.
Talk to your vet!
We always recommend talking with your vet before changing your pet's diet, unless it is an emergency. While we are happy to make this guide for you, it does not replace the knowledge of a professional veterinarian.
Conclusion:
With low-carb dog food, your pup will be a lean, mean, ball-chasin' machine in no time. If they already are, then they'll be able to stay that way! These reviews were meant to help you navigate the large world of dog food to make life a little simpler. Did you find the food that you'll be serving up for your dog's dinner? Maybe you are interested in our top pick from Nulo, which is completely packed with good stuff. Of course, you can't go wrong with the offering from Ketona, which also packs a healthy wallop. Whatever you choose, it is sure to make your dog's tail wag!