8 Best Luxury & Modern Cat Bowls in 2022 – Reviews & Top Picks
There's no question that we love to pamper our cats. They deserve it! They provide us with love, comfort, and a certain amount of entertainment, so if you can afford it, why not get them the best of everything? The very bowls they eat out of should be no exception, so we've had a look at the most luxurious and modern cat bowls available on the market today. Most of the bowls we've chosen are advertised as dog bowls but don't let that put you off. Food bowls for small dogs are also perfect for cats.
Some might think the bowl doesn't matter as your cat won't care as much about the bowl as the food inside it. But they would be wrong! Some bowls are better than others because cats can benefit from elevated bowls just as much as dogs. If you have a flat-faced cat or if your cat sometimes vomits after eating, she might benefit from eating from a raised bowl.
We've done all of the hard work on your behalf and are offering up our reviews of the seven best cat bowls for your consideration. Most of these are elevated for your cat's eating pleasure, and they are all attractive and modern and should fit in with your kitchen décor.
A Quick Glance at Our Favorites in 2022
Rating
Image
Product
Details

Best Overall

Hepper Auto Feeder

Adjustable timer
Stainless steel
Remote Controlled

Best Value

PETKIT CYBERTAIL Elevated Cat Bowl

Bowls can be tilted or flat and are wide
Dishwasher safe
Bowls attach securely to the base

Premium Choice

Hepper NomNom Modern Cat Bowl

Chew-proof plastic tray with a wide rim to catch crumbs
Bowls are shallow and wide, suitable for cats with sensitive whiskers
2 stainless steel bowls can be snapped in and out for easy cleaning

FOREYY Raised Pet Bowls for Cat

Stainless steel bowls
Dishwasher safe
Elevated sturdy bamboo stand

Platinum Pets Modern Elevated Cat Bowl

Bowls come in 5 sizes and 7 colors
Powder-coated for safety and durability
Wrought iron elevated stand
The 8 Best Luxury & Modern Cat Bowls
1.

Hepper Modern Auto Feeder – Best Overall
If you are looking for the height of luxury in your cat's bowl, you can't look much further than our best overall pick, the Hepper Auto Feeder. It features a handful of high-tech and modern features that take what looks like a regular auto feature to something beyond imagination.
This auto feeder not only has a simple timer setting, but it also has a key lock to prevent multiple feedings if your cat is prone to conning numerous members of the household that they haven't yet eaten. It also boasts some fantastic remote features if you spend a bit of time away from home. With the use of a specialized phone app, you can remote feed and set up a voice playback for your cat to receive at dinner time.
This seemingly endless list of features needs some power to fuel it, so batteries won't suffice. Instead, it requires connection to an outlet. However, this product only comes with a USB cord, not the power adaptor needed to connect it to a regular household outlet.
Key lock to prevent overfeeding
App control for remote feeding
Adjustable timer
Voice playback
Anti-clogging design
Doesn't include a wall power adaptor
Only suitable for kibble sized 2-12mm
You might have guessed, this is our own product – but we love it so much we just have to share it, and hope you get to own one too!
---
2.

PETKIT CYBERTAIL Elevated Cat Bowl – Best Value
The PETKIT CYBERTAIL Cat Bowl is the best cat bowl for the money. Not only are they the least expensive bowls on our list, but they are still stylish and will make eating easier for your cat. It comes with 2 stainless steel bowls that are wide enough to prevent whisker stress and are tilted for easy access. They are dishwasher safe as the bowls can be removed from the base, and you can choose which angle to tilt them. The base is a sturdy plastic in black and has rubber grips, so it doesn't slide around. The bowls are screwed in to prevent tipping over, and they feature rounded edges that make it easy to get to the food but also prevent spillage.
The bowls have a very shiny and reflective surface, so some cats might be taken aback when they approach to eat. We also found that the bowls weren't always easy to attach or remove from the base, and in some cases, the base of the bowls snapped off when trying to remove them.
Inexpensive
Stylish stainless-steel bowls on a slightly elevated base
Bowls can be tilted or flat and are wide
Dishwasher safe
Bowls attach securely to the base
Shiny, reflective bowls might startle some cats
Some bowls snapped off at the base
Bowls are sometimes tricky to remove and attach
---
3.

Hepper NomNom Modern Cat Bowl – Premium Choice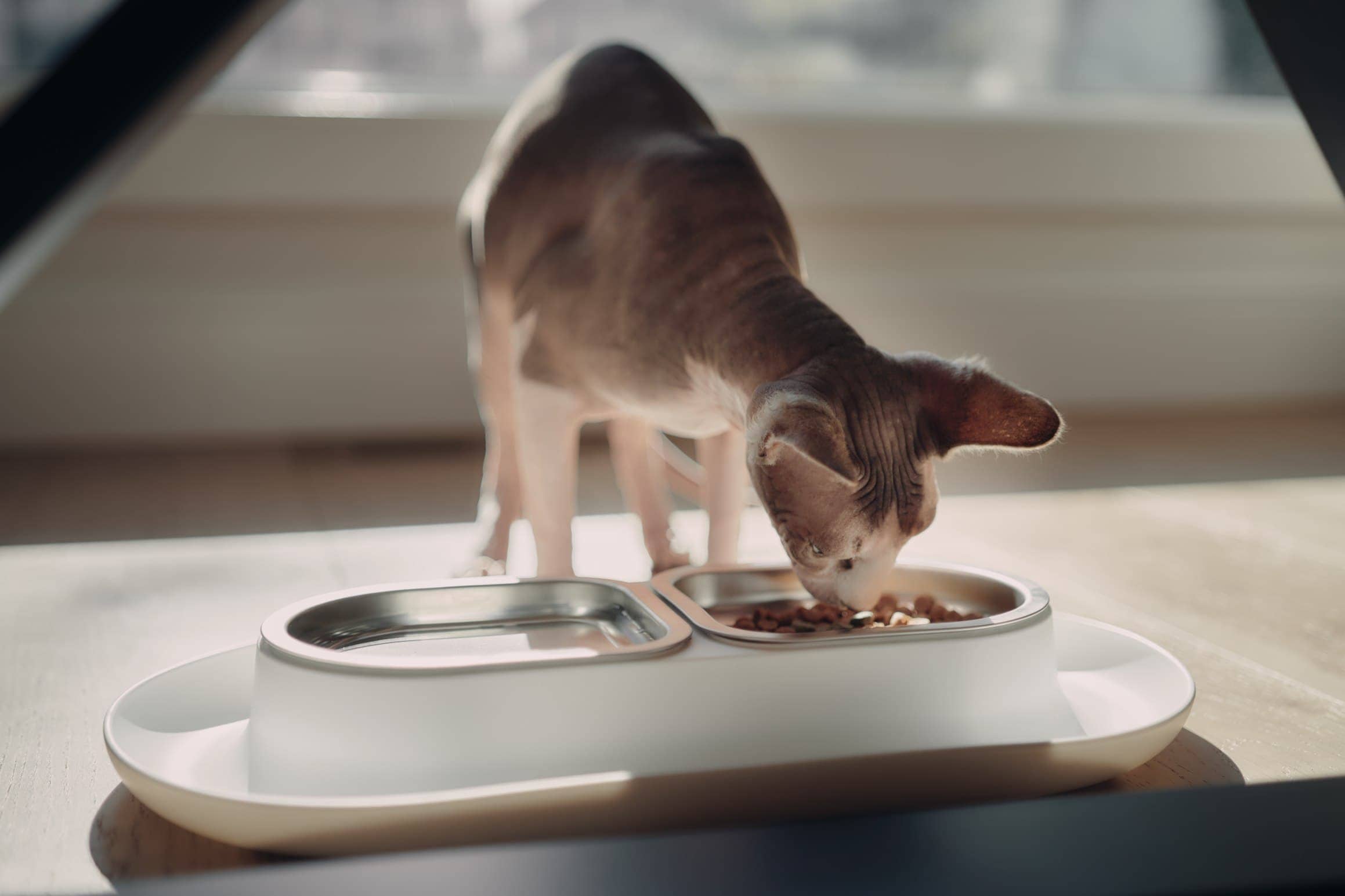 The Hepper NomNom Cat Bowl is a little different from most of the other cat bowls on this list — it's not elevated but it's extremely high quality. It comes with a white tray made from chew-proof plastic with a wide rim that can catch the crumbs and tidbits while your cat is eating. The 2 stainless steel bowls can be snapped into the tray, which makes cleaning up easier, and they are shallow and wide, which will make your whisker-sensitive cat happy. The moat around the food dishes can also act as a deterrent for ants as you can add water (just like a real moat!), which helps to keep ants out of your cat's food.
On the downside, because the bowls are small and shallow, they won't work well as a water dish, which you will probably need to purchase separately.
To conclude, we think these are the best luxury & modern cat bowls out there.
Chew-proof plastic tray with a wide rim to catch crumbs
2 stainless steel bowls can be snapped in and out for easy cleaning
Bowls are shallow and wide, suitable for cats with sensitive whiskers
The moat around the dishes can be filled with water to keep ants out
Great for messy eaters
Ants might find a way to the food through the opening in the bottom
Probably need a separate water bowl as dishes are shallow
You might have guessed, this is our own product – but we love it so much we just have to share it, and hope you get to own one too!
---
4.

FOREYY Raised Pet Bowls for Cat
The FOREYY Raised Pet Bowls is a bit pricier than the rest of the bowls on this list but is worth it. These stainless steel bowls are quite safe to wash in the dishwasher and are placed in a bamboo stand for elevated feeding. The bamboo stand will catch a lot of the excess food being tossed around by your cat and is easy to clean off. The stand also has anti-slip material on the feet and will keep its place while your cat eats. The bamboo is water-resistant and has a delicate and natural scent.
It does need assembly once it arrives, and while it's quite easy to put together, some might find it a challenge. We also found that not every product actually came with all of the pieces necessary for assembling. Not receiving everything you need to build it will either make it unstable or unusable.
Stainless steel bowls
Dishwasher safe
Elevated sturdy bamboo stand
The stand is water-resistant and easy to clean
The legs of the stand are anti-slip
Requires a fair bit of assembly
Expensive
Not all product arrived with all pieces
Have you ever had a cat bed that you love as much as your cat does? As sturdy as it is beautiful, the Hepper Macrame Cat Bed has a soft fleece cushion and a pretty woven cotton design. This cool bed is our product, and we hope you love it as much as we do!
---
5.

Platinum Pets Elevated Modern Cat Bowl
Platinum Pets Modern Elevated Pet Bowls may not be the least expensive, but they are attractive and are elevated to the perfect height for your cat. These cat bowls come in a variety of colors (white, black, pink, red, blue, silver, and copper) and are situated on a black wrought iron stand. The bowls and stand are also powder-coated for durability and safety. The bowls are rimmed with rubber which helps prevent excessive movement (and noise) and come in different sizes from ¾ cups to 10 cups (not that any cat needs one this big!).
The downside of this product is that they arrive with stickers in the bottom of the bowls that are a challenge to remove. The powder coating also does start to chip off after a period of time, but the bowls are made from surgical-grade stainless steel, so there isn't a serious risk.
Bowls come in 5 sizes and 7 colors
Wrought iron elevated stand
Powder-coated for safety and durability
Bowls rimmed with rubber to inhibit movement and noise
Stickers inside of bowls are difficult to remove
Powder coating might chip off after some time
---
6.

Internet's Best Modern Elevated Cat Bowl
The Internet's Best Modern Elevated Cat Bowl comes in 2 different sizes, but only in the height of the stand. The base is white and can be 4 inches or 5½ inches tall, but the bowls in both heights hold 2 cups of food each. The stand is wooden and stained with a white finish and comes fully assembled. These dishes are stainless steel and dishwasher safe and are easily removed from the base when necessary. Because the stand is made with wood, it's quite sturdy.
If you put water in one of the bowls, there is the risk that it could damage the wooden stand over time. We also found that the stainless steel tends to rub off on the white base, which leaves a grayish stain. The bowls are fairly deep and not very wide, so they could contribute to a cat's whisker stress.
2 different heights available for the elevated stand
Bowls are stainless steel and dishwasher safe
The base is solid wood with a stained white finish
The white stand comes fully assembled
Water might damage the wooden stand
Bowls stain the stand grey
Bowls are deep and narrow and might cause whisker stress
---
7.

Pet Zone Designer Adjustable Elevated Cat Bowl
The Pet Zone Cat Bowl is an adjustable feeder that will work wonderfully if you have a kitten, as it can grow in size with her. The base is made with sturdy plastic but is painted black to resemble wood and can be adjusted into 3 different heights – 2¾, 8, and 12 inches tall. When at its full size, the legs have a very attractive geometric pattern, and the legs are also collapsible for easy storage and have rubber grips to prevent sliding. The 2 bowls are stainless steel, are dishwasher safe, and each one holds about 3½ cups of food.
While this is a very nice-looking product, we found it to be not very sturdy, so if you have an overeager or large cat, the stand might be wobbly. When at its fullest height, the legs did not always stay attached, and while advertised as being non-slip, we found it did slide around relatively easily.
The tray can be adjusted to 3 different heights
Stylish look—legs have a geometric pattern at full height
Legs are collapsible for easy storage
Bowls are stainless steel and dishwasher safe
Not very sturdy and can be easily tipped over while at full height
Legs didn't always stay attached
Tends to slide around
---
8.

LIONWEI Modern Cat Bowl
The LIONWEI Cat Bowl is the other bowl set that is not elevated, but it is the only one that has 100% porcelain ceramic bowls over stainless steel. They come in a wide variety of colors (such as blue and pink, grey, pink marble, and green and yellow) and come with a wooden stand. The stand helps to prevent the food bowls from being pushed around. The ceramic bowls are easy to clean and dishwasher safe and are heavy enough to not be easily tipped over.
Unfortunately, the bowls aren't as durable as they should be as they have arrived broken or are easily broken at home. The wooden stand has a tendency to fall apart as well. While the product claims to be stable and not easily pushed around, we found that it did move quite a lot across the floor.
Bowls made with ceramic and come in a variety of colors
Comes with a wooden stand that prevents tipping
Easy to clean and dishwasher safe
Bowls are easily broken
The wooden stand tends to fall apart
Claims to be slide-proof, but it slides easily across the floor

Buyer's Guide: Finding the Best Modern Cat Bowls
While buying a cat bowl might seem like a simple job, it is actually quite dependent on your cat (and you too, of course). Some cats might not care what kind of bowl they eat out of, but we also know how finicky our felines can be, and the wrong food dish could lead to a bit of snubbing. So, we'll have a look at some factors to consider when you're shopping for a new bowl, or set of bowls, or a full-out feeding station. Regardless of what you're looking for, we will help you find the best modern cat bowl for your feline friend.
Whisker Stress
So, we've mentioned whisker stress a few times in conjunction with a few of the bowls we reviewed, so in a nutshell, whisker stress can occur with some cats if the food dish is too narrow. Your cat's whiskers are embedded rather deeply into her skin, where there are very sensitive nerve endings and blood vessels. This means their whiskers are highly sensitive and for some cats, sticking their head in a narrow bowl causes the whiskers to press against the surface, which might prove uncomfortable for some.
If your cat paces in front of her bowl and seems reluctant to eat or flips the food out of the dish and eats it off the floor, she could have whisker stress. This can determine what kind of food bowls you should get your cat.
Shape and Size
The shape and size of your cat bowls will depend on the whole whisker stress thing. Bowls that are very shallow and wide will help prevent whisker stress and can actually be less stressful overall for most cats. If a dish is quite deep, it can also prevent a cat from seeing what's going on around them, and experts generally recommend shallow bowls and dishes.
Elevated
Some cats do better when their food has been elevated from above floor level, especially if the bowls can be set at an angle. Cats with flat faces will have a much easier time eating from these kinds of feeding stations. It's more of a challenge for Persians to crouch down and eat from a deep bowl.
Material
It's best not to purchase plastic bowls as they can easily become scratched up and potentially trap bacteria. This not only means frequent cleaning on your part, but it could contribute to cat acne. Stainless steel and ceramic bowls tend to be easier to clean and are more sanitary.
Non-Slip
If the bowl tends to move around while your cat eats, she might be put off. It also could lead to your cat tipping the bowl over, and there goes her food all over the floor! A bowl that is designed to stay put is a desirable trait when shopping for a new one. This can mean the stand or bowl itself has some kind of rubber grip, but the weight of the bowl itself can also be a consideration.
Consider a Separate Water Bowl
If you do purchase a stand that holds 2 bowls, consider using both dishes for food and put the water in a separate bowl further away. Cats prefer their water source to be far from their food as the water can become easily contaminated and dirty when next to the food bowl. It's also been shown that cats prefer a running water source, so investing in a water fountain would actually be the best thing you could do for your cat. It will increase her water intake, which can help prevent illnesses in the future, such as kidney disease.
You might also be interested in: 6 Best Modern Cat Trees in 2021 – Reviews & Top Picks
Conclusion
So, there we have it! The seven best luxury and modern cat bowls that will make your cat feel like she's the queen of the house! Which she probably does anyway.
Our pick for the best overall cat bowl is the Hepper Auto Feeder. With its high functionality and its sleek design, it will make an attractive addition to your home. Then our pick for the best cat bowl for the money is the PETKIT CYBERTAIL Cat Bowl as it's the least expensive on our list, and it can be tilted—or not! And lastly, the premium choice cat bowl goes to the Hepper NomNom Modern Cat Bowl as while it's expensive, it's very sturdy and is made with all-natural bamboo.
We hope that our reviews of these cat bowls have helped you to narrow down your options and that you'll find the right one that will make you and your cat happy.