How to Feed Your Cat: An Informative Guide To Cat Food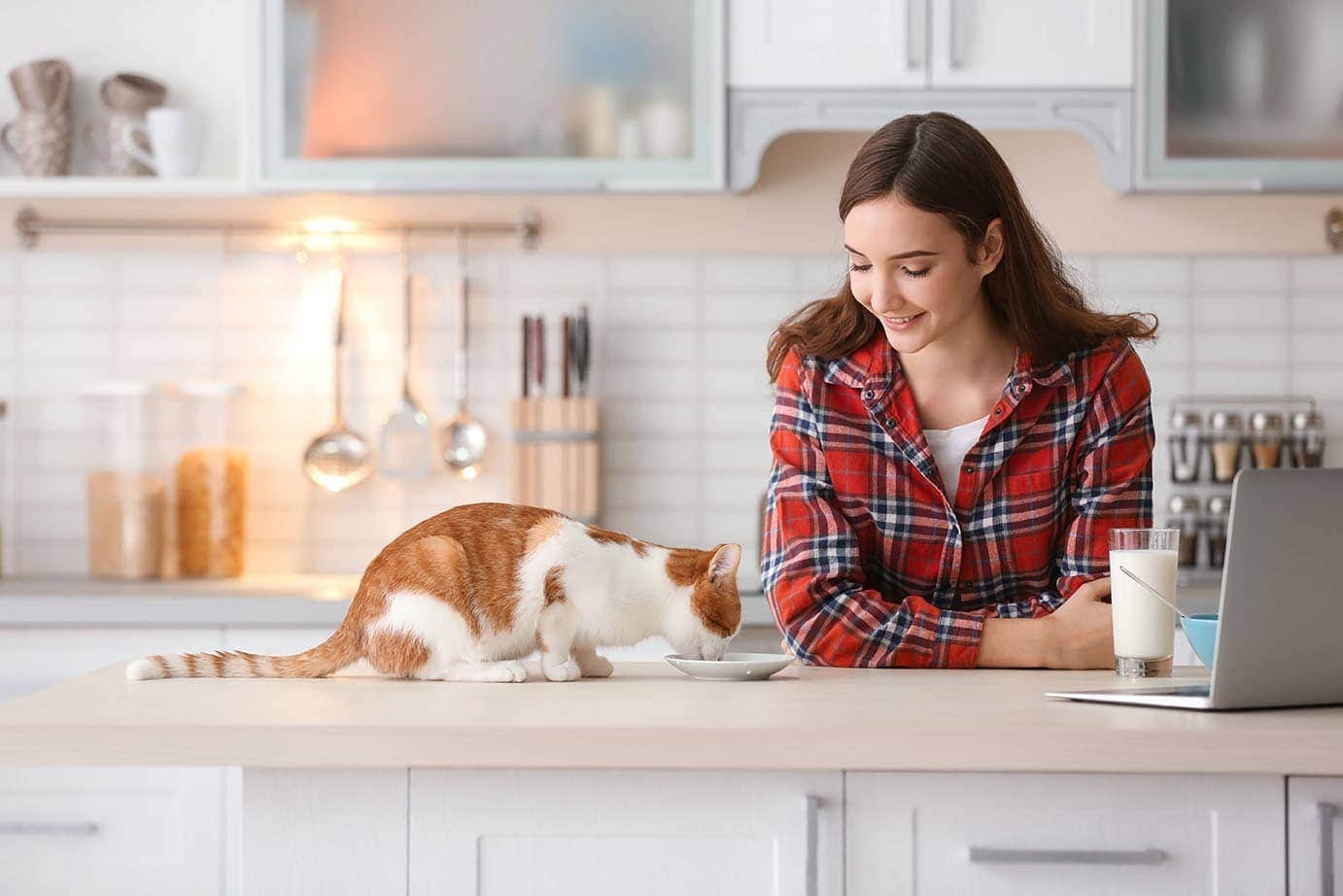 K2, our tabby, came into our lives almost four years ago. Abandoned at our local ski resort, she hung out by my husband's hotel office and took any opportunity to dart in and beg for attention if his door was open.
After weeks of presenting mice, providing non-stop entertainment to him and his staff – and no one claiming her from lost and found posters – we decided to take her home.
My first stop after bringing this dynamic "flash of gold" home was the grocery store for a litter box, toys, and cat food.
What Are The Best Dry & Wet Cat Foods? 
As I stood in the aisle, I was completely overwhelmed by the incredible variety of cat food. What was the best dry or wet food for cats? How much food do I feed a cat, and how many times a day?
I grew up on a farm with plenty of farm cats, who for the most part, fended for themselves, and the less you had to do with them, the happier they were. This was not the situation with K2, who craved lots of attention.
Clueless, I grabbed both wet and dry food and headed home, hoping I had made the right decision. I realized that I would have to do some further research.
By the way…
If you're looking for a balanced, highly nutritious cat food made with human-grade ingredients, take a closer look at Smalls. You can even save 40% on this premium cat food by entering code HEPPER2023 at checkout!
Keeping Your Cat Hydrated
K2 immediately made it known that she wanted nothing to do with wet cat food, so I focused on learning what was the best dry food for cats. Of course, there are a variety of opinions online, but for me, it came down to what my cat liked.
I did learn that if you are feeding dry cat food, you should have plenty of freshwaters (daily) to keep your cat hydrated. Just like humans, your cat must drink plenty of freshwater throughout the day.
Some veterinarians prefer dry cat food because it is better for your pet's teeth. Dry food is less expensive but it typically has more carbohydrates, so you need to be mindful of how much you are allowing your cat to eat.
How Much Food Do Cats Need? 
Which leads me to my next question, how much food does a cat need? I learned that a growing kitten will need to eattwo to three times a day until it is six months old.
As an adult, a cat can eat once or twice a day. If your cat is pregnant or nursing, it should eat two to four times its normal feeding.
Typically, an adult cat should eat a 4/5th cup of dry food a serving, or a little less than six ounces of wet food. If you want to mix wet and dry you may, but keep your proportions in mind. This info I found was a bit generic, so when planning the amounts for your cat, pay attention to the weight of your kitty and any instructions on the food packaging.
Consider Food Management For 

Overweight Cats 
If your cat is overweight, you should evaluate how much food to feed your cat with your vet. Obesity in cats, as in humans can lead to diabetes, and your cat will be seven times more likely to develop joint diseases.
If you are feeding dry food, make sure it is the best dry food for cats and that you are not overfeeding. Don't let your cat snack all day. You should put food out at certain times of day to ensure healthy eating.
If your cat does become overweight or encounters health issues, you may need to switch their food. Your cat may not like this, but stick to your decision and invoke some tough cat love. They will become hungry and they will eventually take to the new cuisine!
Cats Do Love The Extra Treat a Day!
When to feed a cat is somewhat dictated by your schedule. You may want to prepare your cat's food at the same time you are preparing meals for yourself and your family. Or, if that is too hectic, find a time that is right for you and make sure to maintain the schedule.
Our cat isn't a fan of snacks, but many cats do love the extra treat each day. Treats should only make up 10% of the total calories your pet eats daily. The remaining 90% should be high-quality protein meals. On average, you should only give 15 treats per 10 pounds of your cat's weight.
Meet Your Veterinarian or Animal Adoption Professionals
Whether you are adopting a kitten or cat from an adoption center, a friend, or you have one adopt you, as K2 did us, take the time to meet with your veterinarian or animal adoption professionals ask them for their advice on:
The best dry food for cats

The best-wet food for cats

The best treats for cats

How much food to feed a cat

When to feed a cat

How much water does a cat need
Each cat is different. They have their personalities, palates, and health issues. Take the time to do your research, talk with friends about their experiences and make sure you keep your cat's health and nutrition a top priority.
Our Top 6 Picks for Foods & Treats For Your Cat:
1.

Wet Cat Food | Weruva Truluxe Grain-Free Wet Cat Food Variety Pack
2.

Dry Cat Food | Natural Balance L.I.D. Limited Ingredient Diets Dry Cat Food

Green Pea & Duck Formula, 10 Pounds, Grain Free
3.

Our Cat Treat Pick | Feline Greenies Natural Dental Care Cat Treats
4.

Our Cat Anxiety Supplement Pick | Pet Naturals of Vermont Calming & Support
5.

Our Cat Water Fountain Pick | Catit Fresh & Clear Stainless Steel Cat Water Fountain
6.

Our Cat Bowl Pick | Hepper NomNom Modern Cat Bowl
This article was written by our friend Caddis. Do you have some advice for other cat owners and want to write for our blog? Send us a note!
---
Featured Image Credit: Africa Studio, Shutterstock