7 Best Modern Cat Beds: 2023 Reviews & Top Picks

Cat owners know that cats sleep a lot. In fact, a cat sleeps for about two thirds of its lifetime, which is twice as long as humans do. Also keep in mind, as independent animals, cats will spend time sleeping wherever it suits them. Common places usually include on your bed, on the couch next to a window, near a heat source, or in their own bed you bought them.
Cat beds are fantastic for giving cats their very own spaces. It helps them feel comfortable while sleeping, as well as establishes a routine for them. It could be a source of comfort for them if you tend to move around a lot.
It's important to find them a nice place to spend those two-thirds of their life asleep, but which cat bed is the right one for your cat? There are so many products available, that it's difficult to focus on just one that seems best.
Through our expertise and extensive research of prices and reviews, we will guide you through what modern cat beds we think are the best ones out there in a quick, easy-to-read format. This way, you don't have to spend hours scouring the internet. If nothing else, by the end of this review, you will have a much better idea of what cat bed best suits your and your cat's needs.
A Quick Comparison of Our Favorites in 2023
Rating
Image
Product
Details

Best Overall

Hepper Nest Modern Cat Bed

Fits one large cat or two smaller cats
Great for senior and arthritic cats
Machine-washable fleece liner
Check Price

Best Value

Frisco Modern Round Elevated Cat Bed

Affordable
Mid-century modern design
Easy to assemble
Check Price

Premium Choice

Hepper Pod Modern Cat Bed

Modern look
Sturdy legs
Elevated high
Check Price

The Refined Feline Modern Cat Bed

Elegant design
Two bed positions
Two color choices
Check Price

MEOWFIA Premium Felt Modern Cat Bed

Great value
Handmade out of wool
Perfect for scaredy cats
Check Price
The 7 Best Modern Cat Beds
1.

Hepper Nest Modern Cat Bed– Best Overall
The Hepper Nest is the all-around best cat bed out there. Why is this? It checks all the right boxes: it's easy to clean, move around, no set-up is required, and it's a simple and non-offensive design. Additionally, it is the most versatile style of bed to accommodate all types of cats. Many cats love to sit in the bowl-shaped bed, either by themselves or with a furry friend.
This bed is easy for senior cats to get in and out of as it sits on the ground. Cats who especially love tight squeezes are most likely to adore sitting in this nest for hours. Does your cat like to stretch out or curl up in her sleep? With this bed, it doesn't matter; it can accommodate stretching or curling cats, but it's likely best suited for curlers. When your cat is in the nest and you need the spot he is in, the bed is easily moved without disturbing Sleeping Beauty.
Critics of this product line say that it's too expensive and that there's nothing remarkable about it to make it as expensive as it is. However, many happy cats and cat parents say that it's worth it.
To conclude, we think this is the best modern cat bed out there.
Fits one large cat or two smaller cats
Great for senior and arthritic cats
Machine-washable fleece liner
Lightweight, simple design
---
2.

Frisco Modern Round Elevated Cat Bed – Best Value
Are you looking for an affordable and sleek modern cat bed? Look no further than the Frisco Modern Round Elevated Cat Bed. The cozy, yet dignified mid-century modern design will fit in any home decor. The best part is its low price: it's by far the best modern cat bed for the money.
The bed itself is sturdy, claiming that it will hold up to 50 pounds. This means that up to 3 average-sized cats could fit! The feet can come off for apprehensive or arthritic cats, making it a more versatile option that will grow with your cat.
With only four wooden legs, it's straightforward to assemble. One thing that pet owners do not care for about it is that it doesn't come in enough colors. Some say the bed is hard and uncomfortable, and sometimes the quality was sub-par when it showed up at their home.
Affordable
Mid-century modern design
Easy to assemble
Grows with your cat
---
3.

Hepper Pod Modern Cat Bed – Premium Choice
The ordinary, drab cat bed gets a makeover with this contemporary Hepper Pod Modern Cat Bed. Resembling a tiny charcoal grill, this cat bed will blend in seamlessly with minimalist-style homes. The elevated cat bed fits two small cats max, however this bed is best for small cats. If the bed proves to be too small for your larger cat, the top can come off for larger cats.
The outside of the bed is sturdy. It sits on steel legs with no-skid pads that connect under the bed for extra support. A large hole is found at the front of the bed so larger cats can crawl in. Kitty will stay nice and warm inside with a Sherpa fleece and microfiber liner, but it's not too stuffy since there is adequate air flow allowed in and out.
This Hepper Pod's design comes with a price; it is more expensive than other beds. Also, the walls are not completely sturdy: a cat laying on top of the "roof" might cave it in. However, as long as your cats spend time inside, like it was designed for, there should be no issues.
Modern look
Sturdy legs
Elevated high
Warm, but not stuffy
Related Read: 6 Best Modern Cat Trees – Reviews & Top Picks
---
4.

The Refined Feline Modern Cat Bed
Here we have the first wicker basket-style cat bed on this list by The Refined Feline. It comes in two colors, Espresso and Smoke, and can take on two different positions. In the first position, the hole for the cat bed angles out. With a simple turn of the basket, the hole of the cat bed faces up, giving your cat an extra sense of security.
The material is quality and the design is thought-through: the cushion is comfy and washable, while the hand-weaved rattan is tough and scratch-proof. Assembly is easy: simply screw in the bed basket into the base and your cat is set to nap. Whether your cat is a stretching sleeper or a curling sleeper, she will find this bed to suit all her sleeping positions.
What do the reviewers say? While most people would recommend this product to others, some cats don't like it. This might be because the base of the bed, at 11 inches high, props the basket too low to the ground for cats to feel secure. Also, the bed itself might prove to be too small for some cats.
Elegant design
Two bed positions
Two color choices
Sturdy
Too low to the ground
Might be too small
---
5.

MEOWFIA Premium Felt Modern Cat Bed
MEOWFIA will catch your eye with a humorous name, but does their Premium Felt Modern Cat Bed hold up in cat bed reviews? The answer is yes. Cats who love to hide in a tight space when frightened will especially love the cozy corner this cat bed provides.
This cat cave-style bed looks like a beehive that rests on the floor, table, or other furniture in your home. It's handmade in Nepal out of 100% merino wool, guaranteed to provide your kitty with the warmth and security he needs. With five colorful options, you can be sure to find the perfect felt cat bed to match the rest of your home's decor. Get a light colored one for a cat with a light coat, and vice versa to help the stray cat hairs blend in.
Downsides to this product include that the inside of this bed has no cushion. If your cat wants more comfort, you may have to provide an additional cushion in there. Additionally, this cat bed is made out of wool, which is notoriously fussy, but not impossible, to clean.
Great value
Handmade out of wool
Perfect for scaredy cats
Lots of color options
Wool material not easy to clean
No included cushion
---
6.

Kitty City Modern Cat Bed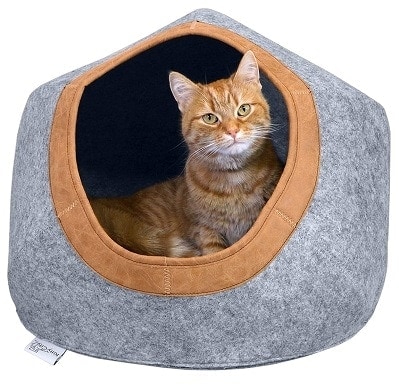 The most reasonably priced cat bed on this list, the Kitty City Felt Round Cat Bed is touted for its large size. It's designed in an interesting geometrical shape. Fitting perfectly in the corner of your home, your cat will love this cat cave-style bed with its wide opening, included fleece and water-resistant cushion and wool outside material.
The outer material is made of felted wool while the inside cushion is fleece and machine washable. The outer walls are of this mid-century modern cat bed is flexible, which could be cosmetically problematic right after taking out of the shipping box or if a cat decides to lay on top of it. Deformed as it may be temporarily, it will straighten out over time.
Customers who were unhappy with this product suggest that the felt walls should be sturdier to retain the proper shape, as well as higher to accommodate bigger cats.
Spacious bed with wide opening
Inexpensive
Quality materials
Many cats enjoy it
Unique shape
Flimsy walls
Walls that could be higher
Only one color
---
7.

PawHut Modern Cat Bed
This aesthetically pleasing PawHut Cat Braided Elevated Bed will be sure to turn heads when guests enter your home. When it comes to modern cat beds, this bed may be the nicest looking one, but it's unfortunately not super practical for your cat. This is because the bed only promises to hold up to 22 pounds of cat, which might be unsuitable for large cats or multiple cats.
Other things customers complained about this bed include a bad smell to the bed right out of the box. After a few days of airing it out, the smell usually went away. Some said the cotton cushion could be better and more comfortable.  If your cat likes to scratch, this definitely is not the bed for you, as cat scratches will damage the beautiful braided wicker.
That being said, it could be an excellent cat bed for a home with only one average-sized cat who does not have a scratching habit.
Elegant design
Good ventilation
Bad smell out of box
Not claw-resistant
Only holds up to 22 pounds
Buyer's Guide: How to Select the Best Modern Cat Bed
Now that we've gone over the best modern cat beds, let's dive deeper into what makes a cat bed excellent and things you should keep in mind while shopping for a cat bed.
Cat Size
How big is your cat? If you have taken your cat to the vet recently, you will be able to find out in her check-up records. It's important to know this information, especially if you have a larger-than-average cat and you want to buy an elevated cat bed. The company selling the cat bed should be testing their bed for this information and tell you in the product description what the maximum weight capacity is.
Single or Multiple Cats?
Cats love to snuggle into cat beds and caves to snooze and feel secure. Bringing one cat bed into a home of multiple felines could create some issues. You can never predict whether your cat or cats will love the bed or not, but keep in mind that you may be buying multiple beds in the future if you order one.
Alternatively, if your cats like to sleep together, you may want to think about buying a cat bed that will fit two cats in it comfortably. But if you just have one cat, you could opt for a smaller bed if it fits better in your budget.
Sleeping Position
If you've had your cat for a while, you have probably noticed that they favor a certain sleeping position. Some cats will curl up into a ball to feel most comfortable, while others prefer to stretch out long. Some even like to sleep on their back! Whatever it is, keep this in mind when cat bed shopping, and make sure the shape of the bed will accommodate your cat's most common sleeping position.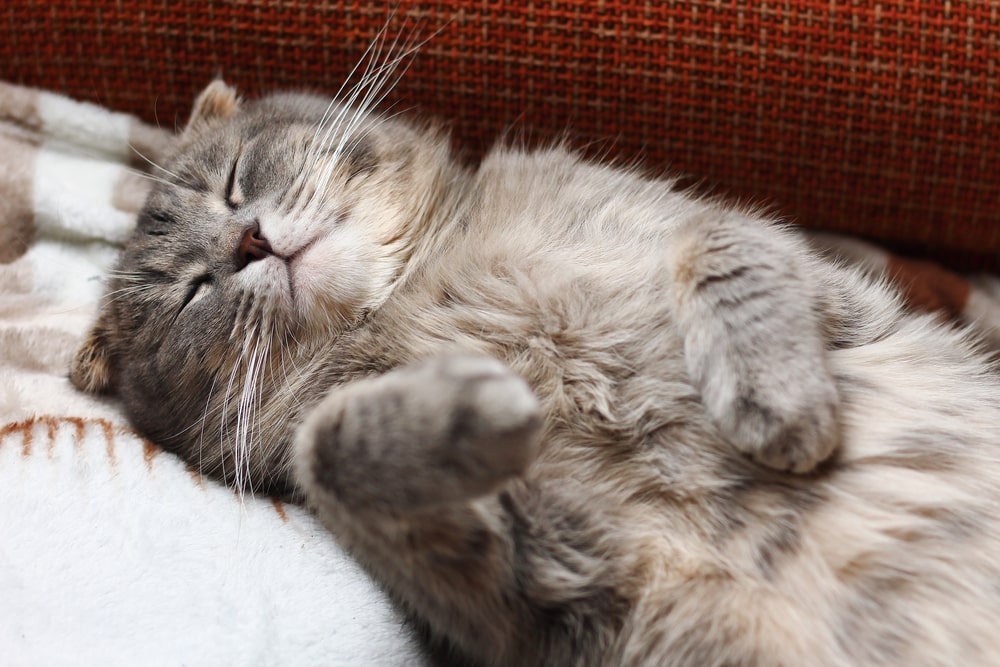 Cat Personality
Do you consider your cat a "scaredy cat," or one that's more comfortable with her changing environment? A more enclosed cat bed, like a cat cave-style bed, might suit a more nervous cat better than one that is totally open.
Return Policy
Do keep in mind that some cats will not care for certain beds, or any cat bed. There's no way to tell which beds your cats will like. It largely depends on your independent feline's personality and preferences. It might be worth looking into what a certain bed's return policy is, just in case your cat does not like it.
Cat Age
Kittens that are old enough to jump up onto furniture shouldn't have a problem jumping into a cat bed, but older cats need some extra help. If you have a cat that's old or getting older, consider buying a cat bed that is low to the ground or can be adjusted to be low. A cat that takes to a floor cat bed could have a cat bed last their entire life, while an elevated one might not last as long.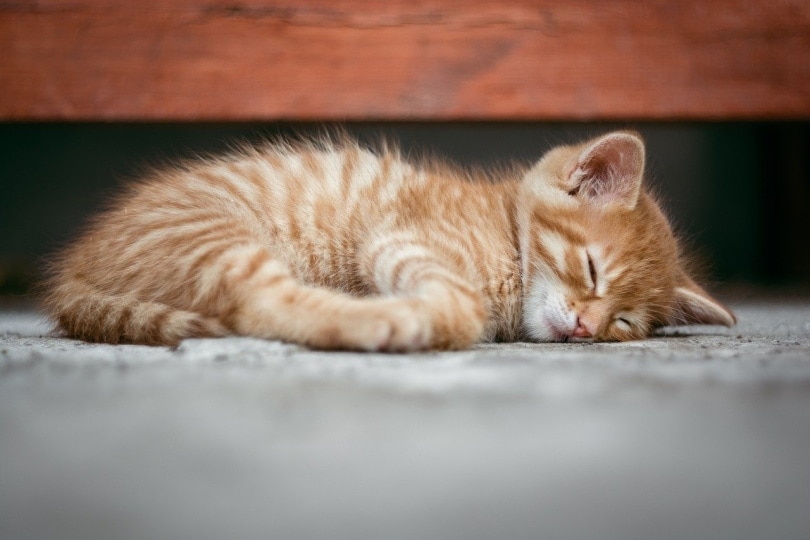 Price
Thankfully, there are options out there when it comes to price. You don't necessarily have to trade quality for lower prices, either. But a splurge on a cat bed will most likely guarantee a long-lasting cat bed, since it is likely made with better materials and design.
Materials
Cats can be messy. Does your cat often have accidents or disperse hairballs in unlikely places? It might be worth getting a cat bed that has easy to wash materials, then. This way, you can quickly clean up a cat related accident by throwing the cushion, and sometimes the whole bed itself, into the washing machine. Others will be easily spot-cleaned with a rag or vacuum.
Quality materials also means a sturdier product. If you suspect more than one cat will play around or sleep in this bed, make sure the bed materials can be durable to handle this weight. Plus, cats also like to scratch. A scratch-resistant shell might be preferable to one that will show and attract cat scratches.
Conclusion
This day and age, the internet provides a wonderful place to browse different options, especially when buying cat beds. But it can also be quite overwhelming. Not only are there hundreds of options out there, each model has many customer reviews. With our research laid out in this article, we've hopefully provided you with all the information you need to make your next cat bed purchase on the best modern cat bed for you.
Hepper Nest Modern Cat Bed ended up winning our hearts with it's simple and sleek design, perfect for most cats in all sizes and all stages of life. For a more affordable option, the Frisco Modern Round Elevated Cat Bed is a good choice, too.
Honestly, you can't go wrong with most of the cat beds on this list. After reading our reviews and buying guide, you're sure to find the perfect bed for your cat to snooze long hours in for days to come.