9 Best Muzzles for German Shepherds in 2023 – Reviews & Top Picks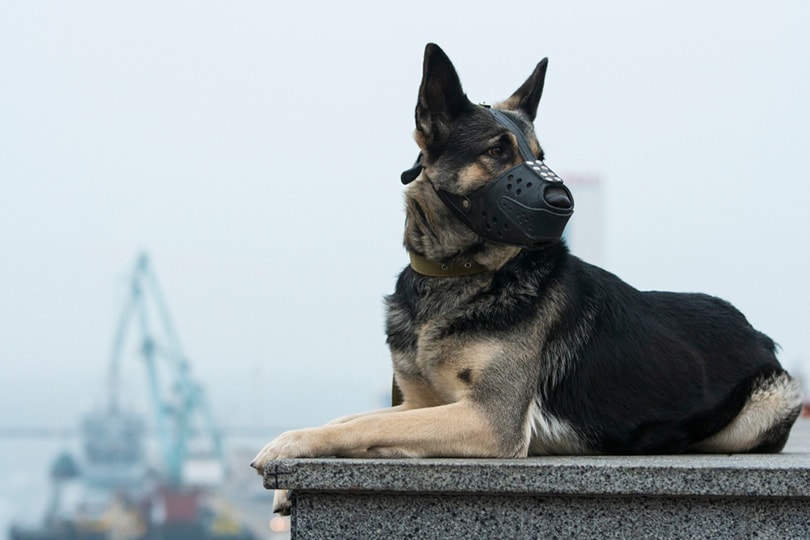 As you begin your search for the perfect dog muzzle, it is important to know the reason for the muzzle. Then you can decide on the design and the materials that will fit your needs. Dog muzzles have been around since the mid-1800s when they were made from leather and metal. There are still metal muzzles available, but you now have more options that can offer increased comfort to your pet.
Our reviews list highlights the ten best muzzles for German Shepherds, discussing the pros/cons of each so you can make an informed decision on your investment. The buyer's guide discusses typical features, considerations of a muzzle while offering a few tips to keep in mind.
---
A Quick Comparison of Our Favorites in 2023
Rating
Image
Product
Details

Best Overall

ZEUS Alpha TPR

Flexible basket design
Safety hook
Able to drink and pant
Check Price

Best Value

Baskerville Ultra

Affordable
Durable
Allows eating and drinking
Check Price

Premium Choice

Dogs My Love Metal

Lightweight
Easy to adjust
Made of durable materials
Check Price

CollarDirect Basket

Durable leather
Easy to use
Allows panting and drinking
Check Price

LeparkSoft Adjustable

Breathable mesh
Soft & flexible
Able to wash
Check Price
The 9 Best Muzzles for German Shepherds
1.

ZEUS German Shepherd Muzzle – Best Overall
The ZEUS is a great option because it allows the dog to drink, pant, and accept treats through the large openings while providing maximum ventilation so your dog can breathe easy. There is an integrated safety hook that loops through the collar to ensure that the muzzle stays in place.
The large size is for dogs from 40 to 95 pounds and with the adjustable head and neck straps you can customize it to fit your dog. To size it correctly, you measure the length from the tip of your dog's snout to ½ inch below the eyes. Then measure the circumference at the widest part of the snout about ½ inch from the eyes.
We like that the material is durable and flexible with a basket design. On the downside, the straps are somewhat difficult to adjust until you get used to them. However, we still think that this is one of the best muzzles for german shepherds on the market
Flexible basket design
Adjustable straps
Able to drink and pant
Great ventilation
Safety hook
Straps difficult to adjust
---
2.

Baskerville 61520 Dog Muzzle – Best Value
The Baskerville is the best muzzle for German Shepherd for the money since it is built to be durable and remain secure while being an affordable product. This is a basket style muzzle you heat-shape (like a mouth-guard) to get a custom fit for your dog. The fitting instructions are detailed and easy to understand. Unfortunately, some dogs may not enjoy the lengthy process.
The design allows the dog to drink, pant, and eat certain foods with the muzzle in place. The openings are large to allow plenty of airflow. It is available in six sizes, but size five would most likely be the best suited for your German Shepherd. The head and neck straps are easy to adjust, but you will want to measure length and circumference to make sure you have the correct size before you ordered the product.
This muzzle did not make the number one spot because the Zeus allows more movement overall for the dog to pant and drink.
Affordable
Durable
Custom-fit
Comfortable
Allows eating and drinking
Easy to use
Dog may not like heat shape
---
3.

Dogs My Love Muzzle – Premium Choice
This is a metal wire basket muzzle that is made from chromed wire and leather. Our dogs appeared comfortable when wearing it. Although eating is too difficult for the dog when this is on, drinking and panting are no problem.
The Dogs My Love muzzle is well suited for German Shepherds and other breeds with similar snout structures. This comes in one size, so it is wise to measure your dog before you order this product. The length is 4.25 inches, and the circumference is 13 inches (measured from the end of the nose to the eye line).
The leather is soft and the straps are easy to adjust as needed. This muzzle did not reach the first two spots on the review list because it is pricier and not as comfortable.
Made of durable materials
Lightweight
Allows panting and drinking
Ideal for German Shepherds
Easy to adjust
Read more about cattle dog breeds – Click here!
---
4.

CollarDirect Dog Muzzle for German Shepherds
The CollarDirect is ideal for German Shepherds and other breeds with similar snouts. The length of the large size is 4 inches, and the circumference is 13 inches. This muzzle is unique because it is made entirely of leather and it comes in four different colors.
There are two easily adjustable straps: One between the eyes and the other around the neck. There is plenty of ventilation with adequate room for the dog to pant and it allows them to drink water. Since it is made from leather, it is flexible and comfortable.
The leather has a downside though. Some tenacious and overly aggressive dogs may chew through the muzzle. The price is affordable for this durable muzzle.
Ideal for German Shepherds
Flexible and comfortable
Durable leather
Allows panting and drinking
Easy to use
Affordable
Aggressive dogs can chew through
Other related dog gear:
---
5.

LeparkSoft Dog Muzzles
This muzzle offers a different design from the others previously reviewed. It has a soft breathable mesh on the underside, and the top is adjusted with a Velcro closure. It also has a nylon strap with a buckle. This muzzle allows your dog to pant and drink water with ease.
We like that this muzzle is soft, flexible and easy to use. It is also washable and easy to clean. The price is affordable, but with the Velcro closure on the nose, there is a possibility your dog could get this off with little difficulty.
Affordable
Breathable mesh
Easy to apply
Soft & flexible
Able to wash
Potential for the dog to remove
---
6.

Mayerzon Dog Muzzle
The Mayerzon is made of soft silicone that is flexible and foldable. There is an adjustable strap that goes between the eyes, and a strap around the neck. We found that the top strap does not stay in place and will migrate towards either side, requiring constant adjustment. On the upside, this strap can be removed, it is in place to prevent your dog from removing the muzzle.
Its lightweight design allows for plenty of room for panting and drinking. The company offers a 60-day satisfaction guarantee with a 12-month warranty on this muzzle. It comes with a manual and muzzle training guide that is detailed and full of useful information.
Flexible and foldable
Two adjustable straps
Lightweight
Dog can pant and drink
12-month warranty
---
7.

BronzeDog Dog Muzzles
The BronzeDog muzzle is a metal wire basket with adjustable leather straps. The basket is shaped to fit snouts similar to a German Shepherd, and allows the dog to pant and drink with little effort. The muzzle is made from durable materials that you know will last if your dog chooses to be aggressive and try to chew the basket.
On the downside, the firm metal basket has the potential to rub sore areas on your dog's snout. It is important to measure your dog's snout length and circumference to get the right fit for this muzzle to work effectively.
Durable metal basket
Soft leather straps
Shaped to fit German Shepherds
Dog can pant and drink
Potential to rub sores on snout
---
8.

Barkless Dog Muzzle
This affordable muzzle is made from leather that makes it soft, flexible, and durable. One nice thing is that you can adjust the three bottom straps to get a more custom fit, though these straps don't appear to as comfortable for the dog. The adjustable head strap has a loop that attaches to your dog's collar to help the muzzle remain secure.
Even though the adjustable features are nice, it is still important to measure your dog to get the correct size. This muzzle is specifically designed for long-nosed dogs. There is adequate room for your dog to pant and take a drink when this muzzle is on. On the downside, the quality of the leather isn't as high compared to other leather muzzles on this list.
Affordable
Soft & flexible leather
Adjustable bottom
Head strap loop
Dog can pant & drink
---
9.

PET ARTIST Leather Dog Muzzle
Last on the list is the Pet Artist muzzle that is made from genuine leather that provides all-around protection suitable for aggressive dogs. On the downside, it doesn't allow for the dog to drink or eat snacks when this muzzle is in place, though there is room for the dog to pant effectively.
We don't like that this design doesn't allow as much air-flow since it is more enclosed. On the upside, there are three adjustable straps to get the perfect fit with a loop on the neck strap to attach to the collar. Because of its uncomfortable design, this muzzle would be best if only needed for less than 10 minutes. The Pet Artist is a pricier model compared to others on the list.
Durable
Three adjustable straps
Dog can pant
Not ideal for long use
Not enough airflow
Cannot drink
Pricey
Related Read: 10 Best Dog Muzzles of the Year
---
Buyer's Guide – How to Choose the Best Muzzles for German Shepherds
Muzzles have their place in society to protect your dog and protecting others. But it is important to know what features make a good muzzle compared to a bad one. After all, it is imperative to use a muzzle that is comfortable and won't cause harm to your dog. This portion will discuss important features of a muzzle, and some considerations to keep in mind when looking for the perfect muzzle.
Features of a Muzzle
Straps: The straps hold the muzzle in place and can be made from a variety of materials from nylon to leather. Some straps are easier to adjust, and some more durable than others. Adjustable straps allow for a more perfect fit. A neck strap that offers a collar loop will ensure that your dog doesn't remove the muzzle before its time.
Basket: These are typically made from plastic, metal, or silicone, and are formed in a basket weave pattern that allows your dog plenty of ventilation. They should at least allow the dog to pant, and it's up to preference if you want your dog to drink or eat treats. Wire baskets are more durable and good for dogs who may want to chew or bite. The flexibility and softness of the silicone or plastic baskets are ideal for added comfort.
Sleeve: This muzzle wraps around your dog's snout to restrict movement. Some designs are so restrictive that your dog can't pant, which is why these are recommended for only short periods of time, such as during a vet appointment.
Fit
It is crucial to size your muzzle to your dog, even if the company states the muzzle is ideal for German Shepherds it is still your job to measure your dog to get the correct size. Sizing is not a difficult process. First, you measure from the tip of the snout to ½ inch below the eyes. Then you measure the circumference of the snout at the widest point (where the snout meets the cheeks). Some muzzles may warrant a neck circumference measurement too.
Purpose
Know the purpose of a muzzle. It should never be a form of punishment, but instead, a tool to keep others and your dog safe in certain situations. You know the behavior of your dog and when they might be aggressive and require a muzzle. Also, they shouldn't be left on all the time; they are for short-term situations. Some behaviors can be modified with consistent training if they are caused by anxiety, boredom, or attention-seeking.
Cost
You can find a good muzzle at a decent price that won't break the bank. As long as you purchase one that fits your dog and provides protection, you have created a win-win situation.
Ease of Use
The easier it is to use, the less frustrated you and your dog will be. If there are too many straps and connections, it can be confusing to apply, which may cause the muzzle to not fit correctly. Easy-to-clean muzzles are ideal, too.
Tips
Don't leave your dog unattended when the muzzle is on.
Acclimate your dog to the muzzle to reduce anxiety and stress about wearing it.
Dogs can overheat very quickly when not allowed to pant.
They can still whine or cry with a muzzle, but can only bark if they can open their mouth wide enough when it is in place.

Conclusion:
Muzzles are ideal for certain situations and come in a variety of designs with different material options to suit your preferences. Our reviews guide concentrated on the top 10 muzzles for German Shepherds.
The best muzzle for a German Shepherd overall is the ZEUS Alpha since it is durable, and offers a flexible and comfortable design. The best value is the Baskerville that can be heat-molded for a custom fit and it allows the dog to pant, eat, and drink effectively. For a premium choice, the Dogs My Love muzzle offers a light and comfortable design made from chromed wire and leather.
We know how difficult it can be to determine the best muzzle for a German Shepherd, so we hope our reviews and buyer's guide is useful to you. Make sure you pick out the perfect muzzle that is comfortable yet provides adequate protection when your dog uses it.
---
Featured Image Credit: vz maze, Shutterstock