11 Best Non-GMO Dog Foods – 2023 Reviews & Top Picks

Your dog is just as much family as any human in your home. You want them in your lives as long as time will allow. Finding authentically nutrient-rich foods is vitally important for them. There is so much that goes into traditional brands that are just plain bad for your pooch.
Maybe you are just now jumping on the bandwagon to find better choices for your pal. Or perhaps you are trying to find an alternative to a non-GMO dog food you're already using. We compiled a list of well-researched dog food recipes to give you a comprehensive look at your best options.

A Quick Glance at Our Favorites in 2023
Rating
Image
Product
Details

Best Overall

Ollie Dog Food

Human-grade ingredients
Made in U.S. facilities that meet AAFCO's standards
Real quality protein is always first ingredient
Click to Save 50%!

Best Value

Wellness Natural Adult Dog Food

Simplistic
natural ingredients
High protein diet
Affordable
Check Price

Ketona Chicken Recipe Dry Food

Considerably low carbohydrate percentage
High protein levels
Ingredients sourced from the USA
Check Price

Solid Gold Natural Adult Dog Food

Only whole grains used
Non-GMO
Holistic and all-natural
Check Price

I and Love and You Superfood Dry Dog Food

Superfood packed
Allergy safe
Real meat
Check Price
The 11 Best Non-GMO Dog Foods
1.

Ollie Dog Food – Best Overall
Ollie's dog food contains no GMOs, meaning their recipes are free from corn, wheat, or soy. All recipes are formulated in U.S. facilities with human-grade ingredients, and you can choose fresh recipes, baked, which are healthier than kibble, or a mixture of the two. The food is minimally processed in small batches and cooked at low temperatures in New Jersey, where it is then hand-packed. There are never any artificial flavors or fillers.
The company works with veterinary nutritionists to formulate all the recipes, and all meals follow AAFCO's nutritional guidelines. Real quality protein is always the first ingredient, followed by fresh ingredients, such as blueberries, sweet potatoes, chia seeds, spinach, and carrots, to name a few. All ingredients vary according to the particular recipes, and the meat is sourced from trusted farms that do not use hormones or antibiotics.
Ollie's baked recipes are like kibble but without any heavily processed and harmful ingredients. You can choose either beef or chicken, and these recipes are a fantastic option for dogs that prefer a crunch. You can also feel confident that your dog is getting complete and balanced nutrition.
For the fresh recipes, you can select beef, chicken, turkey, or lamb, and having the option of buying both baked and fresh for a unique combination is an excellent way to provide your dog with the best of both worlds.
This food is expensive and takes up quite a bit of freezer space, but the high-quality ingredients are worth it if it fits into your budget. All in all, we think Ollie's Dog Food is the best non-GMO dog food you can buy this year.
Human-grade ingredients
Made in U.S. facilities that meet AAFCO's standards
Real quality protein is always first ingredient
Can choose fresh, baked, or a mixture of the two
No fillers or artificial preservatives
Expensive
Takes up freezer space
---
2.

 Wellness Natural Adult Dog Food — Best Value
This is a simple 6-ingredient all-natural grain-free dog food that is the most exceptional value we could find. It is a clean recipe of free-range lamb, peas, chickpeas, canola oil, tomato oil, flaxseed, and added vitamins and minerals.
The company produces products based on the concept of primal animals eating diets comprised mainly of meat. The lamb is derived directly from New Zealand and Australia, giving a high quality, protein-rich nourishment.
It is also free of fillers and artificial flavors. With Wellness 88000 Core Natural, you are getting only the necessities with no harmful ingredients for a favorable price. This concept helps reduce the risk of food allergies and keeps your dog their healthiest.
While this is an excellent source of protein for adult dogs, the content may not be right for puppies or seniors, and keeps it from our top spot. Be sure that this is an appropriate fit for your dog's age and weight before purchasing.
Simplistic, natural ingredients
High protein diet
Affordable
May not be good for puppies or seniors
---
3.

Ketona Chicken Recipe Dry Food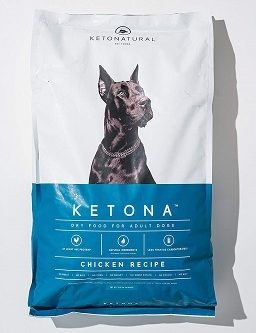 While Ketona may be high-priced, it is an excellent source of sustenance for canines. It is a grain-free dry food recipe that is high in protein and low on carbs.
The main ingredients are chicken, pea protein, ground green peas, and oat hulls. It comes packed with other vitamins, minerals, and high fiber ingredients. The chicken is non-GMO and antibiotic-free, farmed in the United States.
The greatest part about this dog food is that it comes packed with more than adequate protein while keeping carbohydrate levels low. That helps your dog maintain weight while still getting all the nutrition that they need for optimal health.
Due to its specialized formula, it may not be fitting for all dogs, such as those with diabetes or other conditions.
Considerably low carbohydrate percentage
High protein levels
Ingredients sourced from the USA
May not be suitable for all dogs
Costly
---
4.

Solid Gold Natural Adult Dog Food
Solid Gold Hund-N-Flocken is a high quality holistic, non-GMO dog food recipe made from pasture-raised lamb, brown rice, and pearled barley. It will give your dog a fully nutritious, well-balanced diet of all-natural ingredients.
It supports gut health and boosts immunity with living probiotics, which are viable until consumed. Other additives such as whole grains, superfoods, and fatty acids will promote optimal longevity.
It is free of potato, corn, wheat, and soy additives. The brown rice and barley provide a rich source of needed fiber into your dog's diet. It is a carefully constructed dish that will benefit coat texture, mental performance, and energy levels.
Additionally, it comes with a 100% satisfaction guarantee, so you can request a refund if you aren't entirely pleased with the food.
Only whole grains used
Non-GMO
Holistic and all-natural
Vitamins and minerals
Living probiotics
100% satisfaction guarantee
Some dogs may be sensitive to the recipe
---
5.

I and Love and You Superfood Dry Dog Food
The I and Love and You F00041 Nude Superfood Dry Dog Food is void of artificial flavor and fillers, but full of goodness. It is packed with superfoods, real meats, digestive enzymes, vitamins, and minerals. It's allergy safe and comes with a total satisfaction guarantee—just in case it doesn't work for your pet.
It is grain-free, with lentils, garbanzo beans, and sweet potatoes in place of traditional grain. It's non-GMO and has no by-products added. This food promotes gut health by adding in prebiotics and probiotics. It has essential omega fatty acids in the form of flaxseed and fish oils, which creates shiny, lush coats.
Be sure to transition slowly. While this dog food has plenty of great ingredients, it may not agree with all dog's stomachs. There are quite a few additives that may trigger sensitivities in individual digestive systems. Because of the extensive list of components, it could be hard to pin down exactly what could trigger an upset.
Superfood packed
Allergy safe
Real meat
Satisfaction
Some dogs may be sensitive to the combination
May cause diarrhea
---
6.

Dr. Harvey's Veg-to-Bowl Dog Food
Veg-to-Bowl dehydrated non-GMO dog food is carefully crafted to provide optimal health for your canine companion. They designed this specifically for dogs who have health issues like obesity, allergies, and kidney problems.
While Dr. Harvey's comes in a 5-pound bag, it lasts quite a long time. When you rehydrate the meal, each serving weighs one pound after preparation, leading to 46 finished meals to enjoy. You prepare this meal by adding hot water and your choice of protein. It comes with simple, guided instructions to make meal-prepping a breeze.
What is attractive about this dog food is that it lets you take complete control over your dog's protein intake while providing them with maximum nutrition. That will help you specially tailor the meal to fit the dietary needs of individual pets. While this is favorable, adding protein is an additional expense and can get pricy.
Portion control
Easy to prepare
Helps ease symptoms from existing ailments
Dogs may not like the taste
Additional cost for adding protein
---
7.

NUTRO ULTRA Adult Dry Dog Food
NUTRO 10162670 ULTRA kibble comes with a three-meat-trio of chicken, lamb, and salmon. It is free of any meat by-products such as corn, wheat, or soy. It is free of synthetic ingredients, artificial coloring, and preservatives.
Adding in superfoods like kale, blueberries, and coconut, it provides a well-balanced list of nutritional ingredients. It can help with digestive health, coat texture, and high energy. They pride themselves on producing a delicious dish, saying they do not compromise on flavor.
Don't get too excited just yet. NUTRO mentions that due to cross-contamination, genetically modified ingredients may be present. That may deter you from wanting to take the risk, and keeps this product from ranking higher on our list.
No fillers or by-products
Superfoods and omegas added
Potential GMO cross-contamination
See our other doggie nutrition guides – Here!
---
8.

Halo Grain Free Dry Dog Food
This is a holistic dog food specially formulated for small breeds. It is made from salmon and white fish with an emphasis on it being whole, never meal. It is supposed to promote easy digestibility with visual improvements which speaks for itself.
It also includes non-GMO vegetables, lentils, and chickpeas. It has low fat and reduced carbs with added L-carnitine for weight control and boosted metabolism.
While this brand is devoted to all-natural products for dogs, it seems this new and improved version may not be all that it is cracked up to be. It can cause stomach upset, loose stool, and vomiting in sensitive canines.
Only recommended for small breeds
The new formula may not agree with dogs
---
9.

Nulo Grain Free Dry Dog Food
This is a grain-free, non-GMO, allergy-friendly dry food for adult dogs. Each recipe has only one protein source for flavor and purity.
This food supports weight maintenance, as it is low carb. It also has high protein content and fatty acids to promote lean muscle mass and a healthy coat. It includes probiotics to aid in gut health. It has no chicken meal protein or other fillers that can spark allergic reactions.
The product seems high quality, however, it is a bit expensive. The fish proteins make the dog's breath quite smelly. It is also currently under review, as the company has received some complaints regarding an unknown problem with the food.
All-natural and allergy-friendly
Dog food under review for quality concerns
Costly
Causes smelly breath
---
10.

GENTLE GIANTS Natural Dog Food
One thing that immediately stands out about this particular selection is that it is a diet for all stages of life and all breeds. If your dog takes a liking to it and the product stands firm in its promise, you will not have to worry about switching dog foods in the future.
Another benefit of purchasing is that part of the proceeds go to a noble cause. The mission is to have a portion go toward Gentle Giants Rescue & Adoptions to help dogs find their forever homes.
It is comprised of wild-caught salmon, whole peas, and sweet potatoes. These ingredients each play a role in internal and external health. They are said to have a formula proven to help pets live longer, but the verdict is out on whether that is factual.
The smell of the food can be quite strong, which may be a deterrent for dogs.
Provides longevity
Portion goes to a rescue
For all ages
Unsure of promise authenticity
Strong smell
High price
---
11.

Open Farm Grain Free Dog Food
This non-GMO dog food choice is made from pasture-raised lamb from New Zealand and loaded with family farm veggies from around the world. It can be used as a standalone form of nutrition or in combination with other foods.
The company claims this food can be used for each stage of your dog's life from puppyhood to late years. It is formulated with high levels of protein and omega fatty acids to help your dogs coat texture, help digestion, and boost immunity.
The company is transparent about each ingredient that goes into the dish, claiming to be 100% traceable. That can be fabulous to rid your worry about the inhumane treatment of farm animals or damaging artificial flavors.
It can be a delicious choice for many pets. However, all dogs don't seem to share the same opinion. Pickier dogs may not like this brand and refuse to eat it. It does have quite an overwhelming aroma, which is not pleasing for owners to smell, too.
100% trackable ingredients
Expensive
Unpleasantly powerful scent
Some dogs do not enjoy the taste

Buyer's Guide – Choosing the Best Non-GMO Dog Foods
As health becomes a more popular subject, getting the right nutrition for your household is probably hot on your mind. Between all the GMO's, harsh chemical additives, artificial ingredients, and tons of preservatives, it is hard to maintain a clean diet for our pets.
Thankfully, it doesn't have to be quite as taxing for your dog. Since they eat the same foods daily, you can select a non-GMO, nutrient-rich diet that works best for them. At first, it may prove to be a bit of trial and error. Once you find the right fit, they should healthfully thrive—and you should be worry-free, too!
What Are GMO's?
GMO's are getting the limelight these days. You may hear people warning against them, advising all to stay away. But if you aren't familiar with what this means, genetically modified organisms are plants, fungi, or bacteria that have had their genetic code changed to produce a particular result.
Because GMOs are scientifically altered by humans and quite new, many people worry about the side effects and health risks associated with consuming them. While there is no definitive evidence that GMO's are harmful yet, you may not want to take the chance.
How to Select the Best Sustenance
It may feel daunting to read labels trying to avoid certain ingredients. It seems where one may be free of those pesky GMO's, they have other downfalls, making them unsuitable. You may have tried several different foods only to find your pet's digestive systems don't agree, or they just plain don't like it.
Even though this task may feel draining, your determination will pay off. In this guide, we will go over the vital areas to consider when you are purchasing. Hopefully, this can help you slim down your long list of options.
Ingredients
Each dog is going to be different in terms of ingredient tolerance. If you have a dog suffering from various health issues, it will require a modified diet that is personalized especially for your pet. That is true also based on the stage they are in life. Some foods are formulated for puppies, adults, and seniors to give them appropriate portions for their current life stage.
While you're looking to cut GMO's, you'll need to make sure the food has the proper nutrition your dog requires. Your pet may suffer from a pre-existing ailment such as food sensitivities, allergies, muscular and joint issues, or diabetes. Be certain to find out if you can trace the ingredients and check the source.
Also, be on the lookout for cross-contamination warnings. Sometimes, foods made in factories that manufacture GMO foods or other ingredients that may adversely affect your pet.
Age Recommendation
As with any other dog food, there will be age and weight requirements listed on each product. Puppies need a proper dose of protein, fats, carbohydrates, vitamins and minerals, and water. Because they are growing, they will need a diet that promotes tissue, sensory, and brain development. Many healthful dog food companies now offer GMO-free puppy chows.
Dogs reach adulthood when they hit their final growth stage. That can occur between 7 to 12 months of age. A maintenance diet is recommended for the next several years of your pet's life. This will require an adequate selection of proteins, carbs, fiber, and plenty of vitamins and minerals. That is likely the easiest stage to sustain and has the most extensive selection of food choices.
Because senior dogs are prone to health decline, you will want to select a non-GMO food designated explicitly for dogs of waning age. Many geriatric pets are prone to obesity due to dwindling energy levels. Serving a low carb dog food for geriatric dogs will help them to maintain a healthy weight while supplying proper nutrition.
Consistency
There are a few different choices when it comes to the texture and taste of the food. These factors can determine your pet's likelihood of eating. Some dogs can be quite selective about what they are willing to consume.
There is dry kibble, which is the most common. it isn't as fresh as other options you will read about. However, the crunchiness helps to keep teeth healthy and plague-free. It is especially suitable for dogs with excessive tartar build-up.
Wet food is another option. That is typically more appealing to pets, as it seals in robust flavor. It can be a suitable choice if you have a picky eater. It is also very moist, which helps keep your pet better hydrated.
They have dehydrated selections. While this may take a bit more time to prepare, the nutrients are fresh and warm when your dog chows down. You will want to consider if you are willing to spend the time making this food, as it is more time-consuming.
Pricing
You will no doubt be paying more for specialty recipes as opposed to a bag of dollar store dog food. While you may expect to dish out more cash, a high price tag doesn't always guarantee quality. You will want a non-GMO dog food that doesn't break the bank.
These specialized formulas can get quite pricy, and sometimes the product won't be worth the money. The same can be said for some cheaper foods, as they can be higher quality than you'd suspect. This is one area where reviews from users can be your best friend.
There is nothing like spending $100+ on a bag of kibble only to find out your dog isn't a fan. That's particularly true if the dog food comes without a satisfaction guarantee. Check the authenticity of the product to know if the manufacturer is willing to stand by their product by granting refunds.
Transitioning
Remember that if you are transitioning your dog from one food to another, it will need to be slow. If you switch too abruptly, it can cause diarrhea, indigestion, and vomiting.
Most brands will come with a suggested old food to the new food ratio. This way, you can divvy up each to provide a smooth changeover. If you switch out the food accordingly, and your dog still seems to react negatively, it may not be the right choice for them.
Generally, the process can take one to two weeks but may take longer if your dog is very sensitive. You can correspond with your veterinarian if you have concerns about the adjustment.

Conclusion
When it comes down to it, each individual canine will have a preference. There isn't one option that will be every dog's first-round pick. Overall, Ollie Dog Food, which comes in fresh and baked varieties, is the most versatile and is our pick for the Best non-GMO dog food. The premium whole ingredients are well worth the higher price.
Wellness 88000 Core Natural Adult Dog Food will provide you with the highest quality at the best price. You can keep your dog healthy, knowing they are still getting the nutrition they deserve at a price you can afford.
After seeing what the non-GMO dog food market has to offer, you can make an informed decision that fits your budget.  We hope this information helps you select the right fit for your best pal and gives you peace of mind.
---
Featured Image Credit: Switlana Sonyashna, Shutterstock