6 Best Probiotics for Cats – 2023 Reviews & Top Picks
If you're going to buy your cat probiotics, you want something that combines quality with palatability. There are few things that are worse than a cat with poor gut health. Thankfully, there are ways to improve these issues, and most of them involve the use of probiotics. We have put together a list of the top probiotic reviews for cats to help you decide which is best for your furry friend. Probiotics are full of live bacteria and yeast structures that improve your cat's gut health and make digestion easier. Skim this list to find the top-recommended probiotics of the year.
A Quick Comparison of Our Favorites of 2023
Rating
Image
Product
Details

Best Overall

Purina Pro Plan Vet Diet Supplement

500 million CFUs
Savory flavor
Affordable
Check Price

Best Value

VetriScience Probiotic Supplement

Soft chew
Cheap
100 million CFUs
Check Price

Premium Choice

Nusentia Probiotic Pet Supplement

1 billion CFUs
High-quality blend
Natural FOS
Check Price

Best for Kittens

PetHonesty Digestive Pet Probiotic

5 billion CFUs
Natural prebiotics and fiber
Chicken and fish flavor
Check Price

Animal Essential Plant Enzyme & Probiotic

Safely vegan and vegetarian
Moderate Price
Check Price
The 6 Best Probiotics for Cats
1.

Purina Pro Plan Vet Diet Powder Supplement – Best Overall
| | |
| --- | --- |
| Lifestage | Kitten, adult, senior |
| Form | Powder |
| Count | 30, 60, 90, 180 |
If we had to pick out only one probiotic to call the best overall probiotic for cats, it would be this supplement Purina Pro Plan. The powder is packed into individual capsules that are easy to sprinkle over top of their regular food. There are over 500 million colony-forming units (CFUs) that help your cat have healthy gut health. One of the strains it carries also helps your cat's digestion stay regular. Even though some cats don't enjoy powder, this one has a savory taste, so they don't know that they're eating anything other than a delicious treat. It is also made with substances from real animal tissue. It is also fairly inexpensive, with an average cost of about $1 per day.
500 million CFUs
Savory flavor
Affordable
Made with real animal tissue
Regulated digestion
Some cats don't like powder
---
2.

VetriScience Probiotic Cat Digestive Supplement – Best Value
| | |
| --- | --- |
| Lifestage | Kitten, adult, senior |
| Form | Soft chew |
| Count | 60 |
Finding the best probiotics for cats for the money is a challenge because you want something with clean, healthy ingredients that are still going to be effective. This probiotic by VetriScience is a soft chew that most cats mistake for a treat. They have 100 million CFUs per chew and are focused on easing stomach pain and bloating. The flavor is enticing to most cats. However, not all felines are a fan of the duck flavor. Still, they can be torn into smaller pieces and sprinkled on top of regular kibble if necessary.
Soft chew
Cheap
100 million CFUs
Savory flavor
---
3.

Nusentia Probiotic Miracle Pet Supplement – Premium Choice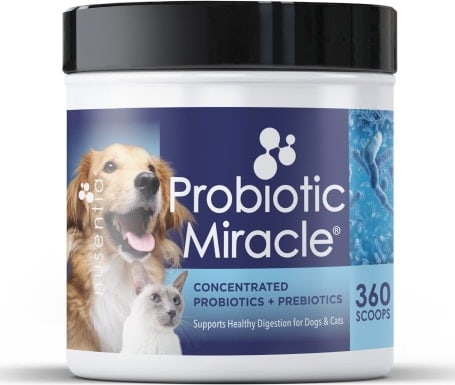 | | |
| --- | --- |
| Lifestage | Kitten, adult, senior |
| Form | Powder |
| Count | 4 grams or 131 grams per jar |
If you're willing to spend extra money for the highest quality supplements, then consider buying Nusentia's probiotic for dogs and cats. This is a top-of-the-line blend that you can use on multiple pets in the house. It also shocks people whenever they find out that there are over 1 billion CFUs. This product is expensive. Plus, it doesn't come pre-measured into individual pills. Still, it contains prebiotics called fructooligosaccharides (FOS) that help amplify the beneficial effects.
1 billion CFUs
High-quality blend
Natural FOS
Expensive
Not pre-portioned
---
4.

PetHonesty Digestive Cat Probiotic – Best for Kittens
| | |
| --- | --- |
| Lifestage | Kitten, adult, senior |
| Form | Powder |
| Count | 120 grams |
When you have an entire litter of kittens running around, you want to make sure their gut health is taken care of from the start. PetHonesty uses natural prebiotics and fiber from chicory root, has over 5 billion CFUs, and uses catnip in the recipe to make it more appealing to cats. The flavors are also made from chicken and fish to make it taste good. Unfortunately, this probiotic is expensive and doesn't come pre-portioned. It also must be given twice per day instead of only once.
5 billion CFUs
Natural prebiotics and fiber
Chicken and fish flavor
Expensive
Not pre-portioned
Given twice per day
---
5.

Animal Essential Plant Enzyme & Cat Probiotic
| | |
| --- | --- |
| Lifestage | Adult |
| Form | Powder |
| Count | 3.5 oz or 10.6 oz bottle |
Is it healthy to give your cat a completely plant-based probiotic? This powder from Animal Essential is a safe option for cats despite being vegan and vegetarian. Picky cats may not like it, though, because it has no real meat flavoring. On top of that, the probiotic could cause a cat to lose some weight because of the lack of protein.
Safely vegan and vegetarian
Moderate Price
Cats may not like flavor
Cats can lose weight
---
6.

Fera Pet Organics Probiotics & Prebiotics for Cats
| | |
| --- | --- |
| Lifestage | Kitten, adult, senior |
| Form | Powder |
| Count | 2.56 ounces |
Most people spot this dual pre and probiotic supplement and assume it's great. After all, it claims to have a solid ingredient list and over 5 billion CFUs. However, there are also dozens of reports claiming that it simply doesn't work on dogs or cats. Most cat owners can see results in at least two weeks, but customers are unhappy with the overall performance of this powder.
Clean ingredients
Over 5 billion CFUs
Buyer's Guide: Choosing the Best Cat Probiotics
You already know how many different probiotics are available for your cat, but you may not know exactly what to look for when shopping.
Form: One of the trickiest parts of shopping for supplements is knowing which form to buy. Some cats are picky about the different flavors and textures. There are many powders, gels, and soft chews available, and it could take some time to figure out which they like best.
Strain: Probiotics contain many different types of strain families. Each strain targets a different part of the cat's body, so try to choose one that is specific to the area of the body that needs improvement.
CFUs: The higher the CFU count, the better the probiotic is going to be. This is because a diverse range of colony-forming units is often associated with effectiveness inside your cat.
NASC Seal: The National Animal Supplement Council is a nonprofit group that ensures the safety of all pet products. If the brand doesn't have the NASC quality seal, then you might want to look for a new brand.
Price: Price is obviously a determining factor in your decision, but we don't think it should be the main one. It's great to have a budget and possible to find high-quality supplements in that range. However, be prepared to pay a higher price if you want cleaner ingredients and better effectiveness.
Conclusion
These reviews have shown you the good and bad qualities of some of the top cat probiotics on the market this year. Overall, we have found that the best overall belongs to Purina Pro Plan, while the premium choice belongs to Nusentia. For those on a budget, you won't find a better value brand than VentriScience. Allow your cat a couple of weeks to adjust to their new supplements, and hopefully, you'll start to notice a difference in their gut health and how they feel.
You might also be interested in: Homemade Probiotics for Cats – 3 Recipes (Vet Approved)
---
Featured Image Credit: Veera, Shutterstock