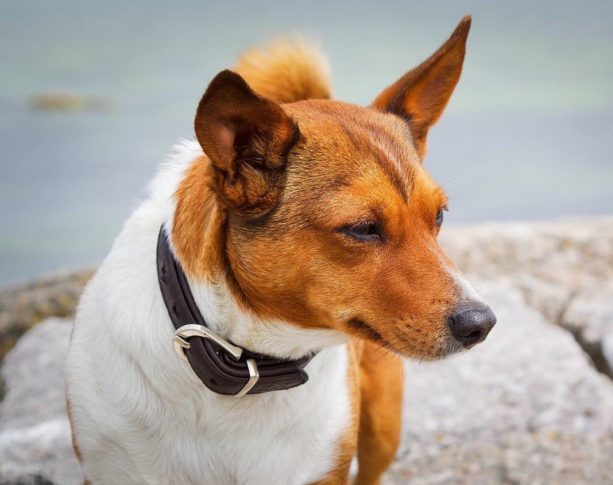 To form our rolled leather dog collar reviews, we had our favorite pooches try different collars to see which ones come out on top.
All the collars on this list have been tried out on dogs of various sizes. The goal wasn't just to figure out which rolled leather collar was best. We wanted to help determine which product was best for you.
Consequently, we have also included a handy buying guide that should further assist you in the decision-making process. So, read on for some rolled leather dog collar reviews!
---
A Quick Comparison of our Favorites in 2021
Rating
Image
Product
Details

Best Overall

Hamilton

Durable
Looks great
Weather-resistant
Check Latest Price

Best Value

Coastal Pet Rolled Oak

Affordable
Doesn't irritate hair or skin
Looks good
Check Latest Price

Premium Choice

Auburn Leathercrafters

High-grade materials
Very durable
Resists adverse weather conditions
Check Latest Price

CollarDirect Soft Padded

Moderate price
Handmade
Matching leashes available
Check Latest Price

BRONZEDOG

Lots of different colors
Comfortable
Sturdy
Check Latest Price
The 10 Best Rolled Leather Dog Collars
1.

Hamilton Rolled Leather Dog Collar – Best Overall
The Hamilton LM4 is a sturdy collar available in a range of different sizes. The leather has been specifically optimized to withstand harsh weather situations. And, like any great leather dog collar, it also just looks awesome. The leather has been professionally died and treated to look great.
However, the Hamilton suffers from a drawback common to most leather collars: it is pricey. It is certainly possible to find more affordable products if you need to. It's still great for what it does, but the price may be restrictive for some people.
Pros
Durable
Looks great
Weather-resistant
Good for dogs of most sizes
---
2.

Coastal Pet Rolled Leather Collar – Best Value
The Coastal Pet is available at roughly half the price of many other units on our list. For that reason, we have designated it the best rolled leather dog collar for the money. The product has been specially designed to avoid matting your dog's fur and irritating its skin.
Owners of dogs that have long hair often prefer this attractive collar. The leather has been tanned and treated to facilitate an elegant appearance.
Unfortunately, the actual quality of the leather is not equal to that of our first choice. It gets dried out easily which can lead to cracking.
Pros
Affordable
Doesn't irritate hair or skin
Looks good
---
3.

Auburn Rolled Leather Dog Collars – Premium Choice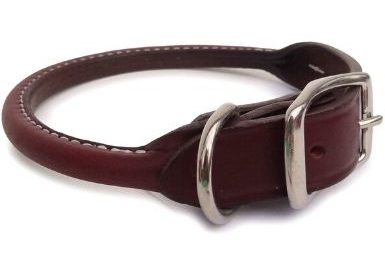 The Auburn is a pricier unit that will be great for those looking for a deluxe collar. It is available in different colors and it can be sized to fit a wide range of different dogs.
The quality of the leather itself is also unquestionable. The materials are all high grades and designed to resist adverse weather conditions.
The only real issue is the price. This is one of the pricier collars on our list today. It probably will not be an appropriate choice for budget buyers but it will be great for people that want a premium product.
Pros
High-grade materials
Very durable
Available in a range of different colors
---
4.

CollarDirect Rolled Leather Dog Collar
The CollarDirect is a moderately priced product that is designed for smaller dogs. The collars are available in several different colors and should be well suited for comfortable wearing.
All the collars are handmade, and there are also matching handmade leashes available for those that are really set on making a fashion statement.
These things said, we have observed a few issues. The coloring fades very quickly. The collars look great out of the box, but the appearance will quickly diminish. There have also been some user reports claiming that the leather irritated their dog's skin.
Pros
Moderate price
Handmade
Matching leashes available
Cons
Color fades quickly
Leather may irritate some dog's skin
---
5.

BRONZEDOG Rolled-Leather Dog Collars
The Bronzedog rolled leather collar is available in many different colors. It is soft and comfortable, but also sturdy enough to withstand play and daily use.
It has been specifically designed to withstand the needs of long-haired dogs. Because of the "rolled" element of the leather, it won't tug on your dog's hair how other collars do.
These things said the stitching leaves quite a bit to be desired. We observed that the stitching quality deteriorates quickly. This is likely to be especially problematic for dogs that are highly active.
Pros
Lots of different colors
Soft and comfortable
Sturdy
---
6.

Mendota Rolled Leather Dog-Collar
The Mendota is a handmade collar that is well suited for the needs of the long-haired dog. It is designed to be very durable and also comfortable for dogs of a wide range of sizes.
But despite being tough, the leather is also very workable. The leather is flexible enough to allow your dog to be comfortable as it plays.
There are two issues to be wary of. First, the material is not very weather resistant. In certain conditions, it is likely to dry out and crack. It is also one of the more expensive products on our list. In fact, it is roughly twice the cost of most of the other collars we have seen.
Pros
Handmade
Very durable
Workable enough to be comfortable during play
Cons
Not very weather resistant
---
7.

WAUDOG Rolled Leather Puppy Collar
The Waudog is a budget-friendly puppy collar that will be good for smaller dogs. It is available in many different colors and should be easy to clean. It is also available in a wide range of sizes and can be purchased alongside a matching leash.
The unit combines quality and comfort to give your pup a pleasant user-experience. Unfortunately, we have found that the metal components of this collar are not up to snuff. They rust and corrode over time, which means that you will need to replace the entire collar quicker than you might otherwise have needed to.
Pros
Affordable
Good for smaller dogs
Durable and comfortable
---
8.

Dogs My Love Leather-Rolled Collars
This next collar is made to be soft, comfortable, and safe for use with smaller dogs. The unit is outfitted with nickel-plated hardware that is resistant to corrosion and rust, and it can be altered between four different sizes.
Unfortunately, though, the quality of the material isn't what we look for in a collar. We have seen several user reports that the leather snapped during walks, which is obviously a major safety concern for you and your dog.
For smaller dogs with a calm temperament, it may be a suitable product. Otherwise, you will want to look for something else.
Pros
Soft and comfortable
Good for smaller dogs
Resistant to corrosion
Cons
User reports that leather snapped during walks
Not for large or hyper dogs
---
9.

Perri's Rolled Leather Dog Collar
The Perri's Rolled Leather Dog Collar comes in a classic tanned brown. The metal material comes in a durable brass that will not be vulnerable to rust and deterioration.
It is available in sizes appropriate for dogs both big and small, and it is specifically optimized to be comfortable even on animals with thick, long hair.
It is an acceptable product, but it ultimately suffers from a few prominent shortcomings. Like many leather collars, it is susceptible to the elements. It also tends to run very small. Even the biggest sizes probably will not be suitable for larger dogs.
To make matters worse, this unit comes in on the higher end of the price spectrum.
Cons
Sizes run quite small
Pricey
Leather is susceptible to corrosion
---
10.

RuffGrip Rolled-Leather Dog Collars
Last, the RuffGrip. This is another cosmetically appealing collar that will be good for smaller dogs. These things said, there are a variety of reasons it finds itself last on this list.
For one thing, the materials are not tough enough to be used on larger, hyperactive dogs. The leather also doesn't handle moisture very well. It will dry out very quickly and then subsequently crack.
Finally, the coloring is not enduring, either. The collar won't look much like the product you bought after a few months of use.
While the RuffGrip collar may be suitable for some people it does suffer from distinct limitations.
Cons
Not for bigger dogs
Material does not handle moisture well
Coloring fades very quickly
---
Buyer's Guide – Finding the Best Rolled Leather Collar
In this section, we will discuss some considerations that should help you choose between the ten  leather dog collars on this list.
First, Why Rolled Leather?
There are two main reasons a pet owner might choose rolled leather collars. The first reason is that it looks nice. Leather is a perennial classic for making a fashion statement and that extends to pet care.
It's also very suitable for the needs of long-haired dogs. Because of the design concept rolled leather will not pull on your long-haired dog's coat—nor should it irritate their skin.
You don't have to have a long-haired pooch to enjoy the benefits of rolled leather, but it is a good product to get a hold of if you have one.
Hardware
Much attention is paid to the quality of the leather, but without good hardware the entire product is useless. You want to get something that is made to resist rust and corrosion. For example, brass is a good metal fixture for standing up to the elements.
Size
Naturally, you will need to pay close attention to the size of your dog before selecting a leather collar. Many companies will make general size recommendations, but to ensure you are getting the right product, it is best to go to the trouble of measuring your dog's neck.
It is unsafe for your dog to wear a leather collar of the wrong size, both because it is easier for them to choke on, and because the likelihood of them breaking from their leash is sharply increased. That being the case, you will want to be extra mindful of this consideration.
Price
When considering leather it is actually a good idea to look for more moderately priced or even expensive products. This is simply to ensure quality. While leather is noted for its durability, lower-quality products will be susceptible to environmental factors, including moisture.
If they are exposed to rain (and they almost definitely will be) the leather will dry out and subsequently become useless. With higher quality leather, this is less of a risk though proper care is always needed.
Color
Last but not least, color! You want your leather collar to be fashionable, don't you? Many of the products on our list today were available in a wide range of colors. No matter what sort of look you are trying to facilitate you should be able to find something that suits your interests.
Often enough, you will even be able to find matching leather leashes. This product is as much a fashion statement as it is a practical piece of equipment so choose something that suits your sense of fashion.

Conclusion:
Did one of our rolled leather collar reviews catch your eye? Maybe you love the beauty and overall quality of our top choice, the Hamilton LM4 18BU Rolled Leather Dog Collar.
You don't have to spend a ton of money to get a good product though. There are also more affordable options out there that still treat you and your dog to a quality experience. Our runner up, the Coastal Pet 01206 TAN20 Rolled Leather Collar is a good example of how you can save money and still get something super solid.
All ten of the products seen on this list are right for someone. We hope that you now know which one is right for you!