10 Best Shock Collars for Large Dogs in 2023 – Reviews & Top Picks

Shock collars are controversial devices, but many trainers swear by them. However, it's hard to find one that works for all kinds of dogs, as a shock that will fry a Chihuahua may not even register for a Great Dane.
That's why it's so important to find one that works for your specific dog. If you buy a good one, you can possibly give yourself a powerful training shortcut, but a bad one could derail your efforts — or worse, injure your pooch.
In the reviews below, we'll discuss some of our picks for the best shock collars for large dogs — as well as some that belong on the scrap heap rather than around your pet's neck.
A Quick Comparison of Our Favorites in 2023
Rating
Image
Product
Details

Best Overall

PetSpy Dog Training

Can be used blind
Has a 650-yard range
16 different intensity levels
Check Price

Best Value

Pet Union Dog Training

Long battery life
Large LCD screen
Completely waterproof
Check Price

Premium Choice

SportDOG Brand FieldTrainer

Great for professional trainers
Buttons are customizable
Recharges quickly
Check Price

DOG CARE

Slim construction
Security lock
Shock button
Check Price

PATPET

Shuts off automatically for safety
Sound and vibration modes
Good for users with small hands
Check Price
The 10 Best Shock Collar for Large Dogs
1.

PetSpy Dog Training Shock Collar – Best Overall
The PetSpy P620 was designed to be used blind, so that you can focus on your dog instead of looking at the remote every time you want to issue a correction. To that end, the buttons are all easy to distinguish by touch, so after a few minutes you should be able to give your dog your complete attention.
The remote has a 650-yard range, so you can work on your dog from a distance if you want to train him to roam off-leash. You can choose from three different training modes as well, each with 16 intensity levels.
The collar is big enough to accommodate mutts up to 140 pounds, so unless you have a truly massive dog, this should fit him fine.
The company throws in a training eBook as well, but it's no substitute for an experienced trainer. The battery life is also somewhat short, so expect to only get a day or two out of it per charge.
When it's fully juiced, though, the PetSpy P620 is the best shock collar for large dogs we found, and truly deserving of the top spot in our rankings.
Can be used blind
Has a 650-yard range
Three training modes
16 different intensity levels
Fits dogs up to 140 lbs.
Short battery life
Included ebook isn't very useful
---
2.

Pet Union Dog Training Shock Collar – Best Value
The Pet Union PTOZ1 doesn't have the same range that the PetSpy ranked above it does, but it's still a comparable collar at a budget-friendly price. In fact, it's our choice for best shock collar for large dogs for the money.
The PTOZ1 only has a 300-yard range, about half that of the PetSpy, but its battery life is much greater. You'll need to look at it to use it, though, as the buttons all feel the same. Luckily, the large LCD screen makes it easy to figure out, and it works equally well during the day or night.
This collar has four modes instead of three, each of which can be customized from 1-100. Not all the modes are winners in our opinion, but it's nice to have choices.
It's surprisingly durable for the price, and it's fully waterproof, so you can leave it on when swimming or training in the rain.
We don't feel the Pet Union PTOZ1 is quite as good as the PetSpy, but for the price, you might just be willing to sacrifice a little bit of functionality.
Excellent value for the price
Long battery life
Large LCD screen
Four training modes
Completely waterproof
Limited range
Must look at the buttons to use it
---
3.

SportDOG Brand E-Collar – Premium Choice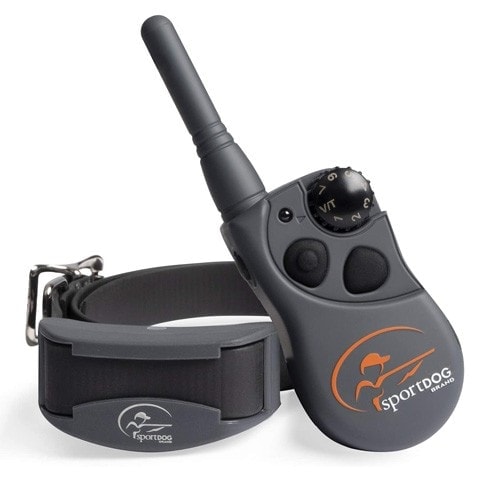 If you're a professional trainer, the SportDOG Brand 425 may be the perfect accessory for modifying unwanted behaviors. However, regular owners may find it to be overkill, both in terms of the features it offers and the price it commands.
You can train three dogs simultaneously with one controller (though you'll need to buy three separate collars). This is fantastic for anyone leading group classes, but if you're an everyday owner, you might find that overwhelming.
You can also customize the buttons to your liking, and the company includes both a detailed manual and instructional DVD with each purchase. Again, though, this may be intimidating, and you may not be willing to do the necessary homework in order to get maximum value out of this collar.
It's waterproof and submersible up to 25 feet, so it's great for training hunting dogs. The battery life is good, and it recharges in about two hours.
Ultimately, the SportDOG Brand 425 might just be the best shock collar for large dogs on the market — and it's certainly the most advanced. All those features don't do you much good, though, if you never learn how to use them.
Can train three dogs simultaneously
Great for professional trainers
Buttons are customizable
Comes with detailed manual and instructional DVDs
Recharges quickly with long battery life
Extremely complex
Very expensive
May be too intimidating for some owners
---
4.

DOG CARE Dog Shock Collar
The remote for the DOG CARE TCO1 is long and slim, and it fits neatly in your hand. It's also easy to carry in a pocket, and there's a security lock on the keypad to prevent accidental shocks.
You can control a whopping nine dogs with one controller, but that sounds like a recipe for chaos to us. Still, the option is there, if you can pull it off.
The shock button is large and clearly labeled, so you shouldn't have trouble finding it when you need to get your pup's attention.
The TC01 costs roughly as much as the Pet Union PTOZ1 but doesn't quite provide as much value for your money. The lower shock settings are barely noticeable, but the highest one gives a pretty good zap, so you're kind of stuck between extremes.
Also, the battery in the collar doesn't last long. After a few months, don't expect it to hold a charge at all unless it's plugged in.
We like some of the features on the DOG CARE TC01 (and we love the price), but they need to work out a few kinks before they can plan to move up these rankings.
Slim construction
Security lock prevents accidental zaps
Shock button is large and easy to find
Good price
Shocks are limited to extremes
Battery won't last long
Controlling multiple dogs seems like a recipe for disaster
---
5.

PATPET 320 Dog Shock Collar
The PATPET 320 has an automatic shutoff that stops shocking the dog after 10 seconds. This is to prevent accidental continuous shocks, like those that could occur if you stuck the remote in your pocket, for example.
While we're glad it has this safety feature, ten seconds seems a little gratuitous, as we don't think you should ever need to zap your dog that long.
The correction modes range from 1-16, and when you get to six or so, your dog should really start to feel it. The higher settings are more likely to cause pain and confusion more than improve behavior.
It also has vibration and sound modes, and these may be even more effective than the shock setting. The vibration can be set fairly high, so you can definitely get your mutt's attention without hurting him in the process.
The buttons are close together, which is good for users with small hands, but it can cause mistakes in the heat of the moment.
The PATPET 320 can be an effective behavior modification tool but given that it's possibly more effective when not used as a shock collar, it's hard to rank it higher than 5th.
Shuts off automatically for safety
Sound and vibration modes work well
Good for users with small hands
Shock mode not as effective as other two modes
High settings can be painful
Easy to press the wrong button
---
6.

Flittor DT102 Shock Collar
You can set the Flittor DT102 to remember your settings from one training session to the next, so you won't have to spend a lot of time fiddling around trying to find something that works. It saves three settings, allowing you to use it with three different pups if you like.
The LCD screen is large and clearly reveals the settings, minimizing the risk that you'll give Fido more of a jolt than you intended. It's very bright, too, making night training possible.
Unfortunately, the shock setting can be sporadic, especially with longer-haired dogs. This can completely derail training, as correcting him sporadically will likely only leave him confused.
It's somewhat tricky to put on as well, and if you don't do it correctly it can fall off. The plastic is extremely rigid, so it won't take much for your dog to break it even if you do get it on right.
The remote on the Flittor is one of the best and most intuitive we found, but sadly the collar can't quite live up the same standard, forcing us to relegate this unit to the bottom of the list.
Memory function saves settings
Clear and intuitive LCD screen
Suitable for night training
Shock mode only works sporadically
Collar is difficult to put on
Determined dogs can break it
---
7.

Bousnic 320B Electric Shock Collar for Large Dogs
Some manufacturers seem to think that sleek and minimalistic are the ways to go when designing a remote; the Bousnic 320B certainly adheres to this philosophy, but it only serves to cause problems.
The remote does look simple, and it's easy to use if you're staring at it the entire time. Unfortunately, your remote shouldn't be the focus of your attention during training.
The buttons are all very similar, making it very difficult for you to find the right one immediately. They're close in size, too, so it's easy to make mistakes at first until you memorize the layout.
You can control two dogs simultaneously with the remote, and unlike other options that give you a similar capability, this one includes two collars. Of course, it's on the pricier end of the spectrum, so adding the second collar is more a matter of convenience than value.
Also, switching from one dog to the other is clunky, and you may not be able to do it in time to issue a correction.
While we appreciate the Bousnic 320B's efforts to simplify training, they end up making it more difficult, and we had to penalize them accordingly.
Comes with two collars
Can train two dogs simultaneously
Buttons are confusingly similar
Fairly expensive
Switching between dogs is clunky
---
8.

TBI Pro TJ-1 Dog Training Collar
The remote for the TBI Pro TJ-1 is bright green, which makes it easy to find when you need it. The shock button is bright orange, helping it to stand out against that green background so you can quickly locate it while training.
If green-and-orange sounds like an ugly combination to you, it is — but it's also effective. The shock button is also located where it's easy to find regardless of whether or not you're staring at it.
Unfortunately, it seems all the design consideration was given to the layout and appearance of the remote, rather than to the collar's function.
The range is very poor, so unless you have a tiny yard don't expect to use it outdoors. It doesn't seem to be waterproof at all, either. You don't need to worry too much about keeping it from getting wet, though, because it will probably stop working after a couple weeks regardless of what you do.
The appearance and layout of the TBI Pro TJ-1's remote is excellent, and something other units should emulate. For its part, though, the TJ-1 should think about how to copy other collars' durability.
Bright green color makes remote easy to find
Shock button designed to minimize accidental activation
Very poor range
Not waterproof
Poor durability
Fairly ugly
---
9.

FunniPets Dog Shock Collar
In many ways, a shock collar that doesn't work at all is preferable to one that only works sporadically, as then you'll at least be consistent with your training. This model from FunniPets clearly doesn't agree with that statement, however, as you never know whether it will do what you tell it to.
To be fair, part of the problem may be because this thing has an atrocious battery life. You'll need to charge it every other day at least, and that's on standby mode.
If you can get it to work, though, you'll likely be put off by the complicated remote. It has way more buttons than it needs, and it can be confusing trying to get the settings just right, especially if you're training multiple pets.
It claims to be waterproof, but the manufacturer asks you to not put it in the water for a long time, which isn't terribly reassuring.
You do get two collars for a fairly low price, so that's good, but it's not nearly enough to make up for the FunniPets' other shortcomings.
Two collars for a low price
Only works sporadically
Terrible battery life
Remote is very complicated
Not very waterproof
---
10.

Slopehill Waterproof Dog Shock Collar
If you buy a collar called the "Slopehill Waterproof," what is the one thing you would expect it to be able to do? If you said, "survive in water," well, you're likely to be as confused by this machine as we were.
It has the same problem that the FunniPets collar does, in that it's terribly sporadic. However, even when it works, there's usually a delay of a few seconds, in which time your dog has likely stopped doing the behavior you're hoping to correct.
The clasp on the collar is made of cheap plastic and will likely break if your dog is the least bit rambunctious, but the good news is you might not mind if your pup comes back without it attached to his neck.
It does have a very good battery life, though, so there's that.
Overall, the Slopehill Waterproof doesn't offer much worth recommending, and unless it gets a drastic overhaul, it shouldn't expect to rank much higher than last on this list anytime soon.
Shock feature has a delay of a second or two
Only shocks sporadically
Not waterproof
Clasp is made of flimsy plastic
Related Read: 10 Best Dog Training (Shock) Collars
---
Conclusion
The PetSpy P620 earned our top spot on our list of the best shock collars for large dogs, as it's easy to use and has a great range. Plus, it can fit dogs up to 140 pounds, making it suitable for nearly any breed.
Coming in second was the Pet Union PTOZ1. The large LCD screen makes it very user-friendly, and the long battery life allows you to train nearly as often as you like.
Buying a shock collar for your dog isn't an easy process, but we hope these reviews have made it easier for you to find one you can trust. After all, it's for your dog's own good — even if he may not fully appreciate it at the time.