Blue Buffalo vs Taste of the Wild Dog Food: 2023 Comparison

Many veterinarians today are recommending premium dog foods. The more that science understands the dietary needs of canines, the more that dog food companies rise to produce quality foods. In a market where you continually see many ads about certain products being better than others, it is hard to decipher which of them is truly the best choice for your pet. We took the liberty of comparing two revered dog foods: Blue Buffalo and Taste of the Wild. Here is what we found.

A Sneak Peek at the Winner: Blue Buffalo
This comparison was extremely close, as these are both wonderful brands. However, our winning pick goes — by a slight margin — to Blue Buffalo. Keep reading to get a better explanation of how we determined this.
The winner of our comparison:
About Blue Buffalo
Blue Buffalo, founded in 2002, is a result of a concerned pet parent who was trying to create an ideal diet for their Airedale Terrier, Blue. Blue had been diagnosed with cancer, which prompted the search for a wholesome, natural combination of ingredients to soothe his symptoms and keep him healthy.
The company has grown tremendously since then, becoming one of the most popular dog food choices on the market today. Veterinarians and animal nutritionists have both had their hand in the recipe makeup of these products. They have created a wide variety of formulas to cater to many varying dietary needs.
Blue Buffalo Dog Food Products
Blue Buffalo has dog food product lines that offer different benefits for dietary needs.
1.

BLUE Life Protection Formula
Blue Buffalo Life Protection Formula provides essential nutrition for everyday needs. The recipes are free of wheat, soy, and corn additives. They offer whole meat proteins from chicken, lamb, or fish. You can find dog food for the size of your breed, as well as their current life stage, and choose either wet or dry.
The Life Protection Formula dry kibble has LifeSource Bits, which is a Blue Buffalo-exclusive ingredient that is power-packed with nutrients and antioxidants. It encounters less heat during production, helping the food retain essential vitamins and minerals.
This type of food is not for dogs who are sensitive to rice grain, chicken, fish, or lamb proteins.
Available in wet and dry form
Perfect for everyday nutritional needs
For healthy dogs with no health issues
LifeSource Bits
Not for all dogs who may suffer from specific food allergies
---
2.

BLUE Buffalo Wilderness
The Wilderness line was created with the intent of taking dogs back to their wild roots. This food is packed with protein and all recipes are grain free. These foods are terrific for dogs who are active, as the added protein will help their muscular development, skin, and coat.
It includes the trademark LifeSource Bits to retain the food's natural health content. BLUE Wilderness also comes in wet and dry forms. You can choose whichever option your dog prefers or add them together.
Many high-protein foods can cause weight gain in dogs if they aren't high energy. If you want the benefits of high protein, but your dogs are rather sedentary, try BLUE Wilderness Healthy Weight.
While these recipes are grain-free, the meat protein may cause sensitivities.
Primal recipe
Grain free
High protein
Great for muscles, skin, and coat
Some dogs may be protein sensitive
Could cause weight gain
---
3.

BLUE Buffalo Basics
BLUE Basics is a limited-ingredient diet that has vital ingredients without all the extras. This line of food is ideal for dogs who have food sensitivities. It avoids known additives that cause gastrointestinal upset or allergic reactions.
The Basics recipes are created from a single protein source to promote easy digestion. Your dog's system won't have to work on overdrive to break down what they consume. The kibble also has the LifeSource Bits to retain the nutrients included. There are selections for various sizes and life stages.
They use turkey, lamb, salmon, and duck as the primary protein source. While issues with these meats are less likely, it is still possible. Do be sure to monitor your dog for any signs of discomfort.
Only essential ingredients added
For dogs with food sensitivities
Single protein source
Be careful of individual dog's protein sensitives
---
4.

BLUE Buffalo Freedom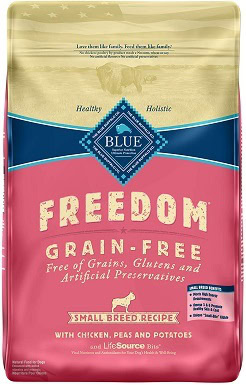 The Freedom line of Blue Buffalo dog food is a grain-free selection. Meat is the first ingredient, so your dog will reap the benefits of whole proteins.
This food can give them food free of grain, without overloading them with too much protein. LifeSource Bits are added to the kibble. This food is available in wet form. There are food options for small to large breeds, as well as different life stages.
It's a natural selection that has a substantial variety of chicken, lamb, and whole beef proteins. Be aware of potential protein sensitivities, however.
Grain-free
Not too high in excess protein
Great for moderate- to low-level-energy dogs
Potential protein sensitivities
---
5.

BLUE Buffalo Carnivora
Carnivora is a relatively new line of foods from Blue Buffalo. It caters to the primal nature of your dog. In the ingredients, you'll find meat from organs and cartilage. There are up to 11 different animal sources found in the food.
They have various blends for different breed sizes and life stages. There is a total of 90% animal protein and no grains included. This is by far the highest protein content in Blue Buffalo foods, coming in with 44.0% crude protein.
This food is best for active dogs who do quite a bit of physical exercise. Also, it's great for those who are prey driven.
Satisfies primal prey drive
Highest protein levels
11 different animal sources
Not suitable for every dog diet
---
6.

BLUE Buffalo Natural Veterinary Diet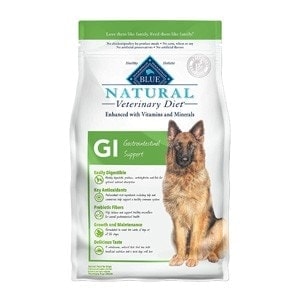 Sometimes our dogs need extra dietary support. If you have a dog suffering from obesity, liver or kidney disease, diabetes, or any other ailment, they may require specific restrictions on their diets. BLUE Natural Veterinary Diet offers just that.
Working with your veterinarian to ensure that you are getting the correct specialized diet is a must. These are prescription-grade foods and are not recommended for just any dog. It can be harmful if yours doesn't meet the necessary criteria.
Prescription foods
Tailored for various health issues
Not for every dog
Vet approval advised
---
7.

BLUE Buffalo Puppy Recipes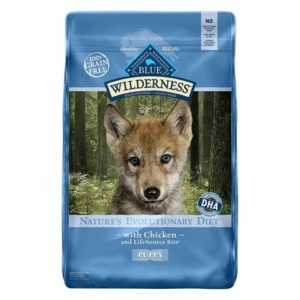 BLUE Puppy Recipes fall under many of the categories mentioned above. However, they are formulated particularly for growing puppies. Since puppies require high levels of protein, antioxidants, fats, vitamins, and minerals, these recipes nourish their developmental needs.
There are also size variations for small, medium, or large breed puppies, so any pup can get the daily nutrition they require. Since BLUE covers all bases for a puppy's diet, the only downfall would be if your dog is simply incompatible with the food as a whole for whatever reason.
Puppy food available in each Blue Buffalo food line
Covers all puppy needs, including breed size
May not be for all puppies

About Taste of the Wild
Taste of the Wild is a company owned by a singular family. The entire idea behind this brand is that you should give domesticated pets food that mimics their genetic ancestry. It aims to provide exceptional quality recipes that are true to their origin.
All its products are made in the United States. Its facilities are in four different states: California, Missouri, Arkansas, and South Carolina. It hand-selects suppliers locally and globally, being selective about whom it works with and where it sources its ingredients.
Taste of the Wild Products
Taste of the Wild has a significantly smaller number of dog food selections than Blue Buffalo. Each of its recipes is high protein. It has wet and dry food selections on most recipes. It also has puppy formulas.
1.

Taste of the Wild Canine Formula
These recipes were made with various wild meat selections that help promote better digestion in dogs. These foods have whole meat proteins, natural grain, and superfoods.
They come in both wet and dry forms and are also available as puppy chow. The Appalachian Valley formula is the only food that is formulated for small dogs. Each recipe also has guaranteed live probiotics to aid in gut health. Dried chicory root provides prebiotic fiber.
These protein-packed dog food products are ideal for active puppies and adult dogs. Because of their high caloric content, it can cause less active pets to become overweight quickly.
High protein, grain free
Exotic meats
Wet and dry foods
Live probiotics and prebiotics
Could cause weight gain in less active dogs
---
2.

Taste of the Wild Ancient Grains
Ancient Grain products are a bit different than the Canine Formulas. These recipes have live probiotics and prebiotics for gut health. The probiotics are species-specific. Taste of the Wild developed K9 Strain Probiotics, which provides 80 million live probiotics for immune health.
Ancient Grains is suitable for all life stages, which means you can feed this to your dog from puppyhood onward. Added in are what is referred to as ancient grains, specifically chia seed, quinoa, sorghum, and millet. These grains provide a multitude of vital vitamins, minerals, and other beneficial factors.
Grain-sensitive dogs will not be able to try this food, as it is not grain free.
80 million live probiotics
For all life stages
Nutrient-packed grain
Not for dogs who need a grain-free diet
---
3.

Taste of the Wild Prey
There is only one option for Taste of Wild Prey. It is a limited-ingredient diet made from Angus beef. This food also has guaranteed probiotics and is also non-GMO and grain free.
The four ingredients are Angus beef, lentils, tomato pomace, and sunflower oil. Lentils provide added protein, healthy fiber, and other nutrients. The tomato pomace is a fiber additive with powerful antioxidants. Sunflower oil is omega-rich, making it a valuable, healthy fat.
It has slightly fewer calories than their other foods and is sure to appease the needs of your sensitive pooch. However, this won't work for every dietary need.
Non-GMO, grain free
High protein
Only four ingredients
Fewer calories
Not suitable for every diet

The 3 Most Popular Blue Buffalo Dog Food Recipes
While Blue Buffalo brand has a wonderful variety of recipes, here are three top favorites.
1.

Blue Buffalo Life Protection Formula Adult Dry Dog Food (Chicken and Brown Rice)
The Blue Buffalo Life Protection Formula Adult Dry Dog Food is an excellent choice for an adult dog who loves poultry. This food is fresh and aromatic and dogs seem to think it's tasty. This formula is created for daily nutritional value. It comes with Blue Buffalo's signature LifeSource Bits for optimal nourishment.
This recipe includes 24.0% crude protein and each cup has 377 calories. It's not a grain-free option, which can be a deterrent for certain dietary needs. Some dogs may also be sensitive to chicken proteins. However, the brown rice does tend to be a more digestible grain — and there is never any added wheat, soy, or corn.
Fresh
Everyday nutrition
LifeSource Bits
Not grain free
For adult dogs only
---
2.

Blue Buffalo Homestyle Recipe Canned Dog Food (Lamb Dinner With Garden Vegetables)
Blue Buffalo Homestyle Recipe is a wet food that will spark your dog's appetite right away. Lamb is the primary source of protein in this food, and it is full of delicious fruits and vegetables.
Wet dog food is perfect as a standalone diet or an additive to regular kibble. It provides an extra boost of hydration that dogs can benefit from. However, wet food isn't as good for pet's teeth because it doesn't clean them as well as crunchy food. Be sure to brush their teeth regularly to avoid tartar and plaque.
Appetizing
Added hydration
Can be used in combination with kibble
Must brush their teeth to avoid dental problems
---
3.

Blue Buffalo Wilderness Rocky Mountain With Red Meat Adult Grain-Free Dry Dog Food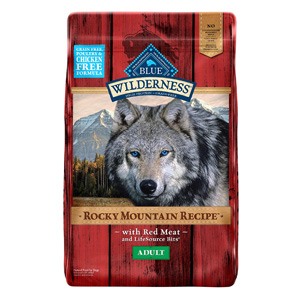 Blue Buffalo Wilderness Rocky Mountain recipes are packed full of nutrient-rich proteins. This selection has red meat as the primary protein source. It is dry kibble with added LifeSource Bits, which will help your pet retain more of the added antioxidants, vitamins, and minerals.
While it's full of high protein levels and vitamins, it can cause obesity in some dogs. However, if you have an active dog who needs a healthy grain-free diet, this is a wonderful pick.
High protein
Grain free
LifeSource Bits
May cause obesity in low-activity-level dogs

The 3 Most Popular Taste of the Wild Dog Food Recipes
Each Taste of the Wild dog food type has its perks, but take a look at these top three picks.
1.

Taste of the Wild Sierra Mountain With Roasted Lamb
As with most Taste of the Wild products, Sierra Mountain is grain-free. Lamb is the first ingredient, which ensures that the food is high in protein. It has K9 strain probiotics to ensure a healthy gut.
The smell of this food is aromatic but not overwhelming. It seems to encourage eating, as the dogs enjoy their eating experience. It is ideal for the active dog who needs a proper dose of protein in their diet. However, because of the weight gain potential, it may not work for every dog.
Prebiotics and probiotics
Grain-free
High protein
Some dogs may not benefit from a high protein
---
2.

Taste of the Wild Ancient Wetlands With Roasted Fowl
Taste of the Wild Wetlands With Roasted Fowl is dry kibble. It is a high-protein selection with wholesome ingredients. It has guaranteed 80 million probiotics. This is an ancient grains recipe, so it is packed with quinoa, sorghum, and chia grain. It has three main types of meat: roasted quail, duck, and turkey.
This is also an all-life-stages food, meaning that you can give it to your puppy or senior without issue. It has 404 calories. Individual dogs — no matter their age — may be sensitive to high protein or grain.
Prebiotics and probiotics
All life stages
Three meat trio
Dogs may be sensitive to protein or grain
---
3.

Taste of the Wild High Prairie With Roasted Bison and Venison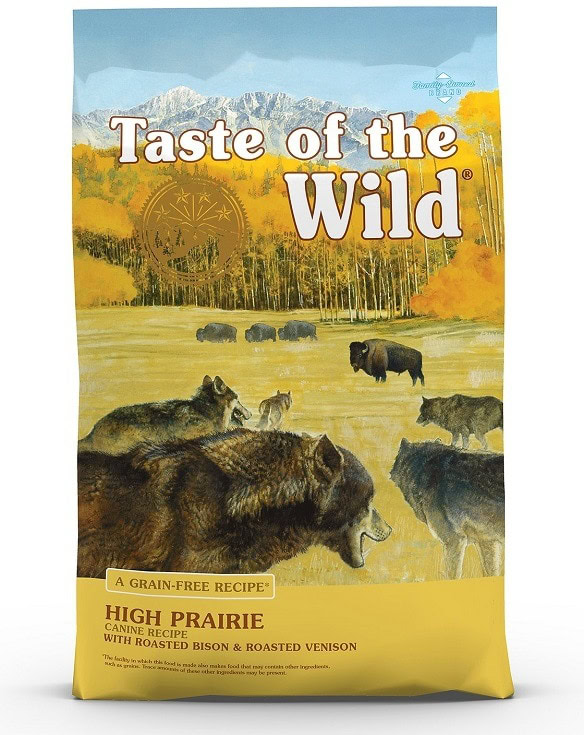 Taste of the Wild High Prairie With Roasted Bison and Venison will give your dog a taste experience that they are sure to love. This is a high-protein, grain-free selection with power-packed vitamins, minerals, probiotics, prebiotics, and antioxidants.
This recipe has 32% protein and 370 calories. It may be best for high-energy dogs who could benefit most from the protein levels.
32% protein
Prebiotics and probiotics
Grain free
Protein may be too high for some dogs
---
Recall History of Blue Buffalo and Taste of the Wild
Blue Buffalo Recalls
Recalls can happen for several reasons. Over the course of time that Blue Buffalo has been in business, it has had a few instances where its food needed to be sent back and reexamined.
April 2017
Recalled for: Melamine
Products: Blue Buffalo BLUE dog food and treats, Blue Buffalo BLUE Spa Select cat food and treats.
October 2010
Recalled for: Too high of Vitamin D
Products: Blue Life Protection Formula Natural Chicken and Brown Rice Large Breed Adult dry dog food, Blue Basics Limited Ingredient Formula Salmon and Potato dry dog food, and Blue Wilderness Chicken Flavor dry dog food.
November 2015
Recalled for: Potential salmonella
Products: Cub Size Wilderness Wild Chew Bones best by November 4, 2017 — one batch
May 2016
Recalled for: Alleged mold
Products: Blue Buffalo Life Protection Formula Fish and Sweet Potato Recipe dog food (30-pound bag), best by April 11, 2017.
February 2017
Recalled for: Possible aluminum contamination
Products: BLUE Divine Delights 3.5- ounce cups:
Filet Mignon Flavor in Gravy
Prime Rib Flavor in Gravy
Rotisserie Chicken Flavor in Gravy
Pate Porterhouse Flavor
Pate Grilled Chicken
Pate Top Sirloin Flavor in Gravy
Pate Angus Beef Flavor
Pate with Bacon, Egg, and Cheese
Pate Sausage, Egg, and Cheese
BLUE Wilderness Trail 3.5-ounce cups:
Duck Grill
Chicken Grill
Beef Grill
Turkey Grill

Taste of the Wild Recalls
The Taste of the Wild brand has only experienced a singular recall, which is much better than Blue Buffalo.
May 2012
Recalled for: Salmonella
Products: Grain-Free High Prairie Canine Formula With Roasted Bison and Venison dry dog food, Grain-Free Pacific Stream Canine Formula dry dog food, Wild Prairie Puppy Grain-Free Formula

Blue Buffalo vs. Taste of the Wild Comparison
The two of these brands have their positives and negatives. When it comes to the winner of our brand comparison, let's get an in-depth look at what each offers, how they differ, and what makes one better than the other.
Ingredients
Because of the different ingredients that Blue Buffalo has over Taste of the Wild, they are the winner. Blue Buffalo has many different recipes and caters to a wider range of dietary needs.
Both brands are high quality, but Blue Buffalo beats all in terms of antioxidant ingredients, including its LifeSource Bits.
Point for Ingredients Goes to: Blue Buffalo
Price
When it comes to the price tag, that is a big deal for many buyers. You will want nutrition content to be quality, while still fitting in with your budget.
While prices vary depending on the point of purchase, Taste of the Wild tends to be cheaper than Blue Buffalo.
Point for Price Goes to: Taste of the Wild
Variety
Taste of the Wild produces nine different food varieties, which are all grain free and high protein.
Blue Buffalo has six different food lines with many different ingredient selections. Each food type has 10 or more variations. They cater to breed size, life stage, and dietary restrictions or specifications.
Point for Variety Goes to: Blue Buffalo
Nutritional Content
Both brands are highly praised for their nutritional content. Each brand includes nutritious additives in their food, such as protein, fatty acids, and superfoods.
Taste of the Wild beats Blue Buffalo in terms of protein content. However, Blue Buffalo seems to have a slightly higher percentage of superfoods packed with antioxidants.
Point for Nutritional Content Goes to: Blue Buffalo
Quality, Consistency, and Taste
Each brand has traceable locally- and globally-sourced parts. Dogs seem to love the taste and freshness that both offer. Blue Buffalo has its LifeSource Bits, which are softer in texture than the kibble. However, it may be somewhat lacking in terms of overall flavor.
When it comes to fresh taste, highest quality, and excellent consistency, Taste of the Wild is slightly better. The kibble is crisp, crunchy, and aromatic.
Point for Quality, Consistency, and Taste Goes to: Taste of the Wild
Specialization
Taste of the Wild is for dogs who need a high-protein, grain-free, all-natural quality diet. They don't have any prescription formulas or standard recipe options. While they use different proteins and have a few recipe selections, they aren't as versatile.
Blue Buffalo has a wide variety of specialized diets. From weight management, dietary restrictions, and prescription formulas, Blue Buffalo has it all.
Point for Specialization Goes to: Blue Buffalo
Company Reputation
Blue Buffalo is more interactive with worldwide organizations such as Pet Cancer Awareness, Sierra Delta, Canine Cancer Genome Project, and the Helen Woodward Animal Center.
Point for Company Reputation Goes to: Blue Buffalo

Blue Buffalo vs Taste of the Wild – Conclusion
While both of these brands have their positives and negatives, when it comes to Blue Buffalo vs Taste of the Wild, our favorite was Blue Buffalo. It has a wider variety, appeals to many different dogs, and has quality nutritional content. Taste of the Wild has high-protein selections, but because it isn't as diverse, it doesn't steal the winning spot. No matter which brand you pick, you are sure to give your dog a bountiful meal that has all the necessary ingredients for a healthy life.
---