PetSmart Dog Training Review 2023: FAQ, Pros & Cons
Review Summary
Our Final Verdict
We give PetSmart Dog Training a rating of 4.3 out of 5 stars.
If you've owned a pet for more than 5 minutes, then you almost certainly have heard of PetSmart. This mega company sells products for a variety of pets in all of its more than 1,600 stores across Canada, the United States, and Puerto Rico. What you may not realize, though, is that they also offer training classes.
PetSmart dog training is an accessible and affordable option for many people, and they offer a variety of class types. From puppy classes to obedience, you're likely to find a course that suits your dog. Many people underestimate PetSmart's training classes, thinking that they are low-quality courses led by underqualified trainers. This couldn't be further from the truth, and while their courses may not be perfect for every dog, they are highly suitable for a large number of dogs. This article includes everything you should know about PetSmart dog training.

PetSmart Dog Training – A Quick Look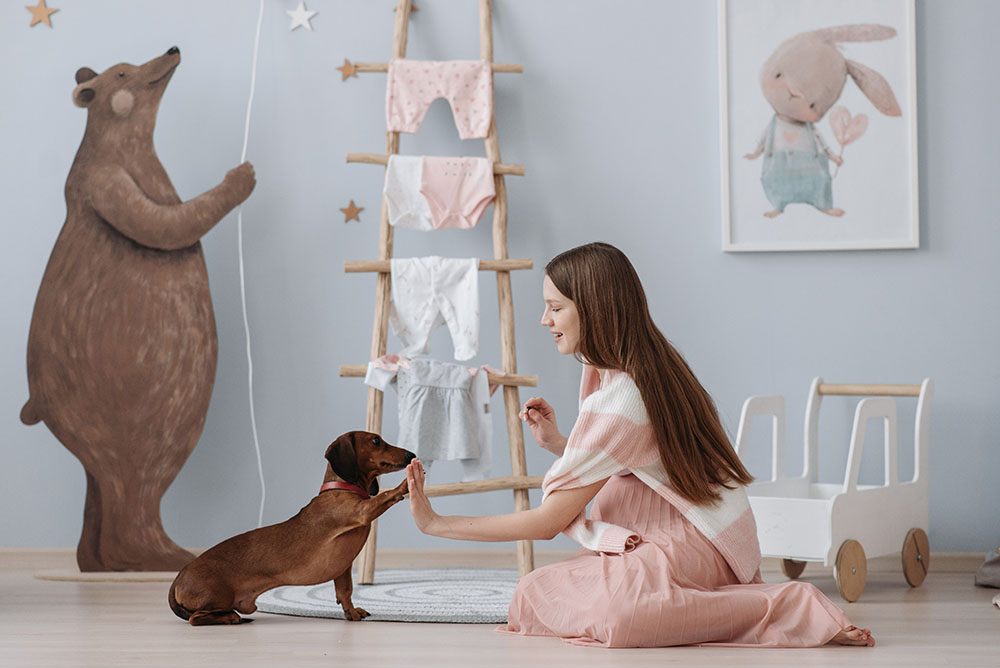 Online training courses
Accredited trainers
Obedience and special training courses
All experience levels welcome
Not ideal for some dogs
Trainers vary between locations
Extra fees for private training

How Do PetSmart's Training Sessions Work?
How the sessions work depends on the type of session you sign your dog up for. Generally, your dog will need to have completed a basic obedience class and be able to pass a test of basic skills before moving on to more complex courses.
Most training courses last from 3–6 weeks, depending on the type of course and your dog's needs. You'll be responsible for doing homework between sessions to keep up with your dog's training. Classes may meet weekly or multiple times per week.
Training sessions can be group classes or private classes, although some class types may not be available as both private and group classes. If you find a class that you think would benefit your dog, talk to the trainers at your local PetSmart to get their guidance on what would be the most ideal class setup to meet your dog's specific needs. Not every dog is going to jive with a group class, and that's OK!
What to Expect From Training Sessions
Class length can vary based on the class, and your trainer will be able to give you the specifics of your course. The majority of PetSmart's dog training classes last for 1 hour. Unless you specify that you'd like a private class, then your dog will likely be signed up for group classes since this is the most basic training package that PetSmart training offers.
If your dog is not socialized, dog reactive, or dog aggressive, then they may do best in a private session. Well-socialized dogs that do not have anxious or aggressive tendencies toward other dogs often do well in group classes because it allows them to practice skills in the presence of distractions, improving your dog's ability to focus on you.
There is a basic formula for most hour-long PetSmart dog training classes. You can expect the first 5–10 minutes of the class to focus on trainer introductions and a demonstration of that day's lesson. For the next 10 minutes or so, you will be allowed to practice the skill with your dog in the training area before moving out into the store to practice the skill for approximately 20 minutes. After the store portion of the class is complete, everyone will return to the training area for additional skills or refreshers on previous skills for 10–15 minutes. You can expect the last 5–10 minutes of class to focus on your trainer informing the class on the homework for the week and what skills will be focused on in the next class.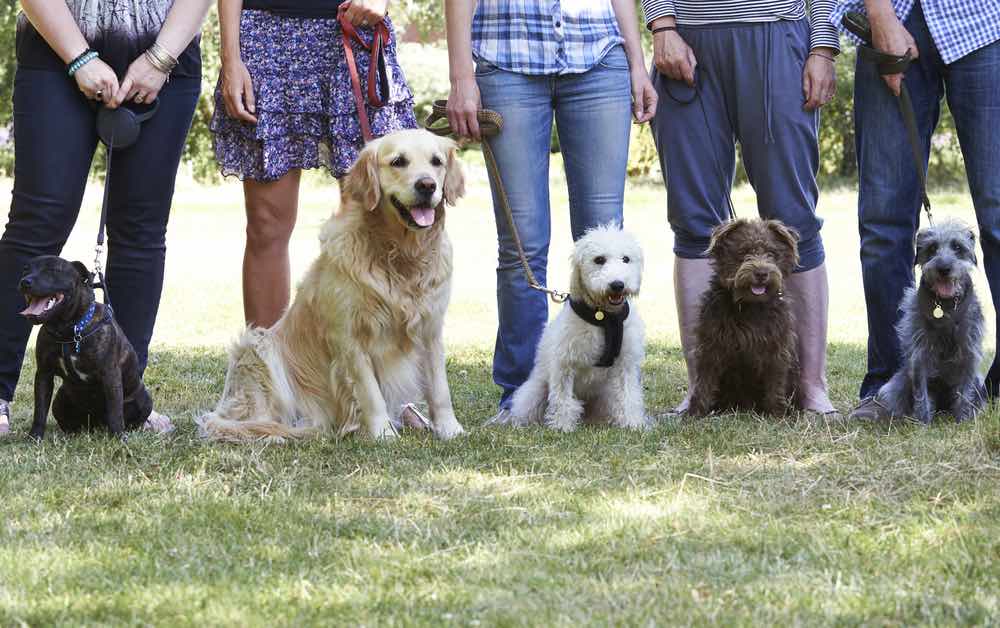 Efficacy of PetSmart Training Courses
The efficacy of the dog training courses will hinge on multiple factors, some of which are within your control. The factors outside of your control that can impact the effectiveness of the classes your dog takes are who the trainer is, their training style, and how their training style meshes with you and your dog's skills and knowledge.
You will also not be able to control what other dogs are in your class, as well as what other animals are in the store during your dog's training sessions. Troublesome dogs in classes may be moved to private training, but this will be at the judgment of the trainer.
You will have direct control over how you and your dog continue to practice skills once you leave the training class. If you don't practice skills between classes, then it will be difficult for your dog to fully learn skills and move on to more complex skills.
You will also have some control over what types of rewards your dog is given during training. High-value treats and rewards are ideal for dog training, but not every dog considers the same things to be high-value rewards. Just make sure your dog's treats or rewards aren't going to be distracting to other pups in the class, like loud squeaky toys or treats with potent smells.
Trainer Requirements
Regardless of which PetSmart you take your dog to for training and who your trainer is, you can rest assured that all PetSmart dog trainers are fully accredited dog trainers. It is important to understand that their accreditation is through a PetSmart training program. It is possible that you will have a trainer who has received accreditation through a national accrediting body, like an accreditation through The Association of Professional Dog Trainers (APDT).
This means that your trainer will be accredited, but they will not be as experienced or well trained as someone who has completed a higher-level accreditation program. While you may luck into a dog trainer in PetSmart dog training who has high-level training, it isn't common.
PetSmart's trainers are qualified to train a variety of classes, but they are not suitable for training dogs with behavioral concerns or training courses like protection work.
Class Variety
Currently, PetSmart offers 12 training courses. Most of their courses focus on different levels of obedience training and puppy training. They also offer more specialized training, though, like therapy dog classes and special trick training. Private classes are available to work on specific skills your dog needs to learn.
They offer a Brain Games class that teaches your dog to play games and solve puzzles, which is an excellent enrichment option, especially for fast learners and highly intelligent dogs. The Stress Less course deals directly with anxious behaviors and separation anxiety, teaching you and your dog to create a sense of calm and security.
If your dog is boarding at a PetsHotel or visiting PetSmart's Doggie Day Camp, then you can sign them up for boot camp training classes where a trainer will work one-on-one with your dog on specific skills.
Pricing and Value
For the average dog, PetSmart dog training classes are a good value. They come in around $23 per session, while working directly with a professional dog trainer can run in excess of $100 per session, depending on the trainer, their knowledge base and certifications, and the skills your dog is being taught. For skills like obedience, house and crate training, learning how to participate in games, and learning to socialize in public, then PetSmart's classes are a budget-friendly option.
If your dog is dealing with specific behavioral issues, like aggression, high stress and anxiety that are not managed with basic skills, and fearfulness, then these classes are not likely to be a good value for you and you would likely be better off spending the extra money on a more qualified trainer. The same goes for very specific skills, like protection work, Schutzhund training, agility, and service dog work, which typically require highly advanced and skilled trainers.

FAQ
What are the requirements to sign my dog up for a class?
For puppy classes, your dog must be between 10 weeks and 5 months of age, and they must be fully vaccinated by the time they're 4 months of age. For all other classes, your dog should be 5 months or older and fully vaccinated, with vaccines that are kept up to date every year.
Your dog cannot be aggressive, and if you have concerns about potential aggression from your dog, you can request a one-on-one evaluation with a trainer before signing up for a class.
How many dogs are in each group class?
Group classes consist of 4–10 dogs. More than 10 dogs can become unmanageable and distracting, so it is not part of PetSmart's policy to allow more than 10.
What do I need to bring to class?
You'll need to bring training treats or another small, manageable, high-value reward for your dog. Your dog can wear any type of slip leash, flat collar, head harness, or body harness. Retractable leashes, chain leashes, and leashes longer than 4–6 feet are not allowed. Prong collars, choke chains, pinch collars, and electronic collars are also not allowed.
To get yourself ready for class, come wearing comfortable clothes and non-skid shoes. Closed-toe shoes are ideal for the training environment.
What happens if I'm not happy with the outcome of my dog's classes?
PetSmart offers a 100% satisfaction guarantee on its training classes. This means that if you are not happy with the outcomes of your dog's training, they will work with you to come up with another solution. Most often, this will mean repeating the class at no cost to you. Keep in mind that you and your dog need to complete homework and practice skills between classes to get the most out of any training course.
What the Users Say
We wanted to see what people who have taken their dogs to a PetSmart training class are saying about the courses. We understand that not everyone is going to have a positive experience, though, so we've made sure to check out the praises and complaints that some people have had about the training courses offered by PetSmart.
Many people report feeling like the obedience and puppy classes offered through PetSmart dog training would be of great benefit to first-time dog owners and people attempting to train a dog on their own for the first time. For people who are experienced in dog training or ownership, the classes may not be of great benefit.
Some people have reported finding their trainers to be highly competent and effective teachers. Unfortunately, since trainers vary between every PetSmart location, this experience is not consistent between locations. Some people have found their trainers to be competent but not effective teachers, while others have found effective teachers who don't seem knowledgeable about dog training. PetSmart stores should be notified about ineffective trainers, though, so they can work to remedy the situation.

Conclusion
PetSmart dog training courses are a great option for first-time dog owners and people looking for fun classes that would otherwise not be accessible to most people. The selection of classes and skills that are covered in them makes this a viable option for dog training, especially for people who may struggle to afford the cost of a private dog trainer.
PetSmart does put its trainers through a training course and provides them with accreditation, but these trainers are not specialists and should not be relied upon to manage severe behavioral problems or trusted to provide specialized training. For basic obedience, puppy skills, enrichment activities, stress reduction, and therapy dog training, PetSmart dog training is an ideal choice.