440+ Different Names For Brittanys: Ideas for Your New Puppy!
The big day is finally here! Your Brittany is old enough for you to bring home and start making a life together! On your way back from the breeder, you'll need to stop and pick up all the essential items you need to take good care of your furry new friend. That includes brushes, dog treats, a comfy collar, some fun toys, and a harness for when your Brittany starts going for walks with you.
However, one thing you won't find at the store is the most important on your list: a name for your new best buddy. The fact is, picking a name for your new Brittany pup demands time, care, and an appreciation for the Brittany breed's trademark traits and characteristics. Those would be bright, eager to please, tireless, rugged, and fearless, to name just a few.
There are certainly plenty of names that will fit your Brittany well. Your job is to pick one that fits your new pup and that you like hearing because you'll no doubt be saying the name a lot in the years to come. To help, we've collected over 440 amazing names for Brittanys below! We picked names based on personality, European regal names, foods & drinks, sports, cute names, and even names based on Shakespeare and fantasy & fiction! We're sure you'll find one that fits perfectly, so read on to see which name you like best!

How to Name your New Brittany
There's no denying that, when it comes to dog names, some have been used so many times that they've become tiresome, for lack of a better word. Names like Luna, Cooper, Daisy, and Max aren't bad but let's be honest; you hear them all the time. Why not give your new puppy a name that truly stands out and is memorable?
Experts suggest that you choose a name based on the traits of your dog's breed. Luckily, Brittanys are loaded with wonderful traits to choose from! For example, Brittanys are very friendly and sweet, especially with children. This breed loves being around people and is eager to always please them.
Brittanys are high-energy dogs and will fit nicely in an active family that's into sports like running, frisbee, hiking, camping, and more. Brittanys are hunting dogs, so a family that hunts would be perfect. Lastly, Brittanys are highly sociable dogs that get along with other dogs, pets, and people. If possible, they will be much happier sleeping inside than outside.

Brittany Names Based on the Breed's Outgoing & Social Personality
Since experts recommend it, we'll start with Brittany dog names that match their bubbly, outgoing personality. The names below are all fun, friendly, and lovable.
Angel
Apollo
Ash
Bailey
Beau
Buddy
Cassie
Charlie B.
Cody
Cuddles
Darling
Dixie
Dreamcatcher
Giggles
Gracie
Harmony
Jackie
Jesse
Lucky Boy
Lucy
Maggie
Mellow
Merlin
Misty
Phoebe
Precious
Riley
Rogue
Rusty
Sassy
Sweetie Pie
Tucker
Winston
Zoe
Brittany Names Based on their Enormous Amount of Energy
Brittanys have the energy to spare, especially when they're younger. If you want a name that will match that energy level, one of the choices below should work well. All of them are energetic, fun names you'll enjoy saying and your Britt will enjoy hearing!
Amp
Ballistic
Bandit
Banzai
Bear
Boogie
Booster
Breezy
Bruno
Bubbles
Burner
Chaos
Chipper
Crash
Cyclone
Dart
Derby
Diesel
Digger
Fifi
Fizzy
Flipper
Folly
Frisky
Frolic
Gadget
Go-Go
Havoc
Hopper
Hustle
Jet
Jewel
Lark
Lasher
Midnight
Motor
Murphy
Nugget
Peppy
Pronto
Racer
Rascal
Ricochet
Riot
Rocket
Rufus
Runner
Scoot
Scooter
Shrimpster
Smokey
Sonic
Spirit
Sprinter
Swifty
Trickster
Tricky Dicky
Tremor
Turbo
Typhoon
Vandal
Violet
Whisky Foxtrot
Woody
Zinger
Zippy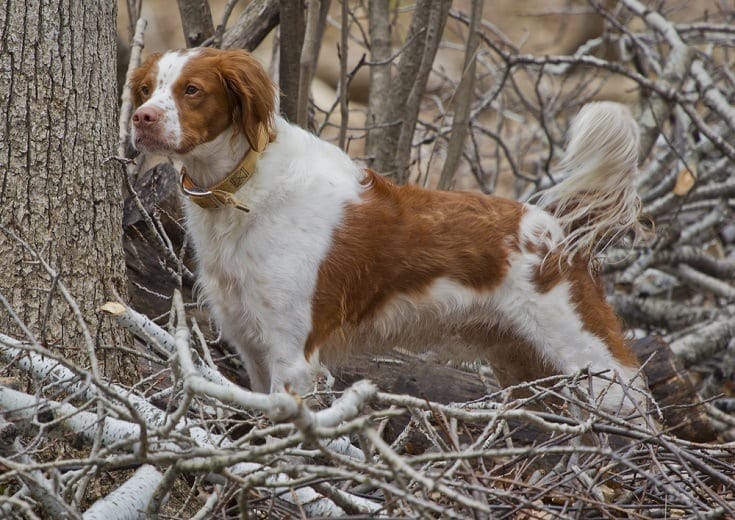 Regal Names from Europe for your Brittany
There's no denying that European names sound fancier and more regal than many from the United States. If you're looking to give your Brittany a name that befits their royal heritage and gorgeous outward appearance, one of the names below might work like a charm!
Abigail (Abby for short.)
Adalina
Alfredo
Angelo
Anka
Babou
Belinda
Britta
Brunhilda
Channel #1
Damien
Domingo
Dominoe
Drexel
Fabrizio
Felix
Fernanda
Fleur
Franco
Frida
Fritz
Gunther
Heidi
Lotte
Luigi
Marta
Merlin
Mischa
Paris
Peyton
Pippi Longstocking
Rafael
Siegfried
Soledad
Windsor

Names for your Brittany Based on Food & Drinks
Like most dogs, Brittanys are always looking for their next snack. Why not give them a name based on food that reflects their hungry heritage? They're fun to say and will get you both in the mood for snack time!
Alfalfa
Alfredo
Apple Fritter
Baked Ziti
Bananas
Banana Pudding
Barley
Basil Rathbone
Beanie
Birdie
Biscuit
Blanch
Brandy
Brie Cheesy
Bubblegum
Butterscotch
Buttermilk Biscuit
Butternut Squashed
Candy Cane
Candy Corn
Cannoli
Cappuccino
Caramel
Caviar Dreams
Chalupa
Cheese Dog
Cherry Pie
Chia Pet
Chocolate Cake
Cinnamon Toast Crunch
Cocoa Puffs
Coconut Custard
Condor
Cookie Monster
Couch Potato
Crackerjacks
Creampuff
Custard Cream
Deep Dish
Dijon Mustard
Dill Pickle
Drumstick
Eager Eater
Everything Bagel
Franks N. Beans
Fudge Brownie
Fuzzy Navel
Gray Poop On
Gumdrop
Honey Bunny
Jawbreaker
Kobe Beef
Lasagna
Margarita
Marshmallow
Meatbag
Merlot
Mocha
Mozzarella Stick
Muffy
Muffin
Mung Bean
Nacho Cheese
Noodle
Oreo Cookie
Peach Pie
Peanut Butter Cup
Pickles
Rainmaker
Sherry
Shrimp Gumbo
Snickerdoodle
Swisher Sweets
The Baconeater
Tor Tilla
Truffle
Tuna Melt
Wiggler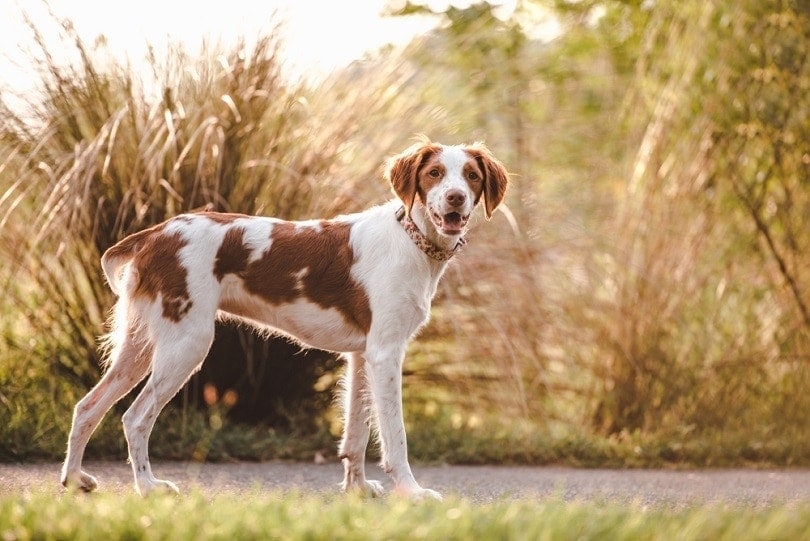 Brittany Names From Your Favorite Sports, Activities, or Teams
While your Brittany puppy might not know a thing about sports, they are very sports-inclined. These are dogs that have been trained for hunting for hundreds of years. They are great around water, can catch just about anything, and are energetic. The names below will fit your Britt's dynamic nature and incredible ability to ball out like a superstar!
Ace
Avalanche
Babe
Banana Cut
Biggie
Bravo
Buckeye
Buzzer
Cannon
Champion
Chief
Chopper
Coach
Cowboy
Diamond in the Ruff
Dribbler
Endzone
Fantasy
Fastball
Fisher
GOAT
Griddy
Heisman
Home Run
Hooper
Hurdle
Iron Mike
Juke
Jumbo
Kimbo Slice
Knockout
Knuckleball
Leaping Catch
Lefty
Magic
Monster
Montana
Moonshot
Moose
Mulligan
Pennant
Pick Six
Raider
Rocky Balbarker
Schooner
Scratch
Shooter
Skeeter
Slugger
Sniper
Soldier Boy
Spalding
Swish
Swing N. A. Miss
Team Spirit
Tiger
Titan
Touchdown
Triple Digits
Viking
Warrior
Wilson
Windup
Yip
Zamboni Pupparoni
Zinger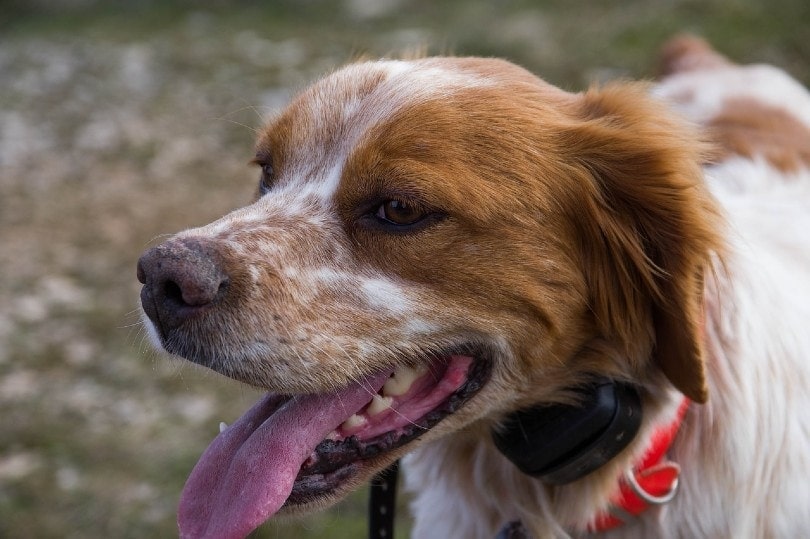 Brittany Names from the Works of Shakespeare
The Brittany is a rather regal dog with origins in Europe. They are also a beautiful breed and worthy of a name that fits their heritage. If you're looking for a name that you won't see given to other dogs, any of the names below will be a great choice.
Anastasia
Angus
Aragon
Ariel
Babette
Balthasar
Bassani
Berkeley
Bianca
Casanova
Charlotte
Cicero
Cupid
Cyrus
Czar
Demetrius
Edgar
Fabian
Falstaff
Ferdinand
Giotto
Hamlet
Hector
Helena
Hexi
Hubert
Iago
Imogen
Isabella
Julius
Lennox
Leonardo
Lorenzo
Luciana
Lupe
Macbeth
Malcolm
Marcello
Marcus
Mercedes
Milou
Miranda
Monaco
Montague
Nerissa
Oliver
Olivia
Ophelia
Paco
Paris
Patience
Pavel
Percy
Perdita
Polonius
Portia
Rembrandt
Romeo O. Romeo
Sasha
Sebastian
Shadow
Stephano
Troy
Valentine
Venice
Viola
Vladimir
Yolanda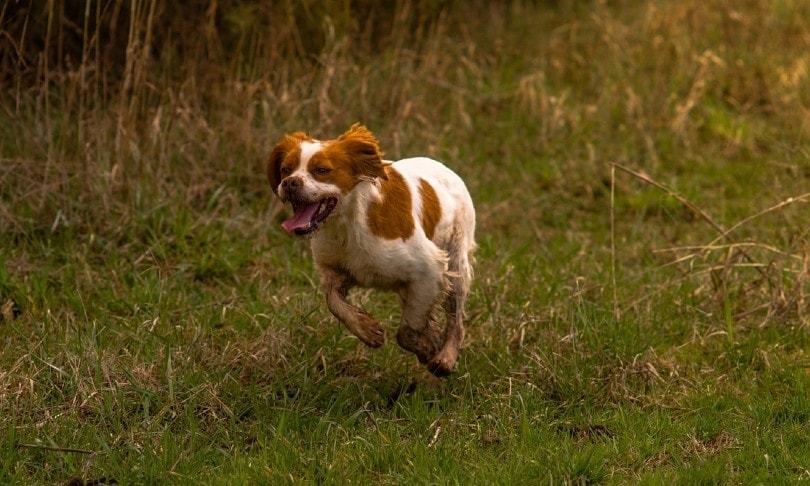 Names for your Brittany from Works of Fiction & Fantasy
While the following names don't have much to do with the Brittany breed, they're still pretty amazing. Besides, since your Brittany is your new dog, you can name them anything you like! With that in mind, take a look at some of the names below from famous books and see if one jumps out at you!
Argos
Bandit
Bear
Bella
Badger
Bowser
Buck
Bullseye
Chance
Cleo
Clifford
Cujo
Dingo
Duchess
Einstein
Fang
Fluffy
Genevieve
Granite
Holiday
Jasper
Kipper
Lassie
Marley
Nana
New row
Orson
Pilot
Poke
Pungo
Rennie
Ripper
Samantha
Ship
Shiloh
Spot
Toto
Wellington
White Fang
Yeller
Silly but Cute Names for your Brittany
These names are meant to make you smile, laugh, and maybe shoot milk out of your nose when you hear them! Yes, they're silly, but your Brittany puppy will be silly for a while and, as an adult, even more so! If you're fond of silly names that make people giggle, one of the choices below might fit your Britt perfectly.
Abracadabra
Alfred Von Wigglebottom
Archie Bunker
Baby Face Nelson
Beanie Baby
Babushka
Balloon Animal
Banjo
Barky the Kid
Bat Doggo
Big Guy
Bingo!
Bob Just Bob
Bo Peepers
Boss Man
Buckaroo
Captain Chaos
Clark Griswold
Clumsy
Dingle
Dude Perfect
Fido
Fuzzball
Fuzzy Face
Gonzo the Great
Homer S.
Indiana Bones
Junebug
Liberace
Lil Bow Wow
Macgyver
Marty McFly
Meatball Stub
Munchkin
Pinky N. D. Brain
Rambo
Rootbeer Float
Rum Runner
Short Round
Sir Loin of Beef
Smokey N. D. Bandit
Smooches
Stewie G.
Squeakers
Tiptoe
Underdog is Here
Xena Warrior Princess
Yoko Oh No!

Final Thoughts
As you've seen today, there is no lack of amazing names for Brittany. Hopefully, with the 440+ names we've provided today, you'll find one you truly love and pick it to bestow on your new puppy pal! Whatever name you choose, as long as you and your family like it, that's all that matters.
---
Featured Image Credit: Skeeze, Pixabay