16 Incredible Canadian Service Dog Statistics & Facts: Updated in 2023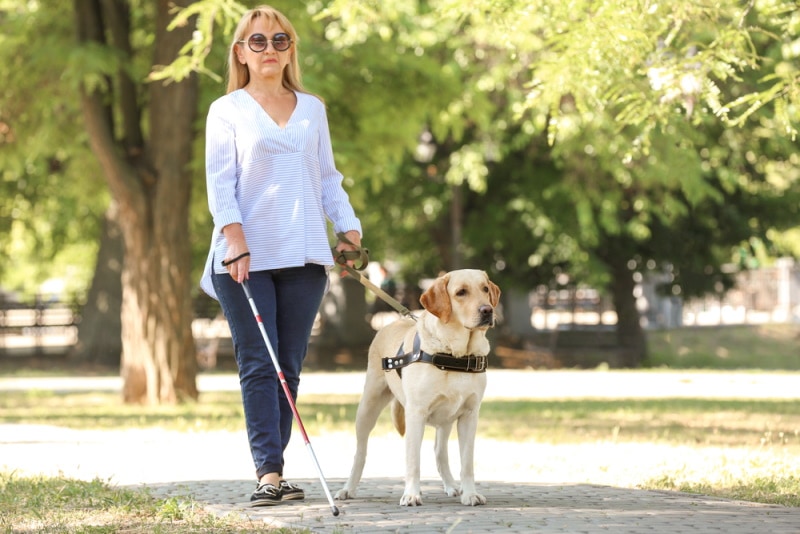 Note: This article's statistics come from third-party sources and do not represent the opinions of this website.
Service dogs can assist people with physical and mental disabilities, performing daily and emergency tasks to make that person's life easier and potentially save their lives. There are different categories of service dogs, from guide dogs and hearing dogs to PTSD digs and seizure alert dogs. Tasks range from alerting the handler to dangerous blood sugar levels and potentially even calling the emergency services to safely guiding the handler around streets and through traffic.
Canada has limited service-dog laws and regulations, and no registry. Dogs can be trained by non-profit or for-profit organizations, but these have time and cost restraints respectively. However, it is also possible for a person to train their own service dog to perform specific tasks, and this may allow the dog and the handler the same rights as any service dog.
Below are 16 incredible Canadian service dog statistics and facts including information on types of service dogs, the roles they perform, and the routes to obtaining a trained service dog.


The 16 Canadian Service Dog Statistics


Service Dog Statistics & Facts
1.

Guide dogs were introduced in Canada in 1981.
(CAPDT)
Guide dogs are the most widely recognized and utilized service dogs. They are used by blind and partially sighted people to help guide them indoors and outdoors. They improve mobility, reduce risks, and can enhance independence, and improve daily lives. The MIRA Foundation was responsible for placing the first guide dogs in Canada, in 1981.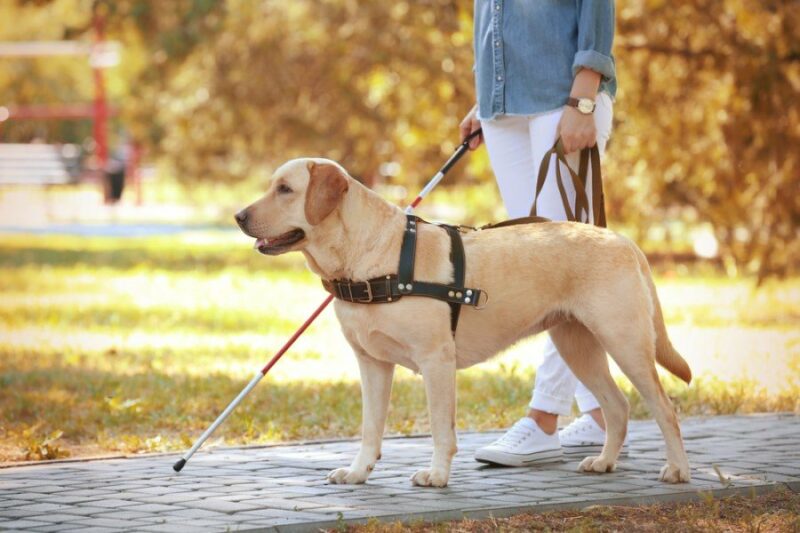 ---
2.

Service dogs include "guide dogs", "hearing dogs", "diabetics service dogs", and "seizure-alert dogs."
(Service Dog Training School)
Since the introduction of guide dogs, the role of service dogs has expanded considerably. Today, there are many types of service dogs that can help people with a range of disabilities. Hearing dogs assist those with hearing impairment. Seizer alert dogs can detect when their human is about to have a seizure and provide an alert several seconds or up to a minute before the onset of the seizure. PTSD dogs have been trialed and shown to reduce the symptoms of PTSD, especially in veterans.
Diabetic alert dogs can smell certain compounds that mean a person's blood sugar levels are either too high or too low so the individual can take action before showing potentially dangerous symptoms.
---
3.

Nearly half of assistance dogs are mobility service dogs.
(Assistance Dogs International)
Mobility service dogs are those that are trained to help disabled people with everyday tasks. The group includes hearing and guide dogs, and nearly 50% of all assistance dogs in Canada are believed to fall into this category. As well as assisting with mobility and providing guidance for their handlers, mobility service dogs can also perform everyday tasks such as filling and emptying the washing machine, paying for products in stores, and even helping a person get dressed or undressed.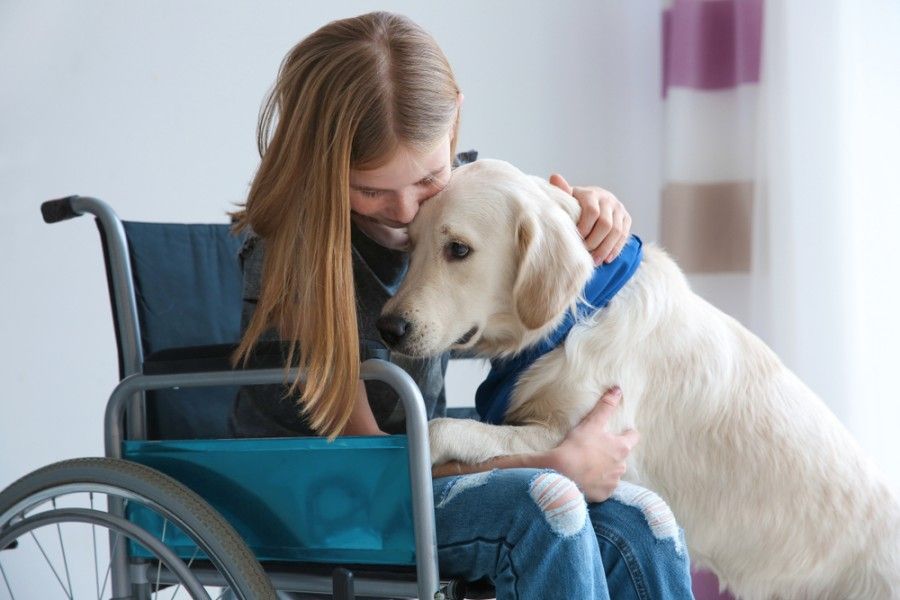 ---
4.

Service dogs can help reduce PTSD symptoms in veterans.
(Government of Canada 1)
Service dogs also provide companionship to their owners, which can help combat feelings of loneliness. Service dogs have been shown to reduce the symptoms of PTSD in veterans. They can wake the handler if they are having night terrors, not only preventing the stress of the experience but also reducing anxiety that can prevent sleep. The service dog can check the house for potential threats to reduce symptoms of hypervigilance. They have also been shown to help with anxiety attacks and can guide a PTSD sufferer home if they suffer a PTSD incident.

Training Statistics
5.

Recipients can wait longer than 2 years to get a service dog from a non-profit organization.
(Badge of Life)
There are a lot of potential benefits to having a service dog, and where individuals can show that they would benefit from having one, it may be possible to get a mobility dog from a non-profit organization. These dogs do not usually cost the owner anything, but the demand far outstrips supply, and this means that qualifying individuals may have to wait as long as 2 years or more to get a service dog this way.
---
6.

Getting a service dog from a for-profit organization can cost up to $60,000.
(Service Dog Training School)
An alternative to getting a service dog from a non-profit is to pay for one through a for-profit organization. Potential owners are advised to do their research when choosing a for-profit supplier to ensure that the dog will be individually trained to meet the needs of the individual and will undergo full training. Getting a dog this way can cost between $25,00 and $60,000 depending on the organization, the specific skills the dog will require, and other factors.
---
7.

Service dogs do not have to be professionally trained to be recognized as service dogs.
(Service Dogs Canada)
For a dog to be classified as a service dog, two criteria must be met. The handler must be disabled or suffer a disability, and the dog must be trained to perform tasks to help with the individual's disability. There is no requirement that the dog is trained by a professional trainer, and it is possible for people to train their own service dogs. This can eliminate or greatly reduce the high costs, although training is difficult. Many professionally trained dogs ultimately fail the training process when it is administered by professional trainers.
---
8.

It costs at least $20,000 to train a service dog.
(Badge of Life)
Service dogs are usually taken when they reach a few months of age, having undergone pre-training and socialization with the breeder. The dog is then trained for a period of 18 months to 2 years, potentially even longer if there are very specific requirements. The dog must be housed, fed, and cared for, and it will undergo rigorous training throughout this period. Ultimately, this means it can cost $20,000 or more to fully train a service dog to the point that it is ready for its new owner.
---
9.

It can take approximately 3 years for a service dog to complete its training.
(Atlas Dog)
Service dogs have to be well socialized so that they can deal with any situation, and they need to be trained not only to perform specific tasks but to generally behave as required. The dogs undergo general socialization and early training before embarking on more specific training. They also need handling training in public and in public transport. The whole process of socialization and training can take 3 years.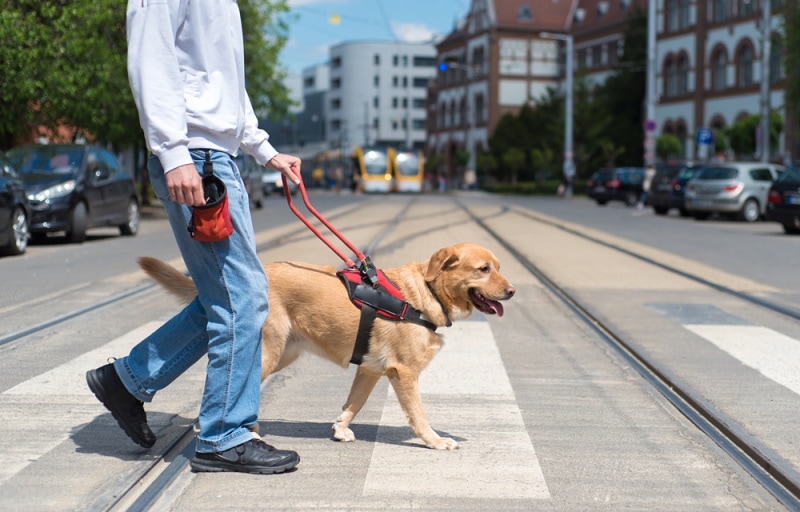 ---
10.

About half of trainee service dogs ultimately fail their training.
(CBC)
The rigorous training and very specific skills required to become a service dog mean that isn't suitable for all dogs. Although success rates vary from organization to organization and according to the type of service dog being trained, it is estimated that between 30% and 60% of trainee service dogs ultimately fail, which is one of the reasons why service dog supply is so much lower than the demand for their services.
---
11.

Service dogs have an activity error rate of up to 20%.
(CAPDT)
Service dogs are incredible and the impact they have on their handler's lives is amazing. However, they are still dogs, and there are times when all service dogs can fail at the task or activity they have been given. Even the most skilled and reliable service dog has an activity failure rate of 10%, and some may experience a failure rate of 20%. Such rates tend to especially occur when the dogs are in public as other people do not know how best to act and react around service dogs. Members of the public are discouraged from approaching service dogs. Some estimates suggest that even a simple trip to the shops can be prolonged by 15 minutes as a result of people approaching a person's service dog.

The Dogs
12.

Labradors, Golden Retrievers, and German Shepherds are some of the best service dog breeds.
(UDS)
Service dogs need a unique combination of skills and attributes to succeed. They need to be willing to work, rather than lay around at home. They need to be calm and free of anxiety so they can handle different situations. They should be intelligent and eager to please so that they can successfully complete their training in the first place and continue to thrive in their new role. Service dogs should also be friendly and loving because they will be a companion to their owner, as well as assist in daily tasks.
Generally, the best breeds for this kind of work have proven to be Labradors, Golden Retrievers, and German Shepherds. However, there are many other breeds that can also excel.
---
13.

Many hearing dogs are mixed breeds and come from shelters.
(Service Dogs Canada)
Labradors, Retrievers, and German Shepherds also make good hearing dogs, but many hearing dogs come from shelters and are mixed breed dogs. Hearing dogs need to be highly alert, and they should be active, which is why a lot of them are terrier mixes. Terriers are always on the lookout and always listening, seemingly even when they're asleep.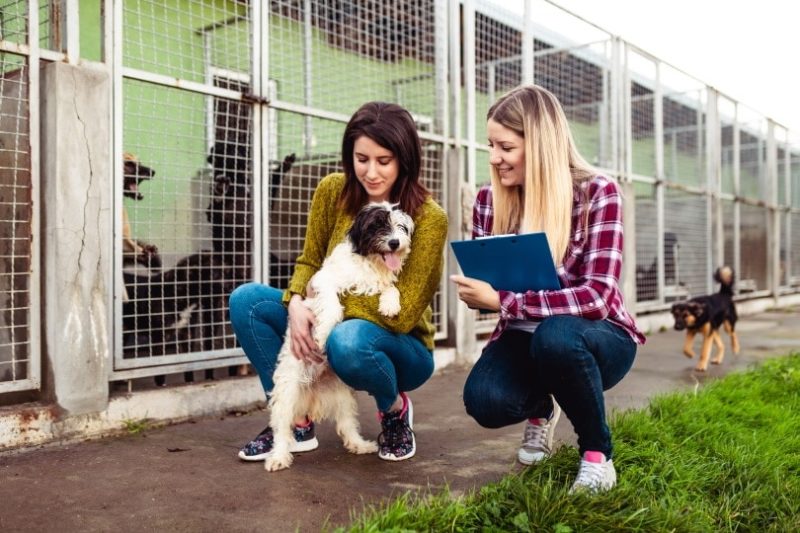 ---
14.

Most service dogs have a working life of approximately 8 years.
(CAPDT)
When a dog reaches its senior years, it tends to slow down. And, unfortunately, many older dogs also start to develop health problems that may prevent them from being able to successfully continue in their service role. Because of these factors, most service dogs have a working life of around 8 years, which means that they will retire between the age of 8 and 10 years. It is common for the dog to remain with their handler as a pet, but this isn't always practical or possible and some retired service dogs do end up in shelters and new homes.

Service Dog Benefits
(Frontiers)
There are a lot of potential benefits to having a service dog. As well as having the dog perform specific tasks to aid in mobility, handlers report improvements in their social lives because of an improvement in mobility and independence. The dogs also provide companionship, which can help improve emotional well-being, too. And, knowing that a service dog will be able to help and keep an individual safe, means that they can reduce stress and anxiety not only in the handler but their family too.
---
16.

Public transport companies are encouraged, but not required, to provide space for service dogs.
(Government of Canada 2)
Generally, public places welcome service dogs with their owners and go out of their way to ensure a stress-free experience for both. There are some instances where this may not be possible and Canada's service dog laws are not that extensive. Public transport companies are encouraged to ensure that service dogs have enough room and for internal journeys, public transport companies should not charge an additional tariff for a service dog to sit next to its handler.
It is worth checking what provisions a company has before setting off.

Frequently Asked Questions About Canada Service Dogs
Are service dogs free in Canada?
There are some non-profit groups that provide service dogs free of charge to those that need them. Typically, potential owners are assessed for their needs to ensure that a service dog would benefit them and meet their needs. On acceptance, the dog is then chosen and trained to meet specific requirements. This process can take 2 years or more.
For-profit organizations may be able to provide a service dog in less time, but these can cost up to $60,000. It is also possible for a person to train their own dog to become a service dog, but there is no guarantee that the training will be successful.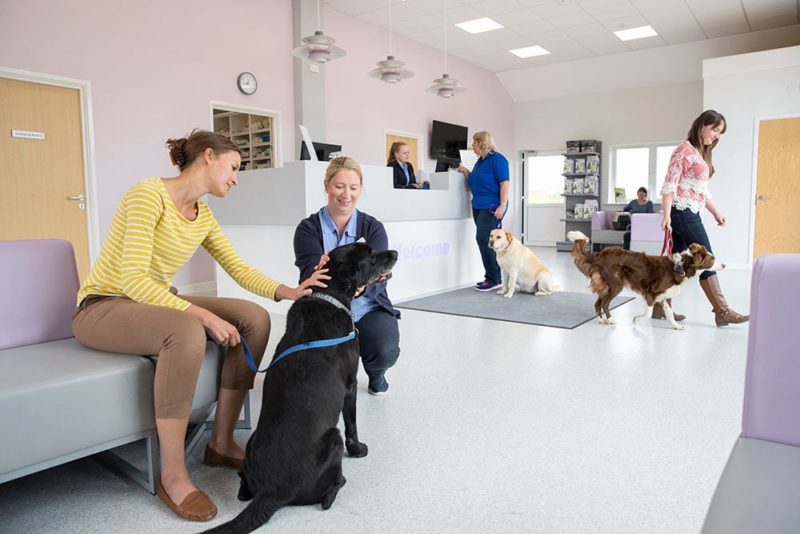 Are service dogs allowed in Canada?
Generally, service dogs are permitted to go anywhere that their handler can go, according to the law. The service dog is legally viewed as being medical equipment that happens to be alive, and not as a pet. This also means that businesses are not permitted to charge additional fees for the service dog.
How do I get my dog certified as an assistance dog?
There is no need to get a dog certified as an assistance dog. Businesses are not generally permitted to ask for certification for the dog, although they may be able to ask for proof that the handler needs a service dog. This proof can take the form of a letter from a physician.
Can any dog become a service dog?
In theory, any dog of any breed can become a service dog. However, the physical and mental attributes required to be a successful service dog mean that certain breeds tend to be more successful than others. Labradors and Golden Retrievers are loyal and loving as well as intelligent and eager to please. They're also sociable, not prone to being overly anxious, and physically capable of performing most tasks, making them the most popular breeds.


Conclusion
Service dogs really do change lives, improving the daily lives, independence, and emotional well-being of people with certain disabilities. They are generally permitted to go anywhere that their handler is allowed, and businesses are not allowed to charge a fee for their entry or presence. There is no registry of service dogs in Canada, which means it is difficult to know exactly how many there are, but the demand far exceeds supply, which can make it very difficult for everybody to be able to access professionally trained service dogs.
---