Can Dogs Eat Spring Mix? Health Concerns Reviewed
Ever found your pup staring up at you with adoring eyes as you prepare yourself a bowl of salad? Like us, dogs are curious creatures who love exploring new tastes and textures. The good news is that dogs can eat spring mix in moderation, so if you have a health conscious canine who would like to partake of some leafy greens you can certainly offer them a share.
That said, there are a few factors to consider before you add salad to your dog's diet. For a start, spinach is high in oxalic acid, and kale contains calcium oxalate—both of which can be harmful to dogs with kidney issues.


Is Lettuce Good for Dogs?
Lettuce is mainly made up of water and fiber. Generally, it doesn't offer much nutritional value. Still, since it doesn't contain anything harmful, a small amount is unlikely to harm your pooch as long as they get all the nutrients and calories they need from their regular diet.
Some more nutrient-dense lettuce like romaine, and salad leaves like spinach, and kale, are high in vitamins A, C, and K, and of course, super low in calories, which is great news if your dog is needing to shed some pounds.
Note, however, that dogs with kidney issues should steer clear of spinach and kale. If your dog has pre-existing medical conditions, it's best to speak to your veterinarian before adding something new to their diet.
Can Spring Mix Be Bad for Dogs?
Although a small amount of salad is unlikely to harm your dog, you should ensure you prepare it safely before offering it to them. Unwashed salad can contain traces of pesticides and harmful bacteria like E. coli and Listeria. Always wash lettuce thoroughly before feeding it to your dog, just as you would for yourself.
After washing the salad leaves, consider chopping it up into small pieces. Lettuce is fibrous, making it difficult for your pooch to digest. Chopping it up will decrease the chances of an upset stomach, especially for smaller dogs and dogs that like to gulp down their food!
While giving your dog fresh, clean, plain salad mixed with their food can be good, avoid feeding your dog salad covered in dressing, sauces, or bacon. Salad dressing is often fatty and salty, both of which can be harmful to your dog.And do not feed any salads that contain onion, which is toxic to dogs.
Finally, feeding your dog too many greens can result in diarrhea. Moderation is vital when it comes to giving your pup salad. Here's a general guide:
| | |
| --- | --- |
| Extra-small dogs: | 1/4 cup of washed, chopped lettuce |
| Small dogs: | 1/2 cup of washed, chopped lettuce |
| Medium dogs: | 1 cup of washed, chopped lettuce |
| Large dogs: | 2 cups of washed, chopped lettuce |
| Extra-large dogs: | 2 1/4 cups of washed, chopped lettuce |
It's crucial to note that all dogs are different. Some pups have a more sensitive digestive system than others. If you're giving your pup lettuce for the first time, it's best to offer them a small amount and monitor them closely for any adverse reactions, even if they are a larger breed.
What Vegetables Are Best for Dogs?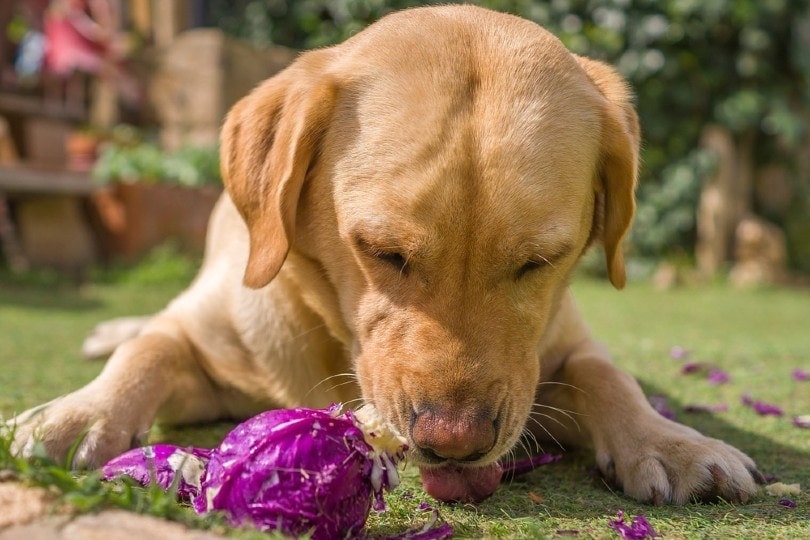 There's a huge variety of vegetables that you can safely add to your dog's diet. Try mixing grated carrots or pumpkin into their food or add a handful of peas! Below, we've made a list of some highly nutritious dog favorites!
Beets
Bell peppers
Broccoli
Carrots
Pumpkin
Peas
Green beans
Peas
Celery
Which Vegetables Are Bad for Dogs?
There are a few vegetables that you should never give to your dog, as they can be toxic and can result in your pet getting seriously sick. Some of these foods, like onions, are an everyday ingredient in human foods, so it's best not to give your dog leftovers. Instead, stick to giving your canine commercial dog food supplemented with fresh food you prepare at home.
Avoid giving your dog the following fruit and vegetables:


Summary
Since spring mix is a selection of fresh lettuce leaves, offering some to your dog shouldn't be a problem, as long as you give it to them in moderation. It won't provide your dog much in the way of nutrition or their calorie needs, but they'll love the crunchy texture, and it's a great way to add some variety to your dog's bowl without adding calories. If you give your dog a small amount of spring mix to go with their food, wash and chop it into small pieces first.
Spring mix sometimes contains spinach leaves, and too much spinach can be harmful to dogs with kidney issues. If you're concerned about adding something new to your furry friend's diet, it's best to consult your veterinarian first!
---