Carna4 Dog Food Review 2023: Recalls, Pros and Cons
Review Summary
Our Final Verdict
We give Carna4 dog food a rating of 4.75 out of 5 stars.
Introduction
Carna4 is a premium pet food brand that produces high-quality, all-natural dog food. Its headquarters are in Toronto, Canada, and it also has a satellite office in Ann Arbor, Michigan. All its ingredients are sourced from American and Canadian farms.
Dog owners who struggle to find meals that their dogs with sensitive stomachs can digest may want to try Carna4 dog food because of its simple and clean ingredient lists. We do acknowledge that Carna4 dog food is one of the more expensive options, so it's important to do your research before investing in it. Make sure to read our analysis and reviews of Carna4's most popular recipes before you purchase this dog food.
At a Glance: The Best Carna4 Dog Food Recipes:
Rating
Image
Product
Details

Best Overall

Carna4 Easy-Chew Fish Formula Sprouted Seeds Dog Food

For all life stages
Extra soft texture, easy to eat
Herring and perch are the first ingredients
Check Price

Best Value

Carna4 Handcrafted Dog Food, Chicken

Chicken and chicken liver are the first ingredients
Natural nutrient-packed ingredients
For all life stages and breeds
Check Price

Premium Choice

Carna4 Handcrafted Dog Food, Duck

Grain-free
Gluten-free
Natural vitamins and minerals
Check Price

Carna4 Easy Chew Dog Food, Goat

Soft and small sized kibble
Poultry-free
Natural sources of antioxidants
Check Price

Carna4 Whole Food Nuggets for Dogs – Venison Recipe

Venison as primary protein source
Soft easy to chew nuggets
All-natural and synthetic-free
Check Price
Carna4 Dog Food Reviewed
Who Makes CARNA4 and Where Is It Produced?
Carna4 was founded in 2010 by David Stauble and Maria Ringo. The brand was developed to bridge the gap between fresh and raw food diets and convenience. Today, Carna4 produces six natural dog food recipes developed by a team of expert nutritionists, engineers, and food scientists. The recipes have all the benefits of a raw food diet without the inconvenience.
The company sources its ingredients from Canada, New Zealand, and the US, and the food is manufactured in North America.
Which Type of Dog Is CARNA4 Best Suited For?
Many types of dogs will benefit from Carna4 dog food because it's packed with nutrients, and a lot of recipes are suitable for all life stages. However, dogs with sensitive stomachs and food allergies will benefit most from Carna4 dog food. It uses high-quality, clean ingredients and produces recipes that are easy to digest and gentle on the stomach.
Which Type of Dog Might Do Better with a Different Brand?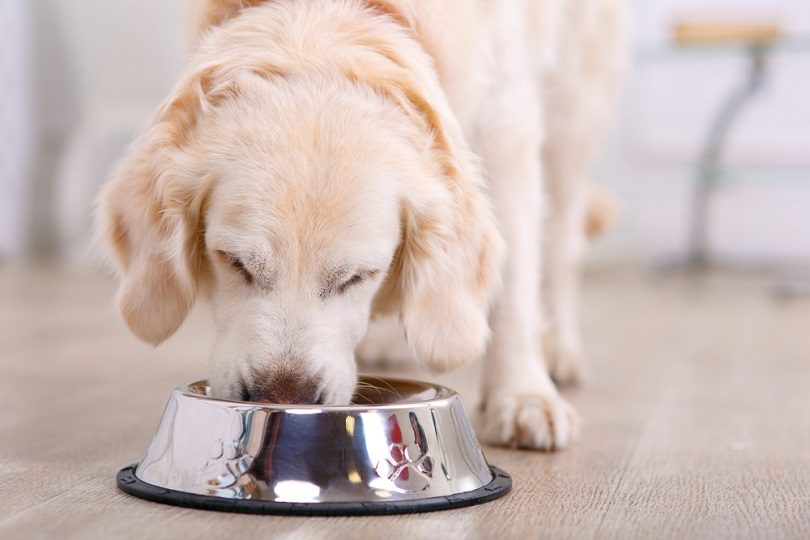 There's no denying that Carna4 is premium dog food with premium prices. While you're ensured to be feeding your dog a nutrient-dense meal, you can find a more affordable dog food that still uses high-quality ingredients and has simple and clean ingredient lists. Castor & Pollux ORGANIX is one brand that's typically cheaper than Carna4 and produces USDA-certified organic meals. However, their products are not gently baked and air dried, they are regular kibble.
Discussion of the Primary Ingredients (Good and Bad)
Carna4 uses high-quality ingredients and omits synthetics and chemicals from its food. Here's a closer look at some common ingredients you find in the recipes.
Real Animal Protein
All Carna4 recipes use high-quality meat sourced from Canada, New Zealand, or the US. The types of meat you'll find in Carna4 dog food are lamb, goat, venison, chicken, duck, and fish. Carna4 doesn't use any meat meals or generic by-products, so you know exactly what animal protein your dog's eating.
Sprouted Seeds
One of the key players that keeps Carna4 dog food synthetic-free is its blend of USDA Certified Organic sprouted seeds. This blend contains lentil seeds, barley seeds, and flaxseeds. The seeds are prepared in a way that unleashes high levels of antioxidants, enzymes, and probiotics that all dogs need for daily living. They also have low glycemic and gluten levels, so they're easily digestible for dogs.
Eggs
Eggs are an excellent source of protein and beneficial nutrients, including choline and lutein. However, it's also one of the most common food allergens for dogs.
Lentils
Lentils are a controversial ingredient for dog food because they can cause gastrointestinal upset and may be difficult to digest. However, lentils are also a great source of B vitamins, magnesium, zinc, and potassium. When they're cooked properly, they're safe for dogs to eat. Knowing that Carna4 has strict quality assurance procedures, there's a very low chance that your dog will get sick from eating the lentils in the food.
Nutrient-Dense Food
Many dog food brands will use a vitamin pre-mix to fortify their recipes to meet AAFCO nutrition standards. However, Carna4 uses its original blend of natural ingredients, including sprouted seeds, to ensure that dogs consume their daily requirement of nutrients. Impressively, Carna4 is the first pet food brand to exceed AAFCO standards, exclusively using natural food ingredients.
Natural Source of Vitamins and Minerals
It's unclear how well dogs can absorb synthetic nutrients. Carna4 erases any uncertainty by using natural sources of vitamins and minerals to fortify its dog food. So, you can rest assured that your dog is getting adequate amounts of nutrients with every Carna4 meal.
Thorough Quality Assurance Protocol
Carna4 dog food is cooked in small batches to optimize quality control. Each batch is slow-cooked to retain as many nutrients as possible while being completely safe for dogs to eat. They're also tested for 15 different pathogens and toxins, including salmonella. Once a batch is approved for safety, it's quickly packaged and delivered to stores to ensure that dogs enjoy freshly prepared food.
Difficult To Find
Carna4 works with small businesses and family-owned stores, and you can't easily find it at commercial pet supply stores. You also can't purchase Carna4 dog food through its website, so you have to use the Store Locator to find a location that carries the brand.
A Quick Look at Carna4 Dog Food
Synthetic-free
Contains USDA Certified Organic sprouted seed blend
Simple ingredient lists
Expensive
Difficult to find
Recall History
To date, Carna4 hasn't had any recalls for any of its pet food or treats.
Reviews of the 3 Best Carna4 Dog Food Recipes
1.

Carna4 Easy-Chew Fish Formula Sprouted Seeds Dog Food
The Easy-Chew Fish Dog Food is a popular recipe that uses soft and small nuggets so that dogs of all sizes and breeds can easily chew them. It's nutritious for all life stages, and the texture of this food is especially suitable for young puppies and older dogs that may have difficulty chewing hard kibble.
This recipe uses fresh wild-caught herring and perch as its first two ingredients, and it also contains salmon. The fish are a great source of omega-3 and omega-6 fatty acids. These fatty acids have many benefits and help support the immune system, skin and coat, and joint health.
Keep in mind that this recipe also contains eggs. So, it's not suitable for dogs with egg allergies.
For all life stages
Extra soft texture makes food easy to eat
Herring and perch are the first two ingredients
Not suitable for dogs with egg allergy
---
2.

Carna4 Handcrafted Dog Food, Chicken
This recipe uses chicken as its first ingredient and chicken liver as the second ingredient. It also contains salmon and eggs. So, your dog will enjoy this flavorful blend of animal protein. Other nutritious ingredients included in this recipe are sweet potatoes, apples, carrots, and kelp.
While this dog food is suitable for all life stages and all dog breeds, the pieces are fairly large. So, puppies, smaller dogs, and older dogs may have a hard time chewing this food.
Chicken and chicken liver are the first and second ingredients
Contains natural nutrient-packed ingredients
Suitable for all life stages and breeds
Pieces of food might be too big for puppies
---
3.

Carna4 Handcrafted Dog Food, Duck
This recipe is Carna4's only grain-free recipe, and it's suitable for dogs with wheat allergies. Instead of grains, this recipe contains nutritious sweet potatoes, which are rich in B vitamins, vitamin C, calcium, iron, and other minerals.
Duck is the first ingredient in this food, but it also contains pork liver, eggs, and herring. We already know that eggs are a common food allergen for dogs. In rarer cases, dogs can be sensitive to fish oil, however, most dogs benefit from it. So, while this is a grain-free recipe, the ingredient list may be too complex for dogs with food sensitivities and allergies.
Safe for dogs with grain allergies
Safe for dogs with gluten intolerance
Rich in many vitamins and minerals
Duck is the first ingredient
Not suitable for dogs with egg allergy
Not suitable for dogs with fish oil intolerance
---
What Other Users Are Saying
Here are some reviews from customers who have purchased Carna4 dog food:
Canadian Pet Connection – "Carna4 has created a truly innovative product line combining the healthiest biologically appropriate ingredients with minimal processing"
Dog Food Advisor "This kibble has been a godsend. All 3 of my pups are doing exceptionally well on this food"
Amazon – Amazon has several customer reviews, and most of them are positive. You can read specific reviews here.
Conclusion
Overall, Carna4 is a premium dog food brand that develops and produces high-quality, synthetic-free food. The recipes have some of the cleanest and simplest ingredient lists on the market. If you've been struggling to find a good recipe for a dog with food allergies or a sensitive stomach, there's a good chance that you'll have better luck with Carna4 dog food.
However, the cost of its food is significantly higher than average dog food brands. If price is one of your biggest hesitancies with purchasing this food, you can find more budget-friendly options that are still healthy, safe, and nutritious for your dog.
Despite how expensive it can be, the costs may be well worth it because you're sure to feed your dog completely natural food. So, take time to weigh all the pros and cons of Carna4 dog food to determine if it's the right food for your dog.
---