CBDfx for Dogs & Pets Review 2023: Our Expert's Opinion
Our Final Verdict
We give CBDfx Pet CBD a rating of 4.6 out of 5 stars.
*Use Code CHILL
CBDfx started out making human products that contained CBD. They were one of the first online companies to pop up during the CBD rage, making them extremely popular. Recently, they expanded into dog and cat CBD treats, tinctures, and other products.
They are one of the largest private companies, with tons of products. I was honestly surprised by the number of options they provided, which made it much easier to find a suitable product for my pets.
This company utilizes CO2 extraction and only uses organic hemp. Therefore, their products seem to be much safer and of higher quality than a lot of what's on the market. Each product is labeled with a QR code in the lab. When you scan this code, you can see everything in the bottle. Overall, I found them to be much more transparent than other companies.
However, their products are also a bit more on the expensive side. In all honesty, you're paying for improved quality and transparency. The extra price doesn't surprise me in the least, given the quality of the products produced.
At a Glance: What We Reviewed
Rating
Image
Product
Details

Our Favorite

CBD FX Calming Dog Treats

Decently sized bag
Several calming ingredients
Larger size makes dosing easier
Click To Visit CBD FX

Save Up To 25% With Code CHILL

CBD FX 2000mg Tincture for Dogs

Flavored
Dropper included
Many different dosages available
Click To Visit CBD FX

Save Up To 25% With Code CHILL

Calming and Moisturizing Pet Balm

Pleasant scent
Hydrates paws well
All-natural, organic & non-GMO
Click To Visit CBD FX

Save Up To 25% With Code CHILL

CBD FX 250 mg CBD Oil for Cats

Natural chicken flavor
Organic & non-GMO
Human grade & vegan
Click To Visit CBD FX

Save Up To 25% With Code CHILL
CBDfx for Pets Reviewed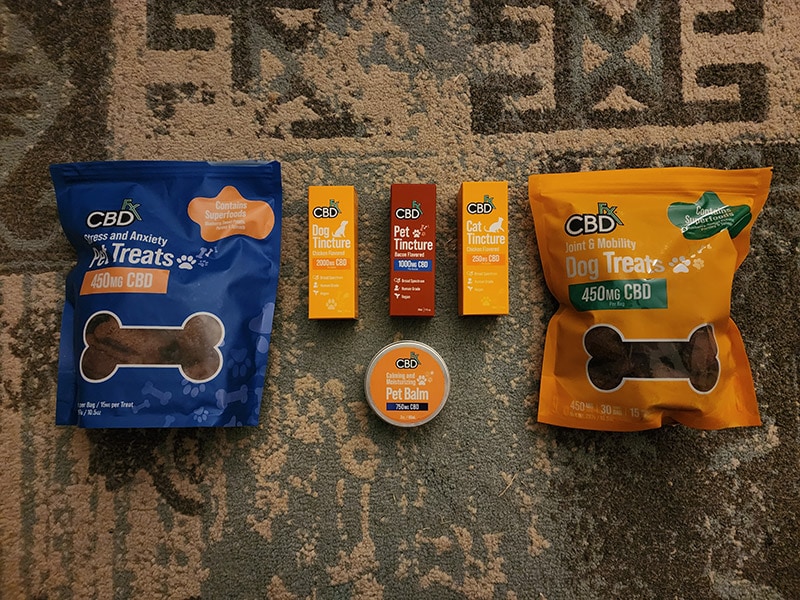 *Use Code CHILL
Who makes CBDfx Pet CBD and where are they produced?
CBDfx is currently headquartered in the San Fernando Valley in California. However, they don't necessarily produce their products there. Because of the size of this company, they likely produce products at several places.
According to their website, the company makes its products at only CGMP facilities. These facilities follow pretty strict clinical-grade standards. For this reason, their products are often considered to be safer than others.
What Type of Pets are CBDfx Products Best Suited For?
CBD can potentially help with a range of different illnesses and problems. CBDfx makes many CBD products, which makes it easier to choose the right option for your dog. My dog happens to be extremely picky. Therefore, the flavored tinctures really made my life easier.
We wouldn't necessarily recommend CBD to treat serious problems that require prescription medication. CBD is not a prescription-strength medication and shouldn't be used to treat your canine unless directed by your vet. Instead, CBD is better for minor anxiety and some chronic illnesses, like joint pain.
CBDfx claims that its products can help with a wide range of illnesses. However, keep in mind that studies on CBD in pets are few and far between.
Discussion of Primary Ingredients (Good and Bad)
Hemp extracts are relatively new on the pet scene. They've only become popular over the last few years, so the exact ingredients and strains of hemp have yet to be well-studied.
CBDfx utilizes a special CO2 extraction process to draw out the CBD in the hemp plant. This process is one of the better options currently available, as it draws out a purified form of CBD. It also doesn't use as much energy or create as much waste as other methods.
Of course, CBDfx does sell products that contain more than CBD. You can't exactly make a dog treat out of just CBD. Their dog treats include a range of different ingredients. The calming treats include chamomile, passion flower, GABA, and other calming herbs. Even their flavored tinctures include other ingredients, as they have to be flavored with something.
We recommend checking all the ingredients to ensure that your pet can safely consume all of them. Most of the pet products include quite a few extra ingredients besides just CBD.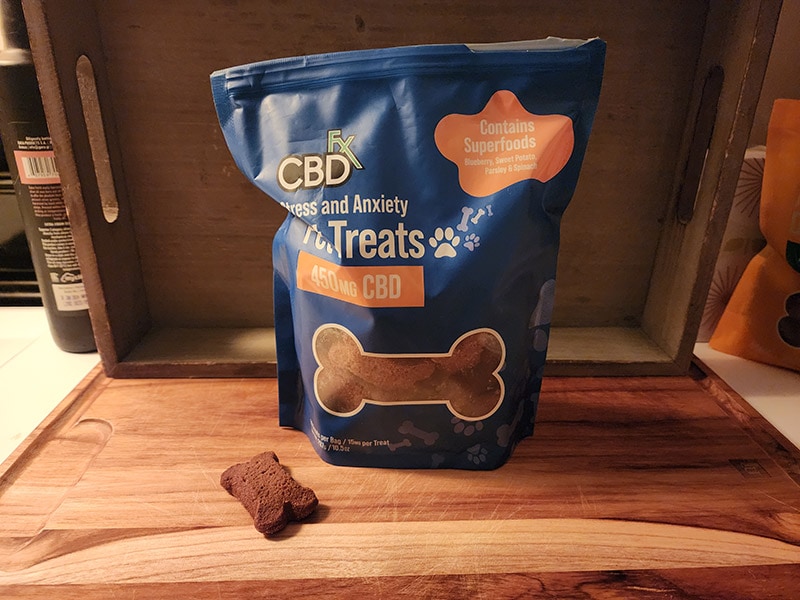 Testing and Safety
CBDfx is very serious about testing. They test all of their products about eight times before they are sold. The products are tested for a range of things, including CBD amount and any potential problems. You can check the test result of the exact product you purchase by scanning the QR code. This code provides you access to the lab report for that product, which allows you to see when, where, and how that product was made.
The company wants you to know exactly what you're giving your pet, which is why they are so concerned with testing.
Cost
This company's products are more expensive than most. In part, this is because of their extensive testing and reputation. Out of all the CBD companies, CBDfx is widely considered to have some of the best products. Therefore, many believe the cost to be more than worth it.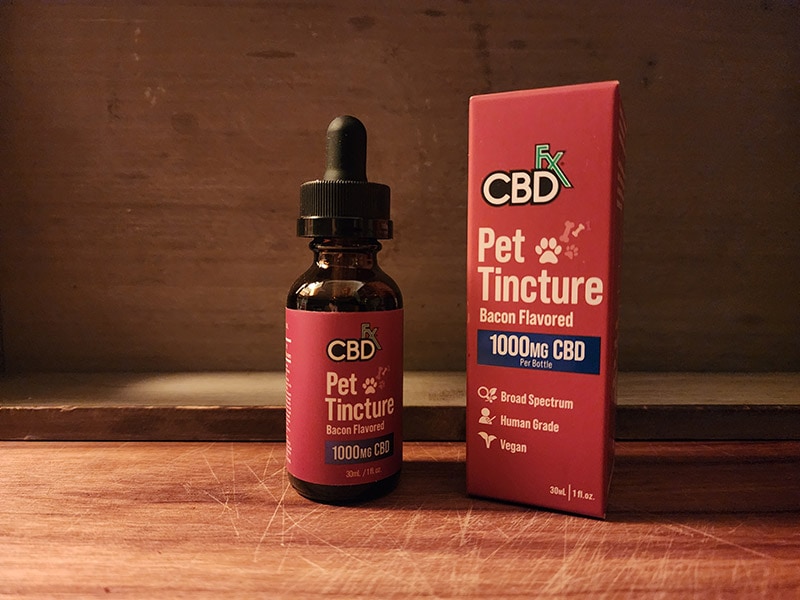 *Use Code CHILL
Product Variety
CBDfx makes a wide range of different products. On top of the typical dog treats and tinctures, it also sells a balm for dry skin. After trying many CBD products for my dog, I was pleasantly surprised by the number of products this company offers.
They offer several dosages and flavors, as well. You can select the exact dosage you need, making it very easy to utilize for dogs and cats of all sizes. They also sell cat and dog tinctures.
A Quick Look at CBDfx Pet Products
Many products
Variety of dosages
Transparent lab reports
Quality customer service
Reviews of the CBDfx Products We Tried
1.

CBDfx Calming Dog Treats
*Use Code CHILL
These treats are available in a range of different dosages, allowing you to select the best option for your dog. The treats are a bit large, but the sweet potato flavoring means that most dogs won't have any trouble eating the whole thing. The larger treats are also easier to break apart if necessary. I didn't notice that the treats were particularly dusty or messy.
I liked that the treat contained ingredients that weren't just CBD. While these ingredients aren't always scientifically proven, I feel like they're more effective than just giving my dog CBD. The CBD is broad-spectrum, so it provides several benefits.
With that said, while my dog did eat the first treat I offered, he wouldn't eat any more after that. Like I said, he is extremely picky, so this doesn't surprise me. I actually haven't found any CBD treats that he will eat.
Several calming ingredients
Larger size makes dosing easier
Decently sized bag
Some dogs may not like the flavor
---
2.

CBDfx 2000mg Tincture for Dogs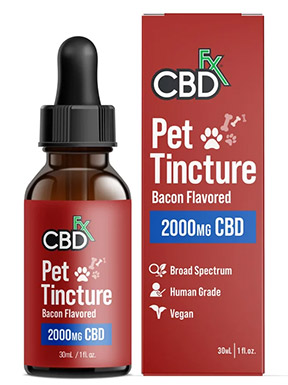 *Use Code CHILL
Because my dog wouldn't eat the treats, I moved on to the tincture. These tinctures are flavored, which means that your dog may not hate them as much as other tinctures. I've been giving my dog CBD tinctures for a very long time, so he's used to it. With that said, he didn't struggle worse than he normally does, so I'm assuming it doesn't taste too bad.
The tinctures come with a dropper that is pretty accurate and easy to use. I had no issue giving my dog the correct dosage. I found the dropper to be much similar to what other companies use. However, I was glad that a dropper was included. You'd be surprised by the number of tinctures I've tried that don't come with one!
The CBD did have an effect on my pooch. He seemed about as relaxed as he usually is after getting CBD. With that said, I didn't notice any practically strong effects.
Flavored
Dropper included
Many different dosages available
---
3.

Calming and Moisturizing Pet Balm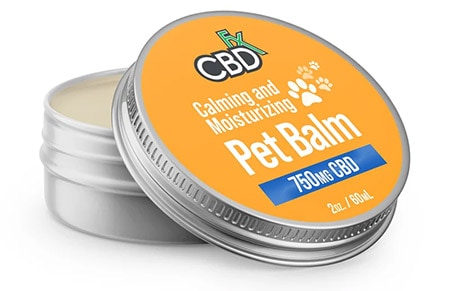 *Use Code CHILL
I was particularly excited about this balm. Most CBD companies I've ordered from have nothing like this. Plus, it is currently winter, meaning my dog's paws are regularly exposed to cold pavements and rock salt. They could use a little moisturizing.
The balm is made with Alaskan salmon oil. However, it reminded me of coconut oil. When you open the container, it is pretty solid. It becomes a liquid once you warm it up in your hands. Of course, this can be messy, making the balm a bit harder to use.
With that said, I did figure out several workarounds for this. Firstly, my dog allowed me to rub his paw directly in the container. Therefore, I was able to apply it without touching it at all. Once the container begins to run out, I plan to refrigerate it and break off small pieces, similar to how I use coconut oil.
This oil seemed to hydrate my dog's paws, and it isn't something I would mind having around. However, I'm unsure if the benefits are more than you'd get from a traditional balm.
Hydrates paws well
Pleasant scent
Very solid when cold
Messy to apply
Our Experience with CBDfx Products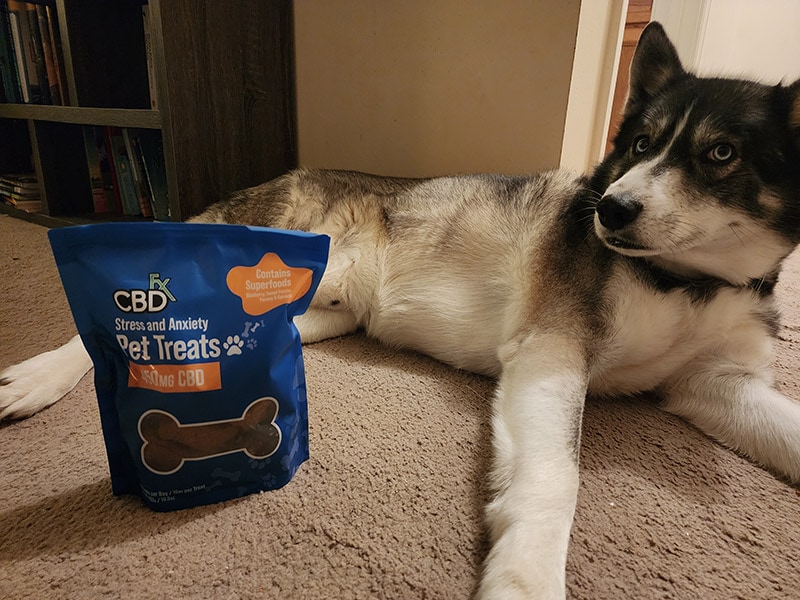 *Use Code CHILL
I was pleasantly surprised by how nicely these products were packaged. All of the treats had a pleasant smell, including the balm. Since my dog smelled like the balm for some time after I applied it, I'm delighted that it smelled mild.
The tinctures were similar to what my dog typically uses. However, the bottles were a bit larger, which may make up for the higher price. This company also makes stronger products than I'm used to seeing. Many companies have such low-dose products that they hardly do anything, or you have to give a lot for a decent effect to occur. CBDfx doesn't seem to skimp on the CBD in their products at all.
I also liked that the tinctures were flavored, though I'm not sure if my dog cared all that much. Most of the tinctures I've previously used weren't flavored, but my dog has used them so much that he's pretty used to them.
All the products I gave to my dog had the desired effects. They calmed him down, as usual, and prevented him from experiencing separation anxiety. Therefore, I can confidently say that these products work. However, I can't say whether or not they work better than other products on the market. They worked similarly to other effect CBD products I've tried.
Conclusion
Overall, I liked CBDfx's products for my cats and large Husky. I was pleasantly surprised by how strong the products were, which limited the amount I needed to give my animals. While the products are more expensive, their strength and quality may make up for it. After all, you'd likely need to use fewer of these products per dose than others, potentially saving you time in the long run.
With that said, I don't necessarily think the particular type of CBD utilized was better than other products on the market. I didn't notice any specific effects that surprised me. My dog acted similarly to how he usually does after getting a dose of CBD.