300+ Amazing Names for Chesapeake Bay Retrievers: Cute & Cool Ideas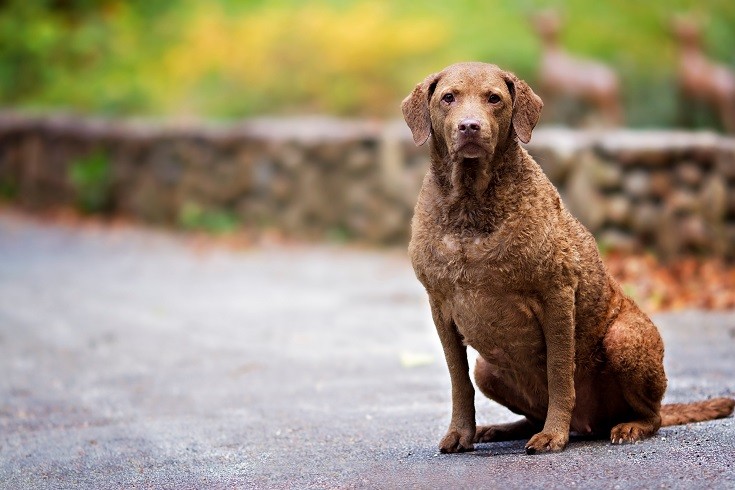 When compared to other retrievers, Chesapeake Bay Retrievers are pretty uncommon. Therefore, figuring out a name for your dog can be challenging, especially if you want to take their specific breed into mind. It isn't uncommon to come online to find some inspiration.
Luckily for you, we've provided tons of different name ideas in this article to help you determine the best option for your pooch. We've included tons of different names in different categories, like cute & cool names, or something unique, so you should find something for just about every canine.

Our Favorite Chesapeake Bay Retriever Names
Here, you'll find out favorite Chesapeake Bay Retriever names for you to consider. These come from all sorts of different categories, but we consider them to be the best of the best that are available. If you don't agree with these names, let us know what you'd consider the best name in the comments section below.
Adle
Aiko
Ali
Alistair
Amadeus
Apricot
Ariel
Bacon
Baloo
Banksy
Calamity
Chianti
Clifford
Clooney
Colin
Comanche
Coors
Cubby
Cube
Danica
Daniel
Danny
Diego
Doolittle
Doom
Drake
Duffy
Dylan
Eire
Epitome
Evan
Ferrari
Forrest
Gracie
Gregory
Hashbrown
Hobbit
Inca
Jeter
Johnson
Knox
Kyle
Lance
Layla
Lemmy
Lexi
Lolo
Lupin
Maisy
Mamie
Matilda
Medallion
Monk
Mowgli
Muffin
Niles
Oak
Orville
Popcorn
Puppers
Rex
Sabina
Sanford
Sapphire
Shea
Stan
Tiger
Toffee
Torro
Trojan
Tyra
Usher
Victor
Violet
Wilf
Wren
Wyatt
Yeller
Yorkie
Zorilla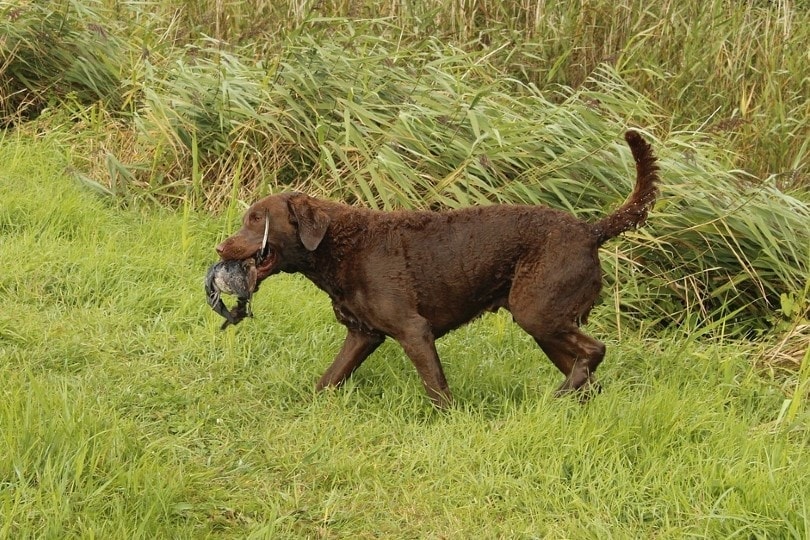 Cute Chesapeake Bay Retriever Names
If you're looking for something on the cuter side, we recommend taking a look at these names. While "cute" is subjective, these names should be widely considered to fall into this category. Of course, many of these names are female, as they lend themselves much better to being "cute." However, we've included some male names, as well.
Argo
Armstrong
Baxter
Berry
Bess
Blaster
Bobby
Bosky
Brain
Bravo
Bubs
Chaplin
Chopper
Daisy Mae
Dixon
Dodo
Dubya
Eclipse
Eden
Endeavor
Fabian
Farley
Fisher
Flapjack
Gambit
Golf
Hannah
Harpy
Harrison
Holly
Honey Bear
Irving
Ivor
Jasper
Jesse
Jethro
Jolly
Jordi
Kurt
Lassie
Lena
Lizzy
Lyle
Maynard
Meadow
Michelob
Miko
Milton
Mimosa
Moana
Moose
Nadia
Navia
Ochre
Outlaw
Ozzy
Parka
Pinky
Posie
Radio
Ronnie
Rookie
Rosebud
Scarlet
Senor
Sherwood
Slate
Spinnies
Squat
Stark
Stewie
Sushi
Tara
Tater Tot
Trust
Vito
Willie
Xena
Zack
Zoe

Cool Names for Chesapeake Bay Retrievers
For those that are interested in cooler names, this list is for you. There are tons of different names on here, ranging from stereotypical "cool" names to those that are a bit more modern. You'll find a wide range of options to fit your cool dog.
Arnold
Benny
Bonbon
Bug
Cairo
Carla
Clementine
Cleo
Clover
Dibby
Duchess
Elwood
Felicia
Fifi
Flyer
Godfrey
Hazel
Hoover
Hunter
Jones
June Bug
Koda
Lad
Leia
Mario
Marlon
Mojo
Molly
Nugget
Orson
Ralph
Rascal
Raven
Remi
Striker
Tango
Thelma
Tweety
Vertigo
Wicket
Unique Chesapeake Bay Retriever Names
Sometimes, you just want a name that is different from the dog down the street. To help you on this quest, we've explored all sorts of naming ideas and collected the most unique options. These names aren't very common for dogs, making them a good choice for those looking for something more unique.
Addie
Adelaide
Aiden
Alec
Alfie
Amos
Aphrodite
Archie
Arkin
Astro
Atlanta
Atlas
Avery
Ballad
Barkley
Beans
Bear
Beena
Beetle
Betsy
Bradley
Brady
Brawny
Brutus
Bryce
Busy
Butterscotch
Catia
Cecil
Cedric
Cheerio
Chevalier
Clancy
Clarence
Coby
Cosmo
Crossword
Crux
Damien
Darcy
Darius
Dart
Darwin
Deeks
Deluxe
Denny
Deuce
Devereau
Dewdrop
Dezi
Dickens
Django
Dobby
Dodge
Dogmatix
Dolly
Dolly
Dotty
Easton
Eddy
Edie
Ely
Emma
Enya
Enzo
Eva
Fabia
Fargo
Fox
Foxface
Francis
Frank
Frederick
Fritz
Gage
Geyser
Glory
Gonzo
Grady
Grit
Harley
Hashtag
Hina
Hotel
Hutch
Isabella
Jackie
Jagger
Jasmine
Java
Jaws
Jeb
Jeremy
Jinx
Joey
John
Jubilee
June
Keats
Khaki
Kiva
Kodak
Kodiak
Kuku
Linus
Lotus
Lucy
Luther
Maddie
Maisie
Marigold
Mater
Maurice
Mitzi
Mocha
Money
Montaro
Munchkin
Murphy
Nellie
Nelson
Nemo
Nero
Nikita
Noah
North Face
Nutmeg
Onyx
Oreo
Overton
Paris
Petey
Petunia
Piper
Pixie
Pomroy
Porkchop
Puma
Puppins
Quill
Quinn
Quip
Rags
Rainbow
Rambo
Rico
Rider
Rio
Ritz
Samantha
Sasha
Scott
Seuss
Sid
Sissy
Skip
Slapstick
Smudges
Socrates
Soda
Sol
Sophia
Spade
Stardust
Swifty
Sword
Tasha
Tex
Thor
Tigger
Timber
Tinman
Titan
TJ
Toby
Ukele
Valentine
Valiant
Vernon
Vic
Viggo
Vince
Vincent
Vivi
Walter
Warhol
Warrior
Watson
Wilbur
Xango
Xax
Xerxes
Xylo
Yarrow
Yogi
Zara
Zigzag
Zumba

Summing Up
Luckily, there are plenty of naming ideas in this article for you to choose from. We tried to include names that would fit a variety of different tastes. You can use one of these names as-is or simply use these lists to come up with your own names. Either way, we hope that you find something fitting for your pooch.
---
Featured Image Credit: Kerrie T, Shutterstock