Cosequin for Dogs Review 2023 (Vet Review)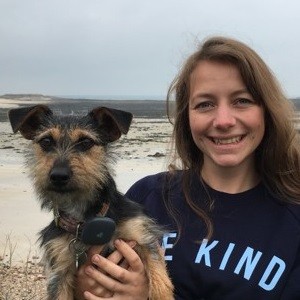 What is Cosequin?
Our furry friends enjoy active lifestyles, but as they age, they begin to slow down. This is due to changes taking place in their joints that cause pain and inflammation. Pet owners frequently express concern about their dog's joint health, which is why there are so many products on the market designed to help keep our dogs' joints strong and healthy.
Cosequin is one of the top vet-recommended products for supporting joint health in dogs. Through a combination of ingredients, it improves joint mobility, promotes healthy cartilage, provides pain relief, and reduces inflammation.
Cosequin is used in dogs with painful joints due to osteoarthritis, hip dysplasia, elbow dysplasia, and cruciate disease. But it's also used for dogs that haven't yet developed joint problems as it may delay the onset.
Cosequin is a supplement, so it is not a regulated drug or a classified anti-inflammatory. Although there is not much robust evidence to support the efficacy of many ingredients in Cosequin, many dogs love it!

What Are the Ingredients in Cosequin?
Cosequin is a multi-component supplement containing the most common and well-researched ingredients found in joint supplements – glucosamine hydrochloride and sodium chondroitin sulfate. Cosequin also contains methylsulfonylmethane (MSM), and some Cosequin products contain hyaluronic acid (HA).
This formulation is what makes it so effective – each ingredient acts in a different way to have a more profound effect on supporting cartilage production, slowing cartilage destruction, reducing inflammation, and providing pain relief.
Glucosamine hydrochloride is one of the essential building blocks for the cartilage that acts as a shock absorber within the joint, as it is involved in cartilage matrix production. Supplementing it may help to maintain cartilage structure within the joint and prevent cartilage destruction.
Sodium chondroitin sulfate helps keep cartilage strong and healthy by promoting water retention and elasticity. Supplementing chondroitin may reduce pain and inflammation, as well repair damaged cartilage.
Methylsulfonylmethane (MSM) is a sulfur-containing compound thought to reduce chronic pain by blocking pain impulses through nerve fibers. It also has some anti-inflammatory effects.
Hyaluronic Acid (HA) is a gel-like substance that provides lubrication in joints, promotes the growth of new cells/tissues within joints, and reduces pain and inflammation. IN dogs with joint disease, the lubrication in the joint has been lost, so supplementing hyaluronic acid helps the joints to function smoothly.
Are There Different Types of Cosequin?
There are several products in the Cosequin range, each based on the same formulation but with varied additional ingredients:
Cosequin Regular
Cosequin DS and DS Max strength
Cosequin DS Max strength plus MSM and Boswelia
Cosequin Max strength plus MSM and HA
Cosequin Advanced
Cosequin Max strength plus MSM
Cosequin Max strength plus MSM and Omega 3
Cosequin Hip and Joint plus MSM
This can make it tricky to choose which is best for your furry friend. The product you choose will depend on your pet's individual requirements – it is best to discuss this with your vet.
If you want the added benefits of MSM or hyaluronic acid, then you may want to give your dog more than just Cosequin Regular. Cosequin Advanced contains vitamins and minerals, which make it a great way of getting the additional health benefits of these for your dog.

Cosequin vs Dasuquin – What's the difference?
Cosequin and Dasuquin are both joint support supplements designed to support healthy joints in dogs. Both Dasuquin and Cosequin use glucosamine hydrochloride and chondroitin sulfate as the core ingredients, but the additional ingredients are different, which means they work in slightly different ways.
Dasuquin contains ASU (avocado/soybean unsaponifiables) which is proven to enhance the anti-inflammatory properties of glucosamine and chondroitin. Cosequin contains MSM which has anti-inflammatory and pain-relieving effects, as well as omega-3 fatty acids which have great benefits for your dog's skin and coat.
Cost is probably one of the biggest differences when it comes to Cosequin v Dasuquin, with Cosequin usually costing less than Dasuquin.

How to Use Cosequin?
Is Cosequin right for my dog?
Cosequin is suitable for any dog with painful joints, which may be caused by osteoarthritis, hip dysplasia, elbow dysplasia, or cruciate disease. It is also a useful complimentary treatment for dogs taking pain relieving or anti-inflammatory medication.
If you aren't sure whether your dog may need Cosequin, look for the signs that your furry friend may be developing joint disease. These include limping, difficulty/stiffness when rising, not wanting to walk as far, not wanting to use the stairs or jump into the car, general stiffness, and swelling around the joints. If your dog is showing any of these symptoms, get your pet checked by your vet first. The vet will want to examine your dog to establish what's going on, and then discuss different treatment options and supplements with you.
If you're concerned about your dog's joint health and want to start them on a supplement before the signs of pain and joint disease appear, then Cosequin could be a suitable choice. Cosequin helps slow the progression of joint disease, so introducing it to your dog's routine at an early age could delay the onset of clinical signs. It is particularly useful in large breeds, and breeds that are susceptible to specific joint problems such as hip or elbow dysplasia.
It is always best to speak to your vet first to discuss whether Cosequin in the right choice for your dog.
What's the dose of Cosequin?
Cosequin comes in chewable tablets which are really easy to give, just like a treat.
An initial 'loading dose' is required for the first 4-6 weeks to allow the supplement to take effect. After this, a slightly reduced 'maintenance dose' is given long-term.
According to the manufacturer, a guide dose would be:
For small dogs – a loading dose of half a tablet per day, then half a tablet every other day as maintenance.
Medium dogs – a loading dose of 1 tablet per day, then half a tablet per day as maintenance.
Large dogs – a loading dose of 2 tablets per day, then 1 tablet per day as maintenance.
Giant dogs – a loading dose of 3 tablets per day, then 1-2 tablets per day as maintenance.
Always follow the instructions on the packaging, get an up-to-date weight for your pet, and discuss an appropriate dose with your vet first.
How long does it take for Cosequin to work?
When you start giving Cosequin to your dog, you won't see the effects straight away. An initial course of treatment, called a 'loading dose', is required for 4-6 weeks is required, during which time you should see a gradual improvement in your dog's mobility.
If you have started giving your dog Cosequin and haven't seen any improvement in your dog's comfort or mobility after 8 weeks, contact your vet, as it's possible your dog may need additional pain relief or further treatment.
Does Cosequin have side effects?
Cosequin in a very safe product, and the manufacturer — Nutramax Labs — don't report any known side effects. It is important to speak to your usual vet first though before giving your dog Cosequin, especially if they have any health conditions, or take other medications or supplements.
Cosequin may cause mild vomiting or diarrhea, particularly in dogs prone to a sensitive tummy. If this does occur, stop giving Cosequin straight away and contact your vet for advice.
Where can you buy Cosequin?
The best way to buy Cosequin from your vet. It can also be purchased online from reputable pharmacies who are accredited by a relevant authorizing body (the Veterinary Medicines Directorate in the UK, and the Food and Drug Administration in the USA).
There are knock off versions of Cosequin available online so take care and only purchase from a reputable supplier. False products will not only be ineffective, but could harm your pet.

Conclusion
Easing pain and maintaining comfort and quality of life for our furry friends are the key focuses when treating joint disease. Supplements like Cosequin are a great tool for helping to achieve this either when used on their own or in combination with other medication.
It can be tricky to know when to start giving your furry friend any type of supplement, but as it is such a safe supplement with so many benefits, it's never really too early! It's essential to remember though that Cosequin is not a treatment so won't be the sole solution to your dog's joint problems, but may be beneficial in maintaining your dog's joint health.