Crave Dog Food Review 2023: Recalls, Pros & Cons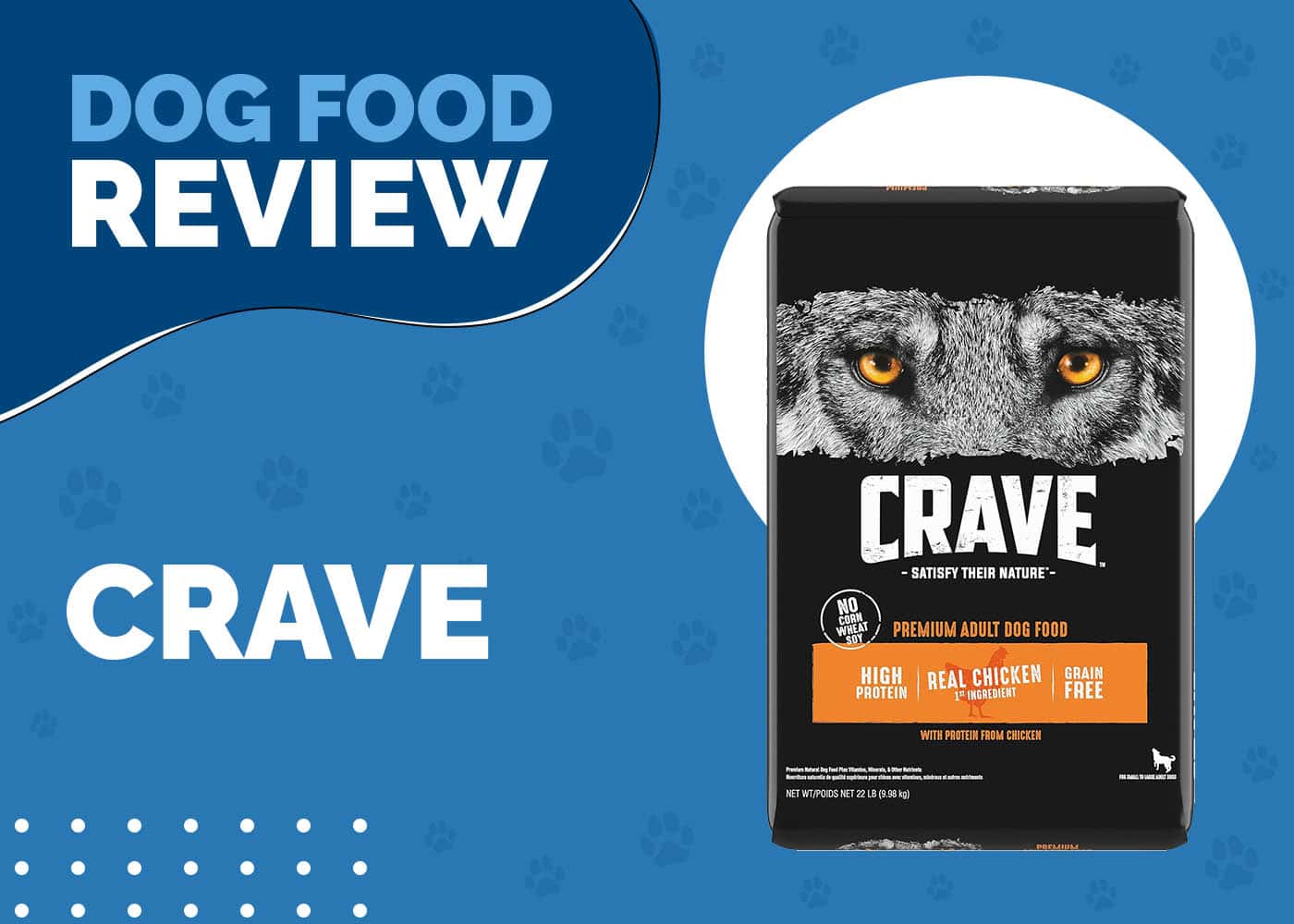 Our Final Verdict
We give Crave dog food a rating of 4.1 out of 5 stars:
Crave dog food is a fairly new pet brand on the market that provides high-protein dry and wet dog food formulas. This is a grain-free and all-natural brand that relies heavily on meat-based lean proteins to give your pet energy and overall well-being.
Like all pet foods, however, there is more to the story than what meets the eye. In the case of Crave dog food, there are many benefits to your pet; however, there are also a few drawbacks that you should be aware of. In the article below, we will go over all of the important stats to help you make an informed decision about this brand. We will go over their ingredients, formulas, nutritional value, recalls, and where the products are manufactured and sourced.
Keep on reading to find out whether Crave is something your dog should crave.

At a Glance: The Best Crave Dog Food Recipes:
Image
Product
Details

Our Favorite

CRAVE Adult Dry Dog Food Bright Orange

All-natural
Packed with protein
Added vitamins and minerals
Check Price

CRAVE Grain Free Adult Dry Dog Food Turquoise

Real salmon is the very first ingredient
Cooked and processed in U.S. facilities
No chicken by-product meal
Check Price

CRAVE Grain Free Adult Dry Dog Food Purple

No artificial ingredients
Added vitamins and minerals
Tasty flavor
Check Price

CRAVE Grain Free Paté Adult Wet Dog Food in Can

Grain-free wet food
100% balanced diet
Made in the USA
Check Price
Crave Dog Food Reviewed
Crave dog food provides your pet with a high-protein, grain-free meal that is available in either a dry or wet formula. They have several different recipes available; however, they are limited in their choice of recipes. That being said, Crave uses real meat as their first ingredient, and all of their products are made within AAFCO guidelines.
Who Makes Crave Dog Food and Where Is It Produced?
Crave pet food is manufactured by the Mars Petcare company who also owns many other pet brands that are well-known and respected. Crave is a fairly new brand that was launched in 2017 to provide both dogs and cats with a formula as close to their natural diet as possible. This is why all of their recipes are high in lean meat-based protein and other essential nutrients, vitamins, and minerals.
All of this brand's formulas are cooked and packaged in the United States. Their ingredients are sourced from around the world, and they are chosen for their natural and lean protein. Unfortunately, there is no indication of which specific country or region their ingredients come from. However, based on their natural formula the ingredients seem to be nutritious.
Which Types of Dogs Is Crave Best Suited For?
As protein is an important nutrient for all dogs, it is essential in every formula of pet food you consider. That being said, recipes that concentrate on this nutritional value and lack in others (such as grains) can be better suited for active canines like working dogs and other high-activity pups.
As mentioned, Crave offers both wet and dry dog food, and all of their recipes are grain-free. Although this is good for any pets that have wheat or corn allergies, healthy grains can be very beneficial to a dog's diet, which we will discuss in further detail below.
It is also interesting to note that this brand has more canned food formulas than dry. Their recipe is broken into two categories. The first is pate meals with added shredded chicken. The second is basic meat-based formulas. Also, keep in mind that all of their canned meals are made in the standard pate form.
Take a Look at Our Crave Dog Food Options if Your Pet Prefers a Wet Meal:
Beef Pate with chicken shreds
Chicken Pate with chicken shreds
Turkey and lamb Pate with chicken shreds
Turkey Pate with chicken shreds
Beef
Chicken
Turkey
The dry formula is more limited in their recipes. Within these meals you can find the below flavors:
Beef
Chicken
Lamb and venison
Salmon and ocean fish
Which Types of Dogs Might Do Better With a Different Brand?
One important aspect of the Crave pet food brand is their lack of formulas designed to target specific canine dietary needs. For example, they do not offer a puppy formula, senior formula, weight management, or any other option outside of a basic adult meal.
Depending on the life stage of your pooch, they may require different dietary meals to support their overall health. For example, senior formulas are typically made with ingredients, such as glucosamine, which helps with joint pain and swelling. Not only that, but this supplement is also added as a preventative measure against arthritis and other ailments in your younger dog. If you have an aging pooch that needs a good joint supporting formula, we recommend the Blue Buffalo Life Protection Dry Dog Formula.
Another example is puppies. Growing dogs require different nutrients and supplements to support their growth and overall health. They need more fat, fiber and other brain, bone, teeth, and eye nutrients that will help them grow to be strong, energetic dogs. If you have a puppy, try out the Taste Of The Wild Grain-Free High Protein Dry Puppy Food.
Besides those two life stages, there are also other instances where specific formulas are beneficial. Things such as weight management, limited ingredient diets, and large or small breed meals all come with specific ingredients based on their nutritional needs.
Finally, any dogs that are on a budget should be aware that this brand is a bit more costly. Not that it is the most astronomically priced formula, but it is more expensive than the average box store pet food.

Discussion of the Primary Ingredients (Good and Bad)
Just as the formulas and recipes available within a brand are important, the nutritional value and ingredients are just as much so. As promised, we wanted to touch base on the high protein, grain-free ingredients that are used in this brand. Also, we will give you an idea of the dry and wet formula's nutritional content.
Grains
Grain-free dog food recipes have become increasingly popular in recent years. Pet owners have found that they are gentler on their pet's stomach, plus they eliminate any gluten allergies that your pet may suffer from. That being said, many experts have found that this type of dog food is not necessarily the healthiest choice for your canine.
Some grains, such as white rice, can indeed be harder to digest. However, healthier options such as brown rice and whole wheat provide a lot of nutritional value in your pet's food. What's more, less than 1% of dogs suffer from gluten sensitivities.
With that being said, the grain-free formula has started to become somewhat controversial due to their lack of important nutrients that your dog's" natural" diet would provide them. Not only that, but another downfall of grain-free formulas is the ingredients that are added to replace those grains. In a lot of cases, these items can have less nutritional benefit than their gluten counterparts.
Protein
Protein is extremely important for all dogs. It allows them to be healthy and energetic, plus it provides a lot of other important functions such as building strong muscles and providing amino acids.
Lean proteins are the best source for your pup; however, a lot of brands add additional ingredients to their dog chows to increase the protein level. For example, chicken-based products contain a lot of moisture, which adds to the overall weight of the first ingredient. With the water removed, the chicken would fall to a lower concentration in the meal, while ingredients such as flaxseeds increase the protein content.
A lot of pet food brands also utilize meat "meals" as a good source of protein and other nutrients. Many people shy away from this ingredient as they believe it not to be nutritious for your pet. That is not the case, though.
Meat meals are the rendered parts of the animal that is boiled down and made into a powder. Once that process is complete, you end up with a substance that is mainly the nutrients and other supplements. What you want to stay away from are by-product meals that contain animal "parts" that have no benefit for your dog.
We are happy to say that Crave does not use any by-product meals in their formulas. You should also note that the "meal" used in any given formula is only as good as its source.
Nutritional Value
When determining whether or not a formula has an appropriate amount of protein and other values such as fat and fiber, you want to take a look at the labeling. The FDA requires that all pet foods label their products with not only the ingredients, but also the daily nutritional content.
The AAFCO provides guidelines on what is healthy for your pet in this category. Below, we have provided you with the average nutritional value on both wet and dry food.
| | Wet | Wet with Shreds | Dry |
| --- | --- | --- | --- |
| Protein | 12% | 13.5% | 40% |
| Fat | 5% | 6% | 16% |
| Fiber | 1% | 1% | 6% |
| Calories | 376 kcal | 112 kcal | 379 kcal |
A Quick Look at Crave Dog Food
All-natural formula
High in protein
Grain-free
No artificial ingredients
No wheat corn or soy
Made with AAFCO guidelines
Last life stage formulas
More expensive
Lacks nutrients from greens
---
Ingredients Analysis
Calorie Breakdown:
At this point, we wanted to go a little bit more in-depth into the specific ingredients within both of the wet and dry formulas. As mentioned, the Crave brand was inspired by your dog's natural diet, and it is free of any artificial ingredients, soy, corn, wheat, and meat by-products.
Beyond that, this pet food brand provides a lot of nutritional value besides protein. These meals contain vitamins and nutrients such as biotin, Omega 3 and 6, Vitamins B and D, plus probiotics that promote a healthy digestive and immune system.
To keep this article from being hopelessly long, we will concentrate our efforts on some of the more questionable ingredients and what they mean.
Carrageenan: This ingredient is typically used as a Chiller, and it is probably replacing grain ingredients. Carrageenan is hard to digest plus has little to no nutritional value.
Flaxseed: Flaxseed is an anti-inflammatory that can help the kidneys and even arthritis. Although this is not a bad product, you should note that it can also be used to boost the protein level in your pet's food.
Beet Pulp: Dried beet pulp is a controversial ingredient that has been found in Crave's can formula. Many experts believe there is a lot of fiber and protein in this item, however, others believe in concentrated doses it can be unhealthy for your pet. We mention this, as it is high on the list of ingredients.
Dried Brewer's Yeast: This is another somewhat controversial ingredient that can have many nutritional benefits for your dog, but in large quantities, it has also been known to cause bloating which is a cigarette condition that can be fatal.
Pea Protein: Pea protein is used more as a filler than anything else. While peas can have their benefits, items such as pea protein or powder have little value.
Alfalfa Meal: This is an ingredient that is rather high on the dry recipe's ingredient list. Alfalfa can have many benefits but it can also inhibit the vitamins and nutrients from absorbing into your pet system.
Salt: When it comes to sodium, you want to keep the levels in your pet food as low as possible. In this case, those salt does appear more than halfway up on the list, it is lower than it is in other typical dry dog foods.
---
Crave Dog Food Recall History
At the time this article was written, the Crave pet food line has not had any recalls. You want to keep in mind, however, that when looking at recalls, you want to take into consideration the company that manufactures and produces the food, as they are responsible for the outcome of the final product. It is also they who will be issuing any recalls.
That being said, Mars Petcare has had its fair share of recalls in the past. Most recently, they voluntarily recalled Cesar filet mignon wet dog food after pieces of plastic were found in the containers.

Reviews of the 2 Best Crave Dog Food Recipes
1.

Crave Grain-free High Protein Adult Beef & Chicken Dry Dog Food
The beef and chicken dry formula is one of the more popular recipes in the Crave dog food line. It is made with all-natural ingredients that pack a lot of lean nutritious protein. It is also a grain-free child that has no wheat, corn, soy, or meat by-products. What's more, there are also no artificial ingredients.
This meal has many added vitamins and minerals to support your pup's overall well-being. They use a blend of omega fatty acids, vitamins, and their patented probiotics to maintain your dog's digestive, immune, cardiovascular, and muscle health. That being said, you should note that this meal is harder to digest than others. Also, it is not recommended for puppies for Senior Dogs.
All-natural
Packed with protein
No artificial ingredients
Corn, soy, wheat-free with no by-products
Added vitamins and minerals
Hard to digest
Not recommended for puppies or Senior Dogs
---
2.

Crave Grain-Free High Protein Lamb & Venison Dry Dog Food
This lamb and venison dry dog meal is another grain-free, all-natural formula from Crave Pet Foods. It is designed to resemble your dogs and natural diet as close as possible. That being said, it contains many vitamins, minerals, and nutrients including omegas, patented probiotics, and other supplements to keep your dog happy and healthy. Keep in mind, however, that this formula can be harder to digest especially with higher protein levels.
Crave lamb and venison is a favorite among the canine crowd. List tasty Chow contains and no artificial ingredients, corn, wheat, soy or meat by-products. It is made in a USA-based AAFCO regulated facility with responsibly sourced ingredients that benefit your dog. The only other drawback to this option is Adele's black essential nutrients that grains would provide for younger dogs.
All-natural
No artificial ingredients
No corn, wheat, soy, or meat by-products
Added vitamins and minerals
Tasty flavor
Hard to digest
Not recommended for younger dogs
---
What Other Users Are Saying
If you are like the millions of other shoppers out there that rely on other people's recommendations, you will benefit from the comments below. We have pulled some of our favorite reviews of the Crave pet food brand and added them for your convenience.
Chewy.com
"I have a bull terrier that is allergic to sooooo many things. I've had a hard time finding the right food for him. He will get test infections in his ears and hives if it's not right. This food has made his skin look fantastic. He's pink and not red! He's also not itchy like he was."
PetSmart.com
"My family has a female cane corso and a male rottweiler. The corso is very tiny while our rottie is huge. We changed her diet from dry food to wet Crave, and she finishes it within a minute and can't wait to eat!"
If you want to dive deep into the world of pet food reviews, there is no better place than Amazon. Not only will they provide detailed comments on all the different recipes, but they will also give you honest and clear expectations on what this food will deliver. If you want to take a closer look, check out the reviews here.

Conclusion
Overall, Crave dog food is an all-natural, grain-free, high protein meal that your pup will enjoy. It is made with many different vitamins, supplements, and nutrients. Crave's different recipes are loved by most canines, however, they are lacking in specific dietary need formulas.
As we mentioned, this brand is a bit more expensive than your average pet food. You can find Crave Dog Food on shelves at pet stores such as PetSmart and Chewy.com. You can also find it at some of the big box stores such as Wal-Mart and of course Amazon. We hope that you have enjoyed the above review and it has given you some food for thought on this pet brand.