3 Different Types of Dog Nail Clippers: Which One Is Better?

If you have a pup in your care, you know how important it is to trim their nails. When you start to hear the clicking across the kitchen floor, you know the time has come to break out the nail clippers. Many pet-parents like to take care of this chore themselves versus having it professionally done. Not only can it be expensive, but your furball may not appreciate being left alone with strangers.
That being said, clipping your dog's nails requires some skill and patience. You need to be very careful not to cut too low as it can cause bleeding and pain. You also run the risk of nipping skin, not to mention, a wiggler is hard to deal with.
If you prefer to tackle the canine Mani/Pedi on your own, you will need a good pair of nail clippers. There are three main types available, and each one has its pros and cons. In the article below, we will compare the different types of dog nail trimmers. We will look at their effectiveness, cutting style, durability, etc., so you can pick the right one for you and your pup.

The 3 Types of Dog Nail Clippers
1.

Scissor Clippers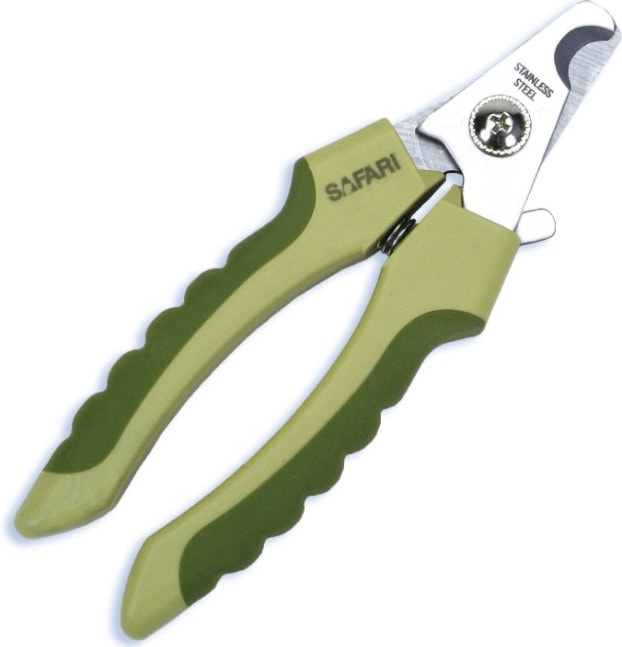 This type of canine claw clipper is designed to work like…yup, you guessed it, the scissor clippers. They work with the force of your hand and are recommended for larger dogs with thicker claws. With the force, you will be able to cleanly and quickly rid their paws of excess nails that can make them uncomfortable.
That being said, you will need to be more precise with this type of clipper. A dog that wiggles around a lot or is nervous can make them harder to use. What's more, smaller pups with brittle claws can be an issue as the larger scissor-like cuts can cause them to splinter if the nails are brittle.
Also called Miller's Forge Trimmers, this is a good option if you have a large yet calmer pooch. On the other hand, you can find scissor cutters for smaller pets like the Safari Professional Dog Nail Clippers for Small Dogs which you can take a look at below.
What to Look For
This is a great option due to its stainless steel blade that will stay sharp and strong. This is an important component so you don't have to use that much force. Additionally, you will find a non-slip and comfortable handle. The last thing you want to do is lose your grip when you are trying to cut your pup's nails. There are also two blades, and a tension spring making trimming quick and easy. Finally, there is a safety stop in case of accidents.
Precision cuts
Good for larger dogs
Comfortable handle
Not good for nervous dogs
Nails can splinter
---
2.

Guillotine Clippers
This next dog clipper is again like the name implies. This type works by placing your pet's nail inside the hole, and a "guillotine-like" blade will be pressed down to snip off the end of the claw. Like the scissor option, one drawback of the model is you have to be careful about how far you extend the nail inside the hole. Taking too much off the end can cause injury.
On the other hand, many pet-owners find this option to be easier than the scissors, and they are better suited for small to medium-sized pups. They are also less likely to break or splinter your pet's claws if they have brittle paw points.
Another note about this option is they are not always as smooth cutting. The guillotine cut can cause a blunt edge that can scrape you or them if they jump up to have an itch. On the bright side, they are easier to control than the option above. If you prefer this type of clipper, we like the Gripsoft Deluxe Dog Nail Clipper Jumbo. This option is specifically made for larger dogs.
What to Look For
What we like about this option is that it has a soft handle making it comfortable to hold in your hand, plus it won't slip and cause injury. Not only that, but it has a nail guard. This is important for all trimmers in this category. It will stop the nail from sliding in too far and being cut too short. Like this one, you should also look for reinforced blades that are strong, so you can be assured it will cut all the way through.
Easy to use
Less likely to splinter
Nail guard to prevent slipping
Must use with caution
Not very smooth cuts
Only for larger dogs
---
3.

Grinder Trimmers
This option is the most recent of the three and has many pros and cons of its own. First and foremost, this is typically a safer route as there are no blades or "cuts" necessary. Instead, a small cylinder covered in (more or less) sandpaper files down your pet's nails. This type of trimmer can be used on small to big dogs whether they have thin or thick nails.
That being said, it can take your pup time to get used to this type of Mani/Pedi. The noise and vibration of the machine can cause stress and anxiety. You will likely have to spend some time getting them used to the noise and feeling.
Besides that, the process of shortening their nails also takes longer. Instead of a quick snip, you will have to hold your dog's paw will the rotating cylinder files them down. On a brighter note, you are far less likely to cut the nails too short or have any accidents. These products are generally safer in general. For this type of trimmer, we would recommend the Dremel Dog and Cat Nail Grinder Kit.
What to Look For
Although this option is more expensive than scissors or guillotine clippers, this is a much safer option. It has low-noise and low-vibration which is important in this kind of dog trimmer. The handle is ergonomic, plus it has two speeds depending on your pup's claws. What's more, it's cordless. You can charge it when needed and trim the nails from a place of your choosing. Finally, you can also use different grinding heads. As your pet grows, their claws will change. This option will grow with them.
Good for all size dogs
Safer than clippers or scissors
Works on thin or thick nails
Cordless
Takes longer
More expensive

How to Choose the Right One?
Now that you know the three main types of dog clippers, you still may be unsure which type os right for your pet. What if you have a medium dog who can sit still, but they hate noise? What if said furball has to think but brittle nails?
Take a look at these recommendations below for some further help!

35% OFF at Chewy.com
+ FREE Shipping on Pet Food and Supplies
1.

The Small Dog
The Safari Guillotine Nail Trimmer is a small guillotine clipper that is quick and painless. It is the best option is you have a small pet that is nervous and excitable. This is an easy to hold option that has a safety stop, so you will not cut too far. It will also stop you from making jagged cuts. The double stainless steel blade won't dull either. For small pets, this is a good way to go.
2.

The Large Dog
If you have a large dog with thick nails, the above option is a good way to go especially if they like a quick clip and snip. The Zen Clipper is a scissor option that is not only easy to handle, but it's adjustable. You will be able to quickly cut off the ends without making jagged cuts. Not only that, but it won't allow you to cut too high. If your big fur-baby is not a fan of this activity, these are a great option, although they are a bit more expensive.
3.

The Sensitive Nailed Dog
If you have a canine, whether big or small, who has sensitive nails or paws, this grinder is a good way to go. First, the Furminator is quite and has low-vibration so it won't make them nervous. More importantly, though, it has two-speeds, so you can take it as slow as you need to. Plus, it runs on batteries, so filing your pooch's nails in a place of comfort is not an issue. As a bonus, the handle is ergonomic, and it keeps bacteria to a minimum.
4.

The Medium Dog
The ConAir Pro is a good option for medium-sized dogs regardless of their nail thickness. What's important here is that they are comfortable with you and the grinder. Although this option also has low-vibration and noise, it will take longer. It also has a power cord, but you will not have to worry about it running out of power before you are done. What's more, this is a good option for those pups without sensitive toes as the cord gives it more power. Also, dogs that don't like clipping will like this one. Per usual, it is comfortable to hold and effective.
5.

The Nervous Dog
If you have a nervous nelly on your hands, the best thing to do is get it down quickly. It is important to have a lot of control, however. If that is the case, you want to go with a Guillotine clipper. The Resco is a great place to start. This option is strong, quick, and painless. Even if your pet is straining to get free, you will not be able to hurt them with the safety guard. Not only that, but the rubber grip will ensure your hold is secure.
6.

The Brittle Nailed Dog
Brittle nails can be hard to deal with as they can break when clipped or crack up to the point where they can bleed. If this is the case, you want a strong scissor option that will get the job done quickly and smoothly. The Millers Forge large clippers are perfect for this. They are a double-plier style cutter that is strong yet precise. They also have a super-sharp blade along with a heavy-duty spring.

Conclusion
We hope the above info has shined some knowledge on the different types of dog clippers available, and which one is right for your pet. Each dog is different, so it can take some trial and error to figure out which style will work best.
At the end of the day, however, the most important aspect of trimming your dog's nails is to ensure both of you are safe. Every clipper should have a non-slip handle so you will be able to control the movements. If you prefer to go with a guillotine or scissor trimmer, make sure they have guards and sharp steel blades for quick and easy cuts. If a grinder works better for your pooch, a low-noise and vibration option will be the best bet.
---
Featured Image Credit: Antonio Gravante, shutterstock