7 DIY Bearded Dragon Enclosure Plans You Can Make Today (with Pictures)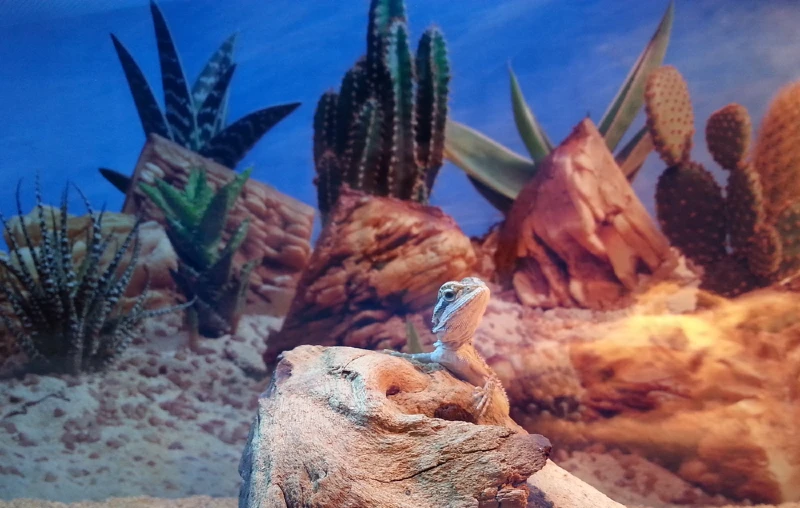 If you're a reptile owner, you have likely had some sort of frustration when shopping for enclosures. Many commercial options need to be improved for the space needs of bearded dragons – and they can be downright expensive for a basic model.
Whether cost or efficiency is your biggest hang-up buying a manufactured enclosure, you can certainly benefit from taking matters into your own hands! Here are 7 DIY enclosure options you might want to check out.
The 7 DIY Bearded Dragon Enclosures
1.

DIY Reptile Enclosure by Mighty Morphing Reptiles
| | |
| --- | --- |
| Materials: | Plywood, common board, DryLok Extreme, screws, cord brackets, ceramic light sockets, power cord, vents, silicone, slider track, cement glue, acrylic sheets, rubber bumpers, slider door track, light fixture |
| Tools: | Drill, miter saw, jigsaw |
| Difficulty Level: | Moderate |
The Mighty Morphing Reptiles DIY Reptile Enclosure creates a perfect new space for your beardie to enjoy. It might take a few tools and some skill, but the creator goes over each step with you vocally and visually.
The supplies will rack up a little cost as you build, but it still is cheaper than many manufactured choices on the market. The result is spacious, sturdy, and attractive. Your beardie will enjoy basking in the new enclosure, and you can take pride in your latest creation.
Please be careful when wiring electrical aspects of this make. If you aren't experienced and fail to follow the directions carefully, it could create a fire hazard. So, be sure you're comfortable and take your time as you go.
---
2.

Simple DIY Bearded Dragon Setup by Northern Exotics
| | |
| --- | --- |
| Materials: | Commercial enclosure base, poly-Styrofoam |
| Tools: | Blow torch, knife, |
| Difficulty Level: | Moderate |
If you're looking for a simple but spacious new home for your beardie, check out Northern Exotics Simple DIY Bearded Dragon Setup 2022. It is a lot easier than many others that require lumber and potentially dangerous tools (especially if you're a beginner).
If you're in the United States, transfer pounds to dollars when you're budgeting for this enclosure. Luckily, our friends in the UK pin all the products and materials used in the video below in the links so you can get the appropriate pricing for your location.
What we really love about this particular DIY is that they have a lot of base materials they buy from pet shops. This cuts out a lot of the building process for you while saving you money.
---
3.

Bearded Dragon Enclosure DIY from Tiny Boat Nation
| | |
| --- | --- |
| Materials: | Craft wood, wood glue |
| Tools: | Saw, hammer, drill, measuring stick |
| Difficulty Level: | Advanced |
If you're an experienced builder, we must recommend this excellent Bearded Dragon Enclosure DIY by Tiny Boat Nation. The builder decided to come up with this design because they rescued a bearded dragon in less than favorable conditions.
In an attempt to give them a better life, they whipped up this highly impressive enclosure that might be time-consuming, but it has a beautiful and efficient finish. If you have tools on hand to create this beautiful masterpiece, you might want to look into the result.
---
4.

DIY Reptile Terrarium by Chiefs Universe
| | |
| --- | --- |
| Materials: | Wood, plywood, dowel, screws, sprat foam cans, silicone tubes, peat moss, play sand, topsoil, galvanized steel hardware cloth, DryLock |
| Tools: | Drill, saw, measuring tape, marker |
| Difficulty Level: | Advanced |
This DIY Reptile Terrarium by Chiefs Universe is a very easy-to-follow option for a beardie enclosure. The creator explains every step of the process efficiently so it's easy to follow along. Even if you are not extremely savvy with tools, he does an incredible job getting you up to speed and explaining every action as he goes.
So, if you want to try something more challenging but ultimately worthwhile, we recommend following along here. You will need wood supplies and have to operate saws and other potentially dangerous tools.
This particular enclosure is not just suitable for bearded dragons but many other reptiles as well. The finished outcome is incredibly beautiful.
---
5.

Ultimate DIY Bearded Dragon Enclosure by Something Jack Makes
| | |
| --- | --- |
| Materials: | Wood, cement block, foam, grout |
| Tools: | Dremel, belt sander, table saw, knife, paintbrush |
| Difficulty Level: | Advanced |
If you are really committed to making the most fabulous enclosure possible, check out the Ultimate DIY Bearded Dragon Enclosure by Something Jack Makes. It is an incredibly intricate design, and it will be highly time-consuming to develop, but the end result is so worth it!
This enclosure is huge, spoiling your beardie with lots of extra space. And even looks aesthetically pleasing in the home. The creator thoroughly explains all the steps he takes to achieve each part of the setup.
This is the largest enclosure on our DIY list and potentially the most intricately creative. You can decorate the internal portion how you wish, but he did a really swell job with the details. His beardie, Pickles, had a heyday her first round in.
Some folks might not have the necessary space for this enclosure, and that's okay! There are plenty of other cool options to consider.
---
6.

DIY Reptile Enclosure from Wood Work Therapy
| | |
| --- | --- |
| Materials: | Wood, plexiglass, wood glue, polyurethane, grout |
| Tools: | Table saw, drill, clamps, hammer |
| Difficulty Level: | Moderate |
If you are well-versed with tools but you have never done a project this big, you might feel comfortable with the DIY Reptile Enclosure by Wood Work Therapy. The creator was designing this enclosure explicitly for the bearded dragon he and his family had.
This enclosure is a 190-gallon size, making it perfectly efficient for any adult. It is rather simple for an enclosure but requires time and patience. This DIY is slow-paced, so you can see every action taken.
The end result gives you a sturdy, attractive enclosure to keep in the home. Your beardie will love exploring the space, and you won't have to get extremely intricate to make it. It's a win for everyone!
---
7.

DIY Reptile Enclosure by Food Adventures
| | |
| --- | --- |
| Materials: | Non-adhesive, wire, wood planks, corner braces, plexiglass, screw, nuts, gorilla glue |
| Tools: | Drill, hammer, scissors |
| Difficulty Level: | Beginner |
This couple makes it very clear that they are not construction-savvy people, so if they can do it anyone can! This is a very budget-friendly addition that you can make for under $100! You can get all the precut pieces, making it highly convenient if you don't have the tools to cut them yourself at home.
This is by far the most straightforward enclosure on our list, as it takes the least effort but still gives your beardie a spacious area to explore.
The couple initially used an adhesive in the beginning, which they later found out was toxic to bearded dragons. Even though the note pops up on the screen, we want to clarify that you don't need to make any changes once you begin the project.
So not only is this project the cheapest one we could find while still being efficient enough to house a bearded dragon, but they also give you excellent pointers on how to create the enclosure you want without operating potentially dangerous tools.
Things to Consider When Building/Creating
Safety is key when you're doing any DIY project at home for any pet. Use completely safe products, smooth surfaces, appropriate materials, and so on to promote a healthy living space for your bearded dragon.
Your safety is vital while you're building this new creation, and your pet will also have to dwell here after that. Most DIYs you see will use completely safe products, but it's always best to check your bases just to be safe!
Also, for your own safety, it's best to choose something that's within your realm of capability. These types of projects can be stressful and time-consuming. If you choose a little too overwhelming project, you could get hurt in the process or waste money just to give up halfway through.
So, it's always best to ensure the enclosure will be worth your investment.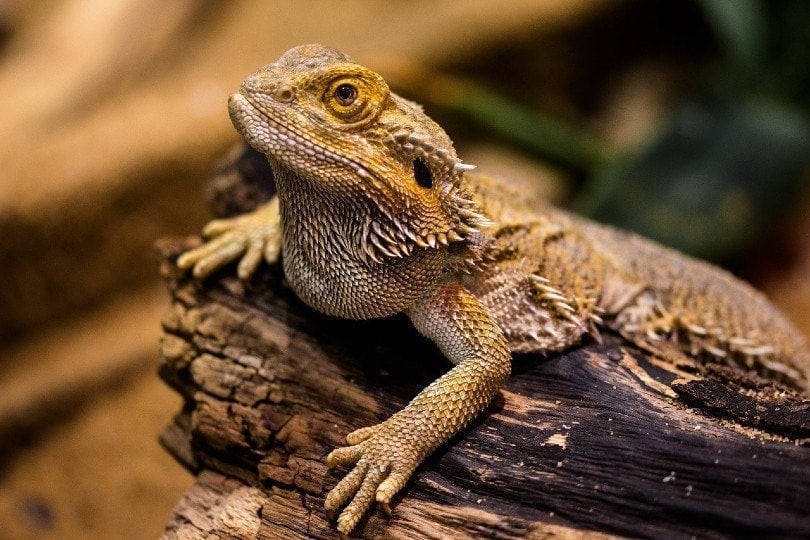 DIY vs. Manufactured: What's Cheaper?
If you've been shopping for bearded dragon enclosures lately, you know how expensive they can be! The enclosures get smaller, and the price tags are higher. Is there any winning? The problem with many manufactured enclosures is that many of them need to be bigger to suit the needs of a bearded dragon.
However, that doesn't stop companies from marketing them for this particular species anyway. To have an appropriate bearded dragon enclosure, it's going to cost you a pretty penny. Many people find that building their own saves them a lot of money in the long run.
That only sometimes means that a DIY project is going to be more cost-effective. Some people get very creative making extravagant mansions for their beardies. Obviously, the more intricate the design, the higher the cost of building it. If you're looking for a cost-effective bearded dragon enclosure, factor out the supplies to budget accordingly.
Conclusion
We tried to find DIY projects for bearded dragons that fit almost any experience level. Whether you want to build a substantial and intricate design or something simple and budget-friendly, you have choices on this list.
Remember that every reptile is different, so some DIY projects geared toward reptiles will not always work for bearded dragons. We implore you to do your research if you choose to find another project instead to make sure it's totally sufficient and beardie-friendly!
---