15 DIY Cat Cave Plans You Can Make Today (With Pictures)
Cats love to cuddle and sleep. In fact, most cats can sleep 15 hours a day! Therefore, they deserve a safe and comfortable place to curl up whenever they feel like it. One way to make sure your kitty will be comfortable while they sleep is to provide them with access to a cat cave. Cat caves are dark, private, and super cozy, so what cat wouldn't want to have one of their own?
You can even make your cat a cave to enjoy instead of buying the commercial products that you can find on the store shelves and online. DIY cat caves are just as durable and can be customized to ensure that no other cat cave in the world looks the same as your kitty's. Here are the DIY cat cave plans to consider making today.
The Top 15 DIY Cat Cave Plans
1.

DIY Yarn Ball Cat Cave by Meow Lifestyle
| | |
| --- | --- |
| Materials: | Beach ball or similarly sized balloon, yarn or sisal rope, glue, corn starch, mixing bowl |
| Difficulty Level: | Easy |
This cute cat cave is easy to make, and you may already have all the necessary materials at home. Each cat cave will come out differently because you must wrap yarn or sisal rope around an object to create the cave, so the yarn or sisal rope will create a unique design no matter how many times you make one.
---
2.

DIY Repurposed T-Shirt Cave by Sadie Season Goods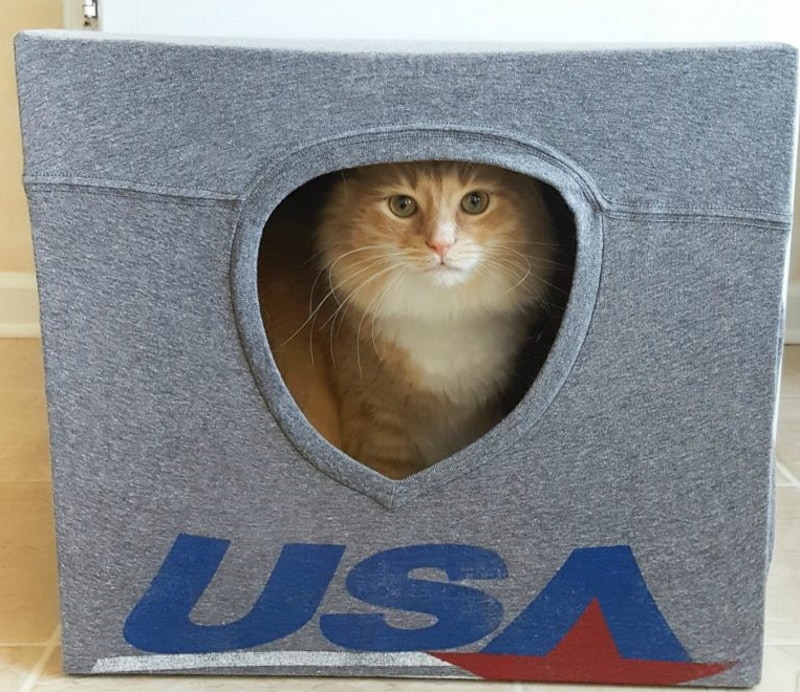 | | |
| --- | --- |
| Materials: | Old t-shirts, a cardboard box that is large enough for your cat to fit in |
| Difficulty Level: | Easy |
You can make a super cool cat cave with nothing more than an old t-shirt and a cardboard box. The neck hole in the t-shirt makes an instant cat door for your kitty to get in and out of the cave. If you keep the cave indoors, it should hold up well and give your cat a cozy, safe place to nap for many months or even years to come.
---
3.

DIY Cat Tent by Instructables
| | |
| --- | --- |
| Materials: | Cardboard, wire hangers, an old t-shirt, tape, safety pins |
| Difficulty Level: | Easy |
This lightweight yet sturdy DIY cat tent requires only a few materials and a little time to complete it. You can create any design you want depending on the type, color, and style of t-shirt that you decide to use for the project. You can even use a t-shirt with a graphic imprinted on it to give your cat's new tent a one-of-a-kind look that stands out from the rest of your furniture.
---
4.

DIY IKEA Hack Cat Tent by Ikea Hackers
| | |
| --- | --- |
| Materials: | A DRONA box from IKEA, an EXPEDIT or KALLAX shelving system, dark material, scissors, glue |
| Difficulty Level: | Moderate |
With the help of a DRONA box and a shelving system from IKEA, you can create a cool cat tent that fits right inside your shelving unit and take up no more than just one cubby space on the shelf. You can keep all your belongings on the shelves around your cat tent; just make sure that you choose a shelf low enough that your cat can easily jump into it.
---
5.

DIY Crochet Cat Cave from By Jenni Designs
| | |
| --- | --- |
| Materials: | Stiff yarn, hooks, scissors, tapestry needle |
| Difficulty Level: | Moderate |
If you like to crochet, you can use these DIY crochet cat cave plans to make a comfy cave for your cat from scratch. You will need heavy-duty yarn, hooks, tapestry needles, and scissors to get the job done. The result should be a pillowy cave with soft walls that will snuggle your cat whenever nap time comes around. The cave can be machine washed and hung on a line to dry whenever the need arises.
---
6.

DIY Old Sweater Cat Cave by Incredibusy
| | |
| --- | --- |
| Materials: | Cardboard box, old sweatshirt, or sweater |
| Difficulty Level: | Easy |
This is an easy DIY cat cave project that will leave your cat warm and cozy as they sleep their way through the winter months. An old sweatshirt offers plenty of protection from the cold, and the finished product is small enough to keep in a corner or under a table if you don't have much space. The best part is that this project takes no longer than about an hour to complete.
---
7.

DIY Wooden Cat Cave by NoLi
| | |
| --- | --- |
| Materials: | Plywood, glue |
| Difficulty Level: | Easy |
This is a completely wooden cat cave that takes just a couple of hours to complete once your plywood is cut to size. Check out this YouTube video that shows all the steps in real time so you know exactly what to do to make your own kitty a wooden cave to cuddle and play in. The process is slightly complicated, but it does not require any special skills or tools.
---
8.

Completely Cardboard DIY Cat Cave by The Cat Site
| | |
| --- | --- |
| Materials: | Cardboard, glue, markers |
| Difficulty Level: | Moderate |
You don't need anything more than cardboard, glue, and markers to complete this nifty DIY cat cave. This project takes a little time and effort, but once complete, it's sturdy enough to stick around for quite a while. The best part about this project is that you can customize the design on the outside of the cat cave with markers and other accessories if you want to.
---
9.

DIY Felt Cat Cave by Feltmagnet
| | |
| --- | --- |
| Materials: | Latex balloons, merino wool roving, grated olive oil soap, bubble wrap, curtain netting, palm sander, tumble dryer |
| Difficulty Level: | Hard |
This luxurious felt cat cave is made from merino wool roving and grated olive oil. The process to make the cave is a bit complicated, but if you are up for a challenge, you can make a cat cave that your feline will enjoy for many years to come. Just know that you will need to be delicate and have patience while you work. Don't skip a step, or your cat cave likely won't hold up.
---
10.

DIY Kitty Cubie by Crafty Nightowls
| | |
| --- | --- |
| Materials: | Foam padding, 1 ½ yards of material, scissors, sewing machine, needle, thread, pins, ruler |
| Difficulty Level: | Moderate |
This DIY kitty cubie project requires a sewing machine and sewing skills, but it turns out cute and sturdy. You can use any type and style of material that you want, but you will need at least 1 ½ yards of it. The cubie is just like a cave, and the sides and top are soft, so your cat can squish it and lie on top when the weather is hot. You can wash the cubie in a washing machine, but it should be line dried to minimize damage.
---
11.

DIY Cardboard Cat Igloo House by Instructables
| | |
| --- | --- |
| Materials: | Cardboard (large-sized), non-toxic paper glue |
| Difficulty Level: | Easy |
This cardboard igloo house doesn't require many materials—except for cardboard—and isn't that time consuming or difficult to do. The finished product is also quite cute!
The ease of making this cat cave means you can change the size to something smaller or larger if you prefer. You still need to be careful when cutting out the cardboard and getting the measurements just right. But ultimately, you'll have a cozy spot for your cat that you can customize as much or as little as you want.
---
12.

DIY Cat-Eared Cave by Gathered
| | |
| --- | --- |
| Materials: | Outer fabric, lining fabric, foam interfacing, matching thread |
| Difficulty Level: | Moderate |
This adorable cat-eared cave is a fun project, and you can pick any fabric that you like, so it can look playful or fit in with your décor. If you don't own a sewing machine, you can try hand-stitching it, but it will take longer.
The website includes a PDF template of the house and the cute ears that go on top. If you enjoy sewing, this should be a fun project that will likely become a conversation piece, and your cat will love it!
---
13.

DIY Catcus Cave by Evan & Katelyn
| | |
| --- | --- |
| Materials: | Giant balloon, gloves, sisal, green dye, glue, blue shop towels, green spray paint, resin, round wooden base, fluffy material, |
| Difficulty Level: | Moderate |
You'll need a giant balloon to create this adorable CATcus cave! This is a lengthy project, particularly if you want to make it the same way as in the video. But you could try a different color or even keep the sisal rope natural.
The 3D printing is also optional, but in the end, you'll give your cat a cute and cozy cave, and it can also act like a scratching post!
---
14.

Crochet DIY Cat Eared Cave by Two Cats Handmade
| | |
| --- | --- |
| Materials: | Chunky yarn, small fettuccia cotton yarn, wood or metal ring (size dependent on your cat) |
| Difficulty Level: | Moderate |
This crocheted cave has cat ears! The ring that you choose is for the entrance, and the size will depend on your cat. The website calls for about a 7.5-inch to 8-inch ring, but you might want to go bigger if your cat is larger than that.
This project should be fairly easy for people experienced with crochet, but beginners can give it a try too! You'll have a lovely soft bed that you can line with a fluffy pillow for your lucky cat.
---
15.

DIY Cat Tent by LittleThings
| | |
| --- | --- |
| Materials: | Twine, 5 30" wooden dowels, fabric, ball fringe, stuffing, small chalkboard (optional) |
| Difficulty Level: | Easy |
This is not exactly a cave, but a cat tent or teepee gives the same effect. This one is quite easy to make, and instead of sewing, you can use hot glue to seam the material.
There are other optional aspects to this project, such as the ball fringe and chalkboard. It all comes down to your preferences and your budget. Either way, it's cute and easy to make and will feel super cozy for your cat.
Conclusion
These DIY cat cave projects are varied and unique, so you have many cool features and designs to choose from. We suggest that you start with a project that you already have the materials for and see how your cat likes the cave. You can then decide what kinds of features or styles would be better and try a DIY project that is a little harder and more in-depth.
Related Reads:
---
Featured Image Credit: Pixabay