20 DIY Cat Furniture Plans You Can Build Today (with Pictures)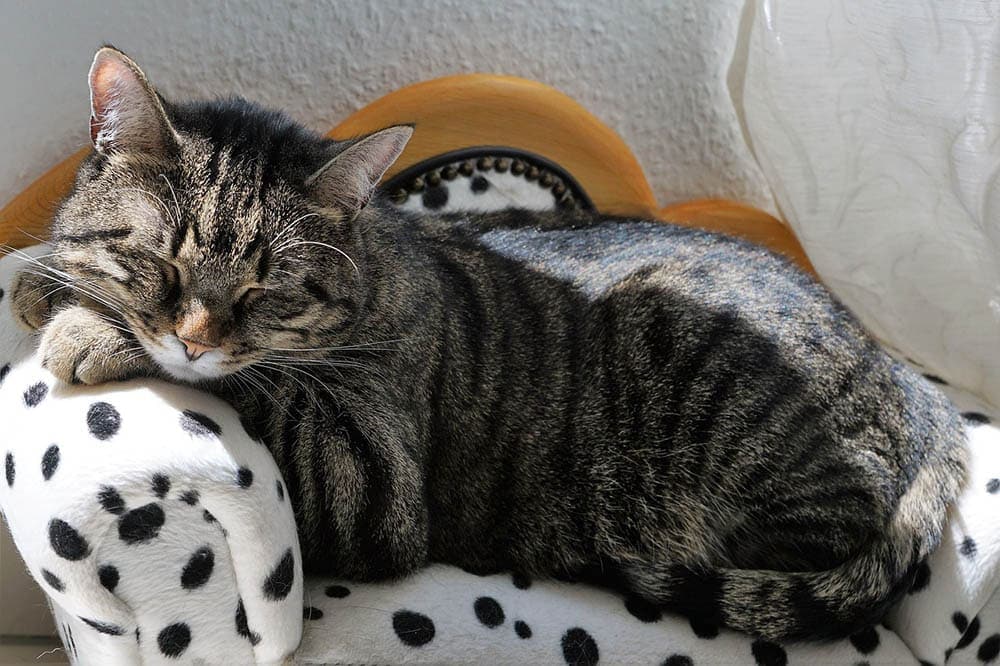 Gone are the days when a house cat had to make do with an old cardboard box to play in and their owner's bed to sleep in. Nowadays, you may be pushing your own furniture aside to make room for your cat's!
Whether it's a place to play, a nook to sleep, or a way to hide an unsightly litter box, cat furniture comes in many forms and functions. If you're looking to add some cat furniture to your home but your budget is limited, DIY is the way to go, especially if you love a good project.
Check out these 20 DIY cat furniture plans and get those creative juices flowing!
The Top 20 DIY Cat Furniture Plans
1.

Cat Hammock Bunk Beds
These hammock bunk beds are perfect if you have two cats who love to snooze together. Made from inexpensive pine wood, rope, and blankets, this piece of cat furniture would fit right into modern home decor, thanks to its Ikea-like design elements.
To mimic the clean look of the original, you'll need to drill pocket holes when building the frame, making this project best suited for the slightly more experienced DIY-er.
---
2.

Cat Tree From A Real Tree
Once you have the branches, the other materials are easily purchased at home improvement stores and these plans go into good detail about exactly what types and sizes of everything you need. The instructions are extremely detailed with plenty of pictures.
---
3.

Cat Tree Condo
The materials list is very specific and the plans include exact measurements of each section of the cat tree condo and pictures to see how everything fits together.
---
4.

Pet Station From Vintage Secretary Desk
Besides the secretary desk or dresser, you'll also need a few other items like MDF board, wood glue, and beadboard. The instructions are easy to follow with plenty of pictures.
---
5.

DIY Cat Suitcase Bunk Beds
This project is excellent for the beginner DIY-er with easy-to-follow instructions and an uncomplicated design.
---
6.

DIY Cat Tree House
The instructions are extremely detailed and easy to follow, including measurements and diagrams for each part of the cat tree. To follow the plans exactly, you'll also need to do some crafting and sewing.
---
7.

DIY Litter Box Cabinet
This project is easy to adapt to any type of thrift store cabinet you can find. It does require more advanced tools like a jigsaw and a miter saw but the cuts involved aren't complicated. Painting seems to be the most time-consuming part of this project.
---
8.

Cat House Side Table
This project requires a lot of attention to detail and more advanced power tools like a table saw, an orbital sander, and a Kreg jig. Best for the patient and skilled DIY-er but no one will believe this cat furniture was built at home if you do your job right.
---
9.

Cat Play Gym
Made from wood, dowels, ribbons, and rope, these plans are easy and simple to follow. They do call for a miter saw to make a few cuts, however. The beginner DIY-er could easily tackle this project in an afternoon or less with the right tools.
---
10.

Wicker Cat Bed
This project is time-consuming and tedious but doesn't require much advanced skill. The finished product is a one-of-a-kind cat bed that will look great no matter what corner of the house you put it in.
---
11.

Hanging Macrame Cat Bed
However, the plans include a video tutorial, detailed instructions, as well as pictures to help you get the hang of it. Once completed, this bed can hang with your (cat-safe) plants in front of your sunniest window, giving your cat a place to contemplate the world outside.
---
12. Cat House From a TV Tray
You also have the option to add a scratcher to one side of the house, making this a versatile, space-saving, easy-to-make piece of DIY cat furniture.
---
13.

Plastic Cat Exercise Wheel
The instructions are straightforward, but the materials list isn't super-detailed. They do include tips for teaching your cat to use the wheel once it's constructed.
---
14.

Cat Ladder Fort
You'll be waiting for the glue to dry for longer than it takes to build this ladder fort!
---
15.

Framed Carpet Cat Scratchers
These can be made as big or as little as the available picture frames. Just make sure whatever hanging strips you use are sturdy enough to handle the weight of your cat pulling and scratching at them.
---
16.

Hanging Basket Cat Perch
Choose a basket that matches your home decor and this cat furniture will stand out by fitting right in.
---
17.

Cactus Cat Scratcher
This project is fairly straightforward but does require you to cut and connect plumbing pipes. It can also be a bit messy because of the amount of green dye and hot glue involved. But the result is an adorable and functional piece of cat furniture.
---
18.

Cat Wall Perch
The materials requiredare simple although you do need a drill to attach the shelves to the wall. Be extra careful to attach them to studs as well, to avoid any cats coming tumbling down.
---
19.

Bookcase Cat Tower
Have an active cat? Add more toys! Have a cat who prefers to snooze the day away? Add in the optional hammock, made from an old T-shirt. The possibilities are endless.
---
20.

Outdoor Cat House
This design can be built larger or smaller, so if your cat has a dog friend who also needs an outdoor shelter, these plans work for that too. The video tutorial is detailed and easy to follow.
Conclusion
No matter your level of DIY experience, we hope you found our list of cat furniture plans inspiring and motivating as you plan new projects.  Remember to put safety first, wear protective equipment as needed, and don't operate power tools without learning how they work.
---
Featured Image Credit: photosforyou, Pixabay